23+ Unique Ideas for a Self Care DIY Gift Basket
I bet this will be the most random list of self care products you've ever seen! I have always had random and eclectic tastes and interests… but when I find something I LOVE, I share it with everyone I know! So I decided to share the last 23+ amazing self care products I've bought so you have some unique self care gift basket ideas for loved ones — or yourself!
I made most of these purchases on Amazon and I've linked all the items here for your convenience.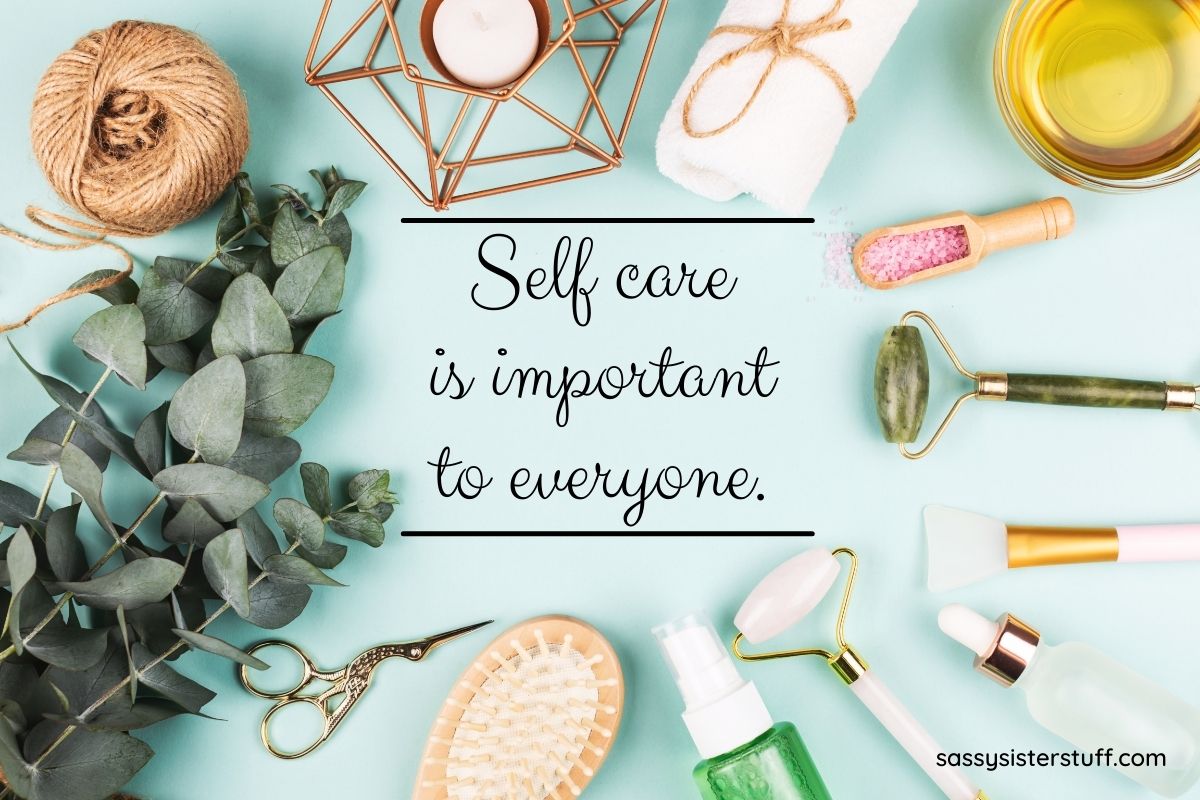 These self care items cover everything from skin care to stress and mental health; from items related to physical health, mental health, and spiritual health; plus a few affordable luxury items! (We all need to indulge in some luxury occasionally, right?)
I've also included a list of great gift ideas that are more commonly found on lists of DIY self care gift basket ideas. Everyone can use these basic items in their self-care practices.
And if you are looking for a good way to save a little money on your gift, use some wrapping paper to cover a box and put your gift products in a pretty box with some tissue paper.
---
Related Article: 50 Simple Self Care Reminders for Every Busy Woman
---
What is Self Care?
Self care is the practice of taking an active role in your own wellbeing, health, and happiness. It's learning to manage your stress, and preserve your own wellbeing so you can be healthy, do your job, care for others, and enjoy all the things you want to accomplish in life.
Self-care does not mean self-indulgence or being selfish.
Self care can refer to individuals, families, and/or communities where people want to promote healthcare, prevent disease, and maintain high health standards.
Areas of Self Care
Self care includes the habits you develop to maintain and/or improve your wellness in four key dimensions of health and wellness. These areas are:
emotional health
physical health
mental health
spiritual health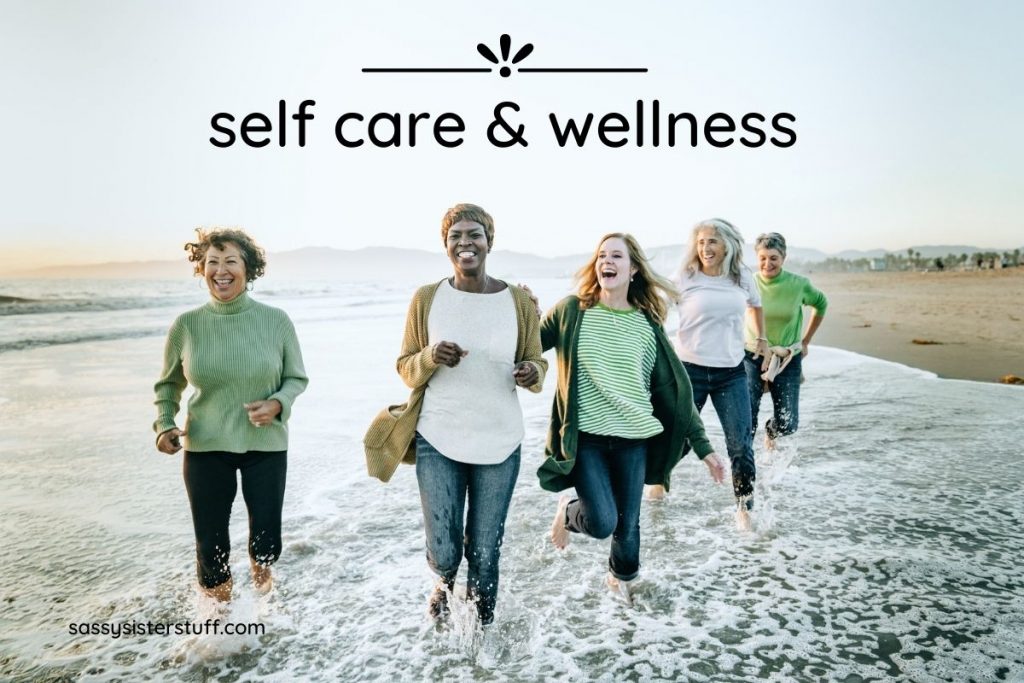 ---
Related Article: 50+ Habits to Improve Mental Health, Sleep Quality, and Heart Health
---
Examples of Self Care
There are many kinds of examples of self care. In fact, I have addressed many of them in other articles on Sassy Sister Stuff. You'll find them linked throughout this article, so be sure to visit them for lots of great information about self care.
These are just a few examples of quality self care:
---
Related Article: 21+ Ways to Practice Emotional Self Care and Wellness
---
These are some self care buzzwords that you may want to learn more about as you develop your self care plan:
23+ Unique Items for a Self Care DIY Gift Basket
Now that you are fully aware of the meaning of self care, take a look at these items and consider whether you may be able to apply them to your self care routine, or whether they would make a great gift for a self care DIY gift basket for someone else.
I've bought all of these self care products and use them regularly. I think you'll see something that helps makes life a little easier and/or supports healthy self care practices!
Remember, it is vitally important to take good care of yourself! You are worthy and deserve to prioritize yourself.
But self care is NOT selfish. Caring about yourself is essential so you can be your BEST for those you LOVE!
Please note that purchases made through genuinely recommended links on this website may earn a commission at no extra cost to the user. There will NEVER be links on this website that are not personally supported and endorsed by me. Learn more here.
---
1. Healthy Snack Mix
This deluxe trail mix is without a doubt the best I've ever eaten! But more importantly, it's rich in protein and gluten free. Check out Nature's Garden Omega-3 Deluxe Nut Mix, 26 oz (Pack of 1).
You won't find any preservatives, GMO's, artificial ingredients, cholesterol, sodium, trans fats, or flavorings in this snack. Just a single serving of 1/4 cup relieves hunger, gives you energy, and helps protect your heart. And it only has 170 calories so it's diet friendly.
It's a little bit of crunchy and a little bit of chewy with almonds, walnuts, pecans, pistachios, pepitas, and dried sweet cranberries. This also looks amazing on a healthy charcuterie board during any season!
You only need a little bit to satisfy hunger and increase energy, so it is quite cost efficient, healthy, and delicious!
---
2. Writing Journals
Do you have a pretty journal that you carry around with you to write thoughts and notes as they pop into your head?
My mind is always racing so I carry a journal/notebook with me all the time. I tried using the Notes App on my phone but I found it was just much easier to write it. Maybe it's old fashioned but that's what works best for me so I'm sticking with it!
I keep one on my nightstand, one in my office area, and one near my purse on the first floor. That way, I always have one near me.
The journals with a large double-spiral binding that I can open and lay flat, or fold back, are my favorite! I prefer thicker paper so my writing doesn't bleed through, and I love journals that speak to me with an inspirational quote on the front.
These are some of my favorites and most are under $10. They even have other items that match, like planners, calendars, and recipe books!
---
3. Personal Wine Glass
I have a confession to make! I don't drink wine…LOL…but I feel a certain way when I'm holding a wine glass in my hand! I have several that I use for iced tea and other non-alcoholic drinks.
The purple one below is one of my favorites – Savage Classy Bougie Ratchet – Stemless Wine Tumbler Birthday Gifts for Women.
Since joining TikTok, I learned all about being savage, classy, bougie, and ratchet, you know?!?! It's a feeling….it's an attitude! (Have you heard the song or seen the dance? Yep! I learned the dance and did it on TikTok! LOL)
---
4. Blu Emu Muscle and Joint Cream
Don't laugh about this one! You've probably seen it on TV and you wouldn't think of it as a self care item! But I can assure you personally that it's an amazing self care product. Blue-Emu Muscle and Joint Deep Soothing Original Analgesic Cream is like a miracle product.
I had a very serious knee injury in PE when I was 14. I've been getting shots and going to PT off-and-on my whole life when I slightly reinjure or aggravate it. And now I have arthritis in both knees. (You know, the whole aging process!)
Now I put Blue Emu on both knees when I get out of the shower. I rub it all around the front and back, above and below the knees. And my knees are better than they have been in years!
It dries quickly and does not have any odor. I also use it when I pull a muscle or the tendinitis in my right shoulder acts up a bit. It helps resolve the problems. I've even used it on family members when they come over and complain of achy joints and muscles, too!
And let's face it — we all have achy joints and muscles that need a little special care sometimes! (It comes in two sizes. I always buy the biggest jar!)
---
5. Bamboo Bed Sheets for Self Care
I cannot say enough good things about these Hotel SheetsDirect Bamboo Sheet Set from Amazon!
I spent weeks visiting bed stores and researching sheets! I even bought three new sheet sets that I thought would be amazing BEFORE I found the Bamboo Bed Sheets listed here! My husband and I BOTH agree that these sheets are amazing!
These sheets almost feel like satin. They fit on the bed well and stay put. The pillow cases are a little longer than our pillows but that's not an issue for us because the sheets are so soft and comfortable. They are moisture-wicking, breathable, temperature regulating sheets! What else can you ask for? Other than COMFORT!
I found these sheets listed in several "Best Sheets" articles. Then I read the reviews on Amazon and was pleasantly surprised. So go check them out and consider how a good night's sleep may make a positive difference in your life!
These sheets come in many colors. Prices vary according to bed size.
---
6. Flawless Vibrating Facial Roller & Massager
The Finishing Touch Flawless Contour Vibrating Facial Roller & Massager, Rose Quartz is one of the coolest self-care items on the market! And I mean "cool" because you can keep it in the fridge to help improve the performance and the reduction of puffiness under the eyes.
The facial roller is designed to help stimulate circulation, promote collagen production, and help reduce the appearance of fine lines and wrinkles. It can be used on sensitive skin. And it also helps your relax! (I keep it in my purse so I have it available at all times.)
---
7. Fitbit Fitness & Activity Tracker
I've been wearing Fitbits for years. I've had several Fitbit Charges but my next one is going to be a Fitbit Inspire 2 because it's smaller and more lightweight. Plus, the newest models of each one are both under $100 now.
I think the software is easy to use and understand plus I like that it tracks my sleep patterns. I've had a problem with sleep due to PTSD for the past several years. So I can take the sleep data to my doctor and we can analyze how new sleep strategies are working, or not working.
Honestly, this product is probably one of the best investments I've made in the name of self care over the years.
---
8. CeraVe Resurfacing, Brightening Facial Serum
I've used CeraVe skin care facial products for 15 years or so. However, this is one CeraVe product that is a complete standout for me! Nothing compares!
The CeraVe Retinol Serum for Post-Acne Marks and Skin Texture | Pore Refining, Resurfacing, Brightening Facial Serum with Retinol | 1 Oz keeps my skins completely soft and smooth at all times!
It keeps skin looking brighter, smoother, and more even-toned and helps to reduce the appearance of pores. It also leaves my aging skin feeling refined and healthy!
---
9. Flawless Hair Remover
This Flawless product was my first experience with the brand. And I can assure you the Finishing Touch Flawless Women's Painless Hair Remover , White/Rose Gold is the BEST fine hair remover on the market!
I have tried everything on the market for facial hair removal!
I've been dealing with facial and neck hair since I was in my late-thirties. It was a welcomed relief to find this product! I keep it in my purse for quick touch-ups and the AA battery lasts for a couple of months. You can even buy new replacement heads for the product when you feel they get slightly dull.
And the best part? It does not hurt AT ALL!
---
10. CranioCradle Home Therapy System
Don't laugh about this product! I know it's funny looking! It a CranioCradle Home Therapy System – Head, Neck, Shoulder & Back Pain Relief – Relaxes Muscle Tension – Trigger Point Release – Treats Multiple Pain Symptoms – Myofascial Release.
My massage therapist, Tianne Ellis from Ellis Wellness, recommended I get this product in the name of self care!
You rest your head on this CranioCradle to get relief from headaches, shoulder and neck pain, and/or back pain. And it really works! It even helps TMJ and sciatica.
Stress and anxiety causes me to have headaches, neck and shoulder pain. My muscles get so tight I can actually feel the knots and tightness. So in between massages, this helps to keep the muscles more relaxed. That way I get improved benefits from my massages as well as relief from the pain.
I highly recommend this product if you have headaches, neck, shoulders, or back pain!
---
Related Article: 7 Powerful Benefits of Regular Massage Therapy
---
11. Bath Digital Scales
I've had a lot of bath scales over the years but this one is better than any I've ever had! It's the Taylor Precision Products Glass Digital Bath Scale (Black/Silver). I found it by accident but have since given it as gifts and replaced my Dad's scales with this one because it's so accurate.
I have 5 cats who find it entertaining to scoot ponytail holders under it and then spend an hour trying to get them out! Sometimes the scales end up across the room before the cats are done! But I've had it for several years and it is still highly reliable and accurate!
It helps me monitor my weight so I know when it's time to be a little more careful about calories.
---
Related Article: 10 Ways to Improve Your Physical Health Now
---
12. Faux Fur Blanket
This is one of those items you buy and you don't know how amazing it is until you have it wrapped around you!
The Chanasya Faux Fur Blanket | Super Soft Fuzzy Light Weight Luxurious Cozy Warm Fluffy Plush Hypoallergenic Throw Blanket for Bed Couch Chair Fall Winter Spring Living Room comes in more than twenty colors and five sizes. We use it year round!
It's the softest, most luxurious blanket I've ever wrapped around me and each size is reasonably priced. Sometimes it can be a little difficult to get the size and color you want, so you need to be patient and keep watching.
---
13. CeraVe Vitamin C Skin Brightening Serum
This is another CeraVe product that I cannot live without! I've tried other Vitamin C serums and they do not compare!
Vitamin C for the skin is known to sometimes dry it out, especially when you start using it. But CeraVe Vitamin C Serum with Hyaluronic Acid | Skin Brightening Serum for Face with 10% Pure Vitamin C is totally different! It is soothing and gentle on the skin.
This Vitamin C serum helps to improve skin tone, texture, and hydration for a healthy looking, radiant complexion! I am never without it!
---
14. Who Will Cry When You Die? by Robin Sharm
This book is highly inspirational and easy to read. I included it on this self care gift list because it offers so much wisdom that focuses on personal growth and mindset. It offers simple solutions to life's simplest problems that we all face.
I especially like it because the chapters are short and you can pick it up anytime. You can also put it in your purse and carry it with you for quiet moments during the day.
Add Who Will Cry When You Die? to any self care DIY gift basket and get a copy for yourself, too!
---
15. U2SKIIN Women's Cotton Knit Robe
This soft knit robe is simply amazing! With the 3/4 length sleeves you don't run into problems with the sleeves getting in your way. I first discovered this brand while looking for a nice robe for my 89-year old Dad. When I saw the robe, I knew I needed to get one.
At more than half the cost of brand-name robes, you can pick up a few of these U2SKIIN Women's Cotton Robes, Lightweight Robes for Women with 3/4 Sleeves Knit Bathrobe Soft Sleepwear Ladies Loungewear for yourself and loved ones as self care gifts. They offer a variety of sizes and colors.
---
16. Hair Brush and Scalp Massager
This is definitely one of my all time favorite self care products. The Heeta Hair Scalp Massager Shampoo Brush, with Soft Silicone, Wet and Dry Hair Detangler helps to keep your hair cleaner while you massage your scalp.
My hair has never been cleaner and my scalp feels amazing! No more itchy scalp! And just one wash will get my hair cleaner than ever with this tool! You can choose from a variety of colors, too!
---
17. Ice Roller for Face and Body
I've seen these promoted here and there but never had one until about six months ago. Now I won't go without one again!
I keep my ESARORA Ice Roller for Face & Eye, Puffiness, Migraine, Pain Relief and Minor Injury in the freezer at all times. Whenever I am feeling stressed, I pull it out and roll my upper chest, shoulders, and neck. It helps to settle the central nervous system. And it stays cold for a super long time!
---
18. Sassy Sister Stuff 12-Month Personal Growth Planner
One of the greatest forms of self care you can practice is personal growth. The Sassy Sister Stuff 12-Month Personal Growth Planner ebook addresses 12 different areas of personal growth and development! There is a new topic for self-improvement each month and 28-tasks for each month. The personal growth topics include:
Minimalism
Self Love
Mindfulness
Family
Gratitude
Productivity
Wellness
Happiness
Purpose
Creativity
Confidence
Kindness
After purchasing the planner, it will come straight to your email box so you can download and print it for yourself and your loved ones. Include it in a gift basket for anyone who values and embraces personal growth, mindset, and self care.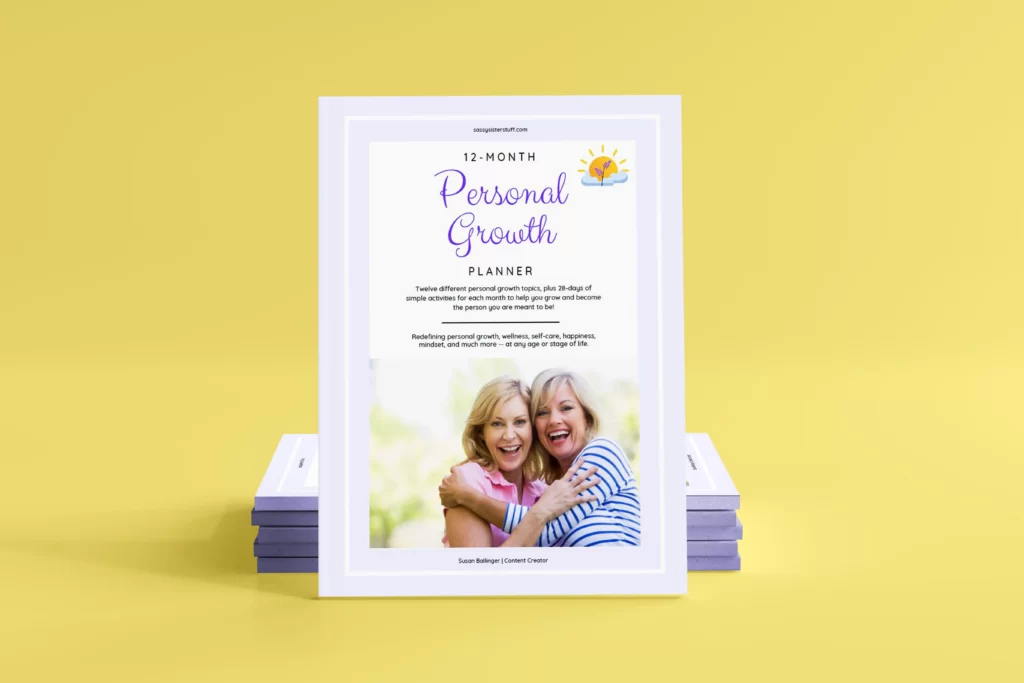 ---
19. Silk and Sonder Self-Care Toolkit
The Silk and Sonder Self-Care Toolkit helps you develop self care rituals that last a lifetime. Monthly wellness journals provide guided prompts and trackers for meals, exercise, sleep, habits, motivation, mood, and much more. The pages include inspirational quotes, recipes, coloring, journal prompts, and more.
The components of the toolkit included:
Monthly Planner and Journal
Guided Journal Writing Activities
Mobile App and Interactive Community (Sonder Club)
Daily Rituals
Blog
The Silk and Sonder community is also amazing! Women connect through the mobile app and share their stories and feelings, and even journal creativity! Check it out here.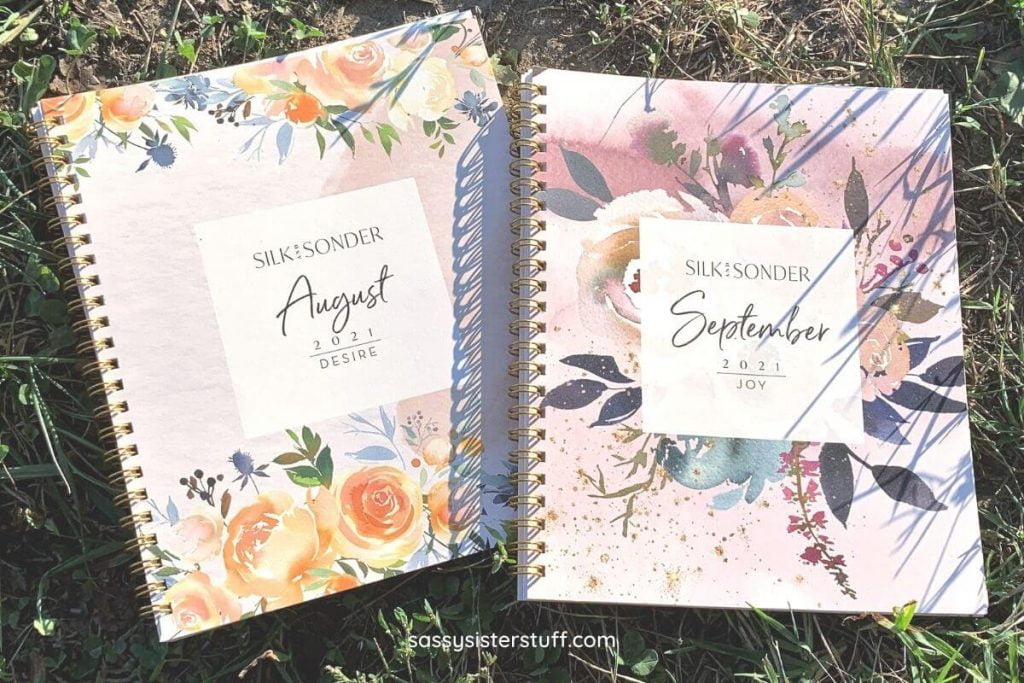 ---
20. LATHER Lemongrass Wasabi Hand Wash
This amazing hand soap will provide you with moments throughout your day to pause, breathe, and relax. Each time you wash your hands, the gentle aroma will take you to another place where all is perfect and peaceful! It's one of life's little daily luxuries.
LATHER is a family-owned head-to-toe skincare and wellness brand that makes products make from natural ingredients. The founder, Emilie Hoyt, realized that synthetic fragrances in many of her beauty products were triggering her migraines. Subsequently, her genuine curiosity, love for nature and an explorer's heart led her to create LATHER.
I've been using these clean, natural products for over 15 years. They are all fresh and soothing. Check them out!
---
21. Himalayan Glow Salt Lamp with Dimmer Switch
I remember seeing Himalayan Salt Lamps at a craft fair years ago but wasn't quite convinced of their value. Years later, when I began to focus more on self care and improved sleep habits, I did some research. Now I have one on my nightstand and wouldn't sleep without it.
Although there are many claims about benefits of these lamps, I can share that it brings a warm ambience to my bedroom that helps me relax and I honestly feel it helps me sleep better. My sinuses and lungs feel much clearer when I wake up each morning. I also feel like it helps reduce static electricity in the air during the winter.
---
22. Dry Brushing Body Brush
This is something I've used for more than 25 years. The Dry Brushing Body Brush promotes skin exfoliation, lymphatic drainage, blood circulation, relieves stress, rejuvenates the nervous system, and more. Made of the finest materials, and designed to fit easily in the palm of your hand, use it to refresh and restore your mind and body daily.
---
23. Ghirardelli Double Chocolate Premium Hot Cocoa
I keep these hot cocoa mixes on hand to slip into gift baskets or boxes for a variety of occasions. But they also make great holiday gifts with a bag of marshmallows and a pretty mug. This package will make 10 cups of hot chocolate. I use skim milk or almond milk and it's perfectly delicious!
---
More Self Care Gift Basket Ideas
If you are making a self care basket for someone else, you may need some smaller, less expensive items to include in the basket. These are some traditional items you might place in a self care package:
Bath Bombs
Face Mask
Gift Card
Sweet Treat
Fuzzy Socks
Nail Polish
Water Bottle
Hot Tea
Lip Balm
Bubble Bath
Epsom Salts
Essential Oil Diffuser
Essential Oils
Soothing Lotion
Hair Products
A self-care gift box or basket can include a selection of luxury gifts, unique gifts, and simple items you can buy at your local grocery store. Putting your personal touch on the gift is what makes it a perfect present!
A gift of self care is the perfect gift for a loved one, or YOURSELF. Don't neglect your own self care! Taking care of your body, mind, and soul is the perfect way to live a long, happy life!
Final Thoughts About Self Care Products
So, was this the most random list of favorite self care items you've ever seen?? (I know, I know… YES!)
But I promise you, these items are genuinely my favorite self care products. In fact, it gives me great joy to know I've chosen things that contribute to my self care, peace of mind, and happiness.
These are the best self-care gifts and self-care gift basket ideas you'll ever find! You won't be disappointed with them. Neither will your gift recipients!
If you decide to get any of them, let me know your thoughts. I'd love to hear from you!
And if you have favorite self care products that you use for your self care practice, I'd love to hear about those, too! Tell me about them in the comments so I can check them out. Maybe I'll find some new favorite ones!
Love to ALL! ~ Susan