49 Best Health and Wellness Journal Ideas and Prompts
In this article, you will find many wellness journal ideas that will support your health and wellness journey. One important thing to remember about journaling is to be consistent — use it every day. Developing a new habit takes time, and doing it every day is the most effective way for it to work.
A health and wellness journal is a great way to support your wellness journey. Reflective journaling can help you eliminate negative thoughts, set daily goals, and develop a better understanding of your thoughts.
It's a very healthy way to keep track of your health — mental, emotional, physical, social, and spiritual — and protect your wellness.
If you are not new to journaling, you'll find lots of creative ideas here too. Your daily journal should be a personal project that's fun, motivational, and encouraging.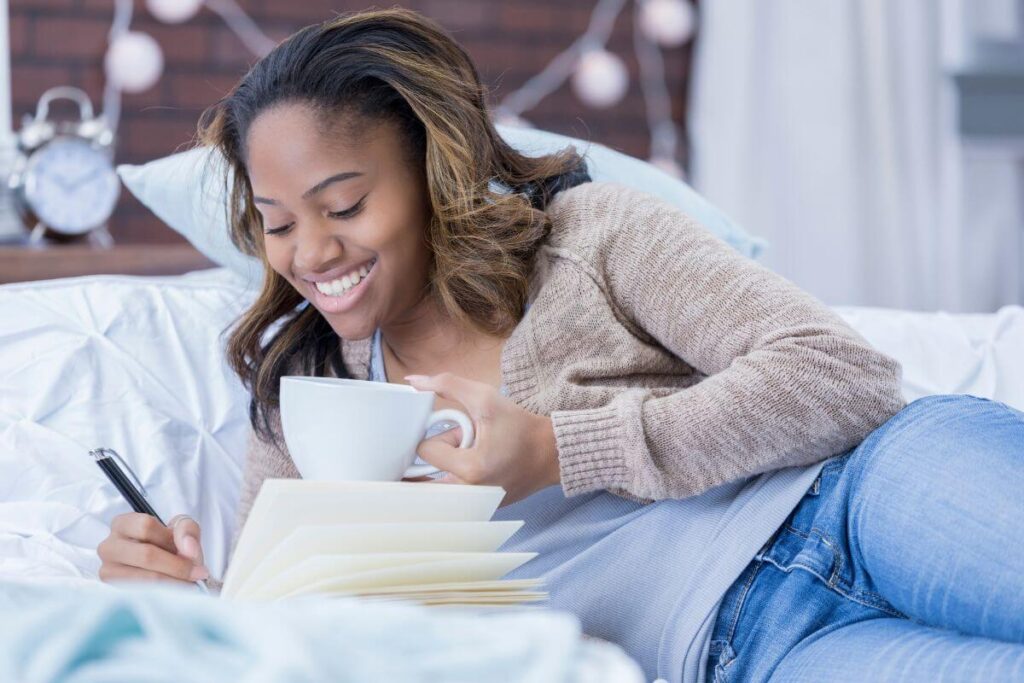 ---
Related Article: 43 Popular Topics for Journal Prompts to Help You Grow
---
What to Include in a Health & Wellness Journal
A health and wellness journal should be a very personalized project. It requires you to really reflect on your strengths, weaknesses, goals, needs, and desires.
You can get started by brainstorming and making a rough list of health and wellness topics that are important to you. Think about what you need to focus on to live a healthier, happier life.
These are some wellness journal ideas you can consider:
Water Intake (are you really drinking enough water?)
Habit Tracker (healthy habits and not-so-healthy habits)
Weight Loss (food intake, food journal, calories, macros, and more)
Daily Routines (morning routine, bedtime routine, scheduling, and more)
Mood Tracker (your daily mental health condition, possibly using a Feelings Wheel)
Health Tracker (physical health, mental health, emotional health)
Track Your Periods (keep track of your periods, moods, physical changes through the month)
Daily Journaling Prompts (confidence, joy, fear, anxiety, mindset, and more)
Brain Dump (free writing about everything and anything that's on your mind each day)
Goal Setting and Tracking (make an action plan for each specific goal and track your progress)
Self-Care Tracker (yoga, meditation, prayer, reading, quiet time, music and more)
Spiritual Care (affirmations, passion, purpose, grounding, highest self, and more)
Social Health and Wellness (friends, family, social activities, community engagement, and more)
Coloring Pages (you can find these on the Internet or here on Sassy Sister Stuff)
Food Prep and Meal Planning (diet, foods, shopping, planning, and more)
Gratitude Journal (gratitude lists, memories, all the good stuff in your life)
Book Review (what kind of books are you enjoying right now?)
Art Journal (color and draw to express your feelings and emotions)
Inspirational Quotes (write your favorite quotes and let them inspire you each day)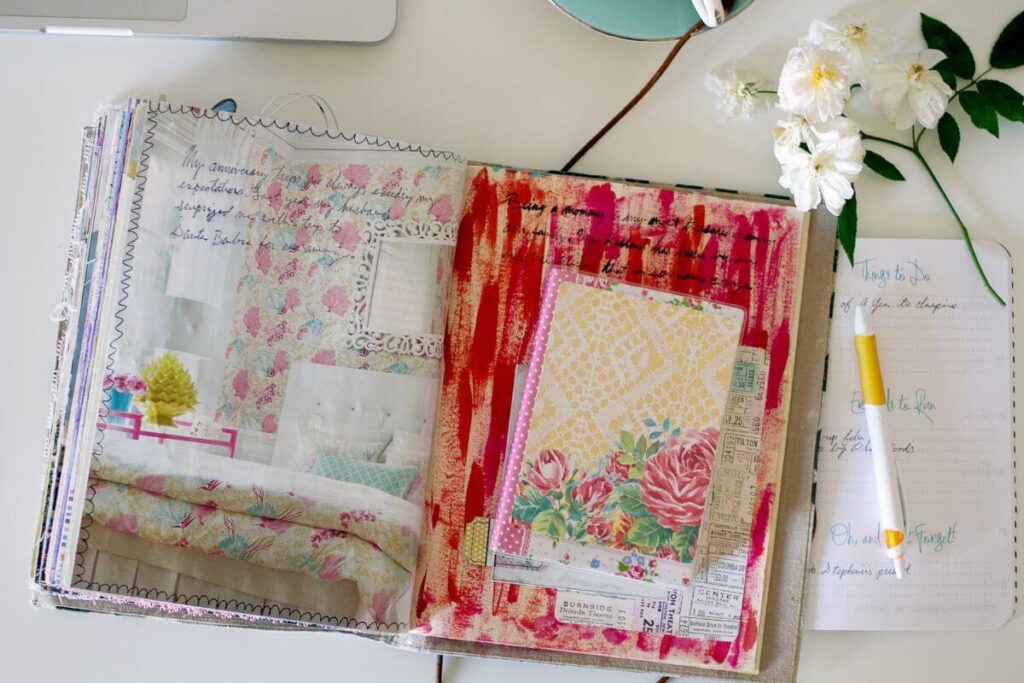 Creative Health & Wellness Journal Ideas
There are many different types of journals and different activities you can include in your journals. It should be as creative or simple as you want. There's not really a wrong way to use a journal unless you are forgetting about it.
It's a good idea to explore the options and find a journal that suits your personality. There are hundreds of kinds and themes available — cutesy, spiritual, colorful, simple, nature, glittery, and so many more.
Go get a set of good colored pencils, pens, or markers from your favorite craft store — there are oodles of kinds available because so many people are learning to journal nowadays. And we all want to make our journals colorful and fun!
Get some stickers, too! You can use stickers to decorate the pages of your journal.
You don't have to buy anything fancy for your journal. You can even use a blank notebook and decorate it yourself to express your own personal tastes.
How about writing or coloring about your dreams? Either the dreams you have for your life — what have you always wanted to do or become? Or you can write about the dreams you have in your sleep. What do they mean? How colorful were they? How do you feel when you wake up?
Interactive and creative journaling is an amazing tool for self-expression and personal growth. These creative ideas are based on creative and critical thinking, and free expression:
Summarize your day in 20 words or less.
Cut and paste pictures into your journal that show things in your favorite color.
Write a poem about what you see outside your home right now.
Write 20 words associated with your favorite place on Earth.
Draw a picture that shows your last dream.
Use crayons to write in your journal instead of your usual tool — make it colorful!
Write your 5 favorite quotes in your journal and draw a picture to go with each one.
Doodle. Get creative with your chosen tool(s).
Create Word Art with an inspirational word that is meaningful to you.
Draw your favorite animal and write why it's special to you.
Don't forget to have some double-sided tape, a stapler, clips, and scissors on hand for your journal! And some divider tabs so you can set up customized tabs for the topics you choose to include in your journal.
Make sure your journal has pages for all the topics you want to focus on and improve. Your personal growth and wellness depends on choosing the topics that are most relevant to you.
If you choose a journal that is already set up for you, such as the Silk and Sonder Planner and Journal, be sure to have all the other supplies on hand. It makes journaling so much more fun and creative!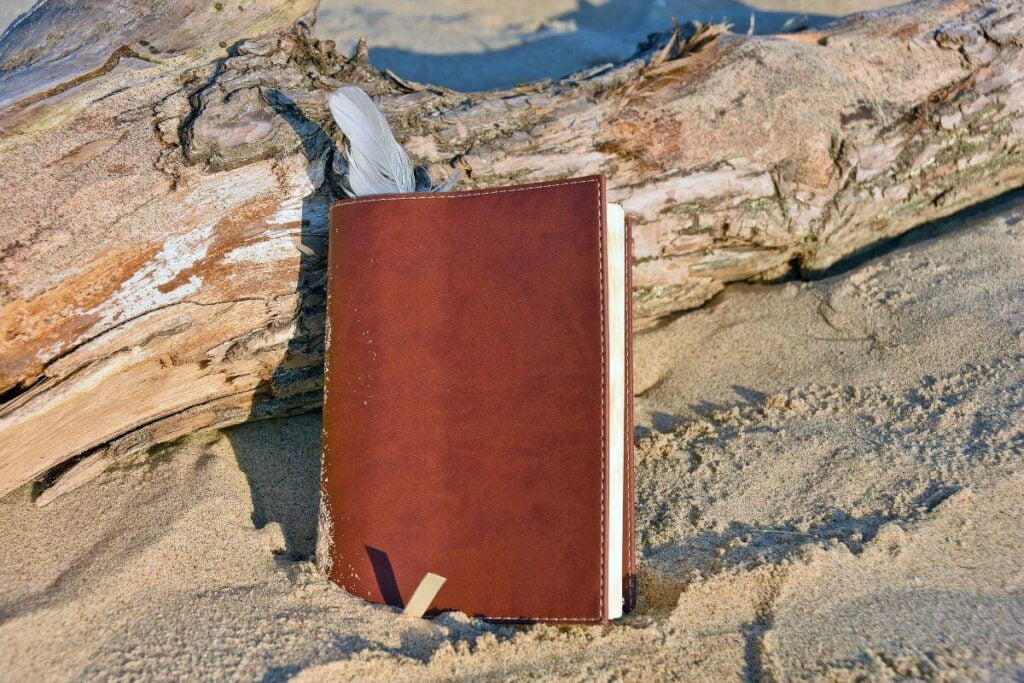 How Do Journals Help Your Mental Health & Wellness?
Writing of any kind has many positive benefits. But writing your thoughts and feelings in a wellness journal – a space specifically dedicated to your self-care, growth, wellness, and gratitude – can really work wonders for clarity and happiness.
Emotional healing also occurs through journal exercises and journal prompts because you process your innermost thoughts.. The process helps with self-reflection, self-discovery, positive growth, self-worth, and inner peace.
Journaling can also help organize your life and your thoughts, especially bullet journaling. Your journal writing is a simple act of self care but it's far more effective if you do it on a regular basis.
It's a great idea to set aside time every day for your journal. And find a safe space that can be dedicated to your journal practice and mental wellbeing.
---
Related Article: 160 Awesome Gratitude Journal Prompts for a New Outlook on Life
---
20 Wellness Journal Prompts to Help You Get Started
Here are some daily journaling prompts about health and wellness to help you get started with your journal. These are just examples of many topics you can think about and write about to help you organize your thoughts, set your priorities, and clear your mind.
Write about 5 wellness goals you have for yourself during the next 6 months.
Write about your favorite social media platform. What value does it bring to your life?
Create a collage of magazine photos that reflect your mood right now.
The next time you have a little bit of unexpected free time, what do you want to do and why?
Write about the most emotional experience you can remember. How did it impact your life?
What specific action do you want to take to improve your life in the next month? Why?
Write about a big goal you have for your life and why this is important to you?
What is your biggest fear and why?
Write about an emotion that you have a hard time dealing with and why?
Describe what the most perfect place in the world would look like to you.
What is an easy way for you to get out of a funky mood? Why?
Describe the perfect way to end the day.
Write about a family member who makes you feel special and why?
What is your favorite part of everyday life and why?
Write about 5 small things you do to make others feel good.
Write about the first thing you do to make new people feel comfortable around you.
Write about the best way to cheer up a friend in need.
Create word art with your best friend's name and color it to match her personality.
Doodle on the page to show how you're feeling about your day.
Draw a picture of 5 things you are grateful for.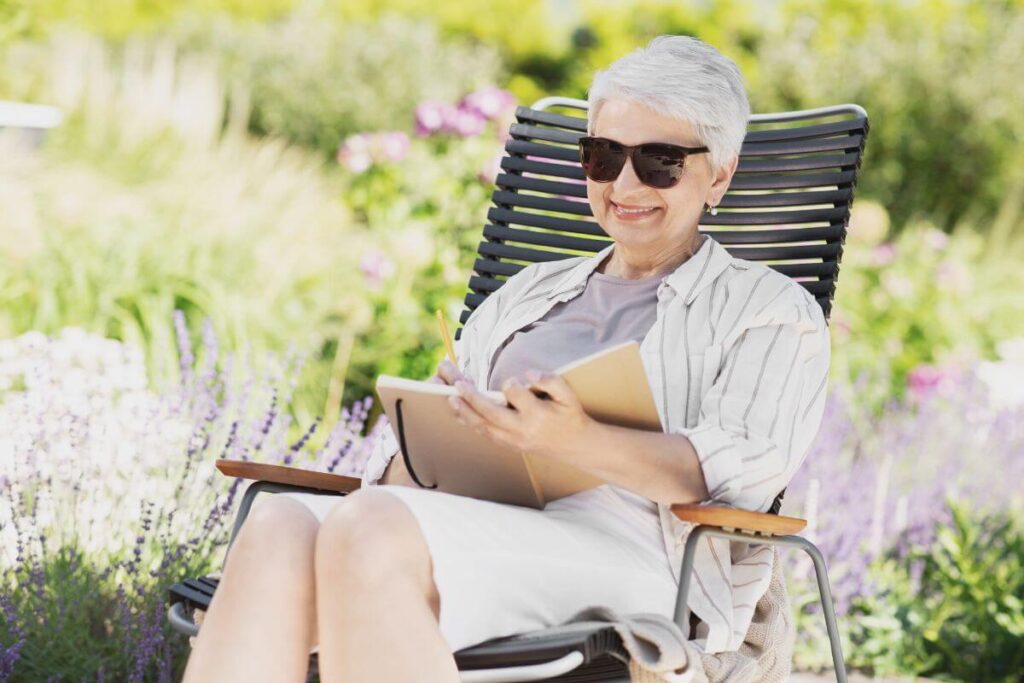 Final Thoughts: Wellness Journal Ideas
I hope you've found these wellness journal ideas helpful. Your journaling practice should be an integral part of your daily self care practice.
It's important to identify the areas you want to focus on and include those in your journal. You are worthy of the time and effort this process takes each day — it's valuable to your overall health and wellness in life.
Wellness journaling is one of the best thing you can do for yourself! So be sure not to waste anymore time getting started. Start journaling today!
You may find these articles helpful, too:
Love to ALL! ~ Susan
Since the journaling process is so highly personalized and fun, we can all benefit from sharing ideas and learning from each other. Please share in the comments below:)