97 Spiritual Affirmations for Personal Growth and Wellness
In this article, you'll find 97 spiritual affirmations that will support your personal growth and wellness. Use them as daily inspiration to expand your spiritual growth and become the person you are meant to be.
Spirituality is an important component of personal growth and wellness. In fact, it transcends all other aspects of your wellbeing — physical, emotional, mental, and social. It helps you live a life of purpose and passion.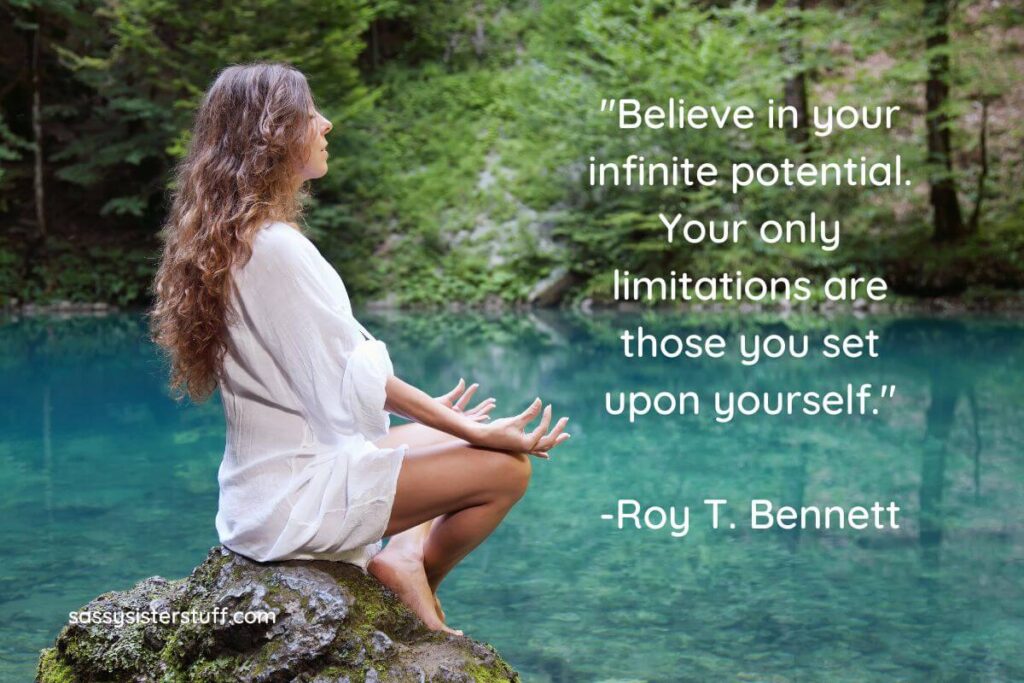 ---
Related Article: 101 Daily Affirmations for Creativity to Spark Your Imagination
---
Why Spiritual Affirmations Are Important to Wellness
— Using positive spiritual affirmations will support your spiritual dimension of health and wellness and ensure that your mind, body, and soul are in an optimal state.
— There is a strong relationship between happiness and spiritual connections. Your spirituality makes up a set of guiding beliefs, principles, and values that give you direction in life. Spiritual affirmations can help you establish and maintain these beliefs.
— A person who has a healthy spiritual belief system will generally have high moral and ethical values that support happiness and peace.
— Spiritual affirmations can help with healing, anxiety, a sense of protection, and even confidence.
— Daily positive affirmations of any kind help you develop and maintain a positive, healthy mindset that supports your wellness in all aspects of life. These spiritual affirmations will help you embrace and realign with your true self, while teaching you to have faith and trust.
— Spiritual affirmations can also help you feel more connected and certain when you feel lost or disconnected from the world around you. They can help you get grounded again. You might want to use them to cultivate a sense of calm and peace in your heart and mind.
— As you read through the spiritual affirmations below, I think you'll get an even better sense of how they can help you.
---
Related Article: Time to Let Go! 100 Powerful Affirmations for Letting Go
---
Religious vs Spirituality
Sometimes people confuse religion and spirituality. These two concepts can work together for your wellness but are quite different.
Religion is a system of organized beliefs that are usually based on worshipping a higher entity such as a God. Religion is often community-based in a house of worship. And your religious beliefs are generally based on the ideologies of an organized religion.
On the other hand, spirituality is very individualized and focuses on a sense of peace, purpose, and meaning of life. Spirituality exists within us. Your set of spiritual beliefs usually evolve over time and change with experience, plus there are no rules.
Spirituality is one of 12 aspects of a well-balanced life. It's also one of five components of wellness — physical, emotional, mental, social, and spiritual.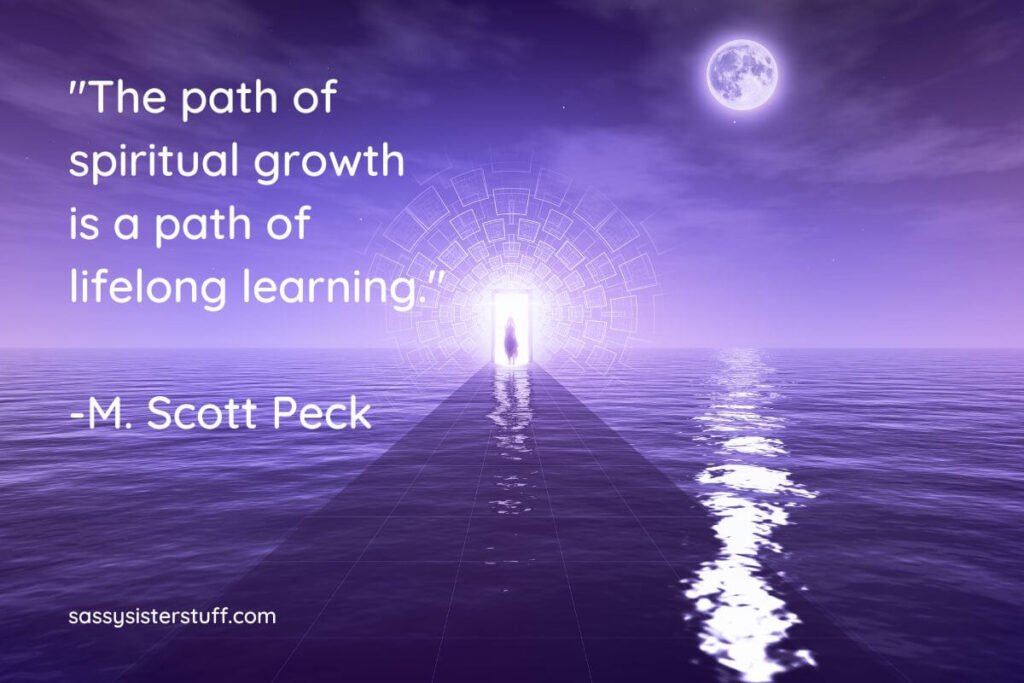 97 Positive Spiritual Affirmations
Use these positive spiritual affirmations to awaken your spirit and connect with your highest self. You'll feel more empowered and aligned with your calm inner being.
I fear nothing as long as the Universe is by my side.
I am vibrating positive, loving, abundant energy, and I attract this same energy in return.
I am connected to a limitless source of inspired ideas and beautiful creativity.
I honor my inner self and trust my path.
Everything is unfolding in perfect timing. I release worry and choose to trust.
I trust and believe that everything is always working out for my highest good.
I am peaceful. I am centered. I am grounded.
I am always gently held and lovingly guided by the Universe.
I release doubt and welcome faith.
I allow miracles and magic to unfold in my life today.
I surrender to the highest good for all.
I surrender control and allow the Universe's loving presence to guide me.
Every day, I feel more connected to my spirit.
I openly accept spiritual guidance from the Universe.
My soul is truly beautiful.
I am love. I am light. I am connected to all.
I can always rely on help from the world around me.
My spirit is strong enough to face the unknown.
Everything is possible with the help of the Universe.
My intuition is usually right, and I'm happy to follow it.
I openly accept and welcome paths to new experiences.
I can be a guide for others who are spiritually lost.
I appreciate my connection to all living things.
I am calm, in control, and in harmony with everything around me.
My spirit is resilient and powerful.
I can transcend all fear and doubt.
My spirit is filled with love and compassion.
I feel nothing but peace in my body, mind, and soul.
My spirit thrives in the joy I bring to others.
The Universe is innately joyful.
I love and appreciate the warmth of my inner soul.
I am in tune with the flow of the Universe.
My body, mind, and spirit are in balance.
I am open to experiencing spiritual enlightenment.
I ask forgiveness from those I have wronged.
I forgive those who've wronged me.
I know that inner peace will allow me to endure all.
I spread positivity wherever I go and through whatever I do.
I deserve all the happiness that I receive.
I believe that my spirit is in harmony with the Universe.
The Universe will provide anything I need.
I am happy to share my blessings with others.
I believe that love can heal my soul.
I know I can achieve a higher state of consciousness.
I am guided by fate but not beholden to it.
I believe in the healing power of the spirit.
I believe that I can achieve inner peace.
I know that I exist for a divine purpose.
I have the power to brighten the lives of everyone in my life.
I play an important part in the larger picture.
I am blessed in every way.
I am a part of the Universe, and the Universe is a part of me.
My body is a beautiful home for my radiant soul.
I am a pure, beautiful, radiant light.
I am divinely protected, inspired, and guided by the Universe.
I surrender to the loving will of the Universe.
The light I seek is always within.
I live every day of my life as my highest self.
I am deeply and unconditionally loved by the Universe.
I am worthy of unconditional love.
I am connected to a limitless source of creativity, abundance, health, happiness, and love.
I feel loved and live in peace.
I release any fear that has been holding me back from living life fully.
It is safe for me to genuinely be who I am.
I remove all obstacles to my spiritual connection.
All of my thoughts, words, and actions are influenced by the Universe.
I release any feelings of guilt or shame.
I always let love guide me.
I am willing to accept miracles that exceed my expectations.
Today I will be kind to myself and others.
I feel the positive vibrations within my body and soul.
I have faith that I am protected and loved in this world.
I feel the peace and calm radiate through my body, mind, and soul.
I hear my intuition loud and clear, and I'm happy to follow it.
I am in touch with my inner guidance.
Positive energy flows to me, and from me to others.
I hear my intuition loud and clear, and I'm happy to follow it.
I am in touch with my inner self.
Today is a beautiful day, full of love and joy.
Thank you for my life, and all that I have to be grateful for.
I am rooted in the energy of Mother Earth.
My spirit and courage are unwavering.
My life is saturated with gratitude and compassion.
Today and always my spirit is at peace.
I embrace and love the connection I share with all living things on Earth.
My energy is in harmony with the Universe.
The Universe shines its pure light upon me everyday.
I release the past and don't worry about the future.
My true power lies in the present moment.
I trust the divine plan of the Universe.
I always trust my intuition.
I am an inspirational being who shines in the Universe.
I am always guided toward the highest good.
I choose to be the light in all situations.
I give myself permission to be happy, confident, and fulfilled.
It is safe for me to be who I am.
I release any feelings of guilt and shame.
---
Related Article: 50 Powerful Affirmations for Self Love
---
How to Use Affirmations for Spiritual Growth
Speak your affirmations to yourself every day.
Choose affirmations that resonate with you. The best affirmations will make you feel something — make you feel some kind of emotion.
Affirmations are meant to replace negative thoughts with positive thinking that give you confidence in who you are. When you are speaking your affirmations, truly listen to them and feel them. Your brain believes what you tell it.
Affirmations work the best when you actually believe in what you are saying. Don't just recite affirmations because it's the latest trend in self care.
Using affirmations is an important and valuable part of any self-care practice. It requires conscious alignment of your actions, thoughts, and feelings. You have to listen to yourself and believe what you are saying.
Have a regular time when you do your affirmations everyday. Make sure you find a quiet place and can enjoy the moments.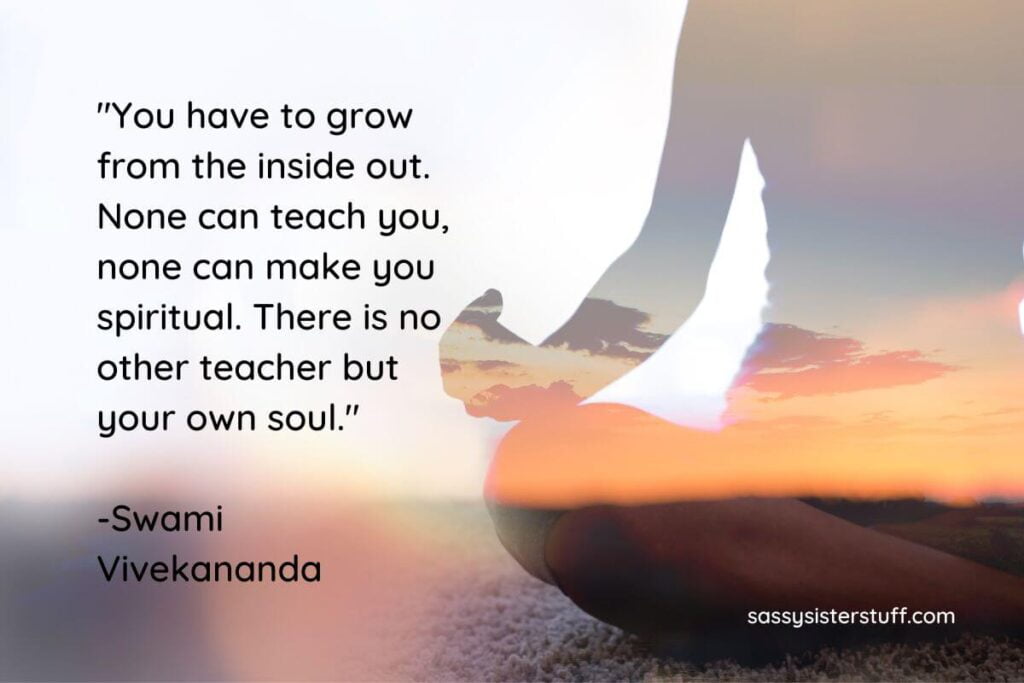 Final Thoughts About Spiritual Affirmations
Spiritual affirmations can help you redefine yourself and transform your life. They help you develop and maintain a positive mindset toward your spiritual wellness and personal growth.
Be sure to incorporate these daily spiritual affirmations into your daily self care routine to help you reconnect with your highest self and stay grounded.
You may also enjoy these articles:
Love to ALL! ~ Susan
How Can Spiritual Affirmations Help You Live a Happier Life?
Which affirmations are your favorite? Please share your thoughts in the comment section below:)