93 Best Songs About Travel and Adventure for Your Playlist
Looking for great songs for your next trip? Well, you're in the right place! I've put together 93 of the BEST adventure songs for the ultimate wanderlust playlist! Be sure to add them to your travel playlist before you leave so you don't run into trouble with Internet connections.
When you get out on the open road, there's nothing quite like turning up the music and listening to the perfect song to get you excited about your travel plans! Exploring new places, getting out of your comfort zone, meeting new people, basking in the sun — whatever travel adventures you are taking on your next vacation will help keep you young, healthy, and happy!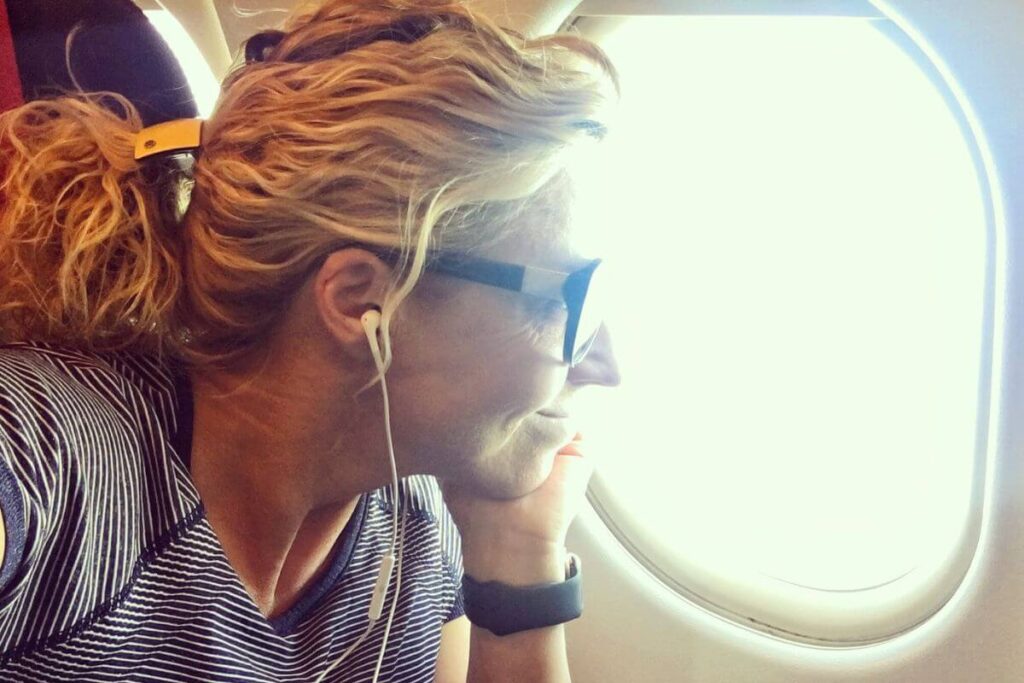 We are traveling out west to Wyoming, Idaho, Montana, and South Dakota soon! I am beyond excited to be off on our next adventure for 15-days! My road trip playlist has already been keeping me company as I plan and prepare for the trip, but I've discovered even more great songs to add before we leave!
---
Related Article: 30 Reasons Why Traveling Is Important To Your Overall Wellness
---
Disclaimer: This list of the best adventure songs has been curated by me, thus they represent my taste and preferred style and genres. You will note that the selected songs are primarily clean, traditional songs from mainstream genres. I recognize that there are many other enjoyable songs about travel today that may not have been included in this list.
Best Adventure Songs to Inspire Your Wanderlust
I think travel and music go together just like peanut butter and jelly. A perfect playlist in the background almost always enriches your adventures.
Favorite songs bring back wonderful memories of past travels, as well as inspire a clear and present mindset for your current adventures.
Whether you are riding along country roads or flying across the mid-west on a jet plane — or maybe both — the best travel songs inspire positive vibes and great memories!
These are my all-time favorite travel and adventure songs that bring me great joy on every trip!
"Welcome to New York" by Taylor Swift
"Highway Don't Care" by Tim McGraw and Taylor Swift
"Surfin' USA" by The Beach Boys
"California Girls" by Katy Perry ft. Snoop Dogg
"Havana" by Camila Cabello
"It's Five O'Clock Somewhere" by Alan Jackson
"Proud Mary" by Tina Turner
"Kokomo" by The Beach Boys
"Escape (The Pina Colada Song)" by Rupert Holmes
"Cruise" by Florida Georgia Line
"Dirt Road Anthem" by Jason Aldean
"Blowin' Smoke" by Kacey Musgrave
"On The Road Again" by Willie Nelson
"My Church" by Maren Morris
"I'm Gonna Be (500 Miles)" by The Proclaimers
"I Know Where I'm Going" by The Judds
Travel and Adventure Songs from Country Artists
Country music is generally my preferred genre of music. But when I travel, I enjoy a variety of music genres because of the upbeat tempo of many of the songs.
These are some of my favorite adventure songs from country music that I have on my playlist. They take me back to many times in my life when I traveled with loved ones and they are a breath of fresh air that bring back wonderful memories.
"Soak Up The Sun" by Sheryl Crow
"Leaving On A Jet Plane" by John Denver
"Life Is A Highway" by Rascal Flats
"I've Been Everywhere Man" by Johnny Cash
"On The Road Again" by Willy Nelson
"Ramblin' Man" by The Allman Brothers
"Drunk on a Plane" by Dierks Bentley
"Somewhere on a Beach" by Dierks Bentley
"Highway Vagabond" by Miranda Lambert
"I'm a Ramblin' Man" by Waylon Jennings
"Take Me Home, Country Roads" by John Denver
"Jackson" by Johnny Cash and June Carter
Best Songs for Beach Vacations
I've spent my entire life going on vacations to the beach. We live about 3 hours from Ocean City, Maryland so that has always been our vacation spot every summer. And since we are a family of teachers, it worked out especially well during our summer break.
The Beach Boys songs went on every vacation with us for years, so today their songs bring me great joy! I have such wonderful memories! Plus, who doesn't have a little summer love story that comes to mind when you listen to some of these songs?
I've also discovered some new favorites, too. When I listen to these songs, they magically take me back to the beach where I am carefree and happy. Where I am making great memories with family and friends over the years.
I hope these summertime beach adventure (and love:) songs bring great joy to your heart and mind.
"Soak Up The Sun" by Sheryl Crow
"Toes" by Zack Brown Band
"Surfin' Safari" by The Beach Boys
"When The Sun Goes Down" by Kenny Chesney and Uncle Kracker
"Pontoon" by Little Big Town
"Summertime" by Will Smith & DJ Jazzy Jeff
"Yellow Submarine" by The Beatles
"California Dreamin' " by The Beach Boys
"No Shoes, No Shirt, No Problems" by Kenny Chesney
"All Summer Long" by Kid Rock
"Itsy Bitsy Teenie Weenie Yellow Polka Dot Bikini" by Brian Hyland
"Under the Boardwalk" by The Drifters
"Summer Nights" by Olivia Newton-John and John Travolta
"Surf City" by Jan & Dean
"Beachin' " by Jake Owen
"Summertime" by Kenny Chesney
Relaxing Adventure & Travel Songs
Sometimes when we are traveling, we just want to sit with our music, our favorite people, and relax. These are some of the best songs for that. Enjoy those moments!
"Margaritaville" by Jimmy Buffett
"Somewhere Over the Rainbow" by Ava Cassidy
"Come Away With" Me by Norah Jones
"Leaving On A Jet Plane" by Chantal Kreviazuk
"New York State Of Mind" by Billie Joel
"Homeward Bound" by Simon & Garfunkel
"Orinoco Flow" by Enya
"Road Trippin'" by the Red Hot Chili Peppers
"New York State of Mind" by Billy Joel
"Fast Car" by Tracy Chapman
"Free" by Donavon Frankenreiter
"Hotel California" by Eagles
"Africa" by Toto
Favorite Rock Songs About Travel
These rock songs are all pretty amazing. My husband is going to especially love these songs on our vacation playlist.
I know and love almost all of these songs from my youth, and I find it very interesting that they have common themes that reflect the times several decades ago. The world was free and wild back then — people hitchhiked across the United States with no worries — and these songs reflect that freedom.
Let these songs take you back to a more simple, yet wild and free time!
"Born To Be Wild" by Steppenwolf
"Born to Run" by Bruce Springsteen
"Travelin' Man" by Lynyrd Skynyrd
"Sweet Home Alabama" by Lynard Skynard
"A Horse with No Name" by America
"Go Your Own Way" by Fleetwood Mac
"Like a Rolling Stone" by Bob Dylan
"Life is a Highway" by Tom Cochrane
Best Classic Songs About Adventure and Travel
No list of songs is ever going to satisfy everyone simple because we each have our own opinions and preferences. But there are classic songs about adventure and travel that seem to make every list — just because everyone knows and loves them.
Each of these songs is on this list for a different reason. Sometimes the lyrics are meaningful and remind us of a great adventure on the open road. Sometimes the music is upbeat or inspiring and makes us excited about our adventure. Sometimes it's just a happy beat that gets our toes tapping and puts a smile our faces.
Some of these songs go back decades but they are ingrained in our minds and inspire our wanderlust dreams. Who could put together a playlist of the best adventure songs without these classics?
"I Left My Heart In San Francisco" by Tony Bennet
"Midnight Train To Georgia" by Gladys Knight And The Pips
"Island in the Sun" by Weezer
"Coming To America" by Neil Diamond
"California Dreamin' " by The Mamas And The Papas
"Travelin' Man" by Ricky Nelson
"Come Fly With Me" by Frank Sinatra
"What a Wonderful World" by Louis Armstrong
"New York, New York" by Frank Sinatra
"Send Me On My Way" by Rusted Root
"Carry on Wayward Son" by Kansas
"Sittin' On the Dock of the Bay" by Otis Redding
"Leaving On a Jet Plane" by Peter, Paul, and Mary
"Wayfaring Strangers" by Johnny Cash
"American" by Paul Simon and Art Garfunkel
Contemporary Songs About Travel
I honestly don't know too many of these songs, but I noticed they were frequently found on other lists of best adventure songs. I listened to them and didn't find anything offensive, so I included them on my list since they are obviously popular songs and inspire new adventures and fun!
"Galway Girl" by Ed Sheeran
"A Thousand Miles" by Vanessa Carlton
"Shut Up and Drive" by Rihanna
"On Top of The World" by Imagine Dragons
"Around the World" by Daft Punk
"All I Want" by Joni Mitchell
"Take Me Home" by Phil Collins
"My Traveling Star" by James Taylor
Best Travel Songs for Reels and TikTok
These are some super fun songs to use for your vacation and travel videos! They are staples on Reels and TikTok, so when you are putting together a little music video of your vacation to share on social media, consider one of these great songs.
Or, you can even consider one of the songs in the above — any of them would be a great song to go with your short-form, vertical video! A classic song that everyone knows is always a good choice, too.
"Magic in the Hamptons" by Social House
"Vacation" by The Dirty Heads
"Sunny Day" by Ted Fresco
"Explore the World" by Brainheart
"Dancing in the Streets of Barcelona" by Ed Sheeran
Final Thoughts: Best Adventure Songs for your Playlist
I have thoroughly enjoyed curating this list of best adventure songs for all of us! I can hardly wait to add new songs to my travel and adventure playlist in preparation for my national parks vacation out west.
While researching songs for this article, if I didn't already know a song, I asked Alexa to play it for me to determine if it would make the cut or not. There are more travel songs out there than I ever imagined! And I didn't realize how many travel and adventure songs were also about LOVE:)
Did you know that traveling and adventure are beneficial to your overall wellness? That's why I include articles about adventure on my website about personal growth and wellness:) Traveling actually helps you live a happier, healthier, and longer life! So while you're singing your way through your adventures, you might want to check out these other articles about travel and adventure:
Have fun in all of your travels and adventures! Meet new people… see new places… learn new things…all while relaxing with your favorite travel and adventure songs!
Love to ALL! ~ Susan
Did I Forget Any of the Very Best Adventure Songs?
Do you have favorites that aren't on this list? Please share them with us in the comment section below:)