Healthy Charcuterie Lunch Ideas for Any Occasion
Whether you're home with the children, or having your girlfriends over for lunch, or serving snacks to the guys during a Sunday game, let's look at some healthy charcuterie lunch ideas that will be sure to delight everyone!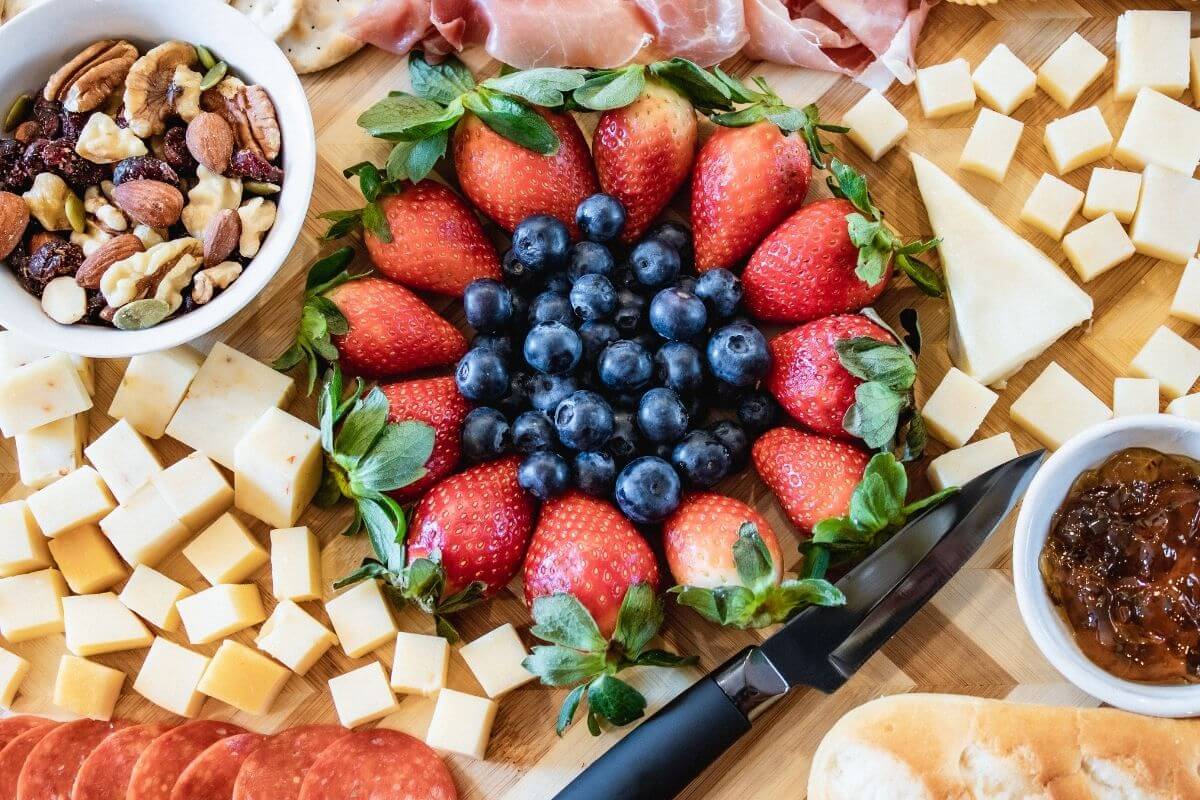 But first let's talk about this new fancy word, charcuterie. And let's be honest. If you're at least a little older than my grandchildren, you've probably been making charcuterie boards forever. But you likely called them something different!
Maybe when you offered to bring something to a get-together or special event, you'd offer something like this:
Fruit Tray
Veggies and Dip
Cheese and Crackers
Pickle and Olive Tray
Relish Tray
Meat and Cheese Board
Finger Sandwiches
Appetizer Tray
Antipasto Platter
Right? Do any of these sound familiar? Of course they do!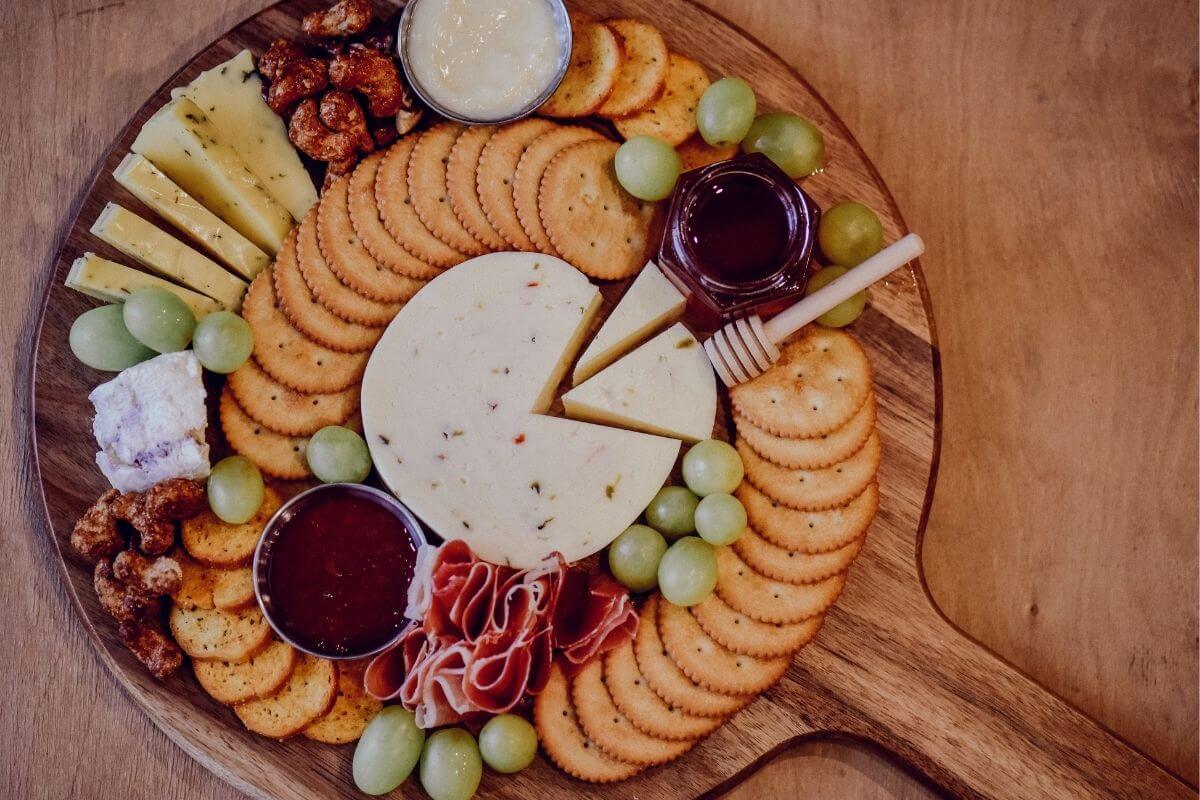 Today, we are a little more trendy and sophisticated so we call ALL of these things (in any combination) charcuterie boards.
But it's a little more complex than that, so let's learn about the history of charcuterie boards before we learn how to make a healthy charcuterie lunch for our friends and family.
Related Article: The Importance of Positive Social Interactions to Your Overall Health
What is Charcuterie Food?
According to Wikipedia, charcuterie is a French term for a branch of cooking devoted to prepared meat products, such as bacon, ham, sausage and other meats primarily from pork. The meats are prepared for their flavors derived from the preservation processes.
However, the term has evolved to include a variety of flavorful foods other than meats. There are no real rules with these beautiful boards, but a charcuterie board usually contains an assortment of meats, cheeses, artisan breads and crackers, olives, fruit, veggies, nuts, jams, and more, all artfully arranged on a serving board or platter.
In fact, charcuterie boards are so popular today that people make them for meals and snacks to use up their veggies, fruits, cheeses, proteins, and other foods left over in the fridge.
More and more, you also find them on menus as both appetizers and meals at restaurants.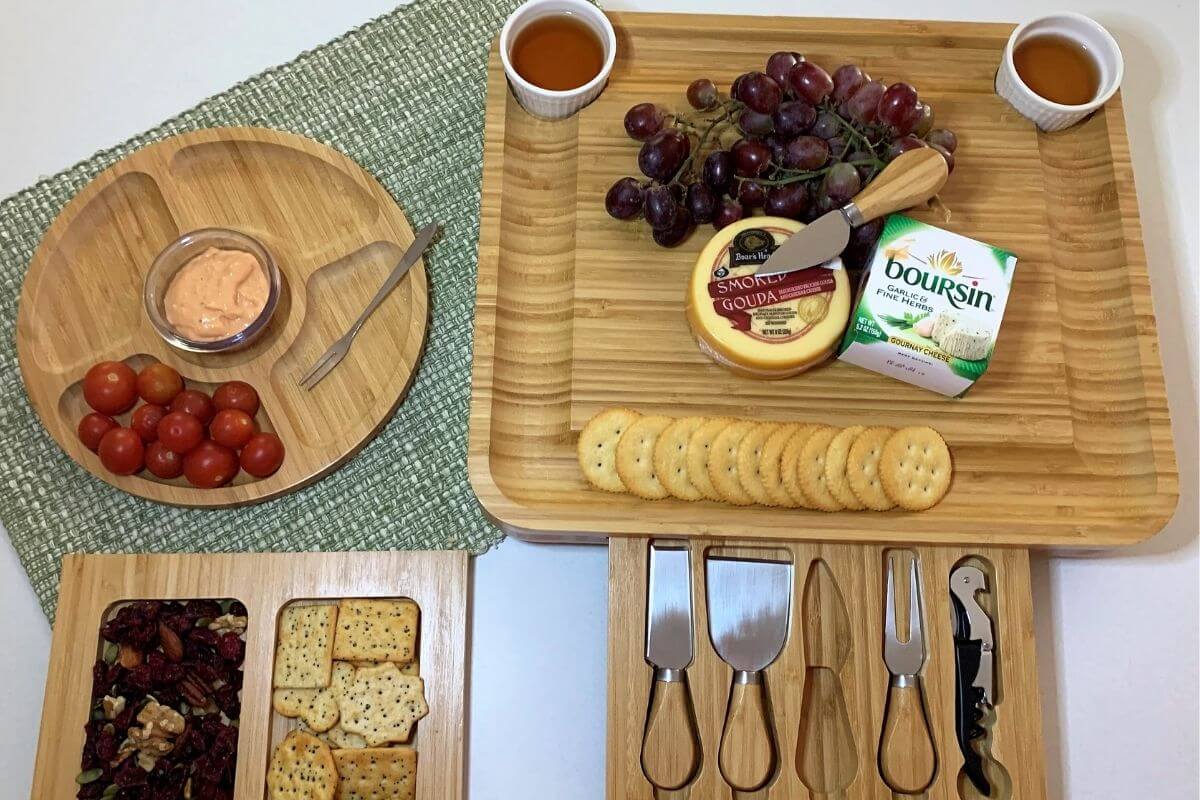 I think of charcuterie food as finger food, or snack food, but given the right variety of flavors and food groups, people enjoy them for entire meals today.
Read to the end to find out about creative and colorful specialty charcuterie boards that are made for just about any holiday or special occasion you could ever imagine!
Charcuterie boards are super fun, colorful and trendy right now.
How Do You Say Charcuterie?
There is a reality we must face about this word – charcuterie. It is not easy to say and you will likely hear a wide variety of pronunciations of the word.
Charcuterie is pronounced char-koo-ter-ee. It's a French word that basically means "pork butcher," but we know for sure that these boards are not limited to pork anymore.
What You'll Need for Your Charcuterie Board Lunch
Platter, Plate, or Board
The first thing you need for a lunch charcuterie board is something to put the food on. You can use an official charcuterie board that is available just about everywhere these days.
Or you can use a tray you've had in your cupboard since you got married, a large pizza pan, a large cutting board, or even a cookie sheet! Whatever you want to use will work! (Examples of these are pictured here in this post right out of my cupboards.)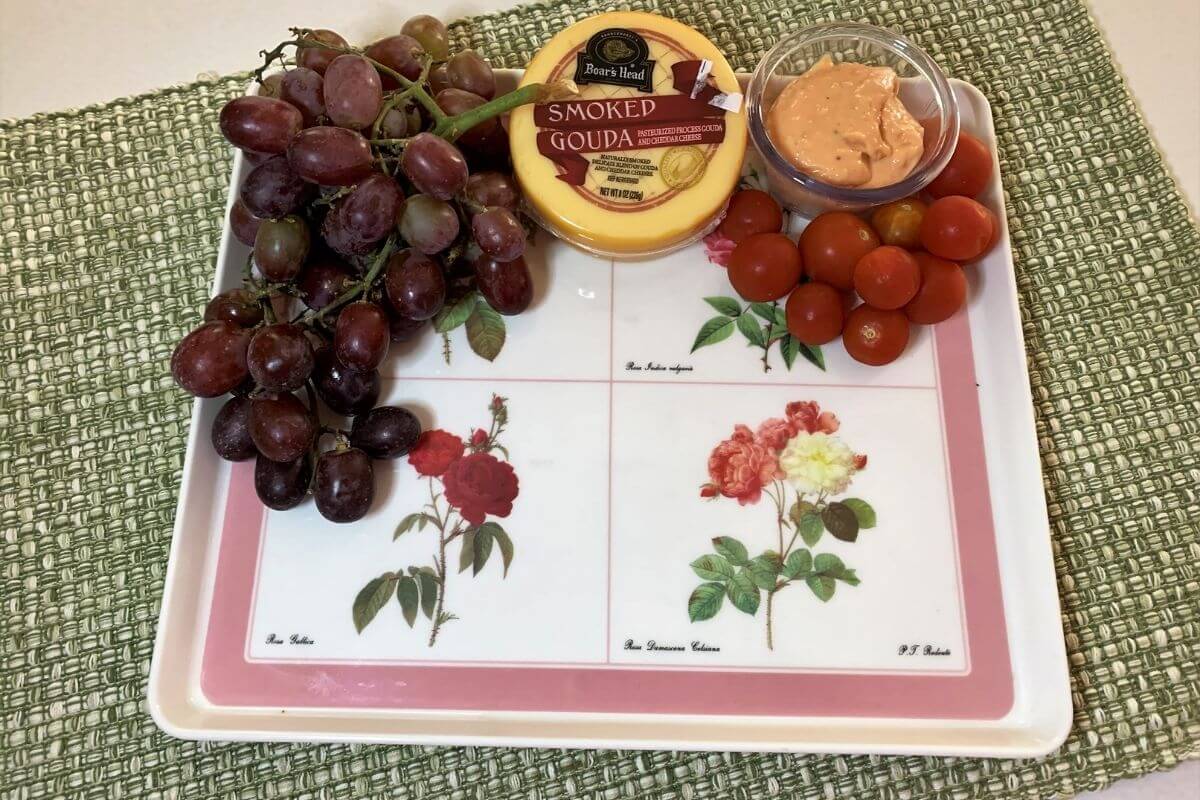 Depending on what size platter I am making and how many people I'm serving, I have used a variety of different platters or boards.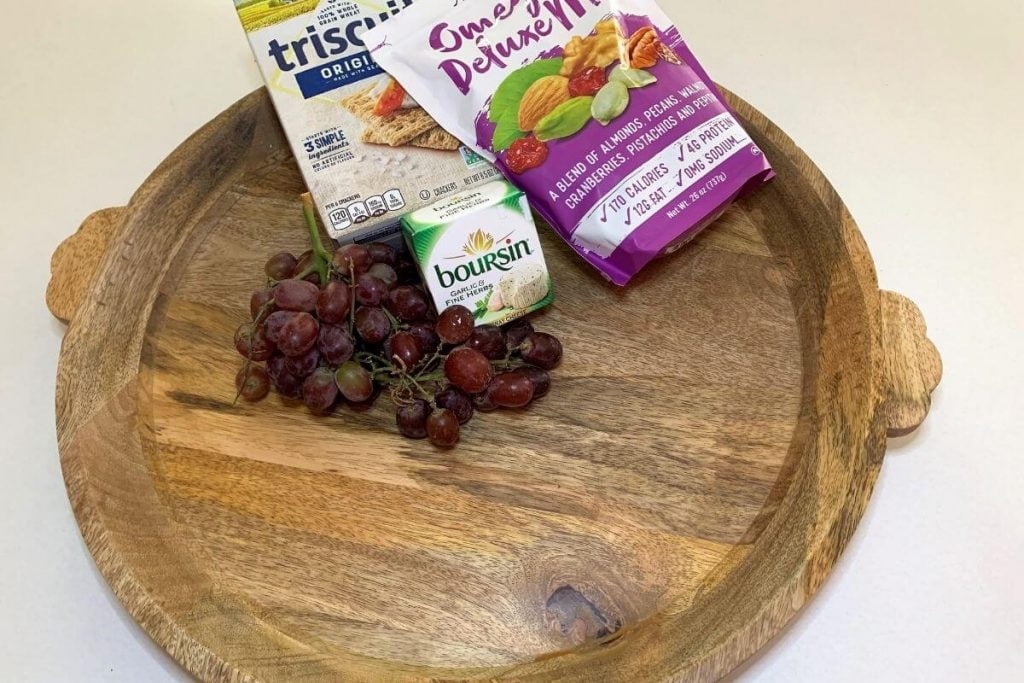 Utensils, Paper Products, and Drinks
You should have these items on hand for your lunch: a few small knives/spreaders, a few small forks and/or toothpicks to pick-up foods, some small spoons and bowls for dips and spreads.
You will also want to get small plates for serving, plus napkins and drinks.
Let's quickly talk about drinks. The traditional drink to go with charcuterie foods is wine. But of course, it depends who you are serving as to what drinks you serve. Maybe beer would be better for the guys Sunday snacks? Iced tea for a lunch with the girls is especially nice since you are offering a healthy charcuterie lunch. Apple juice for the children? You get the idea!
If you are preparing a charcuterie lunch for children, you may even want to get lunch boxes or plastic containers to put the snack foods in for single serving "boards" that children will love!
How to Make A Healthy Charcuterie Lunch
Planning and Prep
The prep will be fairly easy for a healthy charcuterie board lunch. A quick trip to the grocery store in advance, with your plan in mind and an ingredient list, will get you started.
Think of a variety of foods that compliment each other and are enjoyed by the company you are feeding.
Think about textures (crunchy, smooth, hard, soft) and flavors (sweet, sour, savory, spicy, bitter).
Consider a variety of cheeses, meats, crackers, breads, fresh veggies, fresh fruits, nuts, dips, dried fruits, etc.
Some people add sweets to their charcuterie boards, as well. Plus just about any of your favorite snacks. There aren't too many rules with these fun, creative boards!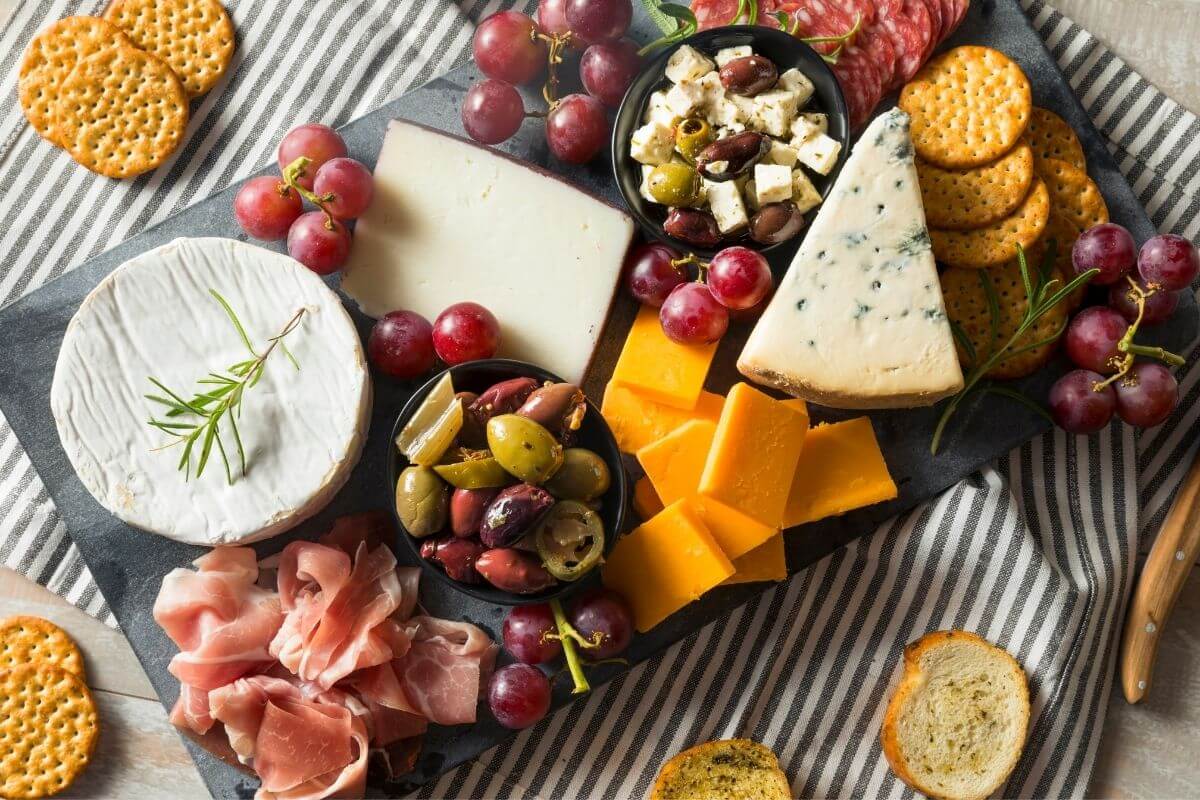 Of course, you want to think about colors that will make your board visually appealing.
And since this is going to be a complete meal, you want to consider food groups, too!
Ingredients For Your Lunch
These are some of my favorite healthy foods to include on a simple but awesome charcuterie board:
Fresh Fruits: slices of apples, blueberries, raspberries, strawberries, grapes
Fresh Veggies: cherry tomatoes, sliced carrots, cucumbers
Salty Snacks: bread & butter pickle slices, Sociables, Wheat Thins, Triscuits
Proteins: hard boiled eggs, cheddar cheese (hard) gouda cheese (medium), garlic and herb cheese spread (soft), pepperoni, deli turkey (meats should be thinly sliced)
Sweet Snacks: yogurt covered pretzels, **Omega 3 Trail Mix (a delicious blend of sweet dried fruit, seeds, and nuts)
Spreads: honey, jam, veggie dip
(You will see olives on almost all charcuterie boards, but NOT mine. No mushrooms, either!)
Bonus Tip: Rosemary sprigs make a great garnish for charcuterie trays!
**This Omega 3 Trail Mix is sometimes difficult to find in local stores, so we buy it from Amazon and keep it on hand.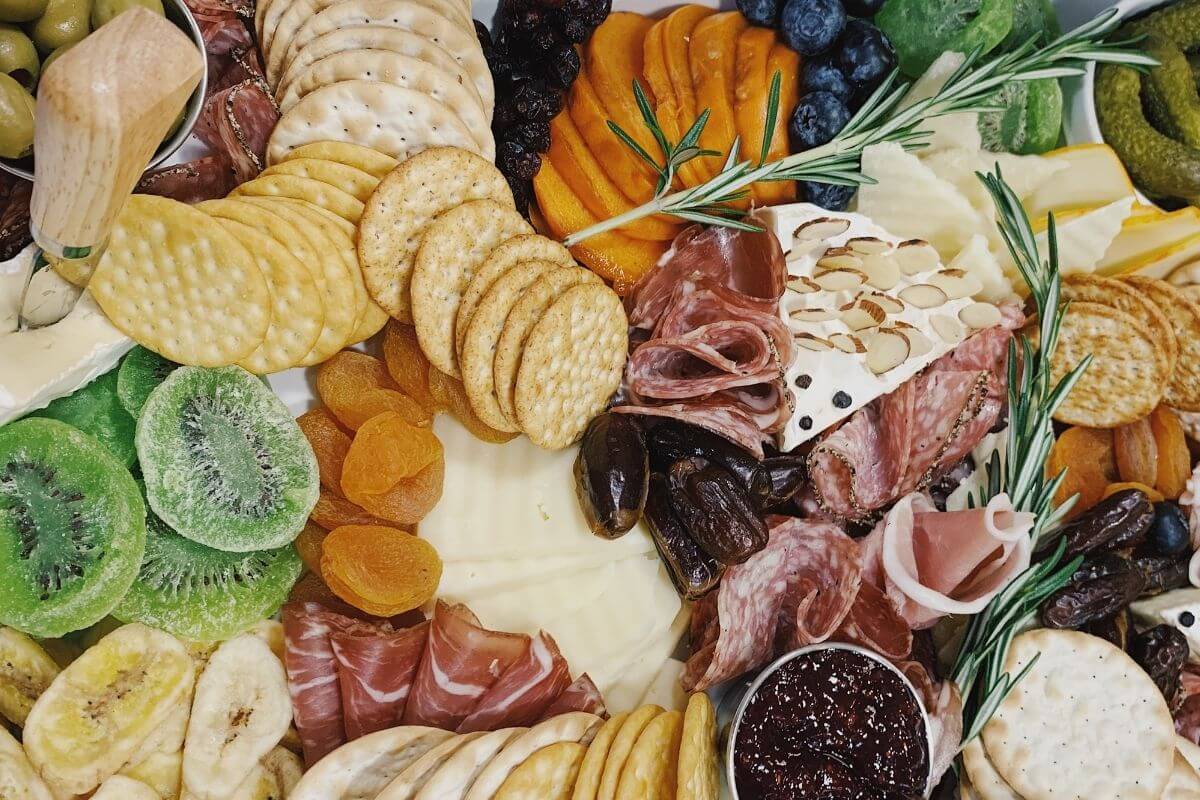 Additional Ingredients for A Charcuterie Board
These are random items I like to include on some of my boards and trays, also. I try to mix in various flavors, textures, and colors as well as various food groups to ensure that everyone finds something they enjoy.
Cheez It Crackers
Guacamole
Dried Banana Slices
Non-Perils
Kiwi
Mini Tortilla Chips
Goldfish Crackers
Mini Marshmallows
Chocolate Covered Peanuts
Chocolate Covered Raisins
Blackberries
Various Kinds Of Hummus
Small Pretzel Sticks
Gummy Bears
Assorted Nuts
Veggie Dips
Green and Red Pepper Slices
Assorted Cheeses
Assorted Crackers
Save This Article for Later on PINTEREST
How to Put Your Charcuterie Board Together
Once you've gotten your ingredients, you'll want to wash and prepare them for serving. Be sure to dry the fruits, eggs, pickles, veggies, and cheeses well before placing them on a board or platter.
Typically, I put portions of each ingredient into a lunch baggie in advance so I can easily remove everything and put the board together right before I'm ready to serve lunch. This way, I can put away boxes, cans, jars, bags, etc and not have to deal with the mess.
If you have large bowls that require more than a tiny space, you will want to place them on the board, as well. Then work around them.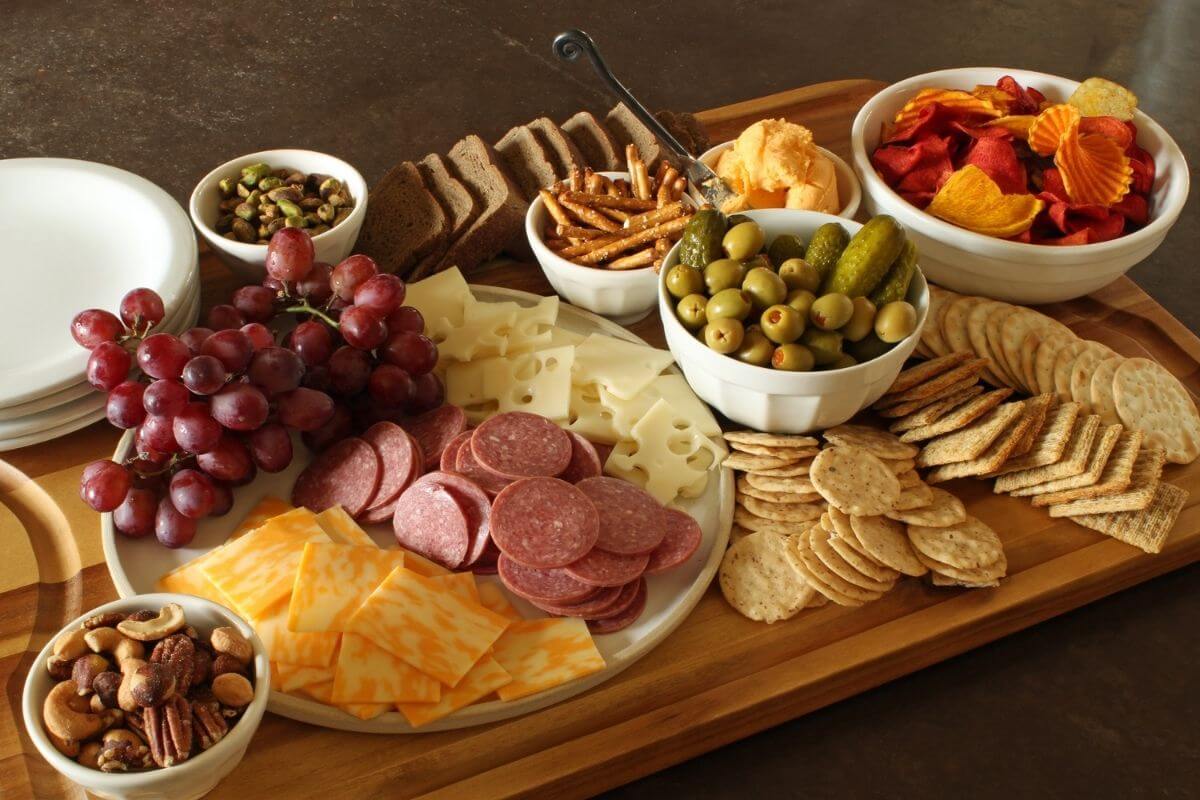 You can get creative with rolling meats or pinching them into 3-D shapes. Or, you can lay the thinly sliced pieces in ripples in a pile. You can layer your ingredients in a variety of ways so they are visually attractive.
I suggest that you draw a simple plan for your board so you know approximately where you want to place each item, especially if it is a large board.
You can slice one of your cheese blocks, or cut it into cubes, and leave the other one whole for guest to cut themselves. You can even cut part of the block into slices and part into cubes. This offers another visually appealing variation.
If you have decided to leave a hard cheese whole and let your guests cut it for themselves, place it on the board first since it will require more space. Work around it.
After you put most of the ingredients on the board, you can fill in with the small berries and nuts so there are no empty spaces on the board.
And you should be ready to serve now!
Easy Charcuterie Board Ideas
You can use a combination of any of the ingredients above to create a very easy charcuterie board for two, or even for one. It can be a healthy meal if you balance the food groups and monitor portions.
Related Article: Laura's Journey to a Healthier Relationship with Food
This is a great solution for the leftovers that you have not put on the board, too. You can make it on a small pretty plate and serve yourself a healthy charcuterie lunch.
I typically throw away any foods that are leftover on a charcuterie board.

Best Places to Buy Charcuterie Ingredients
If you are planning to have everyday, common foods on your platter, you can find those ingredients in any grocery store. Your favorite boxes of crackers or chips, your favorite blocks of cheese, fruits and veggies, etc can all be purchased wherever you shop regularly.
If you want to include some specialty or gourmet ingredients, nowadays you can find these in most any grocery store. For example, all the grocery stores in my area of Southern Maryland now have a gourmet meat and cheese section near the deli. Here you can find a wide selection of hard and soft natural cheeses, unique specialty crackers and breads, and a variety of garnishes and other flavored, more traditional charcuterie items.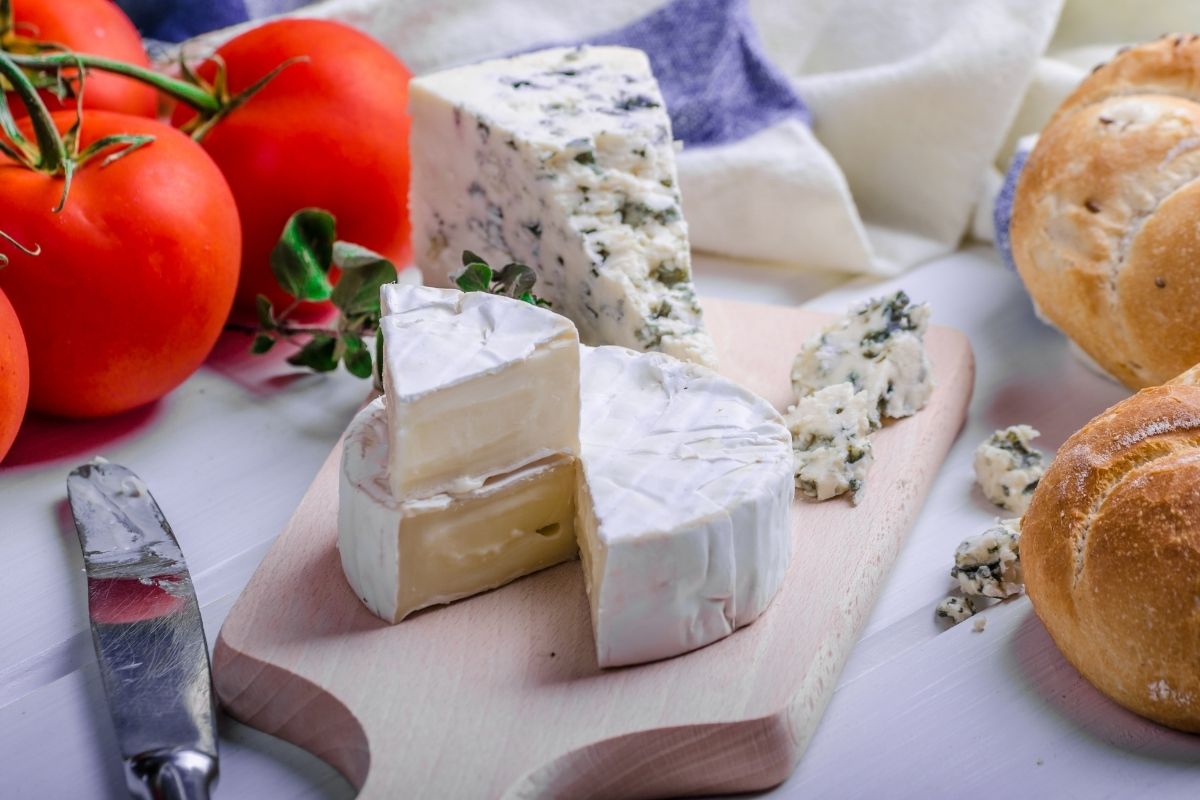 I much prefer deli meats for my boards. I'm honestly not a fan of processed charcuterie meats. My favorite deli meats are the Boars Head brand most grocery stores sell at their deli. Once I decide what meats I want to use on my board, I will ask the deli to slice it very, very thin.
Aldi, Harris Teeter, and Trader Joe's all have specialty brands and a wide selection of ingredients for both traditional and trendy charcuterie boards.
Additionally, nowadays you can find lots of specialty cheese and bread stores that serve their small communities. I have a few favorites scattered about on the Eastern Shore so when I travel, I am always sure to pick up some of my favorite items!
Other Kinds of Charcuterie Boards
My Favorite Charcuterie Boards
All you have to do is go on Pinterest to realize there is an infinite variety of charcuterie boards that you can create! I get so excited about all the ideas! These are just a few of my favorites: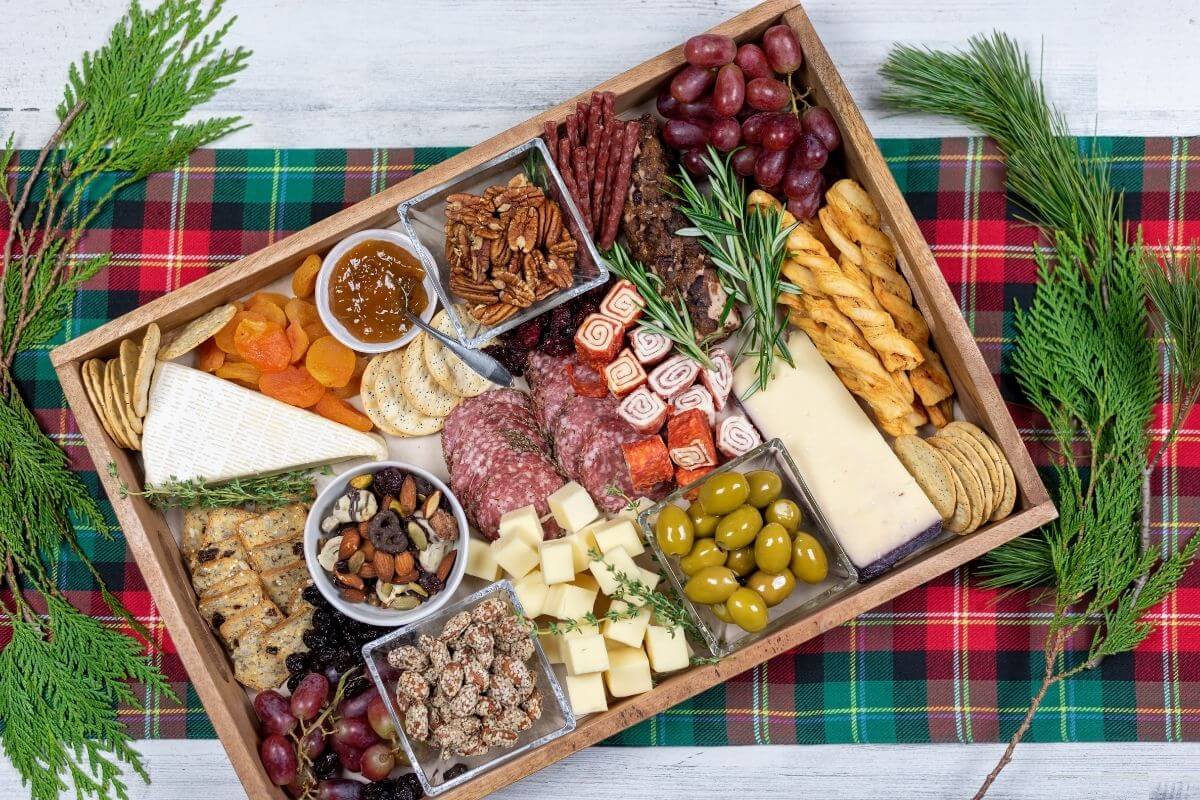 Breakfast Charcuterie Board
Dessert Charcuterie Board
Valentine's Day Charcuterie Board
Galentine's Day Charcuterie Board
Charcuterie Appetizer Board
Patriotic Charcuterie Board
Kid-Friendly Charcuterie Board
Christmas Charcuterie Board
Low Calorie Charcuterie Board
Thanksgiving Charcuterie Board
Spring Charcuterie Board
Speciality Charcuterie Boards
There are too many boards to name here but these are some of the specialty boards I found particularly interesting:
Low Carb Charcuterie Board
Gluten Free Charcuterie Board
Vegan Charcuterie Board
Dairy Free Boards
Keto Boards
Wine and Cheese Boards
Trader Joe's Charcuterie Board
Chocolate Fondue Board
Italian Charcuterie Board
Low Cost Charcuterie Board
Simple Charcuterie Board
My hosting style is fairly simple and down-to-Earth. That's why you'll notice that my Healthy Charcuterie Lunch Board ideas were primarily foods that most everyone eats and you can find at local grocery stores.
As you see in the lists above, some charcuterie board ideas are more specific to special occasions and special diets. So I suggest you choose what kind of board sounds good and have fun making one!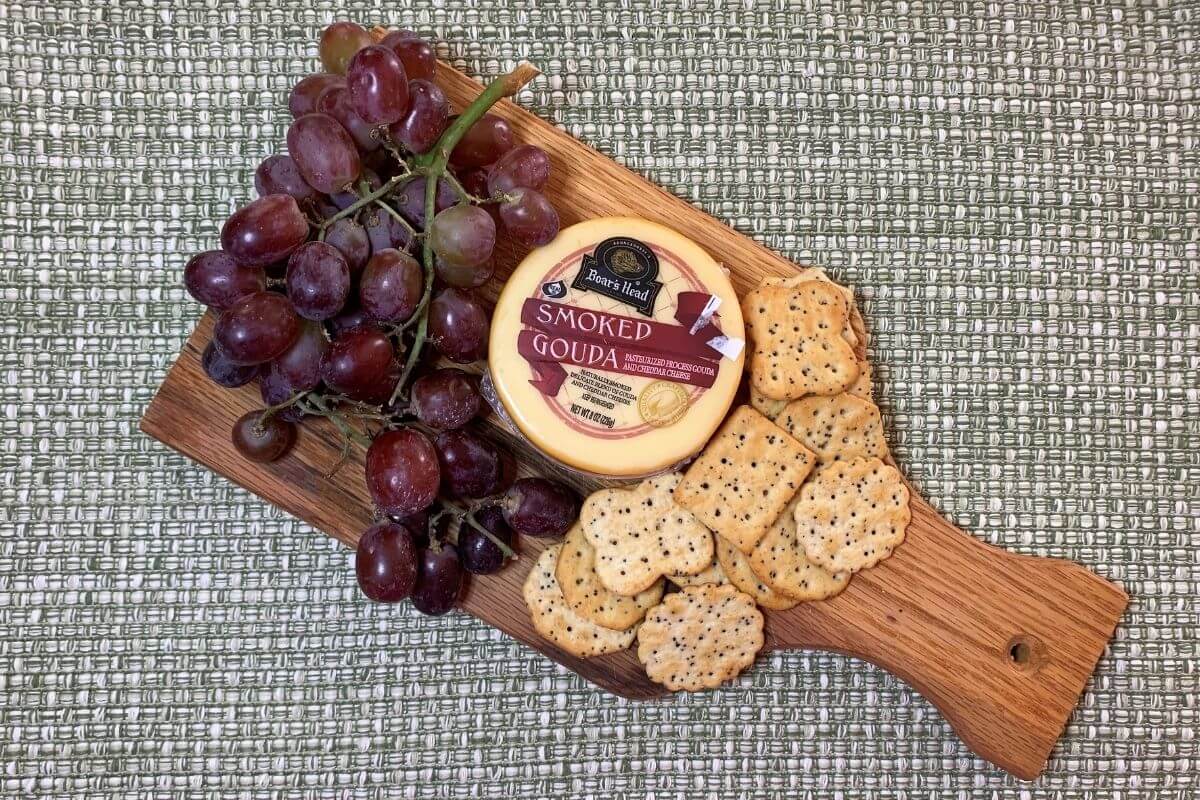 Final Thoughts
Six years ago, I went to work at a new school as the Assistant Principal. I joined a book club with other staff members and was asked to bring a Charcuterie Board to one of the weekly meetings. HAH! I had no idea what a charcuterie board was at the time!
Since I was new to the school and this group of people, I wanted to get this RIGHT! Someone suggested an antipasto board. (Never heard of that either!) So I did a bunch of research and went to a few grocery stores in search of antipasto charcuterie foods! I was so nervous! Some of the foods I had never even heard of!
I ended up making the Antipasto Charcuterie Board and everyone LOVED IT! I had a great time putting it together and serving it at our book club meeting. Since then, I've made a few more, but admittedly they were much simpler and ordinary.
Truth be told, if you just want to make a Cheese and Cracker Tray, I'm sure everyone will love it!
And if you just want to make a Meat and Cheese Platter, I'm sure everyone will love that, too!
But Charcuterie Boards sure are fun if you have the time and want to get a little more creative!
Do you enjoy making charcuterie boards? If so, I'd love to hear about your favorites! Leave me a comment or email me with your best ideas! You can also find lots of creative ideas on my Pinterest Charcuterie Boards board.
Love to ALL! ~Susan
(Do you see the Hedgehog on the platter? It's a piece of round cheese cut into a triangle, with almond slivers sticking up from the top, and seeds for eyes and a nose:)