12 Important Elements of a Balanced Life
Balance is not always easy to achieve. We are constantly pulled in different directions with the need to juggle work, family, friends, and more. Here are 12 important elements of a balanced life that will help you achieve this goal.
Admittedly, no one has the time or energy to devote themselves fully to one single aspect of their lives without neglecting others, so it is essential to prioritize your needs so you can have some semblance of harmony in the wholeness of your life.
Let's look at 12 important elements of a balanced life so you can begin to develop an awareness of how to find peace, harmony, happiness, and balance in your life. Additionally, I encourage you to maintain a positive, healthy mindset while on your journey to a balanced life.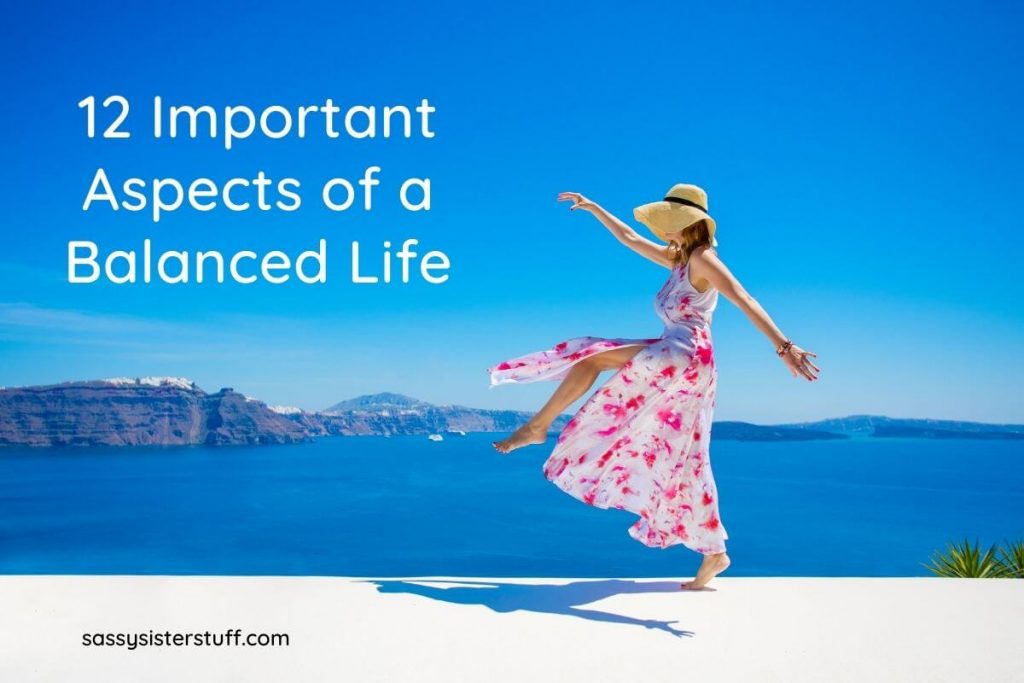 ---
What is a Balanced Life?
In order to live a balanced lifestyle, you must consider many areas of your life — including mental health, physical activity, a balanced diet, work-life balance, social activities, peace of mind, daily goals, stress reduction, meaningful relationships, a sense of purpose and more.
The most important thing is your overall quality of life and happiness. In a well-balanced life, you want to have enough time to take good care of yourself and your loved ones. You want to live a happy and productive life on a daily basis. You want to have meaningful ways to contribute to the lives of people and the world around you.
Living a balanced life doesn't mean you have a perfect life; it means you are able to maintain a positive attitude about life even when faced with stressful situations. You are able to maintain financial stability, family responsibilities, a healthy social life, and energy levels that allow you to live your best life.
Be sure to get enough sleep and regular exercise; enjoy healthy food and spending time doing things you love. Listen to your body's needs and monitor your physical health as well as your emotional self care. Your immune system, high blood pressure, and heart disease should be priorities for your personal health.
Chronic stress can significantly impact your ability to maintain a better balance in life. A healthy work-life balance is also essential.
The good news is you can develop new habits that allow you to live a healthy lifestyle if you focus on these 12 key elements of a balanced life.
12 Important Aspects of a Balanced Life: Let's Begin
The best lives are balanced lives but many people have a hard time balancing their professional and personal lives. The proper balance of self, work, family, friends, and fun can create a fulfilling life for anyone. But there are many aspects of a balanced life that need to be considered in order to achieve the perfect balance.
In order to have a better understanding of what a balanced life is, you should consider the following 12 aspects:
1. Love
Love is the first important aspect of a balanced life.
With so many distractions in our modern world that take our attention away from the people and things that matter most, it can be difficult to carve out time for what is most important.
One of the best ways to build a balanced life is by caring for the relationships in your life. Whether it's making time for your spouse or putting in quality time with family members, love can be one of the most selfless acts you do for yourself and those around you.
Loving your partner does not just mean physical, emotional, or romantic. It means putting in the time to listen to each other, pay attention to their needs, focus on their interests and sharing responsibilities.
It is important to nurture your adult relationship with love, kindness, patience, and understanding.
It is also important to lean into the self love movement and learn to take good care of yourself. When you practice self love, you will become the best version of yourself and you'll be better able to love those around you. You are just as worthy of your love as those around you.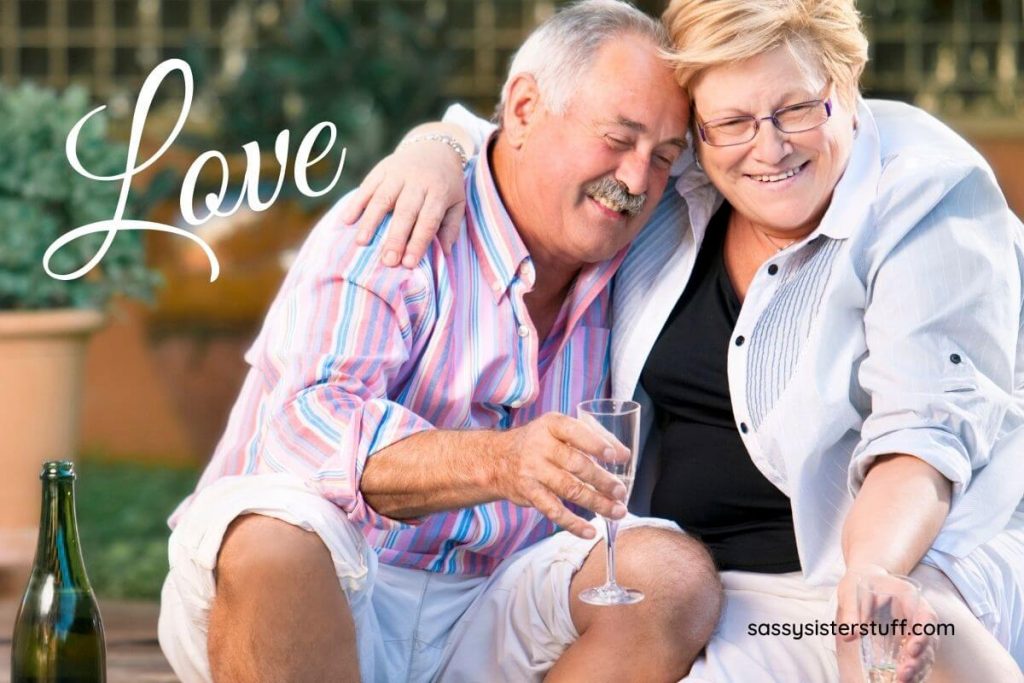 2. Friendships
The next aspect of living a balanced life is friendships. Friendships are priceless gems that should not be ignored.
Friends can be your best friend, your therapist, and your cheer squad all in one, but many people take them for granted and forget how hard it is to find genuine friendships.
So it's important to nourish your friendships; let your friends know you care about them. And spend time with them.
Friendships are an important component of overall wellness and happiness. You can read more about the importance of friendships and social interactions here.
---
Related Article: How to Improve Social Wellness: 9 Awesome Tips
---
3. Adventures
The third aspect of a balanced life is adventure. Yes! Fun and adventure is an important component to a balanced life!
It is hard to pursue a happy, balanced life when you are living in the same routine every day. To be more balanced, it's important to find adventure outside of your daily routine.
It's important to go out and explore on a Friday night or take up an outdoor hobby like hiking or biking on the weekends. Take time out of your routine to do new things.
It's also beneficial to plan travel adventures — whether near or far from home — travel adventures contribute to your overall wellness and happiness. You can read about 30 reasons why traveling is important to your overall wellness.
No matter what adventure you decide to go on, it is important to remember the reason you are doing it is to provide balance in your life.
And if you struggle with chronic pain (like I do) that prevents you from traveling or adventuring outside of your comfort zone, check out this article about 31 of my best tips for traveling with chronic pain. I bet you'll find some useful tips that will help you feel more comfortable planning some fun adventures!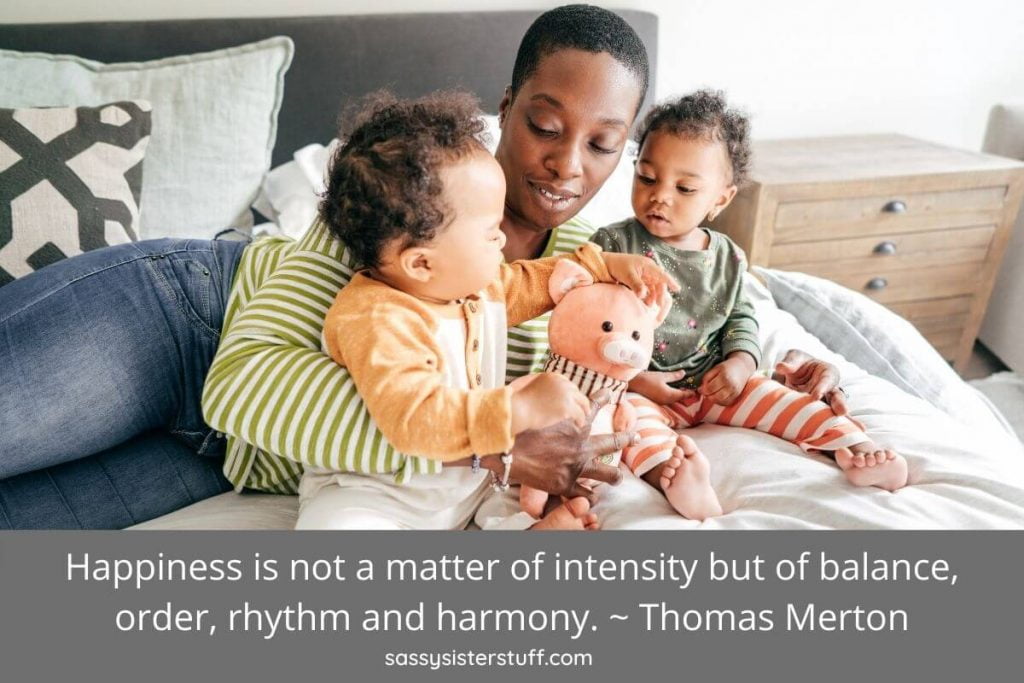 ---
For more life quotes, you may want to check out 50+ Inspirational Quotes About Living Life on Your Own Terms.
---
4. Environment
It may be hard to believe, but your environment can have a significant impact on your life. If you work or live in a messy, cluttered environment, it will create more stress for you without you even realizing it. Even if your car is messy or cluttered, it is creating undue stress.
Research suggests that a minimalist approach to your environment is the way to go today! It helps you maintain your schedule better; it helps you feel more relaxed; and you generally will have a designated place for everything.
Additionally, it helps the natural environment around us. As we purchase less and consume less, it contributes to the well-being of the Earth.
I invite you to read How Minimalism Can Help You Find Wellness to learn more about why it's important to a balanced life of wellness.
Taking the time to declutter, reorganize, clean and sort, and set up your environment in a manner that makes you SMILE is essential to a balanced life. Even getting organized early for holidays and special events can make your life less chaotic and happier. Give it a try!
---
Related Article: How to Bring More Cozy Into Your Life
---
5. Health and Self Care
The next aspect of living a balanced life is health and self care. Without having your health, you will not be able to fully enjoy the other aspects of life.
It takes time and effort to maintain your physical well-being for optimal energy and productivity. You can start by simply cutting back on coffee and alcohol, getting more sleep, and exercising.
Maintaining a healthy diet with plenty of fruits and vegetables will also help maintain your overall health.
If you are taking good care of your physical self, your mind will feel better too.
Self care is a critical aspect of a balanced life. Read about positive selfishness to develop a greater understanding of the reasons we need to find time in our busy lives for health and self care. You may also want to look at our 30 Day Self Care Challenge for inspiration!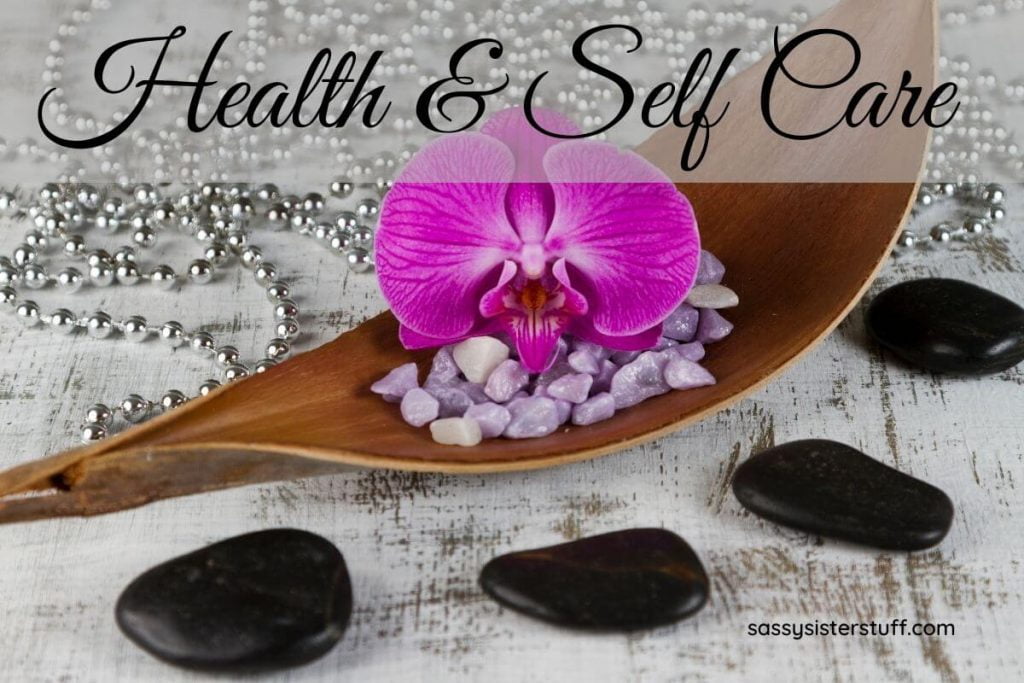 6. Intellect
Many people think that intellectual pursuits are unimportant in the pursuit of a well-rounded life, but the truth is intellect is just as important as the other aspects of a balanced life. There are an abundance of intellectual wellness tips to keep your brain healthy and nourished!
Brainpower is often neglected when it comes to personal development, but it needs to be nurtured if you want to live a balanced life. Developing your intellect can be done through reading books, participating in debates, and learning new languages.
It can also be done through travel, watching documentaries, and even doing crossword puzzles. It's important to keep your brain active, especially as you get older. You need to be able to think logically and challenge yourself intellectually.
By using the mind in new ways, you'll keep your brain functioning at its full capacity which can help you sleep better, be more productive, and find happiness in your life.
Just like a healthy body supports a healthy mind, a healthy mind supports a healthy body.
7. Occupational Skills
The next aspect of living a balanced life is occupational skills. Occupational skills come in many forms; they are not just skills associated with your job.
Occupational skills might include cooking, cleaning, or fixing things around the house. They also include skills such as driving or fixing your car, creating a grocery list and going shopping, and fixing your bike for a ride around your neighborhood.
Occupational skills also allow you to live a productive and happy life with a healthy balance between work and home life. You apply your special talents and skills to your career in a manner that works seamlessly.
These are very important aspects of life that help you stay self-sufficient and independent. Many people may not think about it this way, but occupational skills are vital to living a balanced life. It's an often overlooked aspect of a balanced life.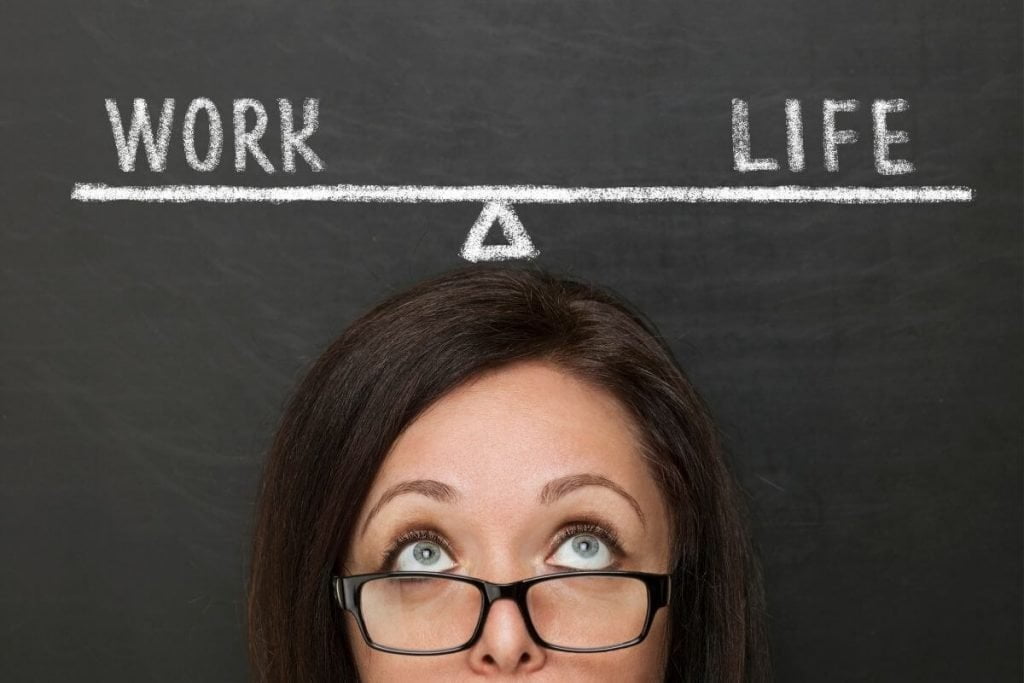 8. Spiritual Life
It's easy to get lost in the fast pace of life. With so many distractions around, it can be hard to focus on what is truly important. However, spiritual life is an important part of living a balanced life.
Your spiritual life helps foster your connection with nature and with other people who are also seeking that connection. It also encompasses inner peace, clarity, contentment and kindness towards others.
When you feel like you are at a crossroad in life, or you are struggling with something, your spiritual self can help guide you in the right direction. It also helps you connect with your highest self so you can become your truly authentic self.
You may associate your spiritual self with the concept of Zen, or a lifestyle of peace and calm. As part of living a balanced life, it is important to learn how to manage the chaos in your life. You will want to learn to respond rather than react to chaos and stress. You will want to practice gratitude and mindfulness. And you will want to learn to self-reflect on a regular basis.
You will find many more helpful tips for nurturing your spiritual self as part of living a happy, balanced life in these two articles:
10 Simple Ways to Find Your Zen In the Chaos of Life
12 Benefits of Mindfulness: Mind, Body, and Soul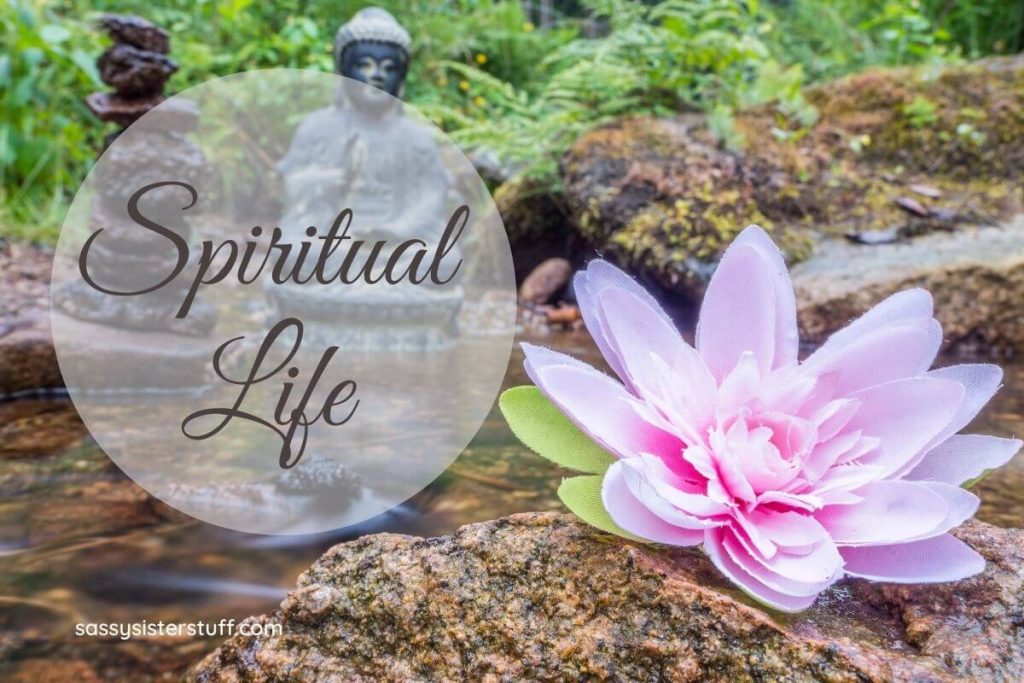 9. Career
The next aspect of living a balanced life is career. It can be a tough aspect in a balanced life!
Have you ever felt like your work life is completely out of balance? You spend all day at work and then feel drained by the time you come home, only to go back to work for another 8 hours. Most of us have felt this way at times. And it takes some persistent and focused work to break the habit!
Though it may seem impossible, there is a way for you to be more balanced in your life. You simply have to make it a priority to go home after work with a focus on creating an appropriate balance.
Don't check emails; don't check phone messages; and don't accept phone calls. Track your time, establish boundaries, and set priorities.
But it is also important to be in a healthy work environment where you are doing something you enjoy. You need to maintain healthy relationships with colleagues. And you need to be continuously developing your work skills.
---
Related Article: Avoid Career Burnout with these 6 Personal Growth Tips
---
But those things should be done during work time for the most part, or you are going to struggle with finding a balanced life.
Additionally, there are many career and business skills that can improve your personal life so you should be aware that you can utilize skills such as getting organized, learning to prioritize and delegate, and being flexible to improve both personal and professional experiences. Use these skills as appropriate to find balance in your non-work life.
---
Pin to Pinterest for Later
---
10. Creativity
Many people view creativity as an unimportant part of life. It's often thought of as a hobby, and not a necessity. This couldn't be further from the truth.
Creativity has tremendous positive effects on your brain, and is crucial for improving your mood and cognitive function. Creative hobbies such as knitting or crafting can improve dexterity, patience, and concentration.
It also enhances your problem-solving skills, which can help you in many areas of life such as work and relationships. Creativity can be as simple as journaling or collecting rocks. The purpose is to help you relax, have fun, think outside the box, and see things from a new perspective.
Research even shows that creative people are happier than those who don't express themselves creatively. So find yourself a hobby and make time in your busy life to do it! Remember, balance is the priority.
11. Family Life
Family life is arguably the most important aspect of living a balanced life. It is an essential factor that helps create strong bonds, connections, and positive relationships among family members. And most importantly, it provides stability and love to your partner/spouse and children.
Spending quality time with family helps everyone learn to cope with challenges, develop confidence and a sense of security, develop family values, and much more.
It is important to prioritize family time because it gives you a chance to spend quality time with those close to you and spend time on non-work related activities. You may need to seriously consider the issues of boundaries and priorities that were mentioned under the career aspect.
Make an effort to spend at least 2 hours each week day with your loved ones. There are many ways you can do this, but some examples include going out to dinner, cooking dinner together, going for walks, or even playing board games together.
Once you can find this balance in your life, it will be easier to achieve peace and happiness.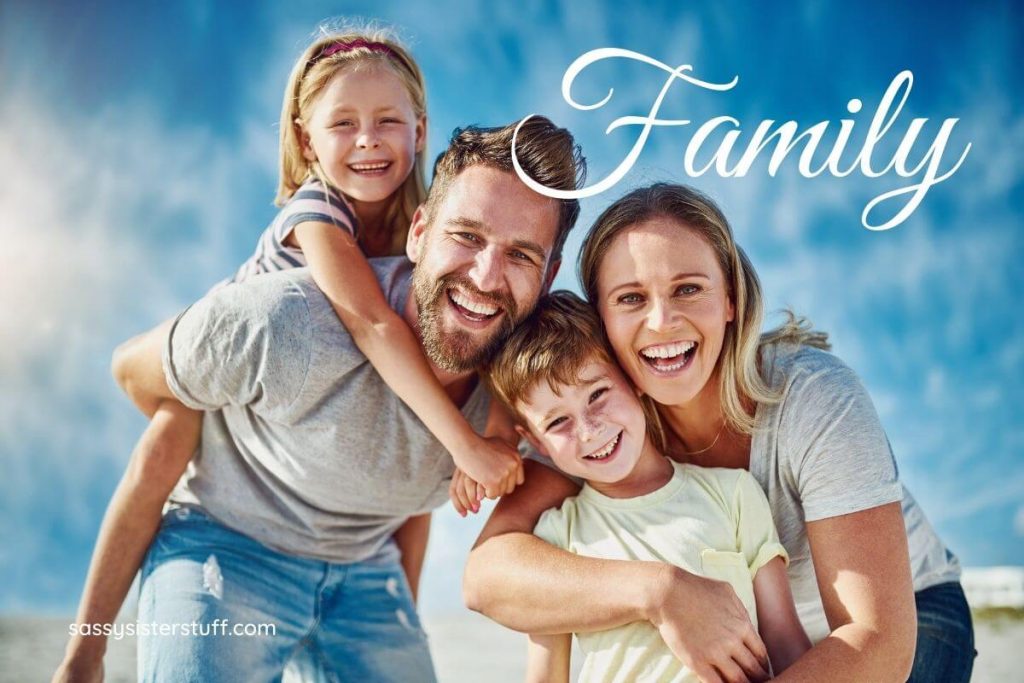 12. Community Life
Living a balanced life is all about making time for the things that matter. The next aspect of living a balanced life is community life. Finding a way to give back to your community, and be a part of the people and places that make up your community is a great way to find fulfillment and value in your life.
Many people find connections to their community life when they are out volunteering in their community. Volunteering helps you feel connected to your community because you are doing something for others, and you are also meeting many new people that you may not have met before. You are making a difference!
Community engagement can also include the whole family. Have you considered volunteering as a coach or team mom for your child's little league team? Or supporting your local EMS department, especially during National EMS Week?
Or have you ever considered fostering pets in your home for the local animal shelter? Or participating in a food drive with the local church before the holidays? These are great activities that the whole family can do together!
And everyone will feel a great sense of accomplishment!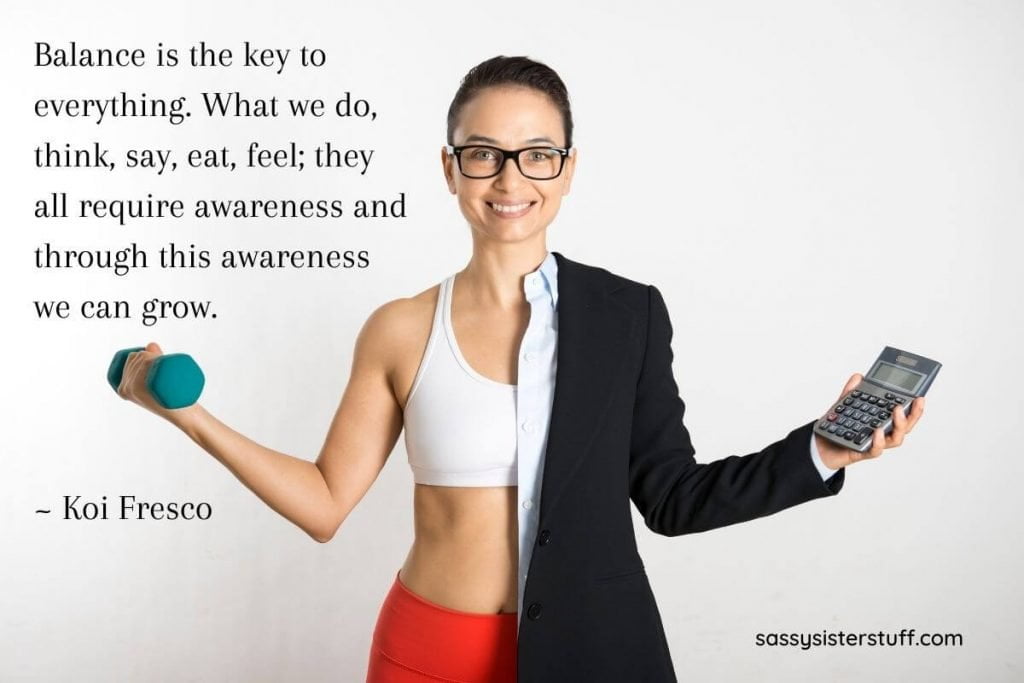 How to Live a Balanced Life
Balanced living is an awesome way of life that promotes joy, satisfaction, and meaningfulness. Living a balanced life means being present in the moment and utilizing your time for things that are important to you.
Now that you know the 12 important aspects of a balanced life, you will need to develop priorities and establish routines. But you don't need to do this alone. You can involve your whole family. Teach everyone to live a balanced life by getting them involved in setting boundaries and sharing responsibilities.
---
Related Article: 21 Easy-Peasy Ways to Make Today a Great Day
---
It's easy to get caught up in the day-to-day necessities, but if you are truly seeking happiness and harmony, you will want to focus on these 12 aspects of a balanced life while developing new family routines, schedules, and habits.
You'll also need to teach everyone the importance of being fully present in each moment. This can be difficult in the age of technology.
It will take active participation from everyone in the family to make it work. And it won't happen overnight. It is a process. Start to make changes slowly and work through all the elements of a balanced life.
Reflect and evaluate how things are going every week. Make changes, as necessary and appropriate.
Everyone needs to develop and maintain a positive mindset, too.
But it is also important to expect the unexpected and be flexible is shifting activities and/or mindsets. Because life is not linear — it does not go in one straight line. Life is a series of squiggling lines that intersect and unexpectedly cross over anything at any time.
So with all the planning in the world, and all the reading you do about developing a balanced life… things will go wrong. And that's okay.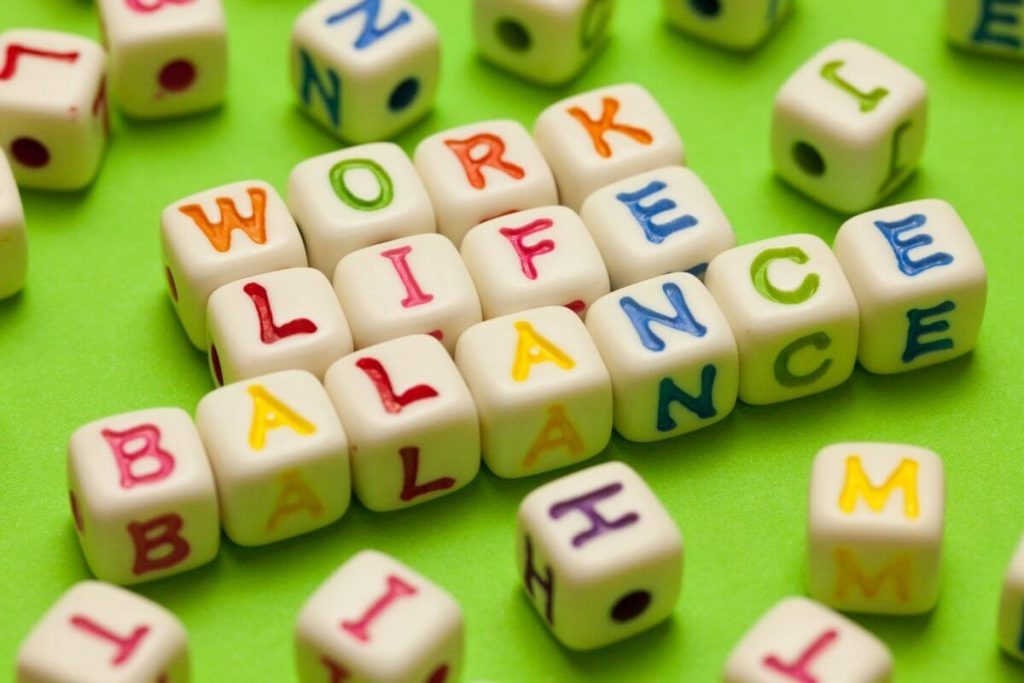 Final Thoughts: A Balanced Life
There's a lot of information in this article, so take time to process it. Especially if you're not familiar with the terminology and concepts. You have the tools you need to have a well balanced life so I'm sure you can figure it out!
There are many benefits to living a balanced life, such as feeling happier and calmer, being more productive and organized, feeling less stressed and overwhelmed, and feeling more connected. So it's well worth the effort.
But stress is inevitable in life, too. Like I said, expect the unexpected and develop coping skills to learn to deal with it. Your plan for a balanced life will inevitably have its ups and downs.
Don't expect too much of yourself or your loved ones. There are so many distractions in today's world that can cause us to easily get off track.
These are two additional articles that you may find helpful in your journey to develop a well-balanced life:
Don't forget to take good care of yourself at all times while trying to find a balanced life! It's essential to your overall wellbeing that you practice regular self care and self love habits!
Love to All! ~Susan
Which Aspects Do You Need to Focus On to Live a More Balanced Life?
Please share your thoughts and ideas in the comment section below. We can all benefit from sharing our own experiences and learning opportunities.