How to Get in the Christmas Spirit this Season
I realize that not everyone enjoys the holiday season like I do — it's my favorite time of year! If you're someone who doesn't always enjoy this time of year, you may want to explore my 10 best suggestions for how to get in the Christmas spirit this season. You won't be disappointed! These 10 tips will help you feel the spirit of the holidays in your heart and soul!
You may also want to read how to start getting organized for the holidays. Staying organized will help you feel less stressed and more comfortable with the holidays. Thus, you will have a more positive mindset about all the activities and holiday spirit.
Without further delay, let's look at my 10 best suggestions for how to get in the Christmas spirit this season!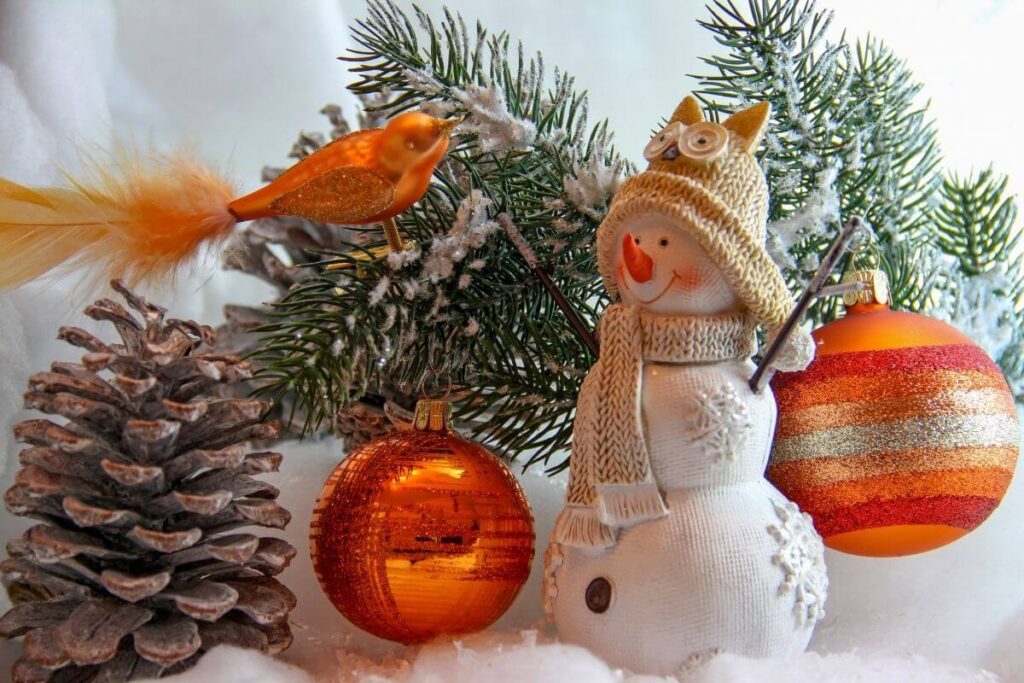 How to Get in the Christmas Spirit this Season
We're going to look at my 10 best suggestions for how to get in the Christmas spirit this season. Start early — at least by mid-November each year! It will give you longer to feel the joy and love of the season!
Just in case you are still concerned about the covid pandemic, you may want to read 7 tips about how to enjoy the holiday season safely during the pandemic. I know it's still a complicated situation and people have many perspectives, so check out these tips!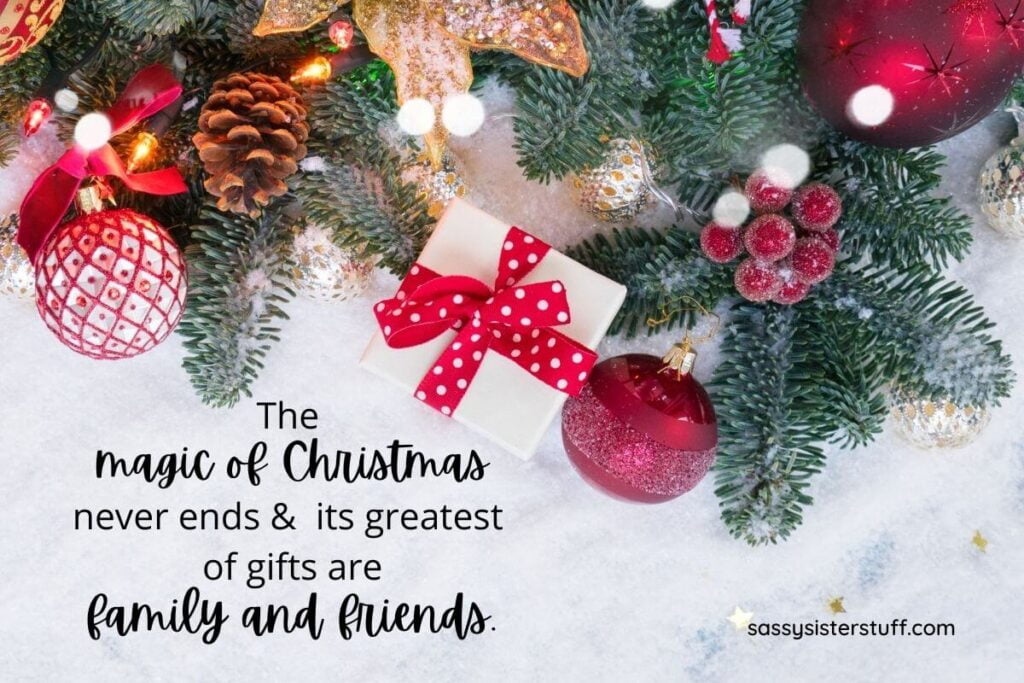 Inspirational Christmas Quotes and Messages
You can start to feel the spirit of Christmas by spending some quiet time viewing and reading inspirational Christmas quotes and messages every day. You can find these anywhere on the Internet. Schedule a few minutes each day to work on your holiday spirit so you can better enjoy the season. It'll be a great personal development activity that allows you to shift your mindset and find pleasure in little things.
You can start right here on Sassy Sister Stuff with short sweet Christmas messages to warm your heart. These are some of my favorite holiday messages and images. I created them last year as one of my personal growth activities to help me get in the spirit of Christmas. Developing and maintaining a positive, healthy mindset goes a long way toward finding happiness and peace all year long.
Another place you can find some of my favorite inspirational quotes and images about the holidays is a Country Living article, 78 Greatest Christmas Quotes to Help You Deck Every Hall.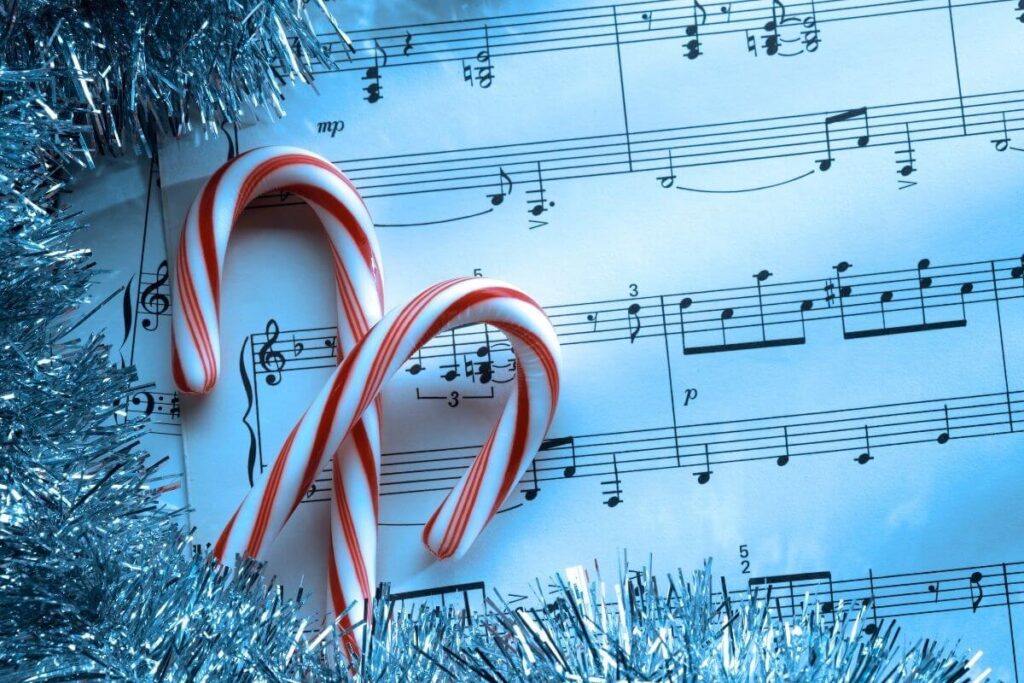 Listen to Christmas Music
If you haven't already done it in the past (of course I have created multiple Christmas playlists on every device I own… falalalala:), then take a few moments to create a holiday playlist of your favorite music. I know — you might be thinking I'm nuts. But honestly, if you start listening to it, soon you'll find yourself singing along and beginning to feel the Christmas spirit without even realizing it!
The next thing you know, you'll be belting out Christmas songs with Mariah Carey and you'll want to share your playlist with everyone you know! Christmas songs can be addictive so enjoy them! Turn up the holiday tunes and dance away the end of the year with a festive, joyful mindset!
I have dozens of Christmas CDs from a variety of genres. I created my playlists using my favorite music on these CDs. If you don't already have favorite holiday songs and singers, you may want to check out some of my favorites:
Martina McBride, White Christmas
Kathy Lee Gifford, It's Christmas Time
George Straight, Merry Christmas Straight to You
Alan Jackson, Honky Tonk Christmas
Pentatonix, The Best of Pentatonix Christmas
Elvis Presley, Christmas Duets
Mariah Carey, Merry Christmas by Mariah Carey
Kelly Clarkson, Wrapped in Red
Soon you'll become an expert in how to get in the Christmas spirit!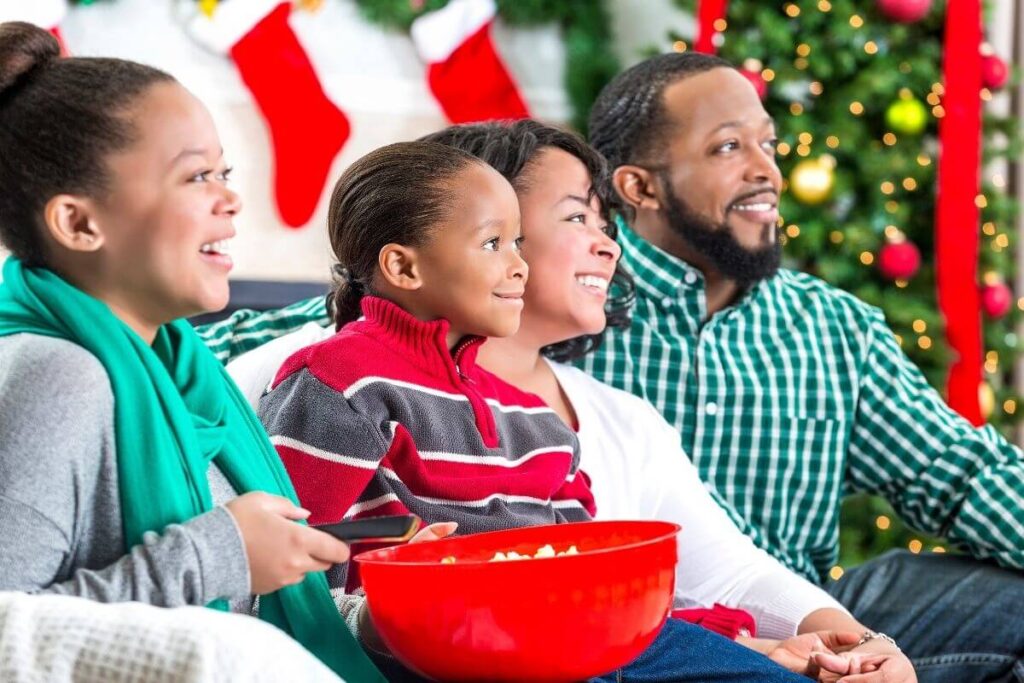 Watch Christmas Movies and Festive Television Shows
This is definitely one of my favorite activities for how to get in the Christmas spirit! We have Hallmark Christmas movies on the Hallmark Channel and Hallmark Movies and Mysteries. Nowadays, you can find most of these movies on streaming channels, too.
Everyone loves a feel-good movie, right? And who doesn't love a good love story?
We can certainly depend on Hallmark Christmas movies to bring us warm, fuzzy feelings of the season. My televisions are all on the Hallmark channel almost 24/7 for two months! I love the colorful and festive decorations, the cheerful characters, the beautiful love stories, and the holiday music.
I know some people think they are cheesy and silly — but not me! I take Hallmark Christmas movies very seriously! I keep track of which ones I watch every year, and when my favorites are on television, with the Hallmark Christmas Movie App. I've seen many of the movies several times so I don't have to sit down and watch closely. I can leave them on in the background and still get that warm fuzzy holiday feeling while I'm doing other things.
I also make sure to watch The Christmas Chronicles and Holiday in the Wild on Netflix, along with any other Christmas movies that look festive and fun, plus the annual country music Christmas special on network television. And to be honest, I make sure to watch Rudolph the Reindeer every year, too!
Just in case you want to know some of the BEST Hallmark Christmas Movies, I asked my friends to share their favorites and this is the list they came up with. Check them out!
9 Lives of Christmas
Christmas Under Wraps
Christmas Cookies
The Most Wonderful Time of the Year
A Godwink Christmas
The Christmas Shepherd
Christmas Wishes and Mistletoe Kisses
The Christmas Waltz
The Christmas Dance
Christmas Lodge
The Christmas Star
The Christmas Card
Christmas Train
A Veteran's Christmas
November Christmas
Fir Crazy
Silver Bells
Christmas in Conway
Christmas Shoes
Journey back to Christmas
Open By Christmas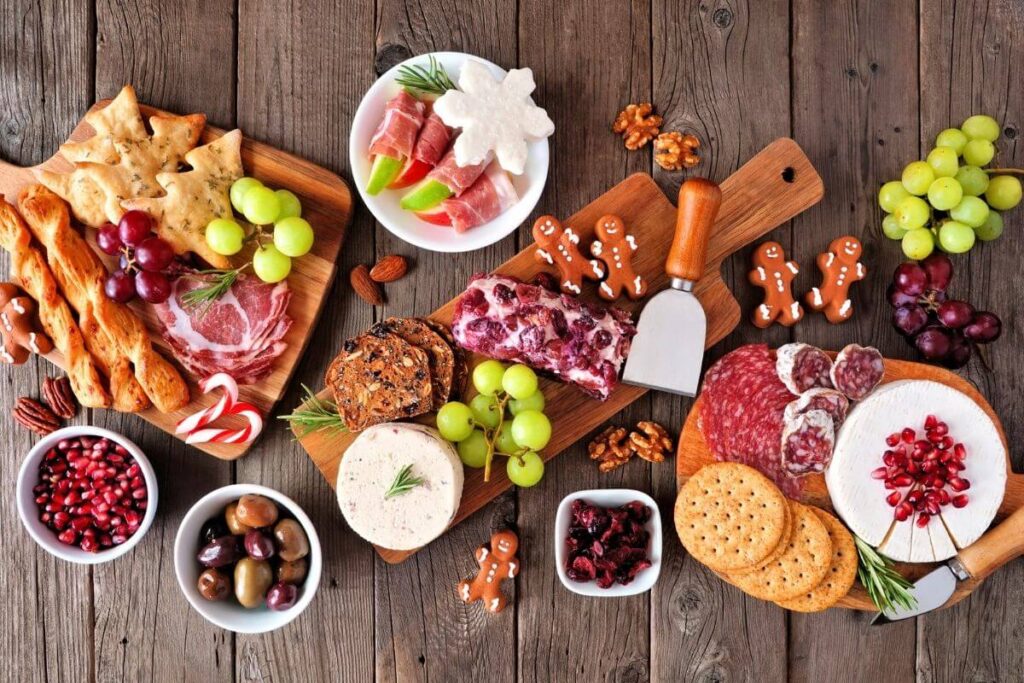 Plan a Get-Together with Friends
Friendships are very important for a balanced life. Unfortunately, we sometimes get too caught up in the chaos of everyday life to keep up with our friends like we should.
During the holiday season is a great time to plan a get-together with friends you don't see often enough. You can make it simple — it doesn't have to be anything complicated or time-consuming. Everyone will simply LOVE the time together! And that's what is important, right?
You could organize a pot luck dinner, or a cookie exchange, or a charcuterie party. You could even organize a Christmas tree ornament exchange. There are so many options to choose from!
Make some holiday sangria or holiday punch, get some holiday plates and napkins, put your television on a Christmas YouTube channel to help set the mood — and have a wonderful time catching up with your friends!
Reconnecting with friends is a great idea for how to get in the Christmas spirit!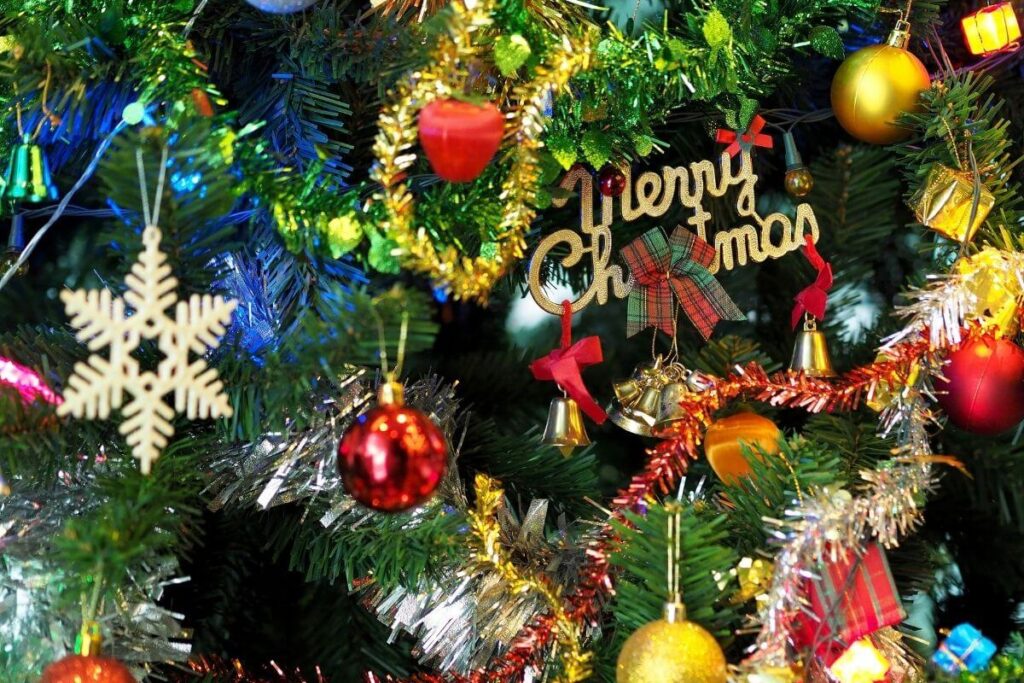 Attend Holiday Events in your Community
Getting involved and supporting your community is another important aspect of a balanced life and a healthy mindset. During the holiday season, there are many Christmas events scheduled by local organizations that need your support. Go support them, meet new people, listen to the holiday music and, and enjoy the spirit of the season.
There are craft shows, festivals of trees, wreath festivals, light displays, school plays, Christmas concerts, holiday dinners, dance shows, visits with Santa, and so much more. Check your local papers and social media pages to see what's happening in November and December. Make a point of attending something at least once every week or so.
These community events will help you find your Christmas spirit! And why not take a friend or family member with you?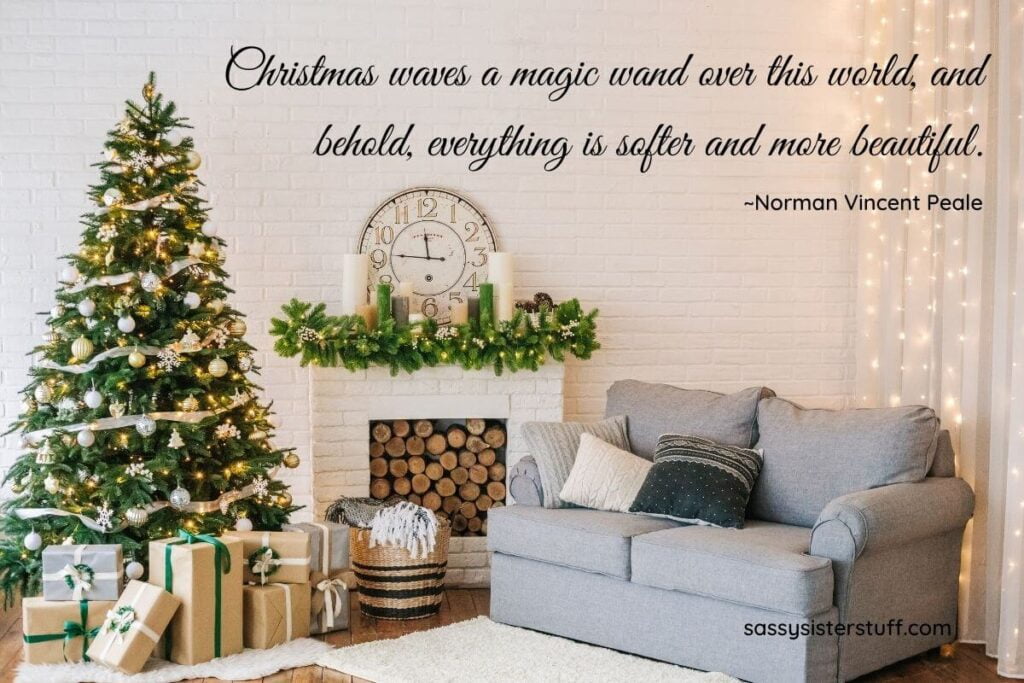 A Few More Ideas About How to Get in the Christmas Spirits
There are an abundance of ways to get in the holiday spirit during November and December. Don't let these months get you down. Be strong and keep a positive mindset that these months can be spectacular!
Pin to Pinterest for Later
Before I finish up, let me share just a few more ways to get in the spirit of Christmas:
Send some Christmas cards to people you haven't seen or talked to in a while. It will make both of you feel special.
Get crafty. Go to the local craft store and buy some materials (or a craft kit) to create something handmade and personal for yourself or a loved one.
Give. Make a donation to a local charity organization that is helping families in your area have a nice holiday season.
Decorate your living and work space. Even if you don't feel like it, put out a few decorations (or lots of decorations:) They will help you figure out how to get in the Christmas spirit!
Bake some of your favorite holiday treats. Even if you are not going to eat them, take some time to bake and share your holiday goodies with others.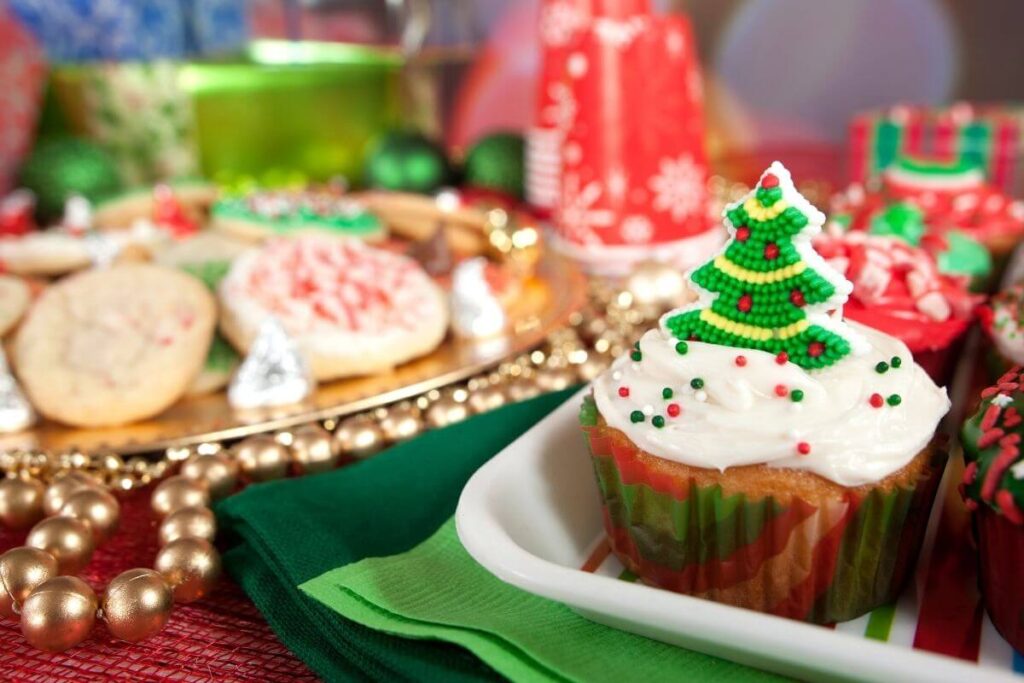 Final Thoughts: How to Get in the Christmas Spirit
I hope you've found these ideas about how to get in the Christmas spirit helpful. I know not everyone is as enthusiastic about the season as I am — but it's a matter of mindset. The sights, the smells, the magical feeling in the air should help everyone find some holiday cheer and joy.
There are so many things to be thankful for during the holiday season around Thanksgiving and Christmas. Don't get overwhelmed, be sure to find your zen in the chaos, and remember the reason for the season!
Happy Holidays! Let me know what you're doing to get in the spirit of the season! And make it the BEST EVER!
Love to All! ~ Susan
How to Get in the Christmas Spirit | What Are You Doing to get in the Christmas Spirit?