85 Positive Affirmations for Peace of Mind and Serenity
Positive affirmations are powerful tools for personal growth, confidence, and mindset. These 85 positive affirmations for peace of mind can help you develop and maintain positive thoughts that support a calm life of serenity and happiness.
Don't let negative thought patterns steal your joy. Start a practice of daily positive affirmations today so you can learn to deal with the many stressors of today's chaotic world. Get started with these positive statements to help you develop and maintain peace of mind and serenity.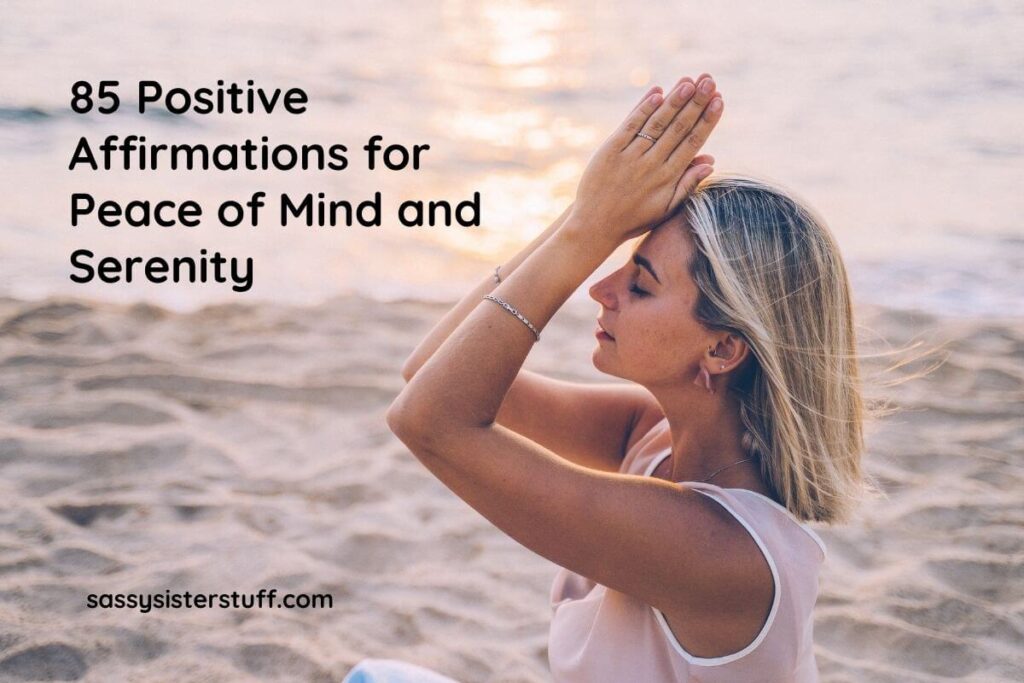 ---
Why Peace of Mind Affirmations Are Important
With the chaotic lives we lead today, protecting your peace of mind can often be challenging. But your peace of mind and a happy, calm life are important to your overall mental health and wellbeing.
Along with many other strategies that help protect your peace of mind, positive affirmations can help preserve your inner peace. They help reprogram your subconscious mind to eliminate the tendency to multi-task. And, they can also help you stay mindful and present in the moment.
Affirmations encourage you to develop and maintain a positive, healthy mindset that helps lower your stress levels and decrease your worry, fear, and anxiety.
Affirmations for peace of mind will help you be a better version of yourself and provide feelings of harmony and optimism.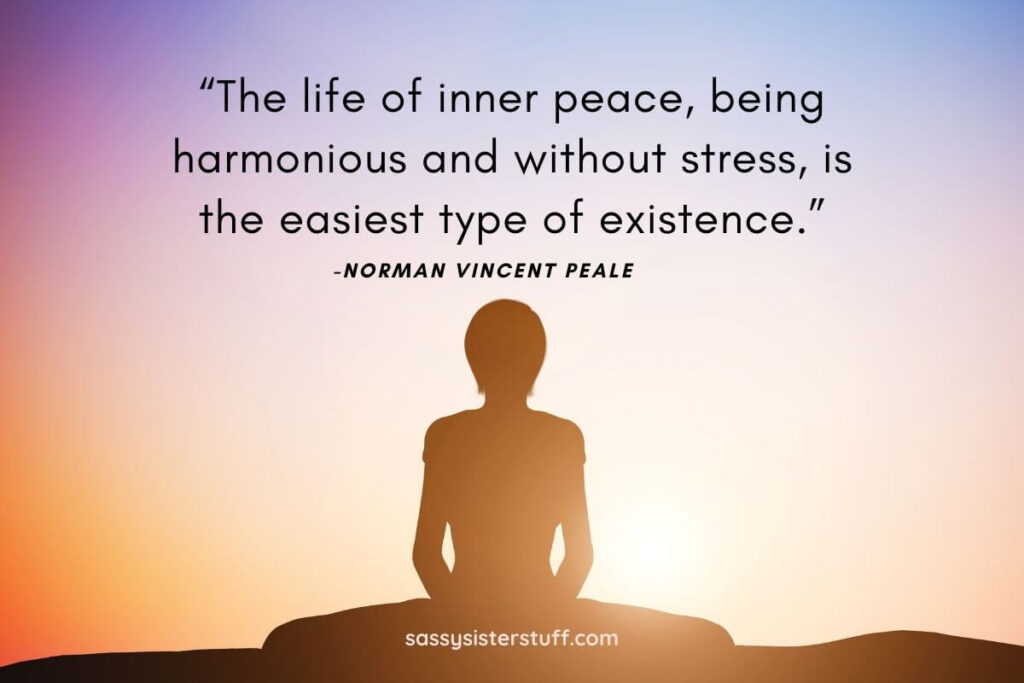 85 Affirmations for Your Peace of Mind
We are all worthy of peace and serenity in our lives, right? Peaceful minds create much more happiness than angry, troubled minds. These daily affirmations will help you achieve peace and improve your quality of life.
All is well with my soul today and always.
I release all negative thoughts and replace them with happy thoughts.
I exude positive energy that supports my peace of mind.
When necessary, I easily regain my peace of mind by pausing and taking a deep breath.
I know and appreciate deep inner peace.
Eternal peace flows to and through me.
Good things come my way when I am calm and happy.
I am calm, patient, and peaceful today and always.
I radiate calm, peace, and serenity throughout each day.
My calm energy supports my peace of mind and a happy life.
I choose to feel peaceful energy within my soul.
My sense of peace brings me great joy today and everyday.
Peaceful thoughts bring me happiness.
I am safe and supported, rooted in this present moment.
In this moment, I have everything I need.
I feel calm, relaxed, and at peace.
I embrace my ability to remain calm in all situations.
I choose to be patient with myself and others.
I choose peace over worry.
I am in a safe place that gives me peace.
I am peaceful, grounded, and secure in my life.
I chose faith over fear and peace over perfection.
I hold space for myself and honor my needs.
My heart is grateful and my mind is at peace.
Today is the perfect time to embrace my peace of mind and happiness.
I inhale peace. I exhale worry.
I am at peace with my past; I am in love with my present.
I make it a habit to release worry and stress on a daily basis.
I am at peace with all that has happened, is happening, and will happen.
I feel relaxed. I feel whole. This is exactly where I'm meant to be.
I surround myself with calm people who support my peace of mind.
I give myself the gift of unconditional love, compassion, and peace of mind.
My peace of mind matters.
Deep inner peace is my natural state.
My inner world is filled with peace and serenity.
I enjoy a peaceful life surrounded by beauty and acts of kindness.
Even when the world around me feels chaotic, I remain rooted firmly to the ground.
My peace of mind is essential to my healthy mental state.
When I'm feeling overwhelmed, I allow myself space to pause and breathe.
I trust that everything is working out for my highest good.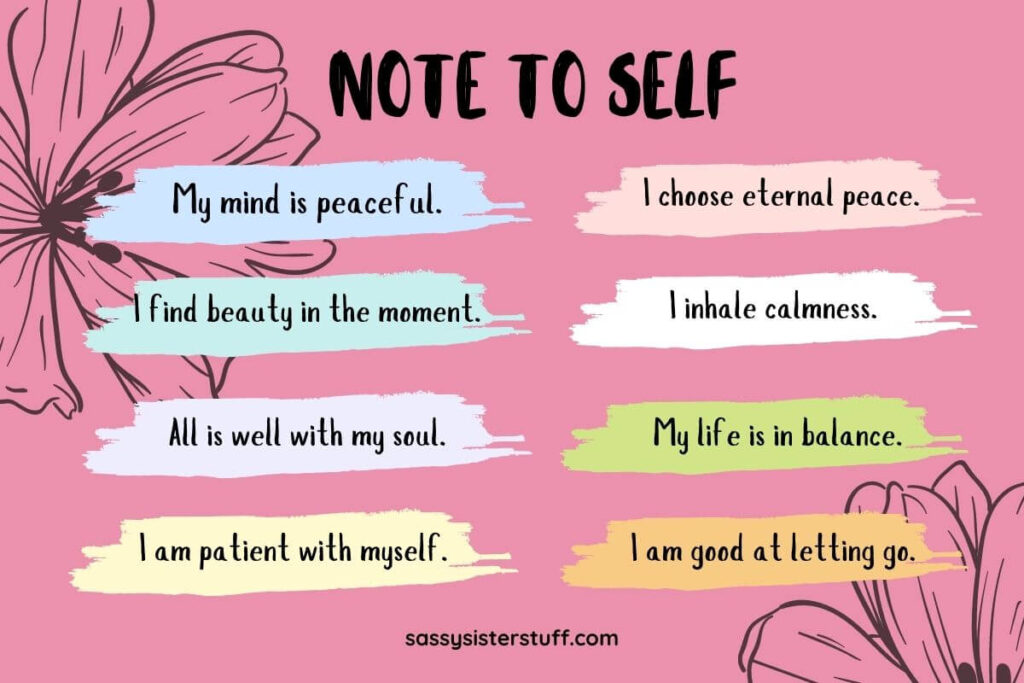 I maintain an abundance of peace today and always.
There is beauty to be found in slowing down and living a peaceful life.
I feel serene energy from head to toe.
I release the need to control my life and surrender to this present moment.
I bravely let go and allow the universe to reveal its beautiful plan for me.
I trust that the universe gives me exactly what I need at exactly the right time.
I have faith that everything works out for my highest good.
I use my energy to trust, believe, and have faith.
I allow myself to slow down and find beauty in this present moment.
Everything is unfolding for me in perfect timing. I release worry and choose to trust.
Life is beautiful. All is well.
I trust the timing of my higher power.
My mind and body are quiet.
I am at peace with myself and everything that surrounds me.
I feel light and calm.
Nothing can disrupt my peace.
I constantly strive to achieve inner peace.
My life is at peace at all times.
Harmony and peace surround me.
I am 100% relaxed at this very moment.
I have the power to let go of everything that's disrupting my peace.
I can feel the stress leaving my mind and body.
I can let go of things I can't change.
Inner peace is my goal.
I am surrounded by peace and positive energy.
With every breath I take, I am letting peace into my body.
I give myself permission to remove stress from my life.
Wherever I go, I carry my peace with me.
I am surrounded by people that bring me peace.
The peaceful energy inside me is fulfilling.
I accept that I am not perfect.
I know it's okay to get out of my comfort zone.
A peaceful aura surrounds my family and me.
I attract peace from the universe.
I am in touch with my calm nature, which guides me towards complete peace.
My mental and physical health depends on my peace of mind.
My peace of mind is a great way to live a happy life.
Special little things in life bring me pleasure and serenity.
My calm mind empowers me to deal with new challenges more effectively.
Everyday life is easier with a calm and serene mindset.
I value good people who share a calm and refreshing presence.
I attract good vibes with a peaceful and positive mindset.
A peaceful day is important to my joy.
I smile with sincere pleasure when I am calm and peaceful.
My mind is still and smooth like a lake at dawn.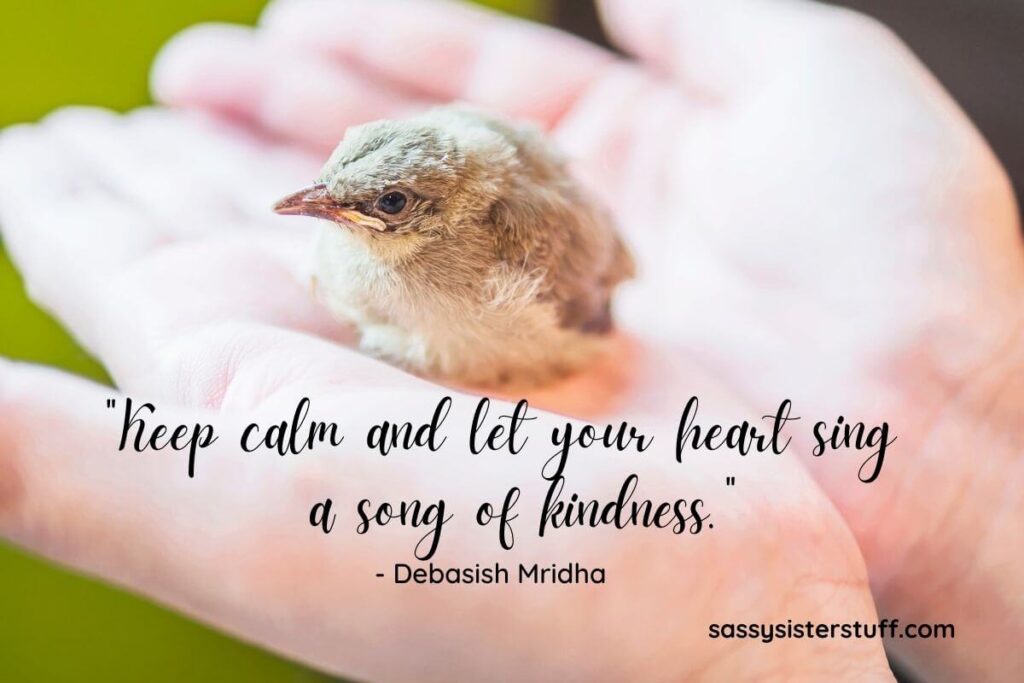 How to Use Affirmations Effectively
You will speak, read, and/or write your positive affirmations multiple times daily to help change your mindset.
Positive affirmations help your subconscious mind shift the way you think and feel. They help you focus on what you want for your life rather than what you don't want.
Therefore, if you repeat affirmations for peace of mind on a regular basis, they can help you develop a mindset that is consistent with peace and serenity. This can help you maintain calm in a sea of chaos.
A sense of calm will help you deal with stressful situations.
Choose the Right Affirmations
Choose affirmations from this list, or write your own affirmations, or modify these affirmations to meet your needs. Create your own list of meaningful, authentic affirmations that are written in the present tense.
You must genuinely focus on your affirmations as you speak, read, and/or write them to be effective. Don't just say the words without thinking about the valuable meaning and purpose. Each positive statement will help you maintain a more positive frame of mind throughout your day if you choose affirmations that are meaningful.
You can say just a few positive statements each day, or you can say your whole list. When you begin to use affirmations, it's important to understand that your affirmation practice is personal to you and should be designed for what works best for you.
Surround Yourself with Affirmations
You should speak affirmations aloud to yourself several times a day. You can say them to yourself in front of a mirror, or in a quiet place where you will not be interrupted.
You can even make your affirmations part of your meditation or journal practice each day.
I also like to write my affirmations on a sticky note and place them in strategic places where I will see them often throughout each day. These are some places where I put them:
on my bathroom mirror
on my car dashboard
in my purse
on a kitchen cabinet
next to my computer
on my closet door
on my nightstand
in the laundry closet
As with anything, change does not occur overnight so make affirmations a regular habit that you do each day as part of your personal growth and self care. You are so worthy.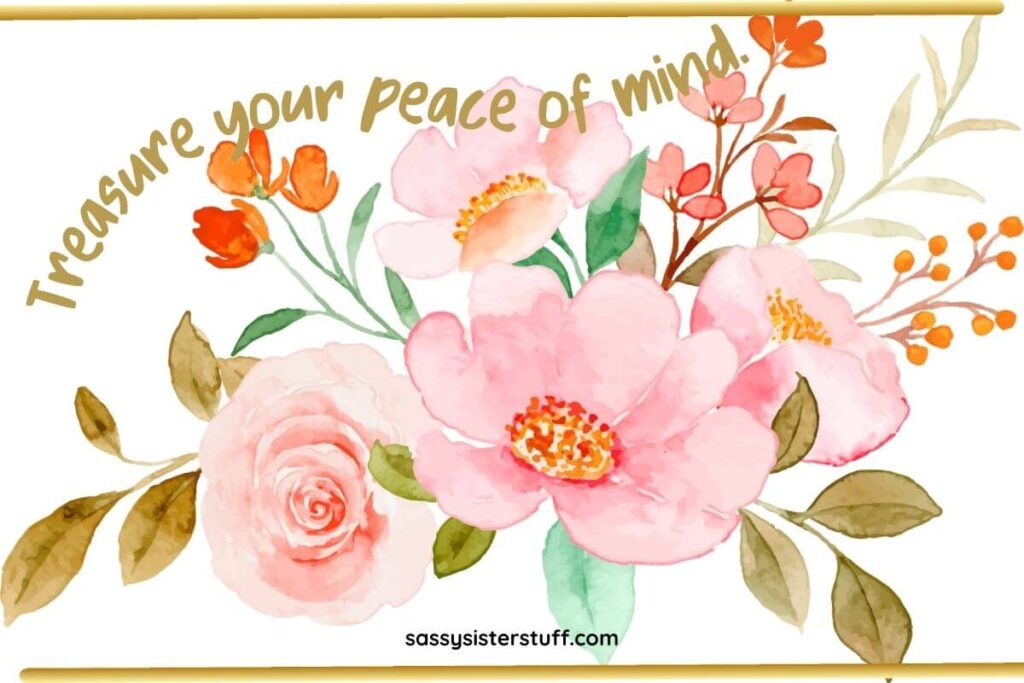 Final Thoughts about Affirmations for Peace of Mind
The first step to a happy life is peace of mind. All positive things start with small steps so use these peace of mind affirmations to start developing a sense of calmness that helps improve your life and your happiness.
You may also enjoy these related articles:
Love to ALL! ~ Susan