How to Make Friends with Social Anxiety: 9 Helpful Tips
When you have social anxiety, it can be incredibly challenging to make friends and feel comfortable in social settings. There's nothing quite like having an anxiety attack in the middle of a holiday party where you're supposed to be having fun! Worse yet, the anxiety leading up to an event can be overwhelming!
People often think of shyness, social anxiety, and introversion as the same thing.  Technically, they are not, because they have different origins. Even social awkwardness can cause serious anxiety and stress in group settings. But these 9 tips will help you whether you have been officially diagnosed with social anxiety (a mental health condition), or you are shy, introverted, or just plain socially awkward.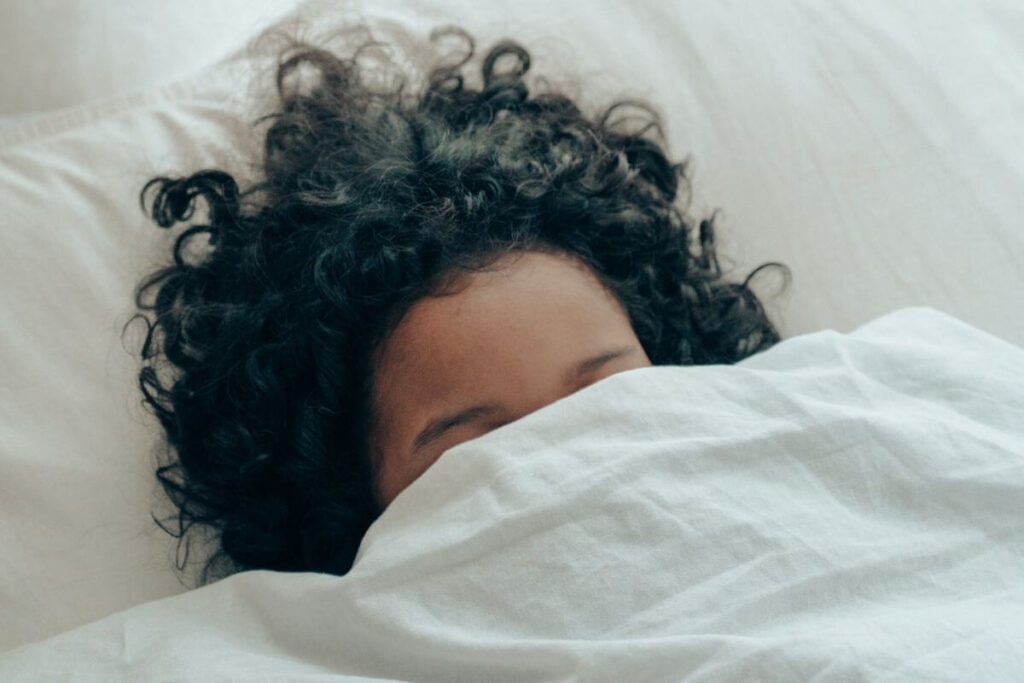 Let's look at how to make friends with social anxiety and shyness. You can overcome these challenges whether you've been officially diagnosed with social anxiety, or not. I've always believed that you don't need to have a diagnosis to have a problem, you just need to have a problem to have a problem. And we are going to give you 9 helpful tips to help with your problem!
Medical and Educational Disclaimer: Sassy Sister Stuff is an independent, informational website that provides educational and inspirational resources on a variety of topics. The information presented should not be considered a personal or professional consultation in any manner. If you need help with a problem, you should consult your medical, legal, educational, or another professional who is qualified to provide you with services or advice specific to your personal needs.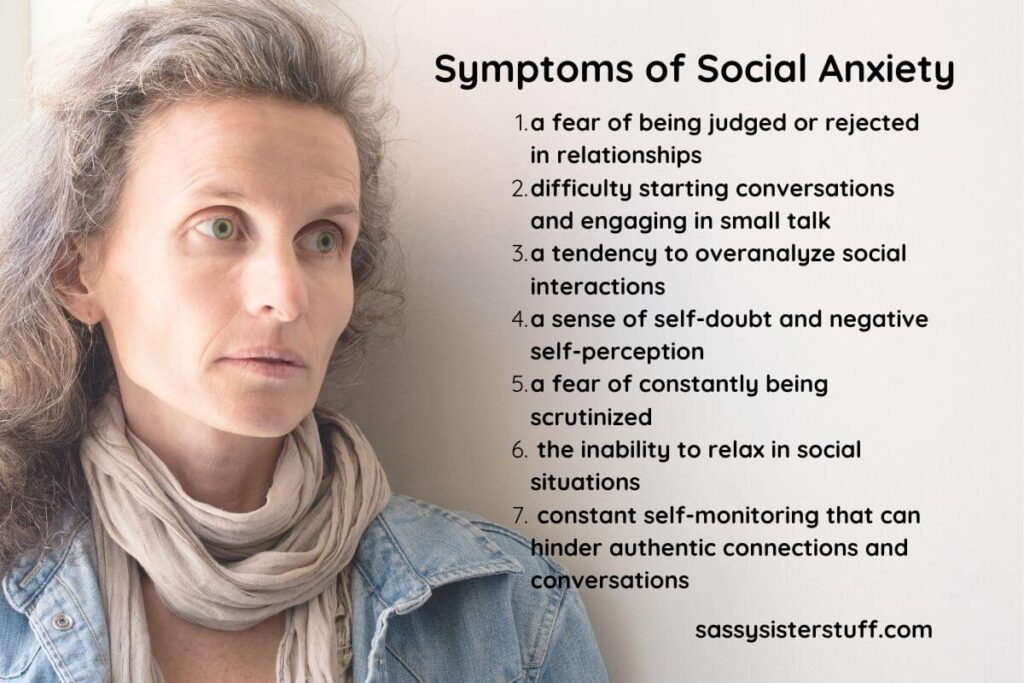 Understanding Social Anxiety
Social anxiety disorder is a challenging mental health condition that makes it difficult for individuals to interact and connect with others. It is characterized by an intense fear of social situations, which often leads to avoidance and isolation. Understanding social anxiety is the first step towards finding effective ways to make friends.
However, as I mentioned previously, social anxiety can stem from various factors, including past traumatic experiences, low self-esteem, or a fear of judgment or rejection. You can also experience anxiety about social situations if you are introverted or shy, but these are personality traits more so than a mental health condition.
One of the key aspects of understanding social anxiety is recognizing that it is not a reflection of your character or worth, regardless of its origin. It is important to remember that you are not alone in experiencing social anxiety, and there are others who can relate to your struggles.
By understanding the nature of your social anxiety and its impact on your life, you can begin to develop strategies to overcome its challenges and build meaningful connections with others.
Challenges of Making Friends with Social Anxiety
Making friends can be a daunting task for individuals with social anxiety. This can make it hard to establish connections and find common ground with others.
These are some challenges you may face when you have anxiety about social settings:
a fear of being judged or rejected in relationships
difficulty starting conversations and engaging in small talk
a tendency to overanalyze social interactions
a sense of self-doubt and negative self-perception
a fear of constantly being scrutinized
the inability to relax in social situations
constant self-monitoring that can hinder authentic connections and conversations
Additionally, individuals with social anxiety may struggle with assertiveness and setting boundaries. They may find it challenging to express their needs and opinions, which can impact the development of healthy friendships. Overcoming these challenges requires patience, self-compassion, and a willingness to step outside of your comfort zone.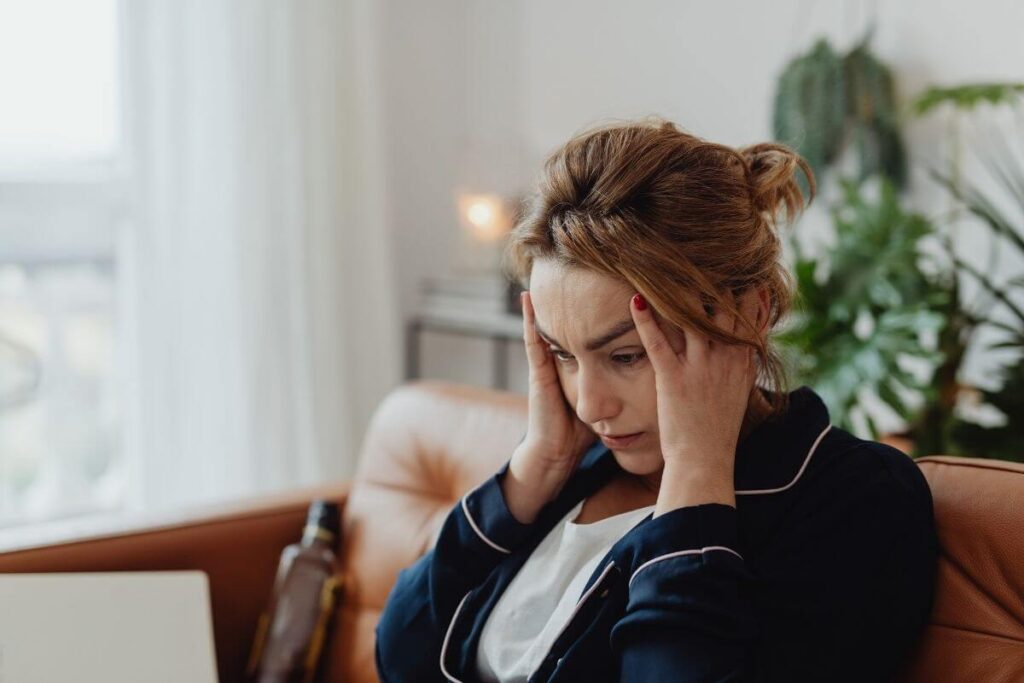 How to Make Friends with Social Anxiety
While social anxiety may present obstacles to making friends, it is possible to overcome these challenges with determination and the right strategies. Remember, you don't need a diagnosis to feel serious stress and anxiety in social settings, so this article is for anyone who feels a sense of anxiety about social situations.
1. Practice Relaxation Techniques
Practicing relaxation techniques such as deep breathing, mindfulness, and progressive muscle relaxation can help manage anxiety symptoms in social settings. These techniques can help reduce physical tension and promote a sense of calm, enabling you to engage more comfortably in social interactions.
When it comes to tackling that jittery feeling before social situations, taking slow, deep breaths can work wonders, calming down that nervous system of yours. And don't underestimate the power of visualization – picture yourself rocking that social scene like a pro!
Distracting yourself with something you enjoy beforehand, like jamming to your favorite tunes or doing a quick workout, can also ease those pre-social butterflies. And progressive muscle relaxation is like giving your body a mini spa day – you tense and then release different muscle groups, leaving you feeling as loose as a noodle. Give these tricks a shot and see which vibe is best for you!
2. Build Confidence in Social Situations
Building confidence in social situations is essential for making friends when you have anxiety about social settings. Start by setting small, achievable goals that gradually give you practice with social interactions. For example, you could aim to initiate a conversation with a stranger or participate in a group activity. Or speak to someone at your favorite coffee shop! Celebrate each small victory, as they contribute to building your confidence over time.
Developing positive self-talk is another effective way to boost confidence. Challenge self-limiting beliefs and replace them with positive affirmations that emphasize your strengths and capabilities. Remind yourself that making mistakes is a normal part of social interactions and that everyone experiences moments of awkwardness. By reframing your thoughts, you can cultivate a more compassionate and confident mindset.
3. Find Common Interests and Activities
Finding common interests and activities is a valuable approach to making friends when you have anxiety about socializing. Shared interests provide a foundation for connection and can help alleviate some of the anxiety associated with social interactions. Look for opportunities to engage in activities that align with your interests, such as joining a book club, attending a fitness class, or volunteering for a cause you care about.
When engaging in these activities, focus on enjoying the experience rather than putting pressure on yourself to make friends immediately. By immersing yourself in the activity and being present in the moment, you can naturally connect with others who share your passion. Over time, these connections can develop into meaningful friendships.
4. Seek Supportive Social Environments
Seeking out supportive social environments can greatly facilitate the process of making friends with social anxiety. Look for social settings that prioritize inclusivity, understanding, and empathy. This can include support groups specifically designed for individuals with social anxiety or social events organized by organizations that promote mental health awareness.
When attending these social events, it can be helpful to arrive prepared with conversation starters or topics of interest. This can help alleviate some of the anxiety associated with initiating conversations and keep the interaction flowing smoothly. Remember to be patient with yourself and take breaks when needed. It's okay to step away from overwhelming situations and regroup before re-engaging.
5. Utilize Online Platforms and Communities
In today's digital age, online platforms and communities provide a unique opportunity to make friends when you have social anxiety. These platforms offer a level of anonymity and distance that can help ease social anxiety symptoms. Online communities centered around specific interests or hobbies can be particularly helpful in connecting with like-minded individuals.
When engaging with online communities, it is important to prioritize your safety and well-being. Ensure that the platform you are using is reputable and take appropriate measures to protect your personal information. Additionally, be mindful of your online interactions and remember that the individuals you interact with may also be experiencing their own struggles. Treat others with respect and kindness, fostering a supportive and inclusive online environment. And don't compare yourself to what you see on social media!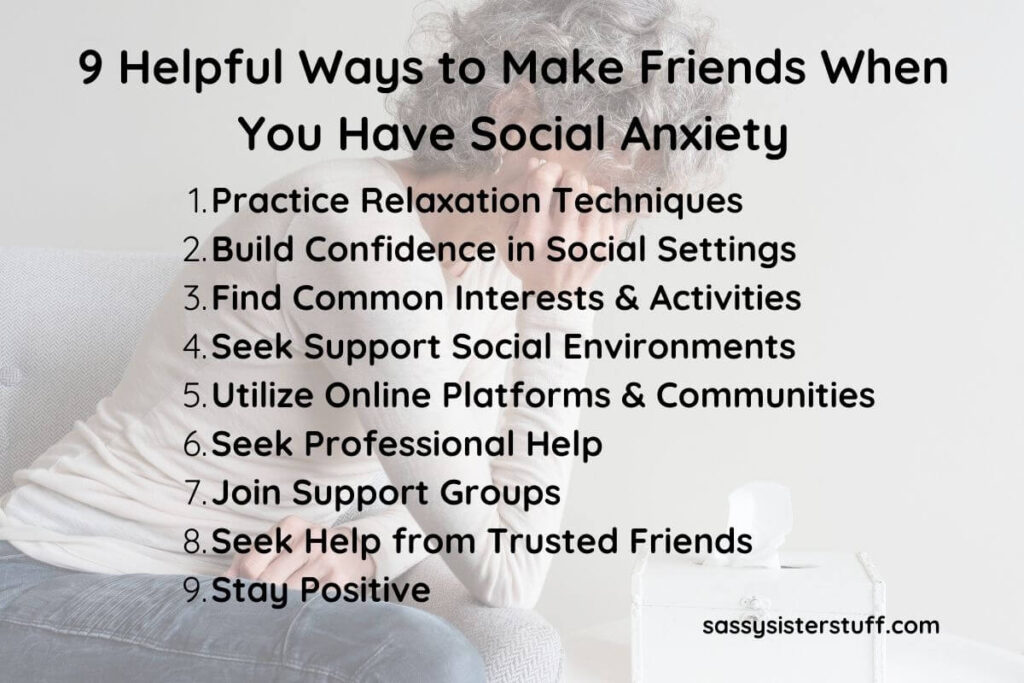 6. Seek Professional Help
For some individuals, seeking help from a mental health professional can be instrumental in managing social anxiety and making friends. Therapists and counselors specializing in anxiety disorders can provide tailored strategies and guidance to help you navigate social situations. They can help you uncover the root causes of your social anxiety and develop coping mechanisms to overcome its challenges.
—Gradual Exposure Therapy
One effective approach is gradual exposure therapy, where you gradually expose yourself to anxiety-provoking social situations in a controlled and supportive environment. This can help desensitize you to the fear and discomfort associated with social interactions, making them more manageable over time.
—Cognitive-behavioral therapy
Cognitive-behavioral therapy (CBT) is another valuable tool for overcoming social anxiety. CBT focuses on identifying and challenging negative thought patterns and beliefs that contribute to anxiety. By replacing these negative thoughts with more realistic and positive ones, you can develop a healthier mindset and approach social situations with greater confidence.
7. Join Support Groups
Support groups specifically designed for individuals with social anxiety can offer a sense of community and understanding. These groups provide a space where you can share your experiences, learn from others, and receive support from individuals who can relate to your struggles.
Participating in these groups can help you realize that you are not alone and that others are facing similar challenges. You may be able to find support groups at community centers, hospitals and clinics, mental health providers and organizations, and local churches.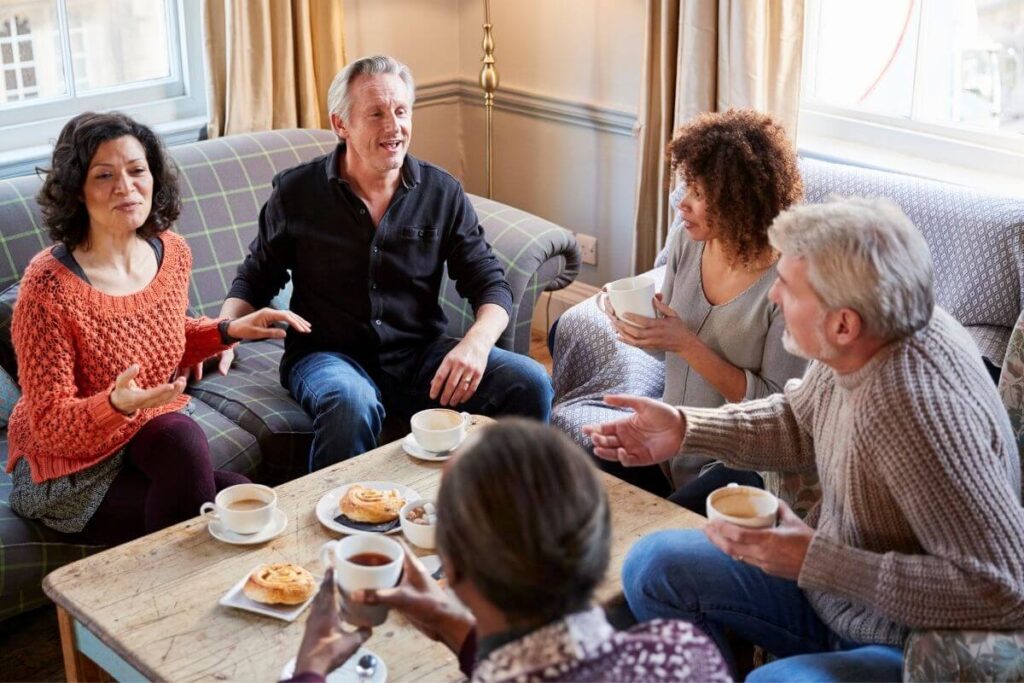 8. Seek Help from Trusted Friends
Social support plays a crucial role in managing social anxiety and making friends. Having a strong support system can provide a sense of security and encouragement when facing social challenges. Friends who understand your struggles with social anxiety can offer empathy, validation, and practical advice to help navigate social situations.
It is essential to surround yourself with individuals who are supportive and understanding of your condition. These individuals can provide a safe space where you can gradually expose yourself to social situations and practice social skills without fear of judgment. Furthermore, social support can help challenge negative thoughts and beliefs associated with social anxiety, promoting self-acceptance and confidence.
Having your squad of trusted friends and family by your side can make a world of difference. These folks know you inside out, quirks and all, and they're like your personal cheerleaders.
They can offer a safe space where you can just be yourself without feeling judged or misunderstood. Sometimes just having someone there to give you a nudge of encouragement or a reassuring pat on the back when you're feeling anxious can turn a nerve-wracking situation into something way more manageable. It's like having your own little support squad, and let's face it, we all need a squad for life's tougher moments!
9. Stay Positive
Try to refrain from labeling yourself shy, or socially awkward, just because you have social anxiety.  Be yourself and don't try to be someone you're not. This can help you feel more comfortable and confident in social situations. Remember, overcoming shyness and social awkwardness is a process that takes time and effort. Be patient with yourself and celebrate your progress along the way — one social function at a time. Just don't avoid social situations!
Consider striking up a conversation with a stranger, such as commenting on the weather in a place where you feel comfortable. Make an effort to make eye contact, also. This will help you appear more confident and approachable so others can relate to you. Participate in conversations by asking questions and really listening to the answers. Partake in back-and-forth conversation. Practice will make perfect! You are going to be able to overcome your anxiety about social situations!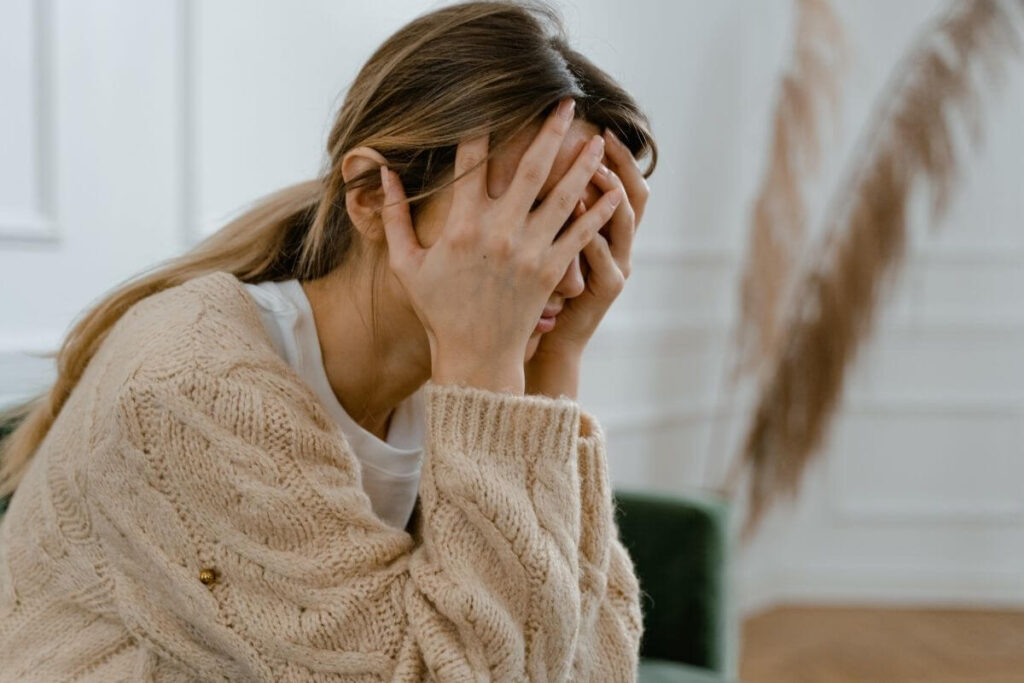 Conclusion: How to Make Friends with Social Anxiety
Making friends when you have social anxiety may require some additional effort and courage, but it is entirely possible. Understanding social anxiety, recognizing the challenges it presents, and seeking the necessary support are crucial steps in overcoming those barriers.
Remember to be patient with yourself and celebrate each small victory along the way. With perseverance and the right strategies, you can form lasting friendships and thrive socially.
Love to ALL! ~ Susan
Related Articles: