85 Daily Affirmations to Change Your Negative Thoughts
These positive affirmations for negative thoughts will help change your pesky negative beliefs into positive thoughts and emotions that support a happy, healthy lifestyle. Learn how to use powerful daily affirmations to create a healthy mindset that gives you the foundation for making positive changes in your life.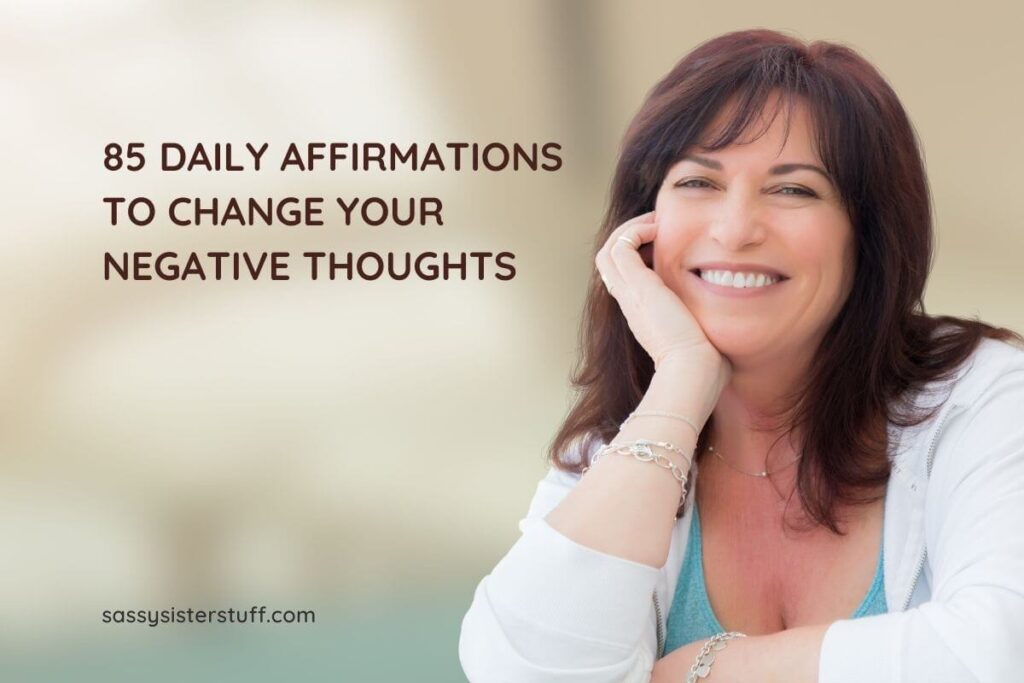 What Are Positive Affirmations and How Do They Work
Affirmations are positive statements that help you eliminate negative self-talk and negative emotions to help you change your thought patterns. Affirmations work within the subconscious mind to help change destructive patterns of outward behavior that prevent you from living your best life.
For best results, you speak affirmative statements to yourself on a regular basis throughout each day to eliminate negative thinking that is impacting your own well-being. As you say these positive phrases and statements over-and-over to yourself, you learn to automatically replace negative messages with a positive mindset.
The power of affirmations is immense and can help you live in the present moment, let go of fear, develop a positive attitude, forgive past mistakes, and even overcome low self-esteem. Affirmations can have a positive impact on your physical health, mental health, emotional health, and overall wellness.
Affirmations help you develop new beliefs and a positive outlook so you can take your first step toward changing your negative thoughts.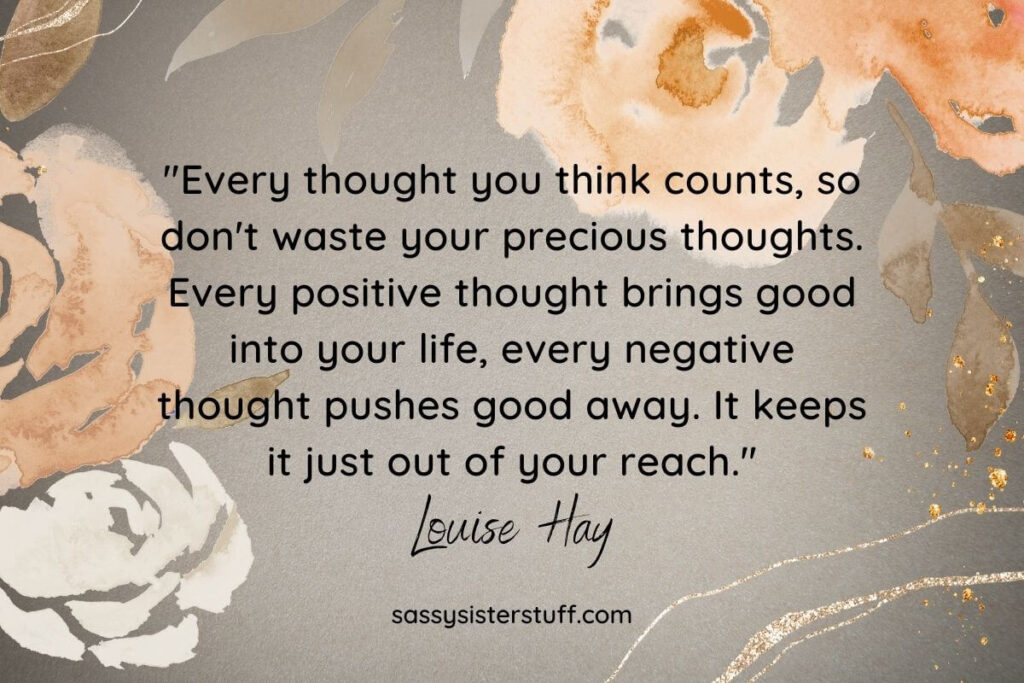 Examples of Positive Affirmations
If you want to make a conscious effort to live a beautiful life and maintain a positive mental attitude, use affirmations such as these to let go of negative thoughts and inner demons:
I am worthy of love today and every day.
I think good things instead of worst-case scenarios.
My best qualities are are gifts to the universe.
Today is a great day full of endless opportunities.
I let go of all negativity that impacts my life.
I am in control of my life at all times.
Warm rays of the sun inspire and uplift me.
I make good decisions for myself every day.
I handle a high-pressure meeting like a boss.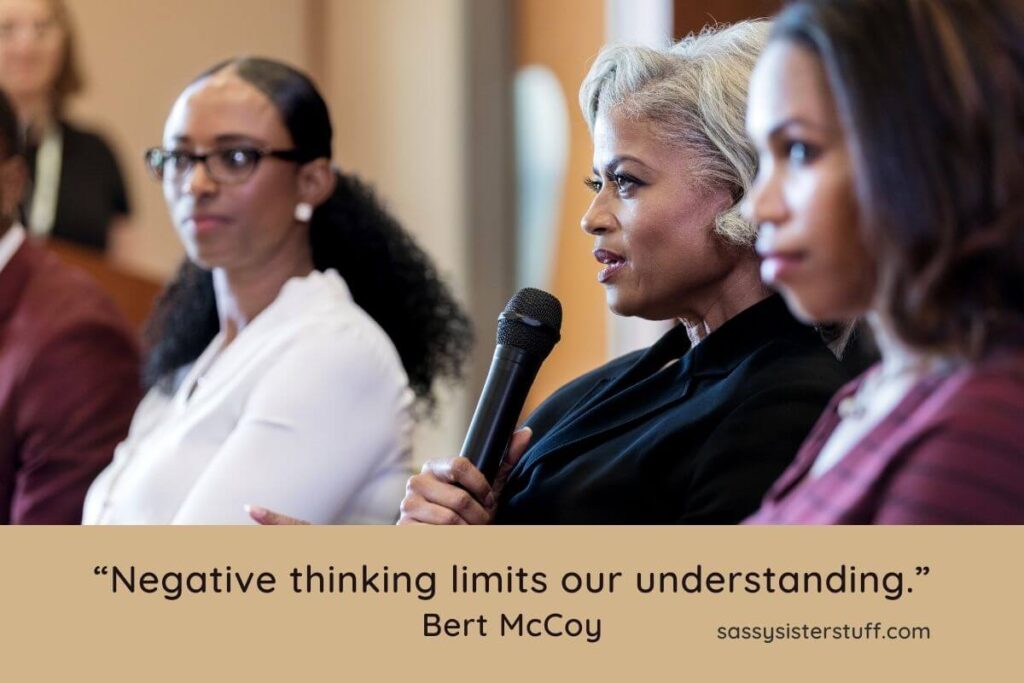 85 Daily Affirmations for Negative Thoughts
Use these positive statements to change your mindset and change your life. Use them exactly as written or modify them to suit your personal needs. Make them work for you.
I release negative thoughts because they do not serve me.
Letting go of negative thinking brings me peace.
I know positive thinking is more useful than negative thinking.
Letting go of negative thinking brings me success.
Letting go of negative thinking brings new possibilities my way.
Negative thinking is a waste of my time.
I am calmer when I think positively.
I solve problems effectively when I think positively.
I am at peace when I think positively.
I'm learning to think in a healthier, more productive way.
I release everything that has hurt me in the past.
I am thankful for difficult lessons I have learned.
Every day I think more positively.
I can change my thinking for the better.
Today I choose to be happy.
I see a life full of opportunities ahead of me with positive thinking.
I choose to remain positive.
I direct my thoughts toward positive things.
My thoughts and actions are positive ones.
I am capable of changing my thoughts.
I release anxiety, worry, and resentment.
I release any fear of mistakes and imperfection.
I let go of expectations I have for others.
I am free from the need to control other people.
I release all the things that are blocking my growth.
I untie myself from past relationships and obligations.
I set myself free from negativity.
I embrace the present moment.
I am free from distractions and focused on my goals.
I completely accept myself as I am right now.
I trust in my ability to create a positive future.
I leave behind the cares and burdens of the past.
I relinquish shame and anger and embrace love and compassion.
I accept and love myself and others exactly as they are right now.
I choose positivity and feel the negativity leaving my body.
I abandon all toxic thoughts.
I control my thoughts, and no one else can.
I overcome all obstacles and challenges in my life.
Toxic thoughts have no place in my life, and I will not allow them to control me.
I release all thoughts that don't help me.
I will not replay situations in my mind that upset or hurt me.
I forgive myself for past mistakes I have made.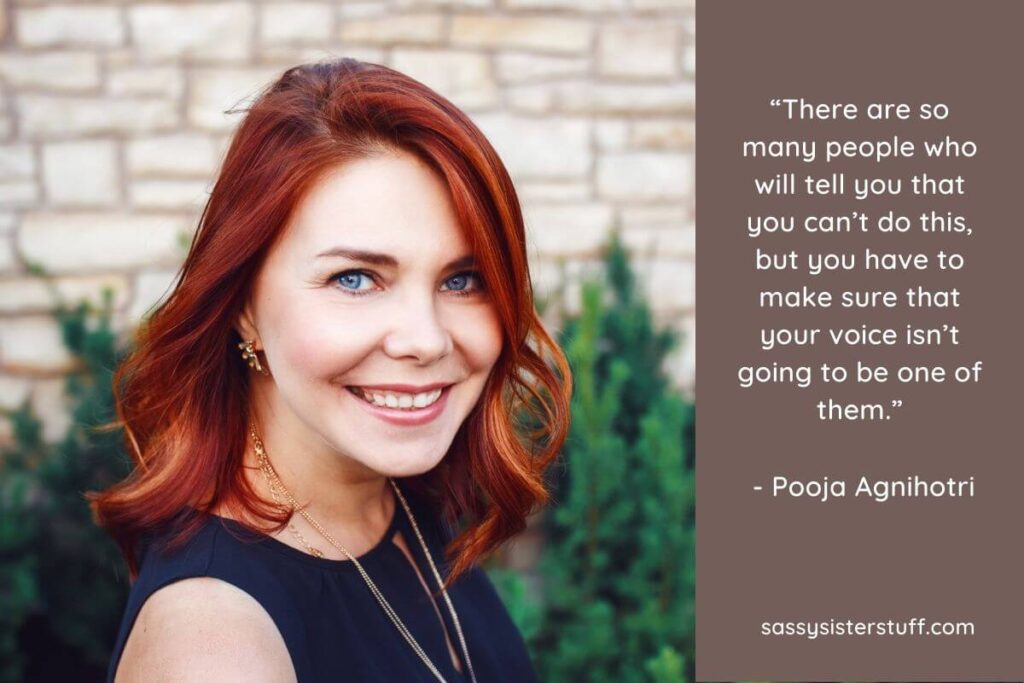 I choose peace today and everyday.
My thoughts only drift to positive and peaceful places.
Every time I take a breath, I release toxic thinking.
I stay calm about things I cannot control. It's part of life.
I know that my life will become what it is meant to be.
I stay calm and clear my head when things get hard.
When things don't work out, I face them confidently and positively.
I deal positively with disappointment.
I use wisdom in my choices.
Bad things do not define my life.
I release negative words and thoughts.
I handle hard things with confidence.
I change my negative responses to productive, meaningful behaviors.
I embrace hard work and productivity.
I release fears of tomorrow and replace them with joyful thoughts.
There are great opportunities waiting for me in life.
I maintain a positive mindset when bad things happen to me.
I am in the right place at the right time.
I give myself permission to be authentically me.
I choose myself.
I trust myself to make the right decisions.
It's okay when I make mistakes because they help me learn and grow.
I accept myself exactly as I am without judgement.
I constantly generate new and exciting ideas.
I am enough. I have enough.
I choose to lean into hope rather than crumble in fear.
My mind is like a garden where my thoughts grow.
I release all thoughts that do not serve me.
I give myself space to feel pain, anxiety, and anger without letting those feelings consume me.
I control whether or not I focus on the thoughts that enter my mind.
The future is built by the choices I make right now so I focus on what I can do today.
I live in the present and do not obsess on the future.
I am perfectly capable of moving forward boldly, bravely, and brightly.
Every perceived failure is an opportunity for me to learn and grow.
My mind is powerful.
I am surrounded by love and light.
I let go of negative energy and invite peace into my life.
I focus on the positive and draw joy from within.
My soul is peaceful, quiet, and at ease.
I am open to life's joys and free of fear.
I release all negativity and create space for new beginnings.
I am grateful for my life, filled with love and abundance.
My attitude is positive and my outlook is bright.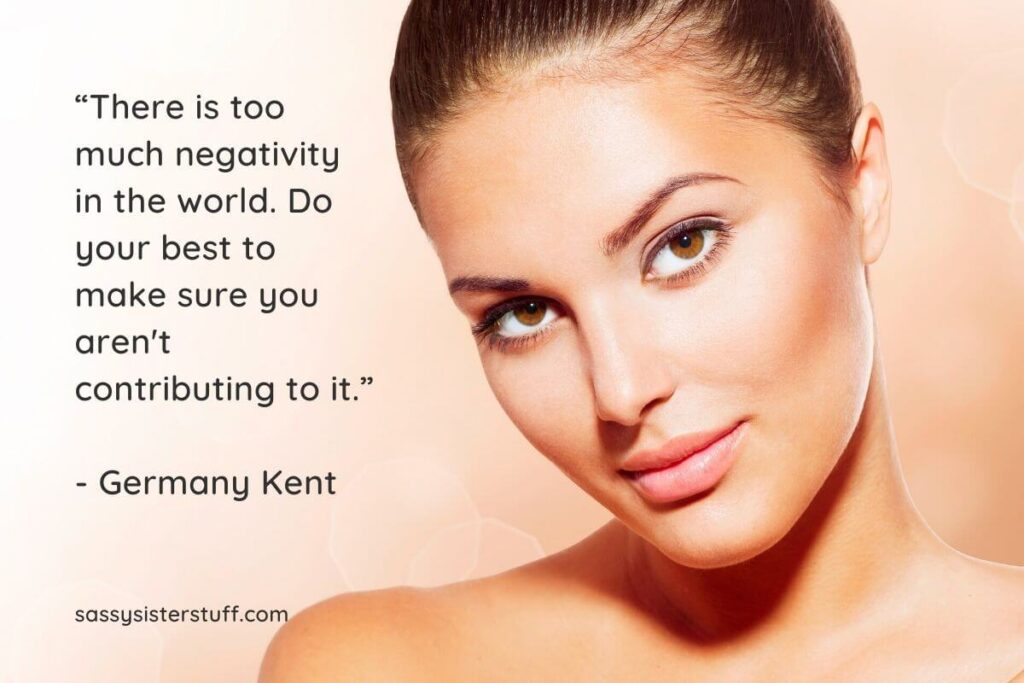 How to Use Affirmations to Change Negative Thoughts
You should always focus on using affirmations that are meaningful and written in the present tense. In fact, whether you write your own affirmations or use a pre-written list, be sure to make them personal and appropriate to the negative feelings you are trying to change.
You should use your affirmations on a daily basis. You can speak them to yourself in the mirror, say them to yourself in a quiet uninterrupted setting, write them in a journal, or use them as part of your meditation practice. You can even share your affirmations on social media so others can be inspired by your.
When you speak your affirmations, say them with positive energy and believe the words. You can choose 3-5 statements and focus on those for a few days, or you can read an entire list every day. Choose your favorite, or most meaningful statements, and write them on sticky notes. Put them in strategic places where you will see them throughout your daily routine. First thing in the morning, at lunch time, on your way home from work. Think strategically about the best ways to see, hear, and speak your affirmations as often as possible.
Now you are ready to take control of your negative thoughts and turn them into positive outcomes!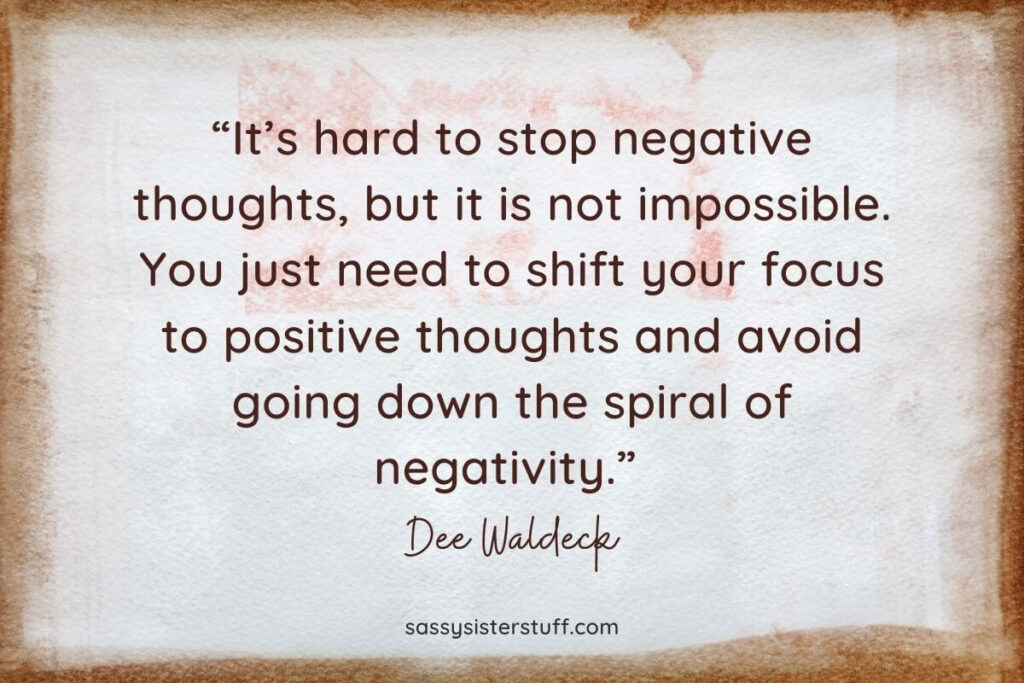 Final Thoughts about Affirmations for Negative Thoughts
I hope you can see that there is great value in positive thinking. Great things are definitely possible when you put your mind to it and eliminate a negative mindset.
Positive statements can take you a long way in life!
You may enjoy learning more about affirmations in these related articles:
Love to ALL! ~ Susan
Which affirmations for negative thoughts are your favorite?
What's your favorite way to use positive affirmations? Please share your thoughts about affirmations in the comment section below.