5 Cool Things To Do on a Weekend in Charleston, SC
Let me tell you about 5 cool things we did recently on a quick weekend in Charleston, SC! There is an incredible amount of history in and around this city so you really need more than just a weekend to see everything. So I wanted to spend our time wisely. I spent hours researching and making plans for how to best use the short amount of time we would have in the Charleston area.
Our trip was not originally intended to be just a weekend. We were going to a wedding and planned to extend the trip into a short 5-day vacation. Unfortunately, due to illness, we had to shorten our trip even more. I adjusted our itinerary for a short weekend getaway.
Nonetheless, we hopped in the car and drove the 9 hours to see Charleston for the first time! We didn't let bad weather or a shortened visit ruin our fun! We know that adventures to new and exciting places keep our minds healthy and offer many other benefits.
Related Article: Family Fun in Nashville – Over 50 Things to Do in 2021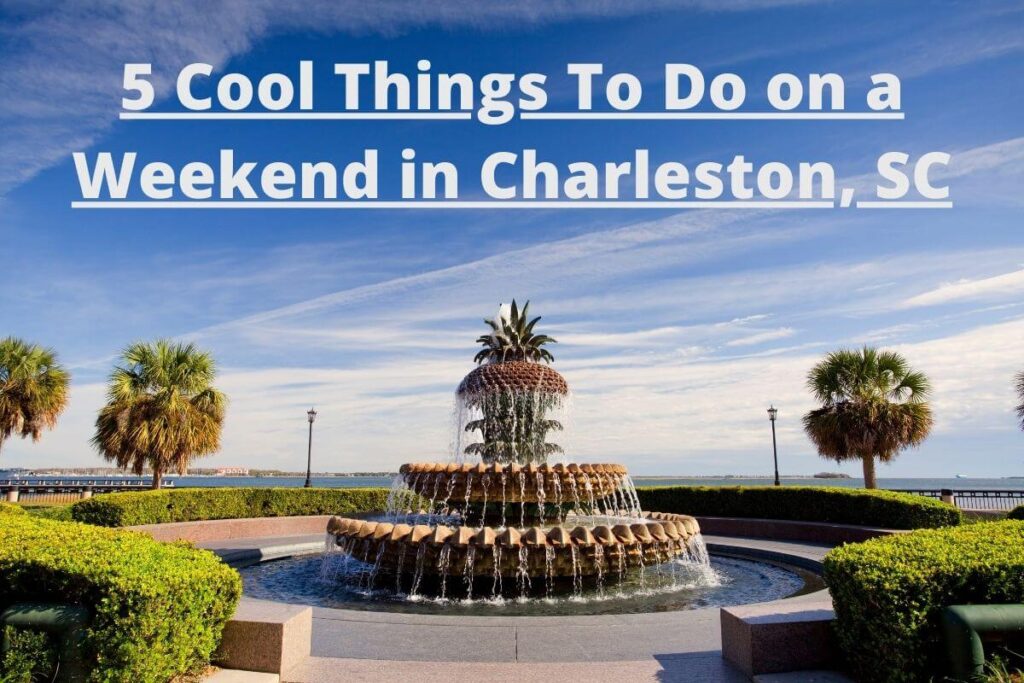 5 Cool Things To Do on a Weekend in Charleston, SC
First, I will review the 5 cool things we did in Charleston. Then I will share where we stayed, some history of the city, what else we did and saw on the trip, and why we had to postpone the trip! There's lots of good information about Charleston, and about traveling, in this article! Enjoy!
---
1. Boone Hall Plantation | Mount Pleasant | Charleston, SC
Boone Hall Plantation | Mount Pleasant
My husband and I spent a half-day at Boone Hall Plantation with some friends. It was a truly fascinating experience — from the plantation home tour; to the slave cabins, exhibits, and presentations; to the Gullah/Geechee presentation; and the 3/4 mile driveway lined with oak trees from the 1700's (Avenue of the Oaks). And don't forget the Plantation Tractor Tour, Garden Tour, and Butterfly Garden. All of these experiences are part of a one-time entrance fee.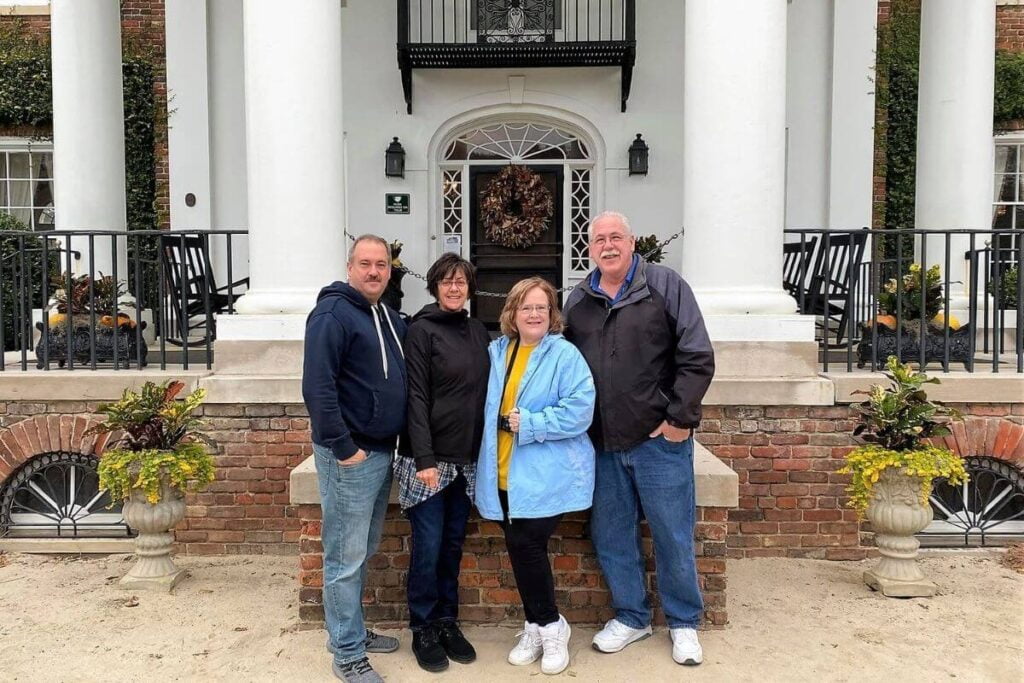 Boone Hall is one of America's oldest working farms and the owners still live in the plantation home. It's the only plantation in the Charleston area to present a live presentation about the unique culture adapted by West African slaves in South Carolina. This was very informative and entertaining. (More information below.)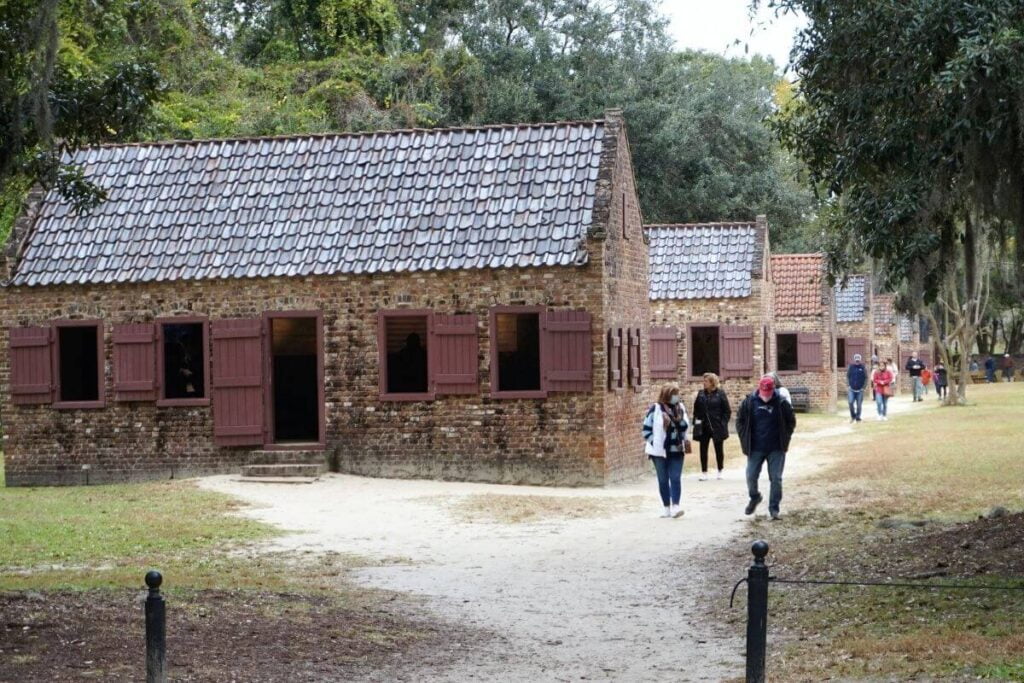 The Avenue of the Oaks has been used to film 8 movies and television shows, including Days of Our Lives, The Notebook, and North and South. The plantation offers special events year-round for the community and you can rent it for weddings, as well.
---
From the Boone Hall Plantation Website:
Boone Hall Plantation was founded in 1681 when Englishman Major John Boone came to Charleston and established a lucrative plantation and gracious home on the banks of Wampacheone Creek. The family and descendants of Major Boone were influential in the history of South Carolina, the colonies and the nation.
In 1743, the son of Major John Boone planted live oak trees, arranging them in two evenly spaced rows. This spectacular approach to his home symbolizes southern heritage and will take root in your memory for many years to come. It would take two centuries for the massive, moss-draped branches to meet overhead, forming today's natural corridor and a scene that NBC Daytime television says is "a must see stop on any trip to Charleston, S.C." Boone Hall has also been recognized as the #1 Plantation in the Charleston Area by USA TODAY 10BEST.
---
This is Jennifye, a descendent of Gullah/Geechee slaves from Western Africa. She did a fantastic presentation about the lifestyle and culture of her ancestors who were brought to South Carolina and Georgia hundreds of years ago. She also shared how the descendants continue to maintain many of the traditions of their ancestors today, including their unique speech patterns, cooking, crafting, and music.
The very night I wrote this article, I happened upon a Nightline Gullah\Geechee story from Charleston, SC and Sullivan's Island. It's air date was November 11, 2021. The segment was about 18 minutes long — very interesting! You should watch the Nightline Gullah\Geechee story if you are interested in learning more about this culture. You can go to abc.com/shows/nightline, find the November schedule, sign-in, and you should be able to watch the segment.
---
Seeking more adventures and fun to help promote your personal growth and learning, as well as health and wellness? Check out Off on Our Next Adventure: Travel in America for information about traveling from Florida to Alaska and Maine to California!
---
2. Charleston Hidden Alleys and Passeges |Lower Country Walking Tours | Charleston, SC
Charleston Hidden Alleys and Passages | Low Country Walking Tours
This is a very popular walking tour that gives you insight into some behind-the-scenes, hidden places in the city of Charleston. Since the city is fairly flat, it's an easy walking tour that most people can do. They take smaller groups than most tour companies and this tour is consistently one of the top rated on Tripadvisor.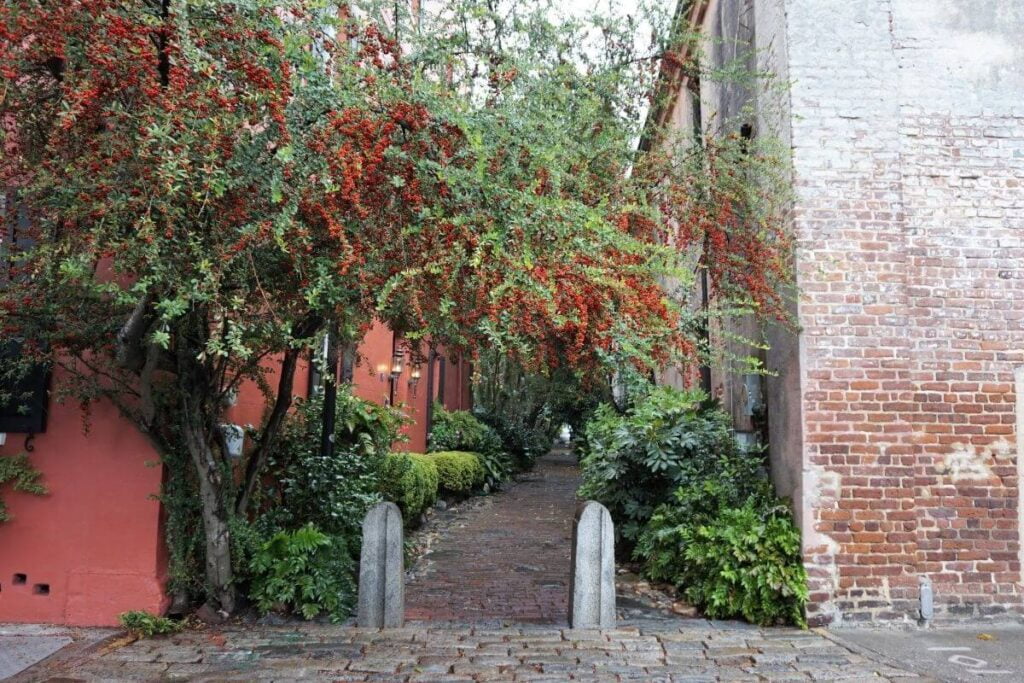 This is a 2-hour tour and they offer them throughout the day. Check their website for availability.
My favorite story passageway was the Philadelphia Alley. It's beautiful and has an interesting history.
---
From the Low Country Walking Tours Website:
Distinguished by their beauty, Charleston's alleys occupy spaces that blur the line between public and private areas and offer remarkable insight into the history of the Holy City. These quaint passageways are frequently inaccessible by automobiles and are often overlooked, even by frequent visitors and residents who are more focused on the City's grand homes and famous landmarks.
Walking along these picturesque cobblestone, brick, and stone pathways offers an opportunity to step back in time and appreciate more fully Charleston's charms on an intimate and inviting scale. Charleston's alleyways are fortunately located within the popular historic district which allows us to include some well known points of interest on the tour as well as go a little "off the beaten path".
---
Pin to Pinterest for Later
---
3. Oak Angel Tree | Johns Island, SC
In my opinion, this is one of the most picturesque places in America. Being in the presence of this tree is awe inspiring as you reflect on what she has seen in this part of the country over the past several hundred years.
The park around the Angel Oak is unassuming, small, and simple. The drive into the small park is a dirt and gravel road, with a few parking spaces located on the side of the road. Most people park along the road and walk through the woods that surround the park to get to the tree. The Angel Oak is protected by a chain-linked fence.
The day my husband and I visited the Angel Oak, it was pouring down rain. As soon as we parked, a park staff member knocked on our window and said they were closing early because of the rain.
We made a desperate plea to allow us a quick visit inside the fence because we'd traveled all the way from Maryland — but NOPE! She wasn't having it from us, or any others who arrived after us.
I sat and cried. Yes, I admit it. This was the major attraction I had wanted to see in the Charleston area. And I cried.
Soon, I noticed others walking up to the fence and putting their cameras through the chain links and snapping photos! I wish I had thought of that! It wouldn't have been the first time I did that!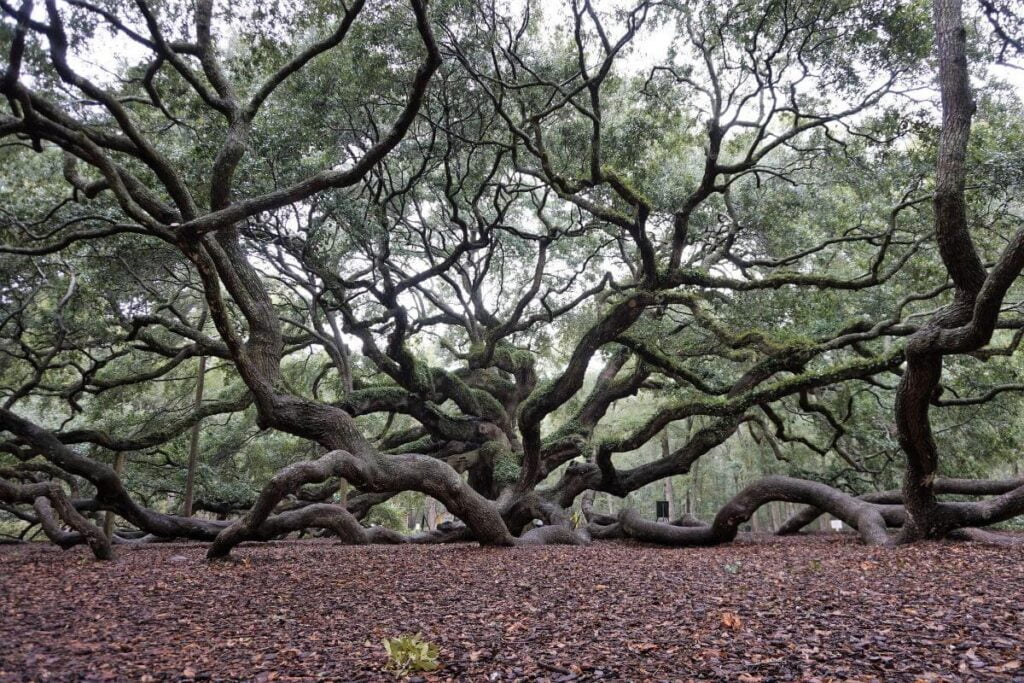 So I grabbed my raincoat (as soon as the park staff members left the area), pulled my hood over my head, zipped up, and hopped out! Before long, there was a whole group of us standing in the rain snapping photos through the fence! I think I got some pretty good photos considering the circumstance — and thankfully, my rain coat kept me pretty dry!
Save time in your itinerary for the Angel Oak Tree! You won't regret it!
That night in the hotel, I read a lot of interesting stories about the Angel Oak Tree on the Internet. I was very surprised to learn that it was named after the original property owners who's last name was Angel!
---
From the Oak Angel Tree Website:
The Angel Oak Tree is estimated to be in excess of 400-500 years old, stands 66.5 ft (20 m) tall, measures 28 ft (8.5 m) in circumference, and produces shade that covers 17,200 square feet (1,600 m2). From tip to tip Its longest branch distance is 187 ft. There is considerable debate about the age of the Angel Oak. Some contend that it is 1,500 years old. Most believe that the more conservative estimates are more accurate.
It is an absolute must-see for anyone visiting Charleston South Carolina. It is on everyone's top ten list of things to do in Charleston. Despite being located on John's Island, the Angel Oak has come to symbolize Charleston South Carolina. A large number of people search for "Angel Oak Charleston South Carolina" even though this tree is on John's Island. It is a southern live oak located in Angel Oak Park, on Johns Island SC.
---
4. Haunted Carriage Tour | Old South Carriage Company | Charleston, SC
Haunted Carriage Tour | Old South Carriage Company
I wasn't so sure I wanted to do this tour! Yes, I'm a scaredy cat! I'm scared of my own shadow most of the time! The haunted tours are done after dark.
But everyone kept saying when you go to Charleston, you have to learn about the ghost stories and haunted history. So I signed us up!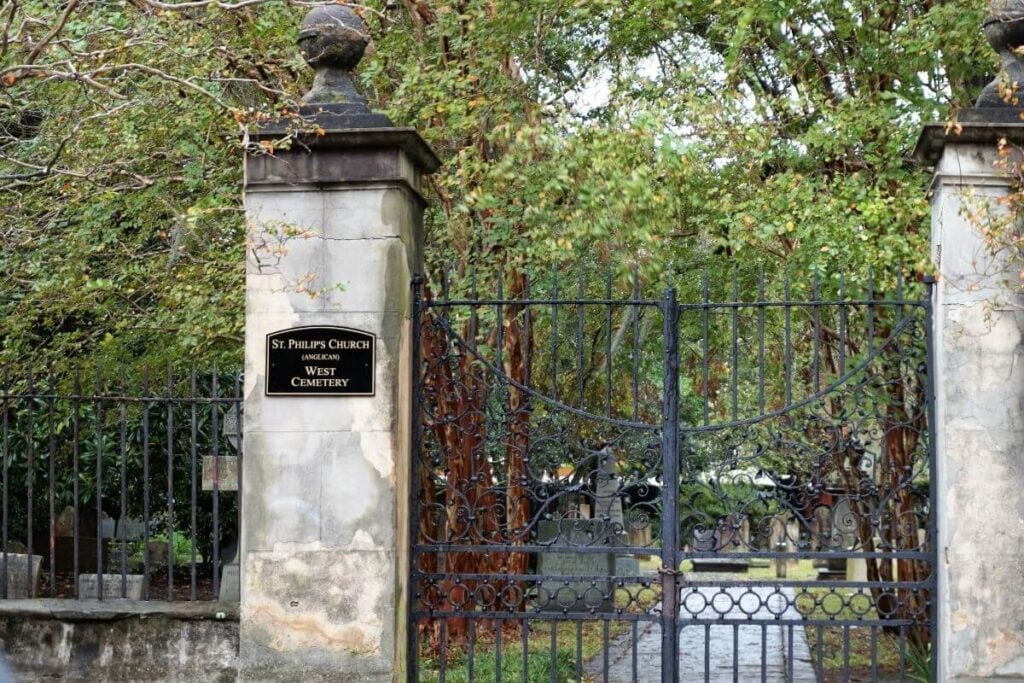 I wasn't sure I wanted to do a carriage ride because I was concerned about the treatment of the animals. But I did some research and learned that the horses from Old South Carriage Company are mostly draft horses that are bred for work and most of them come from Amish working farms in Ohio. I did some more research and felt comfortable with the conditions in which the horses lived.
---
I found this information on the website:
Old South Carriage Company maintains a team of 25-30 Belgian and Percheron draft horses. The care of our horses is a top priority. We are fortunate to own a large, well ventilated stable in the city where the horses enjoy rest, shade, and water between tours. Our downtown stable features "box stalls" that enable the horses to lie down and rest at will. The horse's temperature, respiration, and overall condition are evaluated after every tour. We frequently rotate our horses between our downtown stable and Sugah Cain, our 65-acre "horse heaven," with green pastures and beautiful moss-draped live oak trees.
Please visit our stable at 14 Anson Street and witness first-hand the quality of the horses, the excellent facilities, and the level of care and treatment our horses receive. If you'd like to book a complimentary "Meet our Horses" tour, you can sign up here.
---
We went and visited the stables earlier in the day so I would feel comfortable doing a carriage ride. I was convinced the horses were treated well and meant to do this work. (I still hope my research and intuition is correct.)
We were exhausted by our 8pm tour, but it was lots of fun. Our host was informative and funny — and the tour was not really scary! Since it was dark, I couldn't take pictures but we went back to some places the next day to get some photos.
---
From the Old South Carriage Company Website:
Join us for a unique tour by carriage of one of the most haunted cities in America. Hear the surprising tales of ghosts, pirates, and patriots from Charleston's historical past. Your guide will share informative, and spine-tingling local stories while you pass by haunted alleys, graveyards, churches, hotels, and the famous Provost Dungeon and Old Exchange.
---
5. Poe's Tavern | Sullivan's Island | Charleston, SC
Poe's Tavern | Sullivan's Island
You might think this is an odd choice, but my husband and I both thoroughly enjoyed Sullivan's Island and Poe's Tavern. It was recommended by the bride and groom who were getting married this weekend. It's about 15 minutes outside of Charleston right on Sullivan's Island and it's very easy to drive to.
The tavern is always busy though, so I suggest you arrive early unless you don't mind waiting for a table. It's a fairly small place inside, but it has lots of seating outside. Unfortunately, it was raining when we went, so the outside tables were not available. We arrived at about 5pm and were seated right away.
The restaurant is dark inside, as you might expect a place that's named after Edgar Allan Poe to be! Yes, Poe's Tavern is named after Edgar Allan Poe! THE INFAMOUS WRITER OF DARK AND SCARY STORIES AND POETRY! The walls are covered in Poe photos and memorabilia!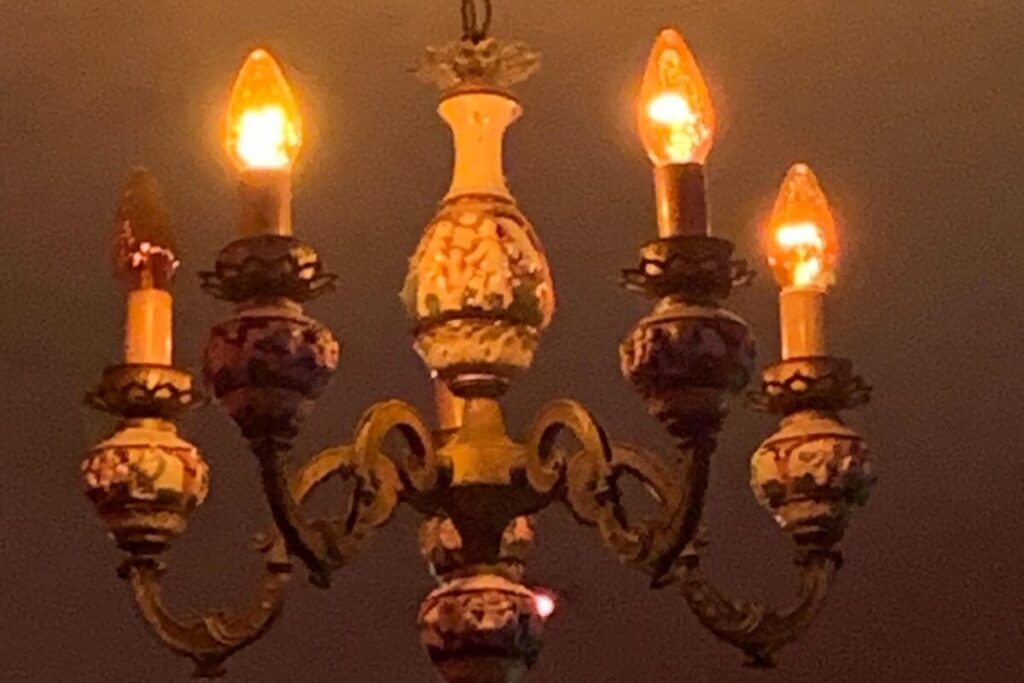 I was fascinated to learn WHY there was a place in Charleston named after Poe because I knew he was from the northeastern United States and died in Baltimore.
As it turned out, Poe spent 13 months on Sullivan's Island when he enlisted in the army. Stationed at Fort Moultrie from November 1827 through December 1828, he used his personal experiences from the area to write "The Gold Bug." This sealed his connection to Sullivan's Island.
After our visit, I read many interesting stories about Poe's time on Sullivan's Island on the Internet. Yes, this is something I do often because I love to learn! The tavern is not associated with Poe in any way other than by name and decor. There are now other Poe's located in Florida and North Carolina.
Anyway, back to the tavern… the food was some of the BEST we had while in Charleston. It was moderately priced and tasteful. My husband and I shared a plate of nachos to start. They were yummy! My husband had a specialized burger and fries which were very good, and I had the best chicken quesadilla I've ever eaten! They served it with fresh guacamole, too! How much better can life get, right?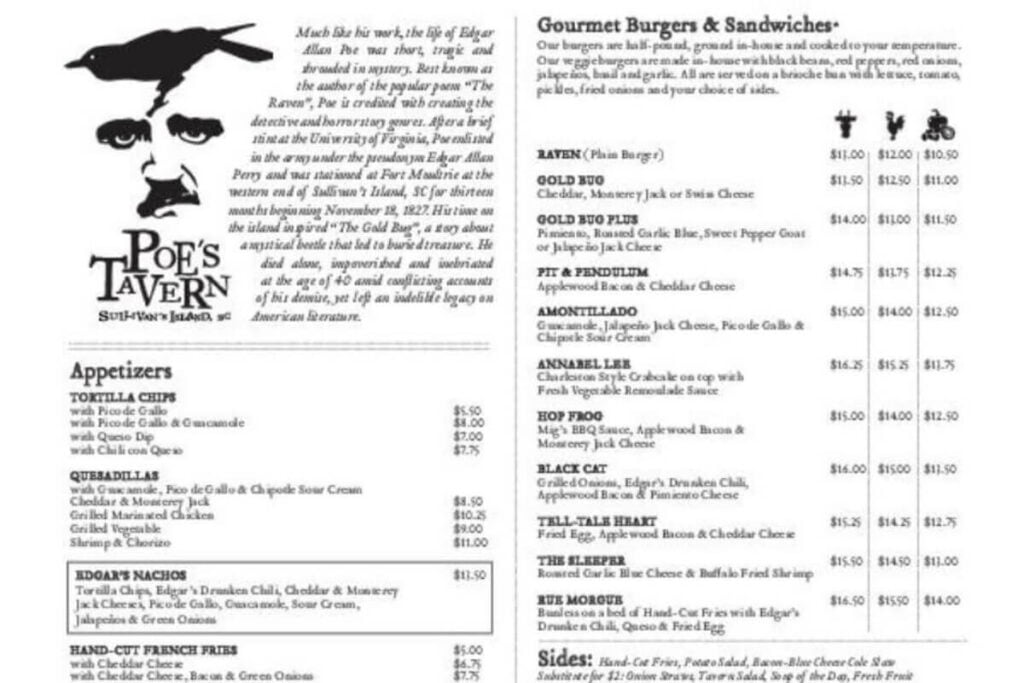 The tavern sits on the main road in Sullivan's Island. If you go early, you can enjoy many small shops like you'd find in any beach town. People were walking up and down the sidewalks, just enjoying life. By the time we came out of the restaurant, it was dark and raining harder so we returned to the hotel. Very Satisfied!
The website is currently under construction but you can see the menu and locations on a landing page.
---
Final Thoughts About Our Weekend in Charleston, SC
My husband and I stayed at the Hampton Inn in Mount Pleasant just outside of Charleston. It was affordable, clean, and only 10 minutes from the city. We were able to travel easily all over the Charleston area from this location.
Parking in downtown Charleston is very inexpensive, so if the weather is good, you can drive into the city, park and walk just about anywhere. There are so many amazing and historic things to see! We used a map from our hotel to drive through the city to see all the famous landmarks and popular sites. It was pouring down rain!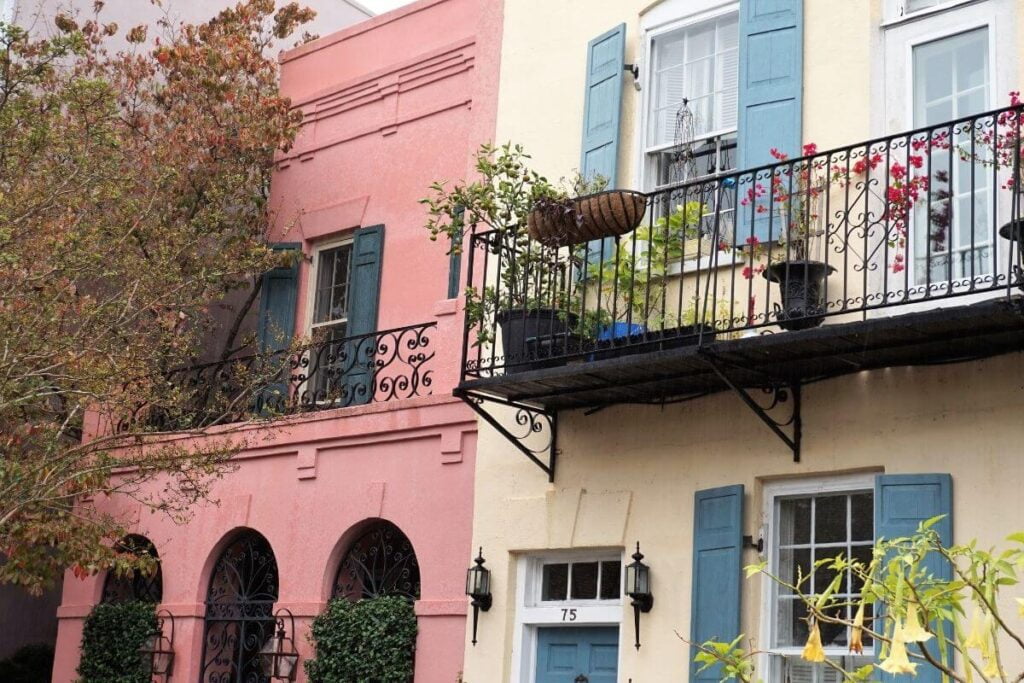 So when we arrived at a desired location, I would hang out the window and take pictures! Or, my husband would pull into an alley nearby and I would zip into my raincoat again and jump out to take photos! I had already predetermined what I wanted to see — Rainbow Row, Charleston City Market, French Quarter, Battery Park and White Point Gardens, Joe Riley Waterfront Park (Pineapple Fountain), Historic Homes and Churches, Old Slave Mart Museum, Old Exchange & Provost Dungeon, Patriots Point. So we were on a mission and had an agenda for the afternoon!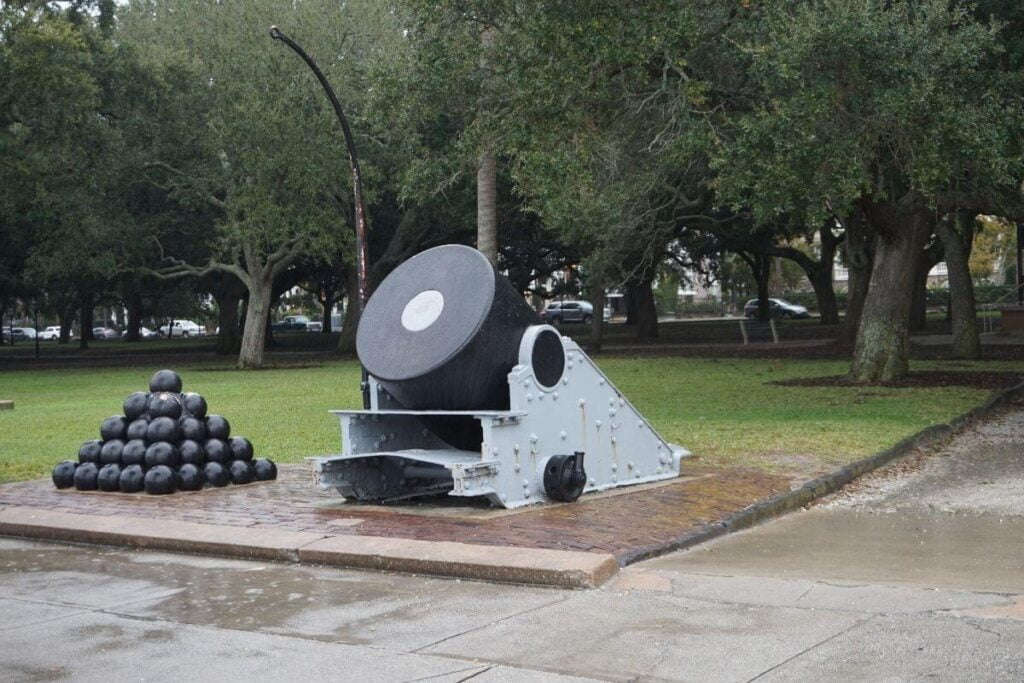 Two Interesting Facts About Charleston
Did you know the Civil War began on April 12, 1861 at Fort Sumter in Charleston? The Confederacy attacked the fort. At the end of the war, the American flag was raised over the remains of Fort Sumter, exactly four years after the attack.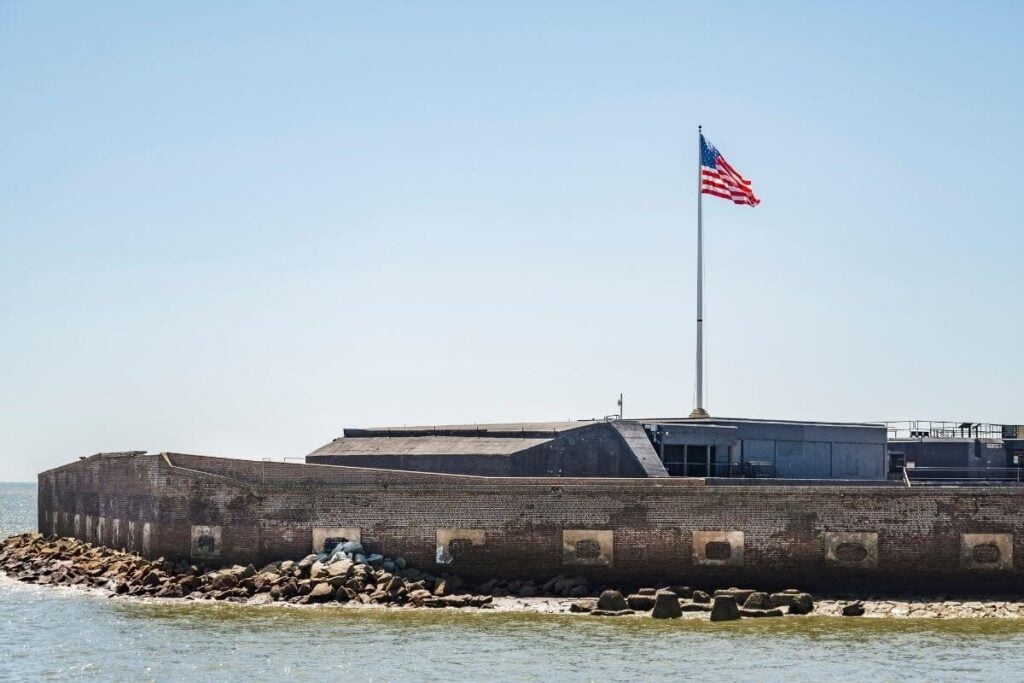 What's the quintessential souvenir of Charleston that everyone should take home? At the city market, Gullah artisans can be found weaving beautiful sweetgrass baskets. These intricate works of art are considered treasures. They are among the country's oldest and most highly prized traditional crafts. The techniques and patterns originated in West Africa where the Gullah/Geechee slaves came from. (They are very expensive due to the intricate nature of the craft — so this little basket is all I could afford — at $40.00.)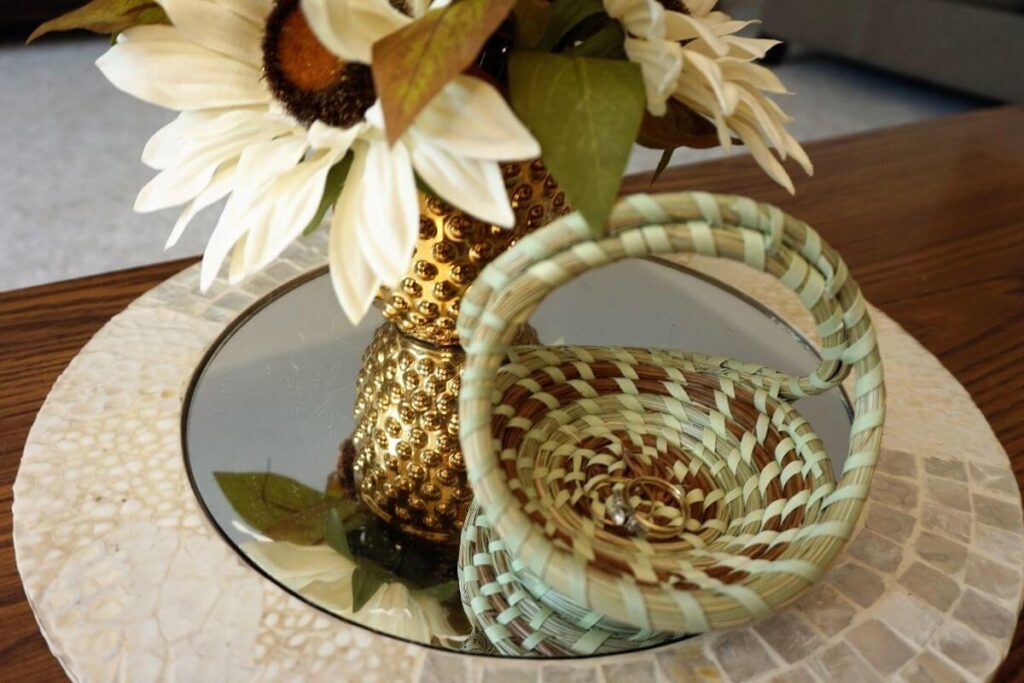 Traveling With Pain or Illness
Ironically, 3 weeks before our Charleston trip, I had written an article for Sassy Sister Stuff about traveling with chronic pain. Who would have ever thunk I would be using my own tips for our trip to Charleston?
I spent the day before we were supposed to leave for Charleston in the Emergency Room with a severe reaction to the covid booster shot, and a possible autoimmune flare-up. That's why we had to postpone our trip. I had vertigo the whole time we were in Charleston, but I moved slowly, held on to my husband, and got a little extra rest while at the hotel.
I also followed my own tips for traveling with pain, so be sure to bookmark that article and save it! It may come in handy for you someday, too!
---
I hope someday you get to spend more than a weekend in Charleston. It's a charming city filled with an incredible amount of history and culture. My husband and I felt like we could easily have spent a week or more there!
Need more inspiration to plan a weekend in Charleston, or an adventure vacation to some fun and exciting? Read Adventure Quotes to Inspire Your Youthful Spirit and you'll want to be setting off as soon as possible!
I hope the information I've shared here will help you know what to do in Charleston on your next visit!
Love to All! ~ Susan
5 Cool Things To Do on a Weekend in Charleston, SC | Have You Been to Charleston? What's Your Favorite Thing to Do?