21 Simple Ways to Make Home Safe for Senior Citizens
As we age, our homes should be a peaceful sanctuary of comfort and security. However, with the increased risk of accidents and falls among our senior citizens, it's crucial to take proactive measures to ensure their safety.
In this article, you'll find a comprehensive list of 21 simple ways to make home safe for senior citizens. You can help transform any home into a safer haven with these tips. From installing grab bars in the bathroom to implementing effective lighting solutions throughout the house, these practical tips will not only minimize hazards but also provide peace of mind for older adults and their families.
These safety measures will help avoid the need for emergency services due to serious injury and allow elderly adults to remain in their own homes.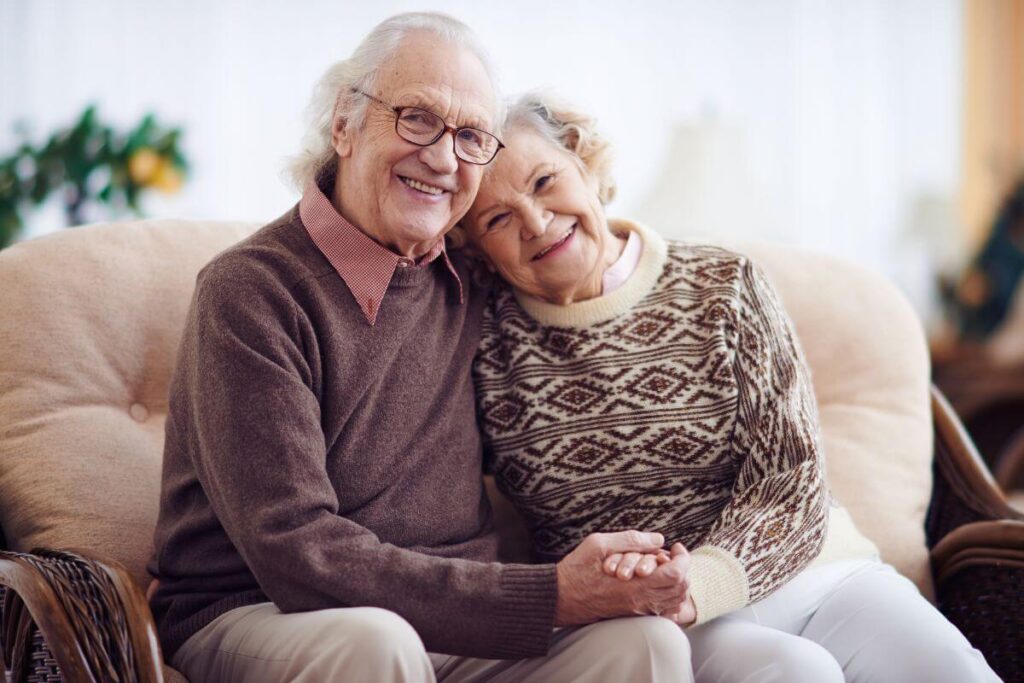 Simple Ways to Make Home Safe for Senior Citizens
Did you know falls are the leading cause of injury in older people? By implementing the simple things found below, you will reduce fall risks and other potential hazards.
Special Note: I have been the primary caregiver for each of my parents during their final years over a 12-year period. I have researched safety hazards, collaborated with medical providers, and learned from experience. While this list might look similar to others, it's my personal experience that makes it different. I have lived these years and loved my parents immensely so I did everything possible to help them stay in their long-time home. But I was able to manage most of these recommendations by myself.
1. Reduce Tripping Hazards
Area rugs and throw rugs should be removed from the home. Repair or replace torn or loose carpeting in the home. These items create trip hazards. Clearing clutter in walkways in the home is also important. Make sure electrical cords are secure and not laying loose in walkways.
2. Install Carbon Monoxide Detectors
Carbon monoxide is a dangerous and silent toxin that can be deadly. If carbon monoxide is a potential hazard in the home, good working detectors should be installed.
3. Check Smoke Detectors Often
Smoke detectors need to be checked regularly to make sure batteries are good and detectors are in good working condition. It's especially helpful if smoke alarms are connected directly to the local fire department. There are many home security systems that offer this service.
4. Lower Water Heater Settings
Very high water heater settings can be dangerous for the elderly. Rather than risk a burn, you should reduce the water temperature in the heater. Younger people can manage a faucet more efficiently, but it can be more difficult for senior citizens.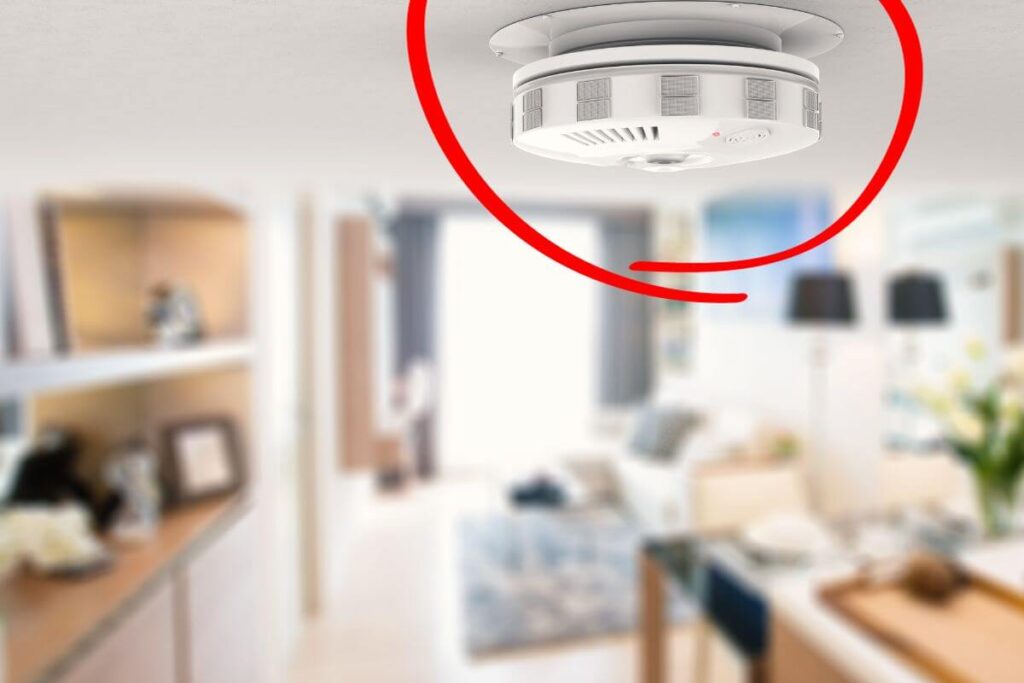 5. Install a Home Security System
There are numerous home security systems on the market today. My preference has been one where I can access the speaker and cameras remotely to see what's happening at my parents' house. Home security systems can help prevent break-ins and keep away scammers who prey on elderly citizens. As my father got older, he knew not to open the door to anybody because I was going to remotely tell door-to-door salespeople that we were not interested.
Alarm systems today can also directly contact emergency services via 911 if there is a house fire or break-in at the home.
6. Utilize a Medical Alert System
You've probably seen the kind of medical alert system that seniors wear around their necks, or one that has a wearable help button. There are many medical alert devices on the market to choose from today. They can immediately send emergency personnel to the home in case of a medical emergency.
You can also consider installing a home security system that will monitor the interior and exterior of the home so you have access to visual and auditory contact with older adults. This will provide everyone with peace of mind.
7. Ensure Front Door Access
It's essential for emergency personnel, neighbors, and family to be able to access the home quickly in case of an emergency at the home. Develop a plan and make sure trusted people know how to get into the home if elderly loved ones are unable to reach the door from inside. Additionally, if possible, remove door sills to help secure the safety of seniors. Make sure doors are easy to open, close, lock, and unlock so elderly people don't struggle with doors.
Related Article: A Comprehensive Caring for Aging Parents Checklist
8. Purchase a Fire Extinguisher
Make sure there are working fire extinguishers in the home at all times, and check them frequently. Make sure elderly adults know where they are located and how to use them, if possible. Always keep one in the kitchen.
9. Change to Lever-Style Door Handles
It's easy to replace regular doorknobs with lever-style door handles for easy gripping and accessibility. The level-style handles are especially helpful in case of falls.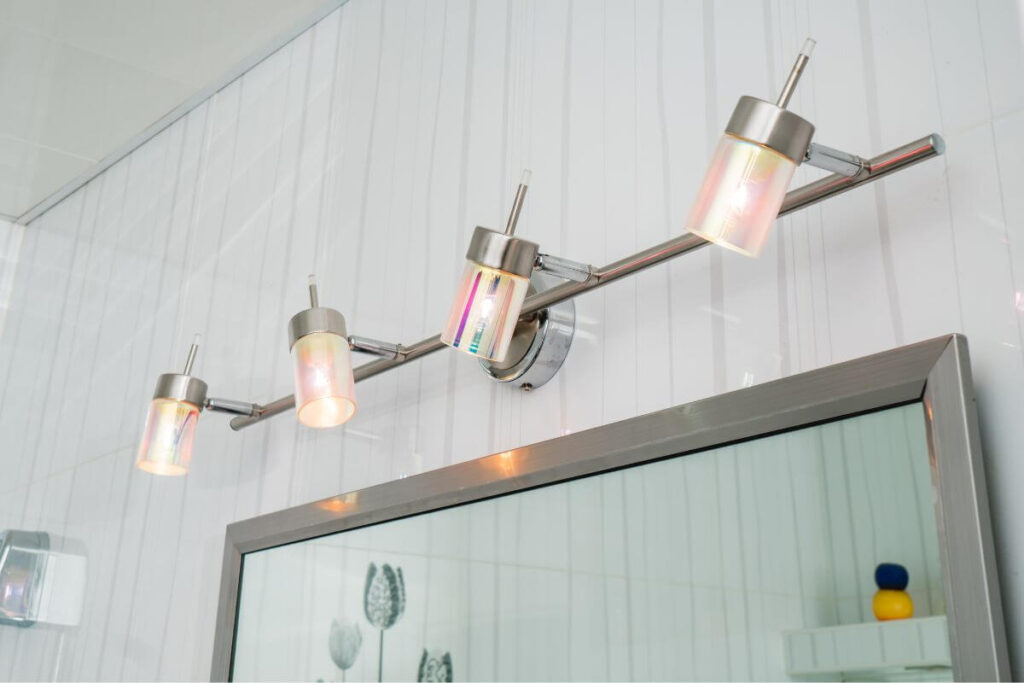 10. Improve Lighting
Poor eyesight is common among the elderly, so adequate lighting in the home is important. Light bulbs should be replaced as necessary; night lights should be used in each room; light switches should be lowered for accessibility. A well-lit room with bright lights will help seniors see better and avoid falls. Make sure outside entrances, hallways, and staircases are well-lit and lightbulbs are replaced as necessary.
11. Conduct a Furniture Survey
Arrange furniture to create clear pathways for movement and remove unnecessary pieces of furniture, such as ottomans, that are frequent fall hazards. End tables can also be particularly troublesome because of sharp corners and tight spaces. Based on personal experience, you may want to consider getting an adjustable bedframe because it makes getting in and out of bed easier for older people. Remove unnecessary furniture in the home to declutter, reduce accidents, and make space for wheelchairs or walkers. Replace kitchen or dining room chairs that have wheels.
12. Provide a Cell Phone
A mobile phone should be invaluable in the home of elderly folks. Senior citizens will often accidentally leave a wired phone off the hook and it will be impossible to reach them. Or to the contrary, they won't know why the wired phone is not working, and they need to contact someone for help. A cell phone will help resolve this kind of problem. There should be a plan to ensure that all phones are charged and working well, with charging stations near sitting areas and beds.
13. Check Bathroom Safety
The bathroom is one of the most dangerous places in the home for elderly people. Non-slip strips should be placed in the shower and/or bathtub; there should be a water- and slide-proof chair in the shower; rubber bathmats should be used; good lighting should be installed; grab bars should be placed where appropriate; and a raised toilet seat should be added. Faucets may need to be replaced if they are difficult for the elderly person to use.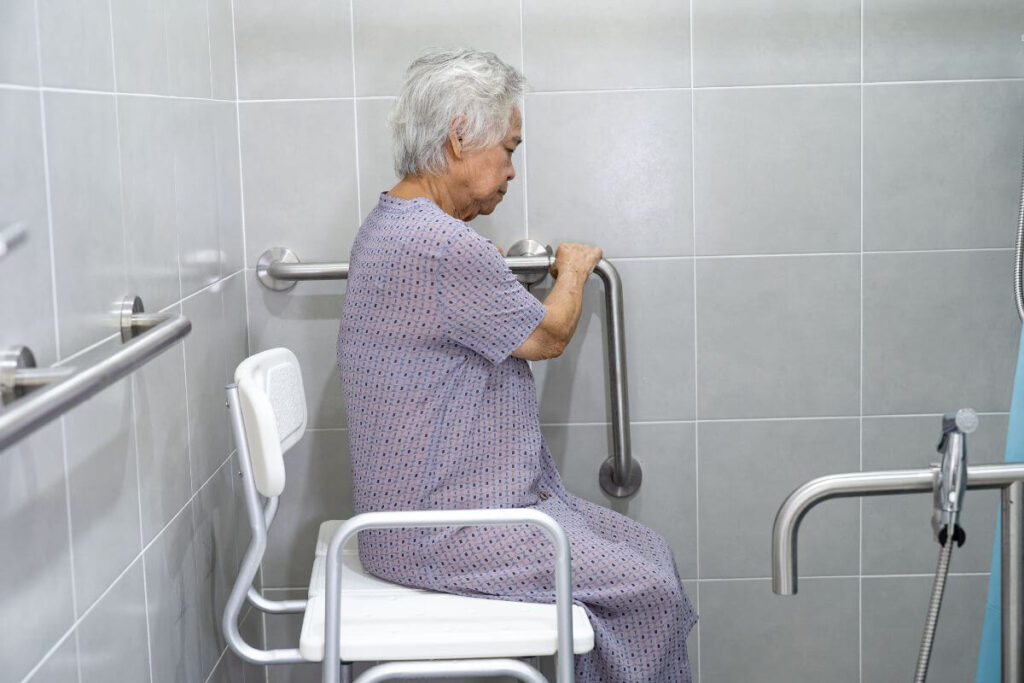 14. Monitor Prescription Medications
An updated list of prescription medications should be kept in multiple places in the home. I always put one right inside the front door with the emergency contact list, as well as in the kitchen and bathroom where my parents kept their medications. For the last several years, each week I put medications in 7-day containers to help my parents take the correct medications. However, it's important to keep medicine in original containers so the label is clear for anyone who needs to double-check medications.
Related Article: 79 Uplifting Quotes About Caring for Elderly Parents
15. Install Grab Bars
Adding grab bars in bathrooms by the toilets and bathing areas, as well as near stairs will help reduce falls in common areas where fall hazards are found in the home. You may want to hire a professional to do this job because it can be tricky to do it properly.
16. Organize Electric Cords
Secure electrical cords up against the wall, or in well-hidden places behind furniture. There are also many boxes, bundlers, tubes, and other devices that help to organize cords at Walmart and Amazon. Make sure no electrical cords are in walking areas.
17. List Emergency Contacts
In case of a medical emergency, keep a list of emergency contacts available right inside the front door. An emergency phone tree is also helpful so family members can contact each other quickly during emergencies. It's very difficult to focus on all that needs to be done and everyone who needs to be contacted when you are emotionally stressed from any kind of emergency.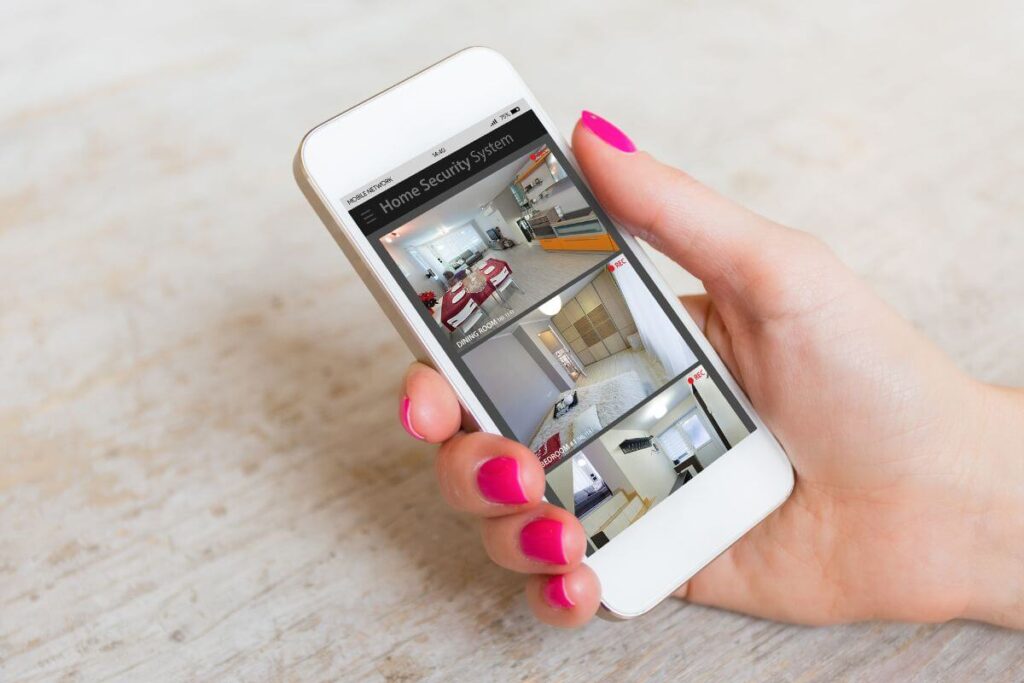 18. Monitor Parents Remotely
Monitoring elderly parents remotely has become much easier in recent years with technology advancements. You can monitor things such as overall wellness, general safety, specific location, health, and even comfort. There are wearables, phone apps, alarm and camera systems, medical alert devices, video conferencing tools, transportation services, and more. It's important to talk to the senior citizens and have them involved in making decisions about what would be beneficial to them.
19. Reduce Senior Citizen Scams
While monitoring elderly parents remotely has become more convenient due to technology, senior citizen scams has become more of a problem. Telemarketing is one of the leading scams among seniors, as well as tech support scams that pop up on computers. It's important for family members to stay informed about current scams so you can help elderly parents avoid these scams. Seniors lose thousands of dollars every year in fraudulent scams.
20. Tend to the Exterior of the Home
Install motion sensor lights outside to make the home safer. Also, make sure entryways and sidewalks are free of clutter and debris. Fix any broken concrete and remove lose stones that may be laying around. Check to make sure handrails are tight and secure, and consider whether the elderly person needs a ramp to access the home. Install lighted house address numbers outside clearly in a place where an emergency vehicle can see the address.
21. Consult with Medical Providers
It's always best to consult with medical providers who are treating the elderly adult. They can offer important guidance that is specific to the needs of their patient. Additionally, there may come a time when the medical providers feel it is not safe for a senior citizen to remain home alone. Then different conversations and decisions will be needed. If you are the elderly person, please listen to the advice of your health care providers. It could be a matter of life and death. Don't be stubborn and put your children in a difficult position.
Related Article: 21 Essential Tips for Dealing with Irrational Elderly Parents
BONUS: And finally, I strongly suggest that you and all senior citizens have a subscription to AARP. The monthly magazines include a lot of helpful information for seniors, as well as special offers that may help reduce the cost of senior care. My husband joined as soon as he turned 50… so I've been reading it for a long time:)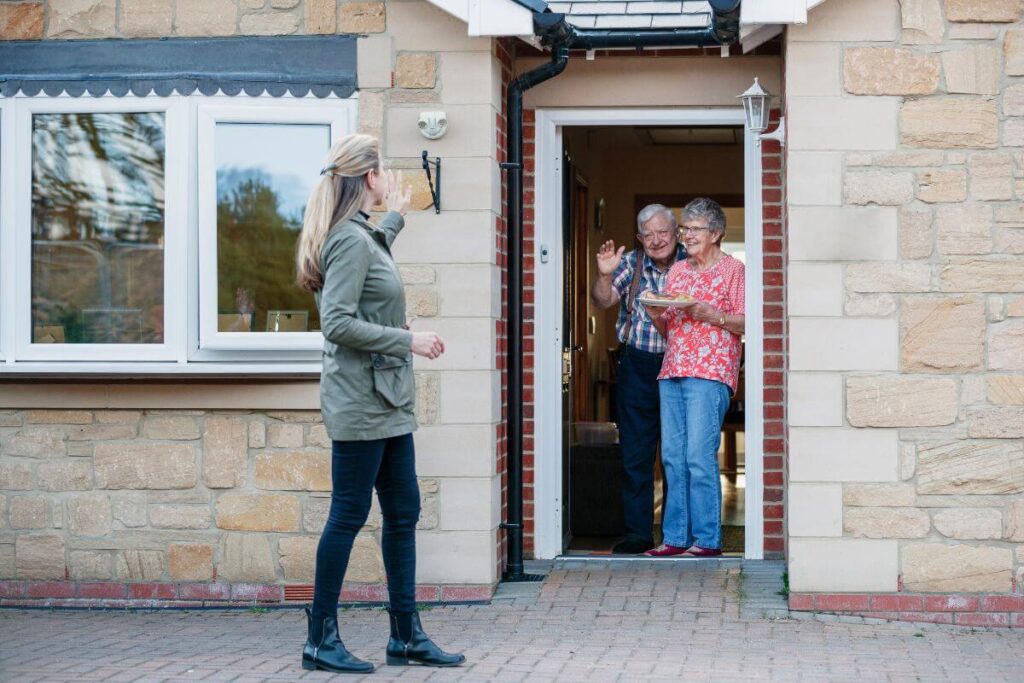 Final Thoughts: Simple Ways to Make Home Safe for Senior Citizens
In conclusion, creating a safe and comfortable home for senior citizens is essential to ensuring their well-being and independence. By implementing these 21 top home safety tips, you can significantly reduce the risk of falls and injuries in the home.
Each step plays a crucial role in promoting safety for your elderly loved ones. However, it is also important to regularly assess the home environment and make necessary adjustments as needs change over time. Should you find it necessary at some point, there are many benefits of living with elderly parents.
With these simple things accomplished, family members will feel greater peace of mind while providing a higher quality of life for older adults who want to remain in the comfort of their own home.
Love to ALL! ~ Susan