You Only Live Once, But if You Do it Right, Once is Enough
"You only live once, but if you do it right, once is enough." This quote can be attributed to the witty, and often times edgy, Mae West. But what exactly does this quote mean?
West was full of life. She knew how to live life on her own terms and do it well. She exemplified the meaning of YOLO (you only live once) before it was even a thing!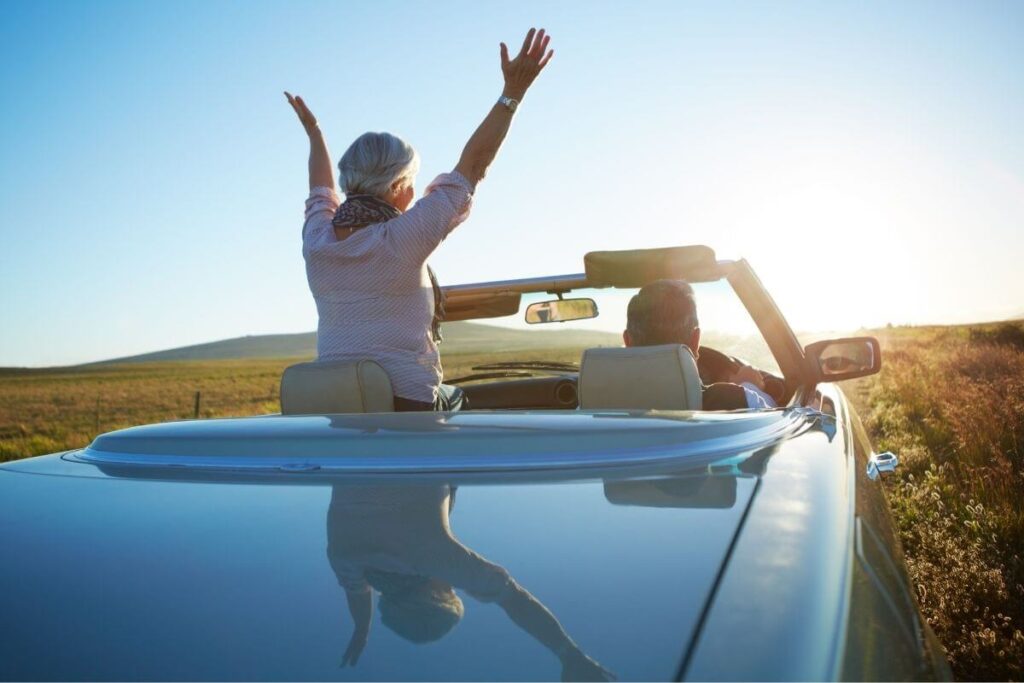 As suggested by her quote, "Between two evils, I always pick the one I never tried before," Mae West enjoyed a provocative nature as well as a simple and raw view of life. She definitely enjoyed living her best life at all ages!
Here are some other Mae West quotes that will give you a clue about her mindset toward life and what she meant by "You only live once, but if you do it right, once is enough."
"Well behaved women do not make history."
"I never worry about diets. The only carrots that interest me are the number you get in a diamond."
"When I'm good, I'm very good. But when I'm bad I'm better."
"Women are like roads. The more curves they have, the more dangerous they are."
"I never said it would be easy, I only said it would be worth it."
"Positive thoughts generate positive feelings and attract positive life experiences."
"Your real security is yourself. You know you can do it, and they can't ever take that away from you."
"The best way to behave is to misbehave."
"I used to be Snow White, but I drifted."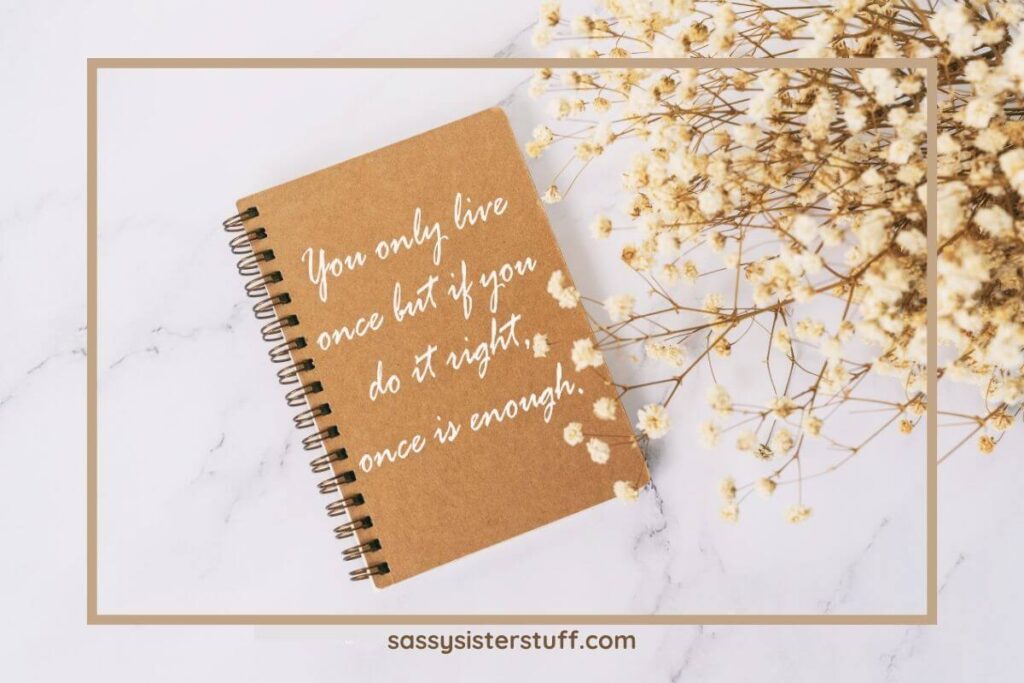 There are many sexually oriented quotes that come from Ms. West, as well. But you can Google those:)
You can probably get the idea what "you only live once, but if you do it right, once is enough" meant to Mae West. She was quite a character! A sex symbol, an actress, and a comedian — Mae West (1893-1980) was an interesting, yet sometimes controversial person for her time. But she lived life to the fullest!
So, what can we learn from the quote, "You only live once, but if you do it right, once is enough?"
In essence, Mae West's quote encourages individuals to make the most of their lives by living authentically, embracing quality experiences, and avoiding regrets. It's a call to mindful living and a reminder to find the right balance between enjoyment and responsibility.
In the quote, doing life "right" underscores the importance of prioritizing the quality of experiences over quantity. Living authentically and true to yourself becomes a central theme, suggesting that doing life the right way involves making choices aligned with your values and passions.
In other words, living a meaningful life involves making choices that align with your values, passions, and aspirations.
The idea of "once is enough" implies that the most important thing is the pursuit of a life without major regrets. West's quote urges individuals to make thoughtful and intentional decisions. Additionally, the quote promotes mindful living, encouraging you to be present and aware of your actions.
While the meaning of this quote is not single-handedly associated with a hedonistic lifestyle, West's other quotes and chosen lifestyle would imply that you can enjoy life's pleasures, but it should be with a sense of responsibility and consideration for long-term well-being. The inclusion of "if you do it right" in the quote suggests a balanced perspective.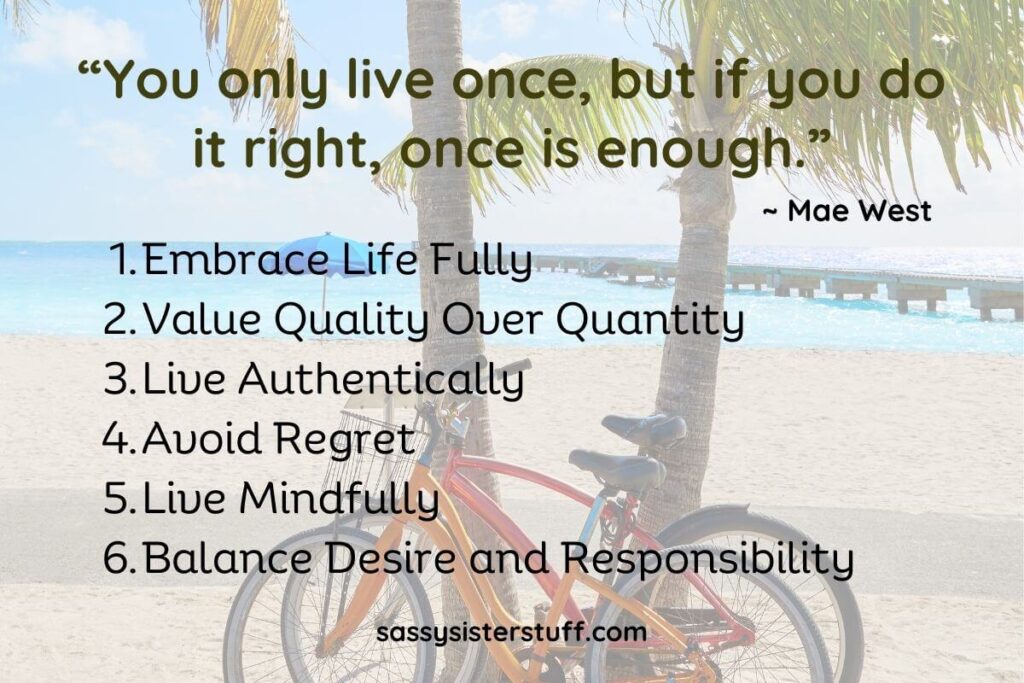 In conclusion, these are some insights that can be drawn from this quote:
Embrace Life Fully
Value Quality Over Quantity
Live Authentically
Avoid Regret
Live Mindfully
Balance Desire and Responsibility
West's quote, "You only live once, but if you do it right, once is enough," carries a profound and timeless message about the importance of living a meaningful and fulfilling life — one that is both rich in experiences and aligned with your authentic self.
By making thoughtful and intentional choices, you can minimize the chances of looking back with a sense of missed opportunities or unfulfilled potential.
West believed that you don't want to get to your death bed and have spent your whole life living in your comfort zone. We should die with memories, not dreams. A life worth living includes spending time with good friends, taking risks, and seizing opportunities while you fully embrace life!
So, I hope you will go out there in the world and live your own life to the fullest — there is something to be said for doing it right the first time!
Love to ALL! ~ Susan
Related Articles: