127 Inspirational NOTE TO SELF Quotes for Life
We all need a little inspiration and motivation from time to time, and one way to achieve that is by reading "note to self" quotes. These inspirational quotes are simple yet powerful reminders that we can give ourselves to help stay focused, positive, and driven towards our goals.
Whether it's a quote about self-love, resilience, or growth, a good "note to self" quote can offer a quick pick-me-up and serve as a daily mantra to keep us moving forward. In this article, we will explore some of the best "note to self" quotes that can help inspire and empower you — and even make you laugh — in your everyday life.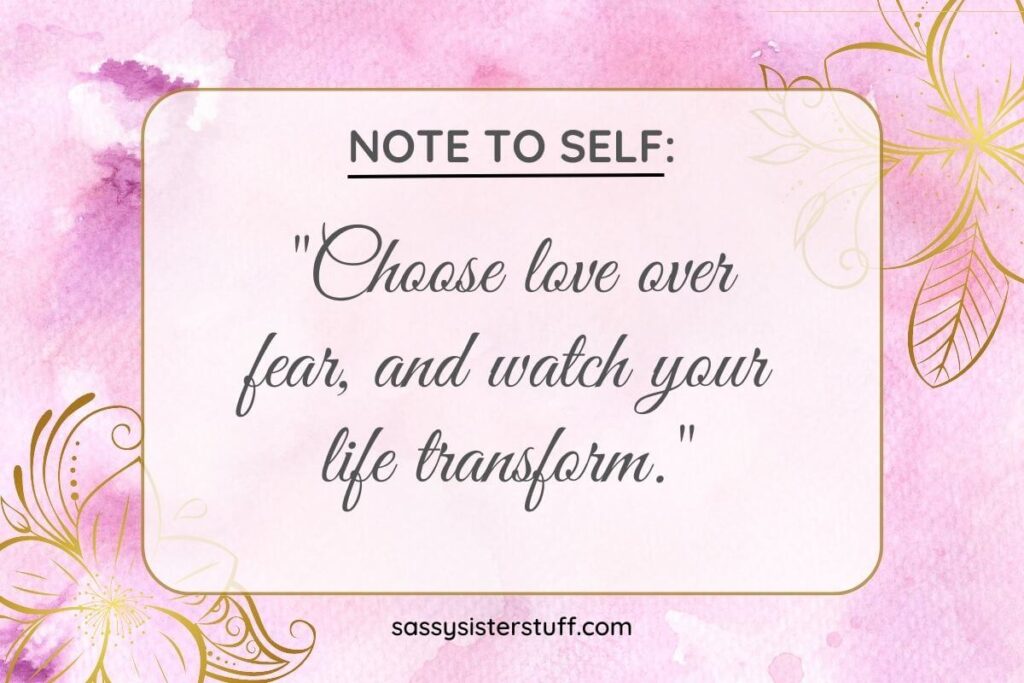 ---
Related Article: 85 Jay Shetty Quotes About Life, Love, and Happiness
---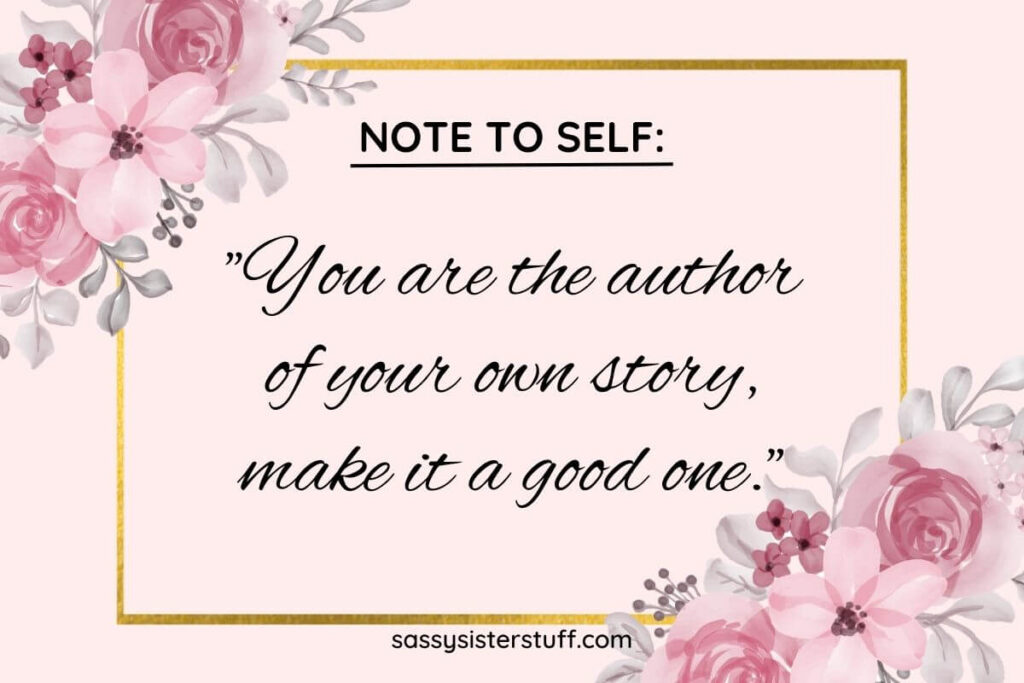 What Are Good NOTE TO SELF Quotes?
Good note to self quotes will give you advice and reminders that otherwise can easily get lost in the daily chaos of life. You can read them frequently to help you stay focused on what's truly important and reduce frustration. They give you practical guidance for the realities of life.
These are 10 simple but compelling examples:
"You are capable of amazing things."
"Don't wait for opportunity, create it."
"Don't let yesterday take up too much of today."
"Be the reason someone believes in the goodness of people."
"It's okay to not have it all figured out."
"You are worthy of love and respect."
"Stay focused, go after your dreams, and keep moving toward your goals."
"Believe in your potential, even if you haven't realized it yet."
"Inhale confidence, exhale doubt."
"Your journey is unique, embrace it."
These quotes can serve as a powerful reminder to stay positive, motivated, and focused on your goals. You can also create your own note to self quotes that are tailored to your specific needs and goals.
Consider adding your favorite inspirational note to self quotes to your meditation, affirmation, and journaling practices to help shift your mindset, too.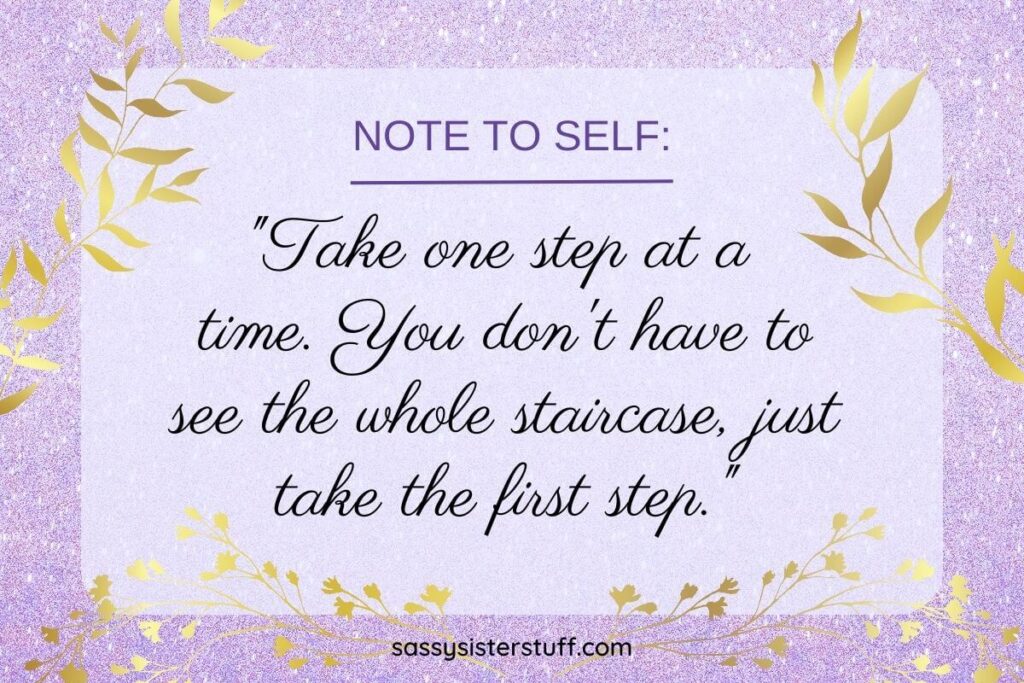 Note to Self Quotes About Motivation
"You are not a failure until you give up."
"Believe in yourself and all that you are. Know that there is something inside you that is greater than any obstacle."
"The only way to do great work is to love what you do. If you haven't found it yet, keep looking. Don't settle." — Steve Jobs
"You don't have to be great to start, but you have to start to be great." — Zig Ziglar
"The secret of getting ahead is getting started." — Mark Twain
"Success is not final, failure is not fatal: it's the courage to continue that counts." — Winston Churchill
"The only limit to our realization of tomorrow will be our doubts of today." — Franklin D. Roosevelt
"Miracles start to happen when you give as much energy to your dreams as you do to your fears."
"No one can make you feel inferior without your consent." — Eleanor Roosevelt
"Just don't give up trying to do what you really want to do. Where there is love and inspiration, I don't think you can go wrong." — Ella Fitzgerald
"Don't be afraid to give up the good to go for the great." — John D. Rockefeller
"If people are doubting how far you can go, go so far that you can't hear them anymore." — Michele Ruiz
"Act as if what you do makes a difference. It does." — William James
"Sometimes you win, sometimes you learn." — John Maxwell
"Believe you can and you're halfway there." — Theodore Roosevelt
"Life is like riding a bicycle. To keep your balance, you must keep moving." — Albert Einstein
"You don't always need a plan. Sometimes you just need to breathe, trust, let go, and see what happens." — Mandy Hale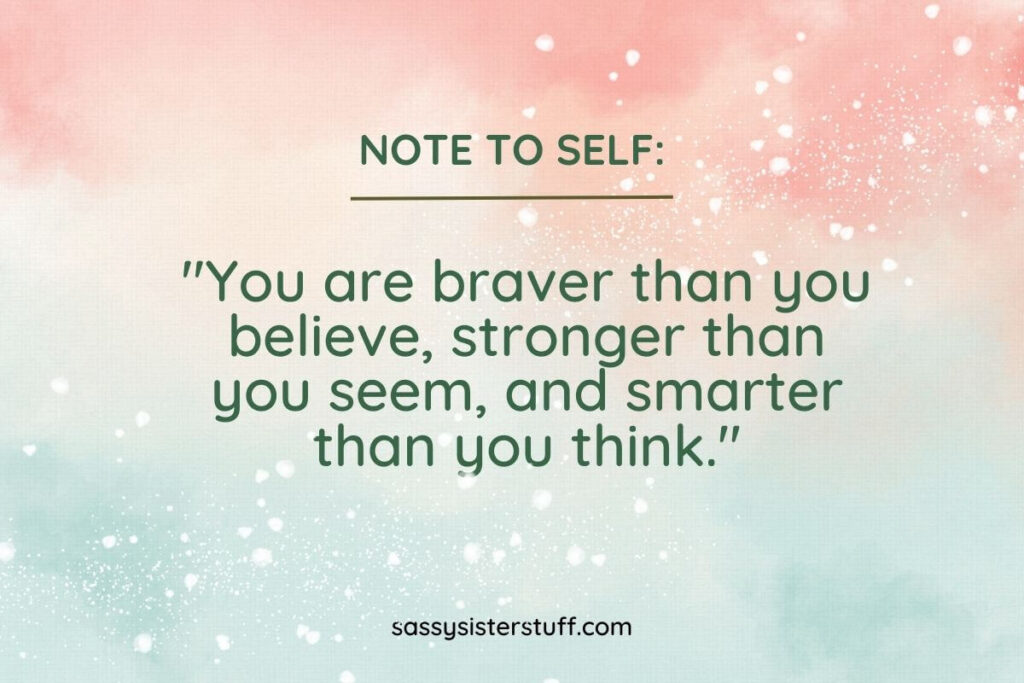 "If I cannot do great things, I can do small things in a great way." — Martin Luther King Jr.
"The bad news is time flies. The good news is you're the pilot." — Michael Altshuler
"Never bend your head. Always hold it high. Look the world straight in the eye." – Helen Keller
"I can't change the direction of the wind, but I can adjust my sails to always reach my destination."
– Jimmy Dean
"Inspiration comes from within yourself. One has to be positive. When you're positive, good things happen."
– Deep Roy
"All our dreams can come true, if we have the courage to pursue them." — Walt Disney
"I've missed more than 9,000 shots in my career. I've lost almost 300 games. 26 times I've been trusted to take the game winning shot and missed. I've failed over and over and over again in my life, and that is why I succeed." — Michael Jordan
"Don't limit yourself. Many people limit themselves to what they think they can do. You can go as far as your mind lets you. What you believe, remember, you can achieve." — Mary Kay Ash
"It's hard to beat a person who never gives up." — Babe Ruth
"We need to accept that we won't always make the right decisions, that we'll screw up royally sometimes―understanding that failure is not the opposite of success, it's part of success." ― Arianna Huffington
"Things may come to those who wait, but only the things left by those who hustle." ― Abraham Lincoln
"Everything comes to him who hustles while he waits." ― Thomas Edison
"You are braver than you believe, stronger than you seem, and smarter than you think."
"Take one step at a time. You don't have to see the whole staircase, just take the first step."
These motivational quotes can help remind you about the importance of staying motivated and committed to your goals. They can also help you overcome any fears or doubts that might be holding you back and inspire you to take action to achieve your dreams.
By keeping these quotes in mind, you can stay motivated and focused on your dreams, no matter what obstacles may arise along the way.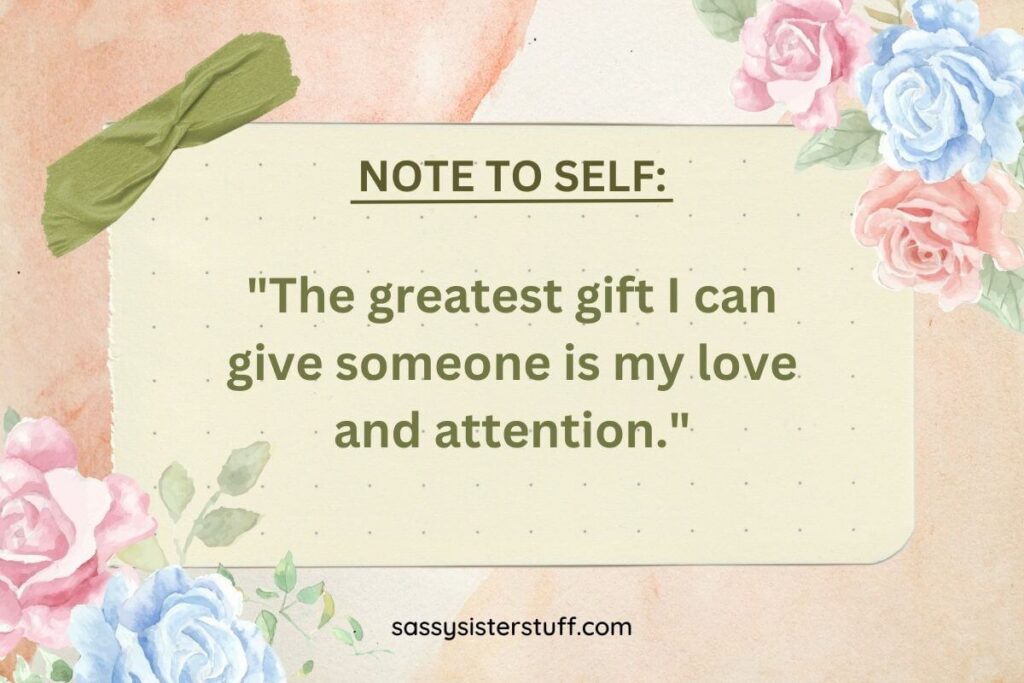 Note to Self Quotes About Love
"Love yourself first, and everything else falls into line.
"You deserve someone who loves you with every single beat of his heart."
"Love is not about possession, it's about appreciation."
"Love is not a feeling, it's an action."
"True love is about growing together, not apart."
"Love is not a destination, it's a journey that you take together."
"You yourself, as much as anybody in the entire universe, deserve your love and affection." — Buddha
"Talk to yourself like someone you love." –- Brene Brown
"To fall in love with yourself is the first secret to happiness." –- Robert Morely
"Know your worth, then add tax."
"Kindness in words creates confidence. Kindness in thinking creates profundity. Kindness in giving creates love." –- Lao Tzu
"We're all a little weird. And life is a little weird. And when we find someone whose weirdness is compatible with ours, we join up with them and fall into mutually satisfying weirdness—and call it love—true love." — Robert Fulghum

"Love is something sent from heaven to worry the hell out of you." – Dolly Parton

"Love means having to say you're sorry every fifteen minutes." – John Lennon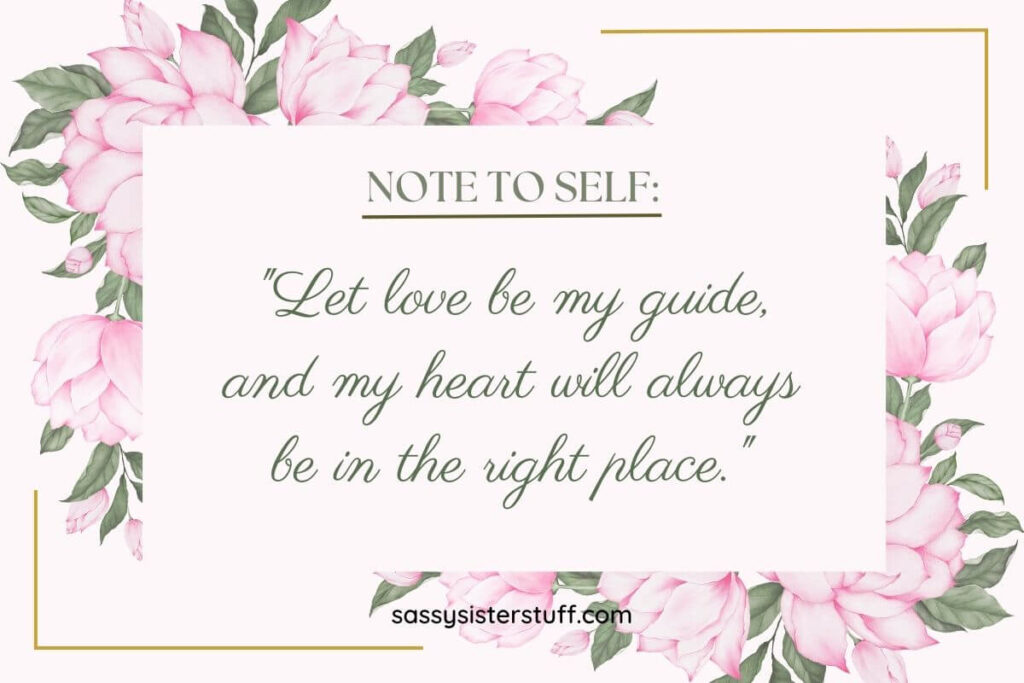 "Better to have loved and lost, than to have never loved at all." – St. Augustine
"Where there is love there is life." – Mahatma Gandhi
"A loving heart is the truest wisdom." – Charles Dickens
"Love makes your soul crawl out from its hiding place." – Zora Neale Hurston
"The chance to love and be loved exists no matter where you are." – Oprah Winfrey
"The best thing to hold onto in life is each other." – Audrey Hepburn
"Love can build a bridge." — The Judds
"Love is the bridge between two hearts."
"Let love be my guide, and my heart will always be in the right place."
"The greatest gift I can give someone is my love and attention."
"Choose love over fear, and watch your life transform."
These quotes can remind you of the importance of self-love, as well as the importance of showing love and appreciation to those around us. They can also serve as a reminder that love is not just a feeling, but an action that requires effort and commitment to grow and thrive.
Whether you're in a romantic relationship or simply seeking to cultivate more love in your life, these note to self quotes can help you stay focused on the power and beauty of love.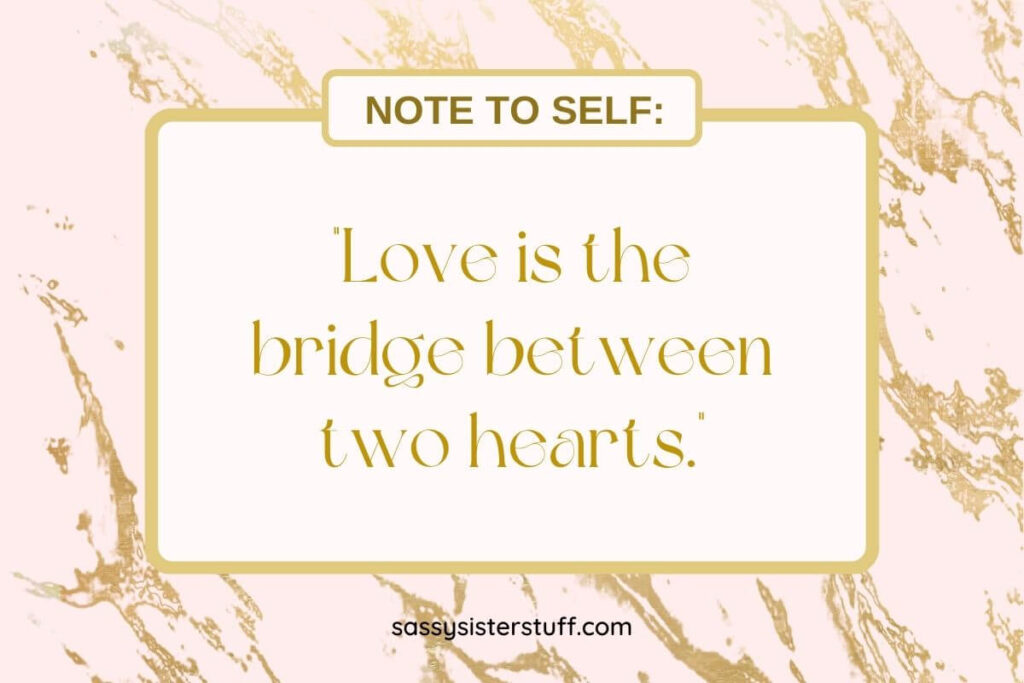 Short Note to Self Quotes for Instagram
"Be the best version of you."
"Create the life you love."
"Dream big and hustle harder."
"Chase your dreams, not the likes."
"Life is a journey, enjoy the ride."
"Don't let anyone dull your sparkle."
"Your only limit is the one you set for yourself."
"Believe in yourself and you can achieve anything."
"Positive vibes only."
"In a world where you can be anything, be kind."
"You are doing the best you can do."
"It is okay to ask for help."
"You are worthy and loved."
"It is okay to not be okay."
"Your boundaries are important."
"You are capable of amazing things."
"Your feelings are valid."
"It is okay that you are a work in progress. We all are."
"It is okay to give yourself time to heal."
"Mistakes happen. It's okay to try again."
"Take up space in the world"
"You are allowed to say NO."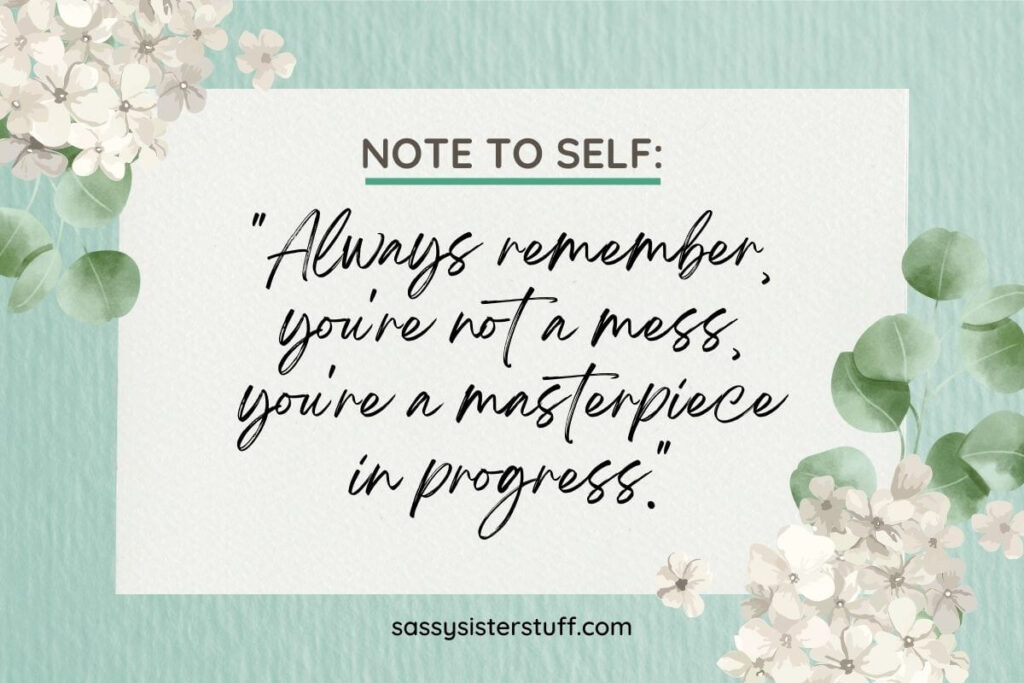 "Never settle for less."
"Take one step at a time."
"Don't sweat the small stuff."
"All feelings are welcome and valid."
"You are enough."
"Practice gratitude everyday."
"Don't overthink it!"
"Just believe someone said it, you don't have to believe it."
"Be kind to yourself today."
"Mistakes are just lessons you need to learn."
"It doesn't matter what others things. They aren't you."
"Everyone has bad days. They help you recognize the really good days!"
"Hold the vision, trust the process."
"Always remember, you're not a mess, you're a masterpiece in progress."
"You are the author of your own story, make it a good one."
---
Related Article: 121 Sassy Self Confidence Quotes & Instagram Captions
---
These short captions can help inspire and remind us to stay true to ourselves, work hard, and stay positive. They can also serve as a quick reminder of the importance of self-care and self-love, as well as the power of positivity and kindness.
By using these captions on Instagram, you can share your personal growth journey with others and spread positivity to those around you.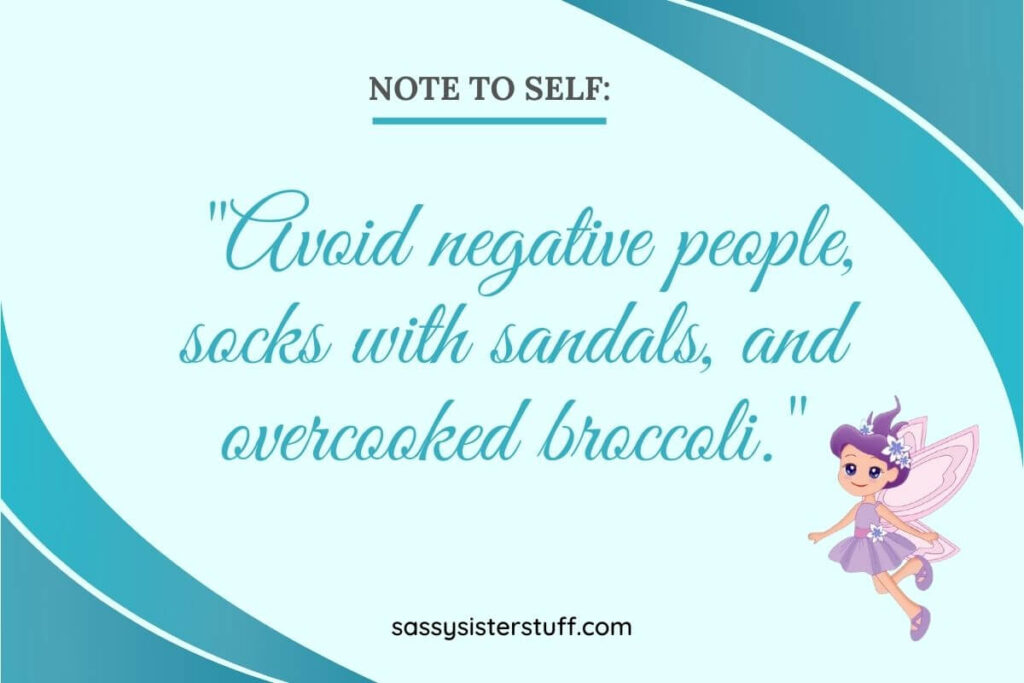 Funny Note to Self Quotes
"Don't worry about the world coming to an end today. It's already tomorrow in Australia."
"Don't forget to pretend to be normal today."
"Next time, don't wait until the last minute to panic."
"Chocolate is always the answer."
"Put down the phone and step away from the social media."
"When in doubt, just wing it. Life has a funny way of working out."
"Just because I can't dance doesn't mean I won't dance."
"Procrastination is like a credit card. It's a lot of fun until you get the bill."
"Do what you feel in your heart to be right―for you'll be criticized anyway." ― Eleanor Roosevelt
"The same boiling water that softens the potato hardens the egg. It's what you're made of. Not the circumstances."
"People who wonder if the glass is half empty or full miss the point. The glass is refillable."
"All Motivation Mondays need are a little more coffee and a lot more mascara."
"When life gives you Monday, dip it in glitter and sparkle all day." — Ella Woodword
"So. Monday. We meet again. We will never be friends — but maybe we can move past our mutual enmity toward a more positive partnership." ― Julio-Alexi Genao
"Just because it pops into my head doesn't mean it has to come out of my mouth."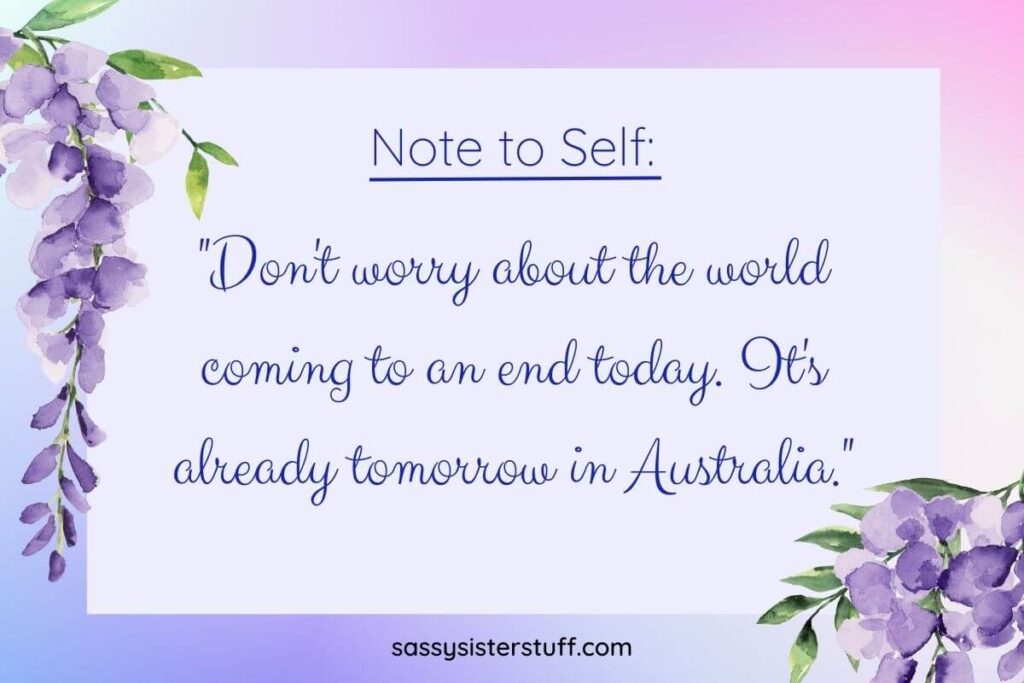 "Every Friday, I like to high five myself for getting through another week on little more than caffeine, willpower, and inappropriate humor." — Nanea Hoffman
"Hustlers don't sleep, they nap."
"Greatness only comes before hustle in the dictionary." ― Ross Simmonds
"If you're offered a seat on a rocket ship, don't ask what seat! Just get on." ― Sheryl Sandberg
"If you hear a voice within you say, 'You cannot paint,' then by all means paint, and that voice will be silenced." ― Vincent Van Gogh
"Note to Self: It is illegal to stab people for being stupid."
"Note to Self: Next time my wife asks what's on TV, don't say dust."
"Some mornings it's just best to fill the sink with coffee, dunk you head in it, and just suck."
"Avoid negative people, socks with sandals, and overcooked broccoli."
These quotes can help lighten the mood and add a bit of humor to your daily life. They can also serve as a reminder not to take things too seriously and to find joy and laughter in the little things.
By keeping these quotes in mind, you can approach life with a sense of humor and not sweat the small stuff.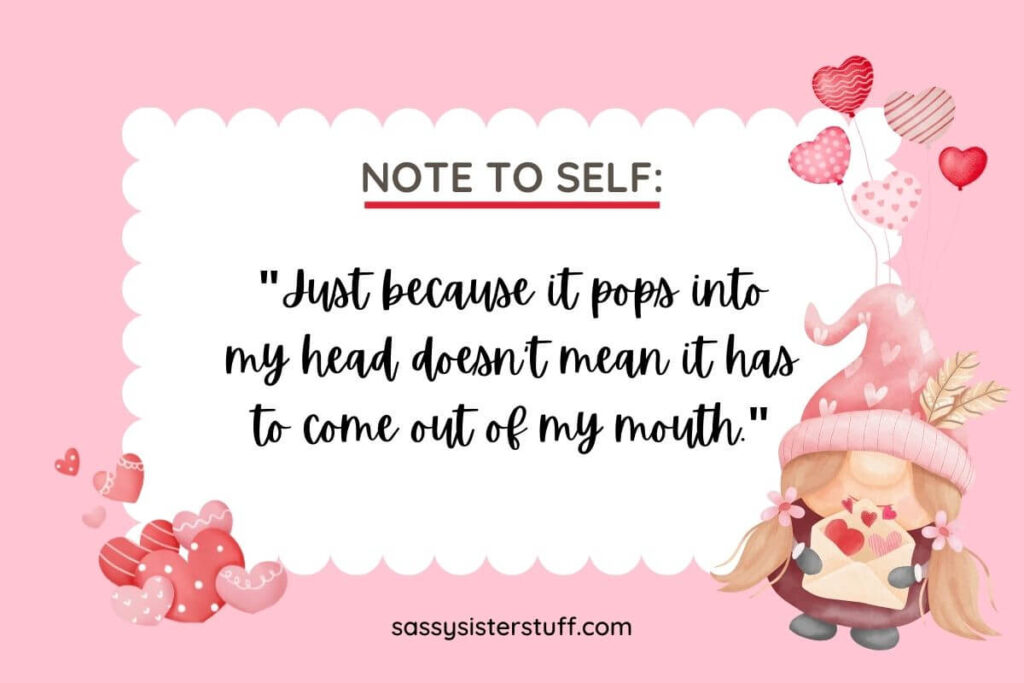 Final Thoughts: Note to Self Quotes
By reading these quotes to yourself regularly, and using them in your personal growth practices, you can reprogram your subconscious mind with positive thoughts and beliefs, which can help you achieve your desired outcomes. You can also use them to overcome your fears, doubts, and limiting beliefs and tap into your full potential.
Ultimately, good note to self quotes are a simple yet effective way to improve your mindset, attitude, and overall outlook on life. Whether you're facing a challenging situation, feeling down, or simply in need of a quick pick-me-up, you can turn to these quotes to uplift and inspire you to be the best version of yourself.
You may enjoy these related articles with favorite inspirational quotes:
Love to ALL! ~ Susan