BEST SEO Course for Bloggers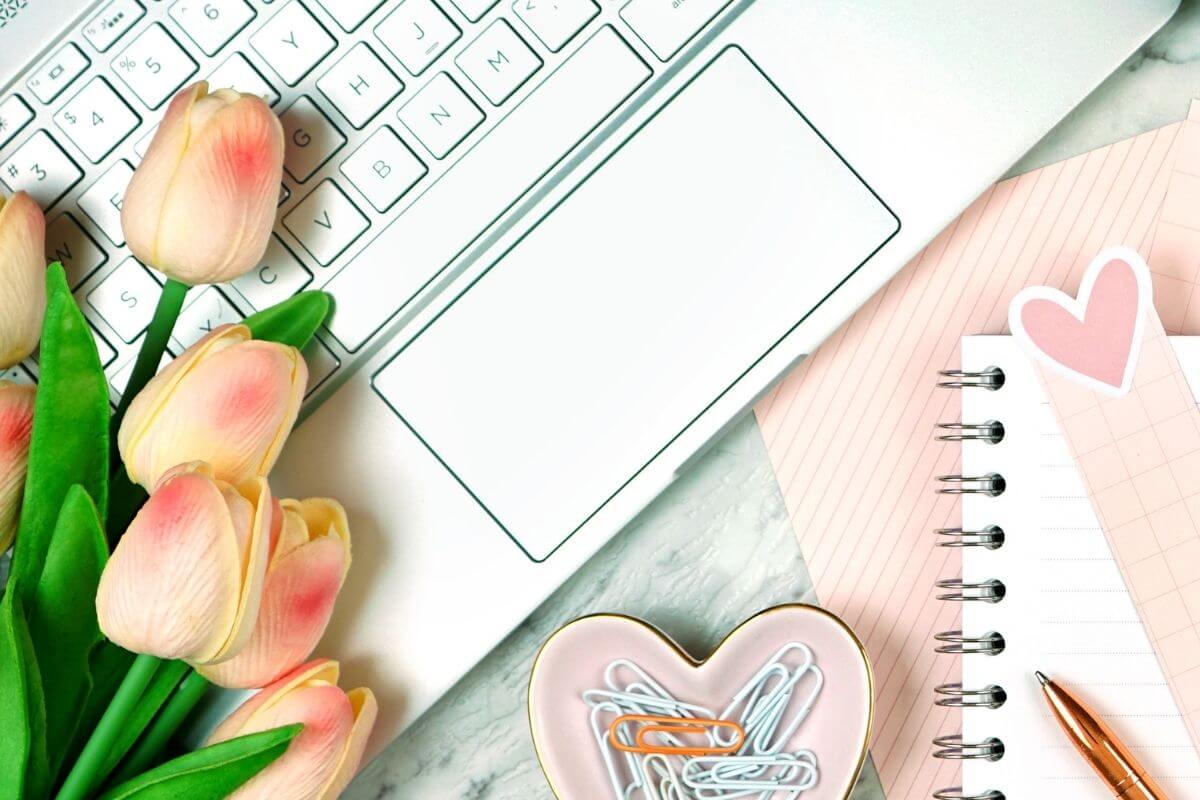 Today, we know the best way to establish a successful blog is through excellent Search Engine Optimization (SEO). You see SEO courses available everywhere. But I'm going to tell you about the BEST SEO Course for Bloggers!
The name of the course is Not Your Average SEO Course for Bloggers. I took the course six months ago and continue to review the lessons regularly to grow my knowledge and understanding of SEO. (You get lifetime access to the course, by the way!)
I'm going to share my honest review of the course and tell you why you need this SEO course for bloggers. This SEO course was developed by Sarah Chetrit, an experienced and highly successful blogger who is passionate about sharing her knowledge and helping others find success.
Sarah emphasizes that SEO is the most important thing every blogger needs to know to ensure long-term, consistent blog growth. She teaches you the BEST tips and strategies to give your blog the BEST chance of ranking on page one in a Google search.
There are lots of other blogging courses out there, but this SEO class is very affordable and will help you become a master SEO blogger!
Related Article: Pros and Cons of Blogging (Let's Be Super Honest!)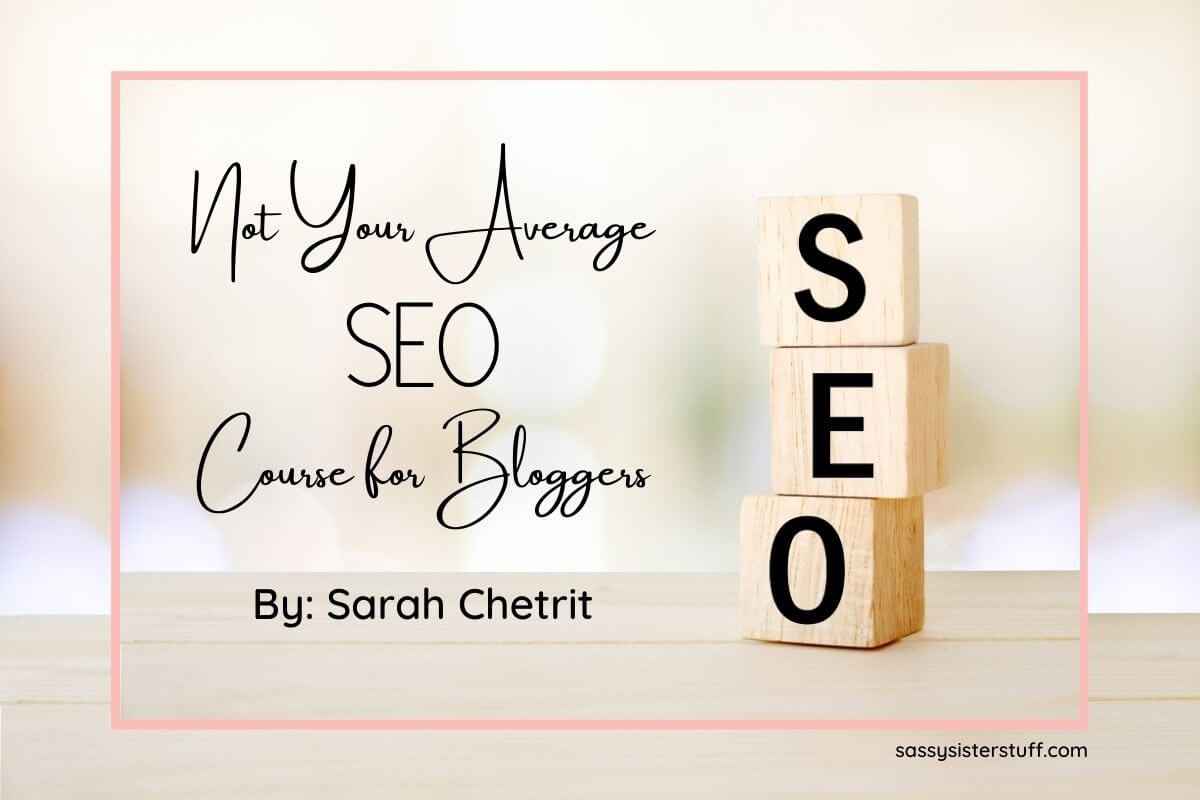 Why Do Bloggers Need SEO?
When I began blogging, I thought it would just be a hobby to journal about my life experiences and share topics of interest. I've always enjoyed writing and thought blogging would be a great retirement hobby!
Hah! I soon learned that no one except my friends and family were reading my blog!
I did some research and learned it was very important to make personal connections via social media and Pinterest as part of growing my blog.
So I created Instagram, Facebook, and TikTok accounts that aligned with my blog. And I created a Pinterest account and learned how to use it to grow my blog.
And soon I learned that these strategies and methods of supporting my blog were highly time-consuming and took away from the time I wanted to spend writing and creating for Sassy Sister Stuff.
So, I did more research and discovered this thing called Search Engine Optimization (SEO)! Next, I researched the best way to learn SEO, and I found Sarah's Not Your Average SEO Course for Bloggers! Click the link to sign-up if you're ready to take your blog to the next level!
I signed up and it completely changed my blogging journey! Read on for more!
What is Search Engine Optimization (SEO)?
SEO is by far one of the most important aspects of running a successful blog or website.
SEO stands for Search Engine Optimization. It is the action of improving, increasing, and optimizing the quality and quantity of your blog or website's traffic through organic search engine results.
It is a process by which you, the writer, do keyword research about what words, phrases, or questions people are searching on Google (or other search engines). This way, by using popular words or phrases that are being searched, you develop a strategy that makes your blog more valuable.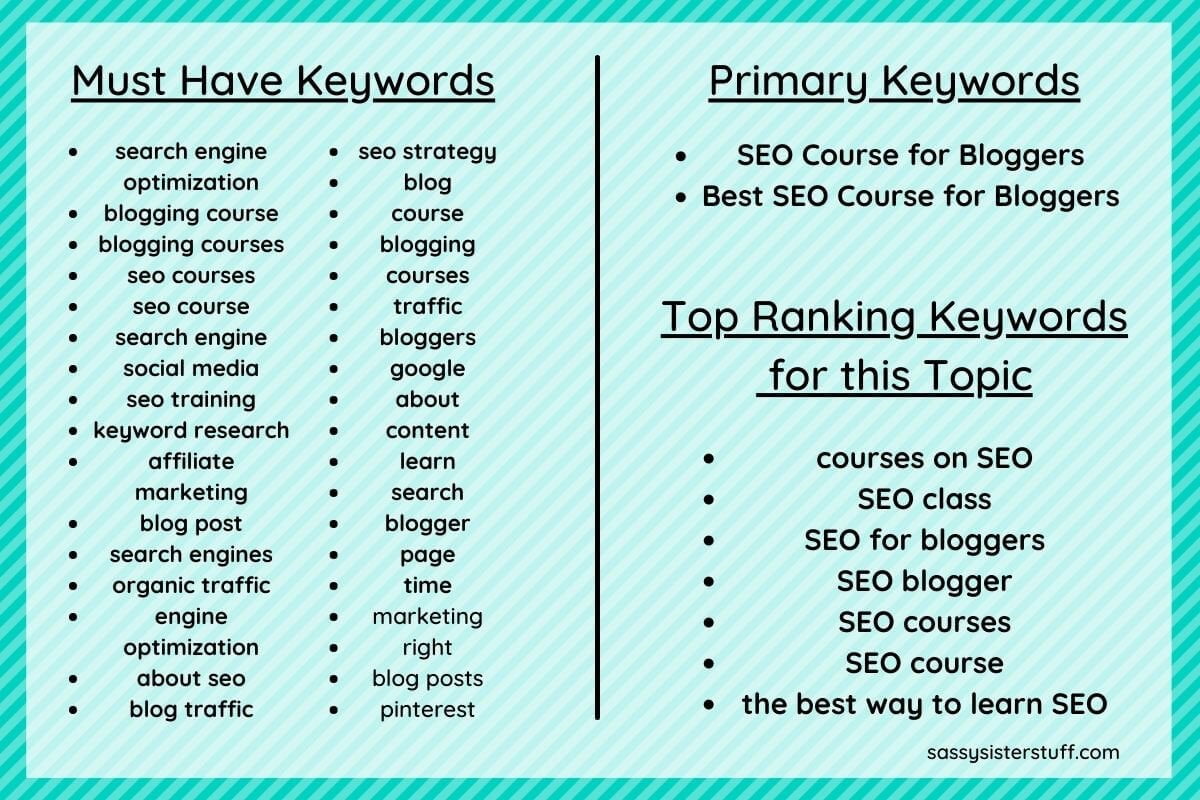 Google is always seeking to give the reader the best possible results on their query, so as you develop your SEO skills, you have a better chance of ranking higher on Google when someone searches your keywords.
With good search engine optimization skills, your blog stands a higher chance of establishing sustainable traffic and long-term growth.
SEO helps bloggers develop a clear direction, focus, and structure that will help get page views from organic traffic on search engines such as Google, Bing, Yahoo, etc.
Related Article: Things I Wish I Knew Before Starting a Blog
What SEO is NOT?
SEO is not a quick process or solution. It takes time for search engines to figure out what your blog is about and who might want to read your blog.
You will need to learn how to format your blog correctly so Google can crawl your site and subsequently decide to trust that you are an expert who offers value to your readers.
It takes time and practice for you to learn how to do keyword research that properly optimizes your website in accordance with Google's expectations.
There is a LOT involved in SEO research and planning.
Let's face it… there are a few simple, but not so pretty facts about SEO:
SEO requires a lot of time and effort.
There's a lot of learning involved in SEO.
SEO can be frustrating.
Everything about SEO takes time, but you get better at it with each article! And as you get better, your blog becomes more established and sustainable!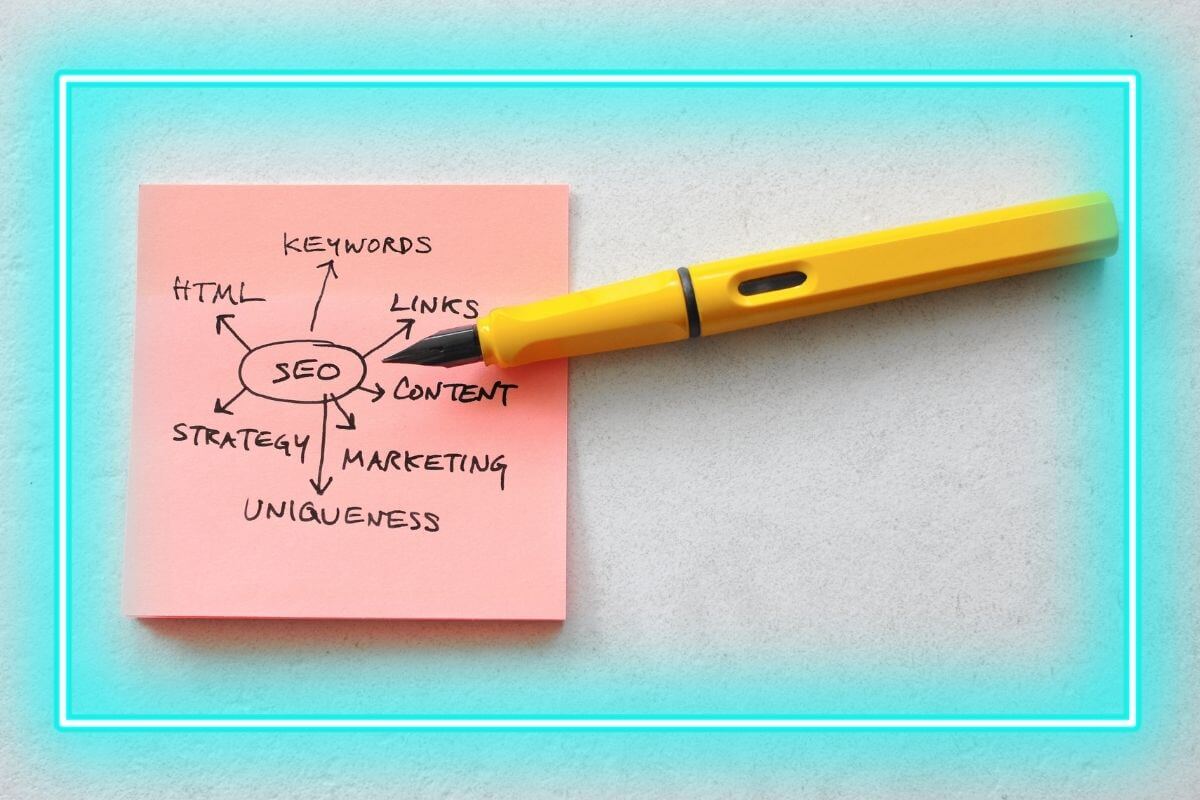 Why is SEO So Important?
With proper SEO training and implementing keyword strategies, you have the potential to receive SEO traffic that can last for years to come, with little work from your end. This is significantly different from growth you obtain from social media platforms and Pinterest.
I maintain my social media platforms and Pinterest account because it's a great way to stay connected with my readers. I also learn what they would like to read about on Sassy Sister Stuff.
Plus, you should never put all your eggs in one basket with any endeavor! A diverse approach to blogging is essential, but SEO is always going to be your primary tool for growth and sustainability.
Now that I have learned SEO from Sarah's BEST SEO course for bloggers, I no longer worry about when my pageviews will grow, who will read my blog, how my blogging community will grow, or how I will expand my blog to be successful over time.
I will continue to stay up-to-date with SEO best practices, and I will update older posts as appropriate. But I can focus on researching and writing new content for my blog since I took Sarah's course and learned to optimize my posts properly!
In addition, organic traffic, especially Google traffic, is more consistent, sustainable, and more passive than other platforms such as Facebook, Instagram, and other socials.
Are you convinced that you should sign up for Sarah's SEO course for bloggers, yet? Keep on reading! You won't be sorry!
Popular SEO Courses vs SEO Courses for Bloggers
Most SEO courses are geared toward businesses. They teach how to get traffic to the business website for the purpose of selling a tangible product.
Other SEO courses offer an SEO certification for the tech savvy person who wants to make SEO a career.
But this is not typically what bloggers are looking for. (We usually struggle to do it ALL, right?)
These SEO courses tend to be very expensive and technical. Again, they are not designed for bloggers who primarily want to write and engage with their community.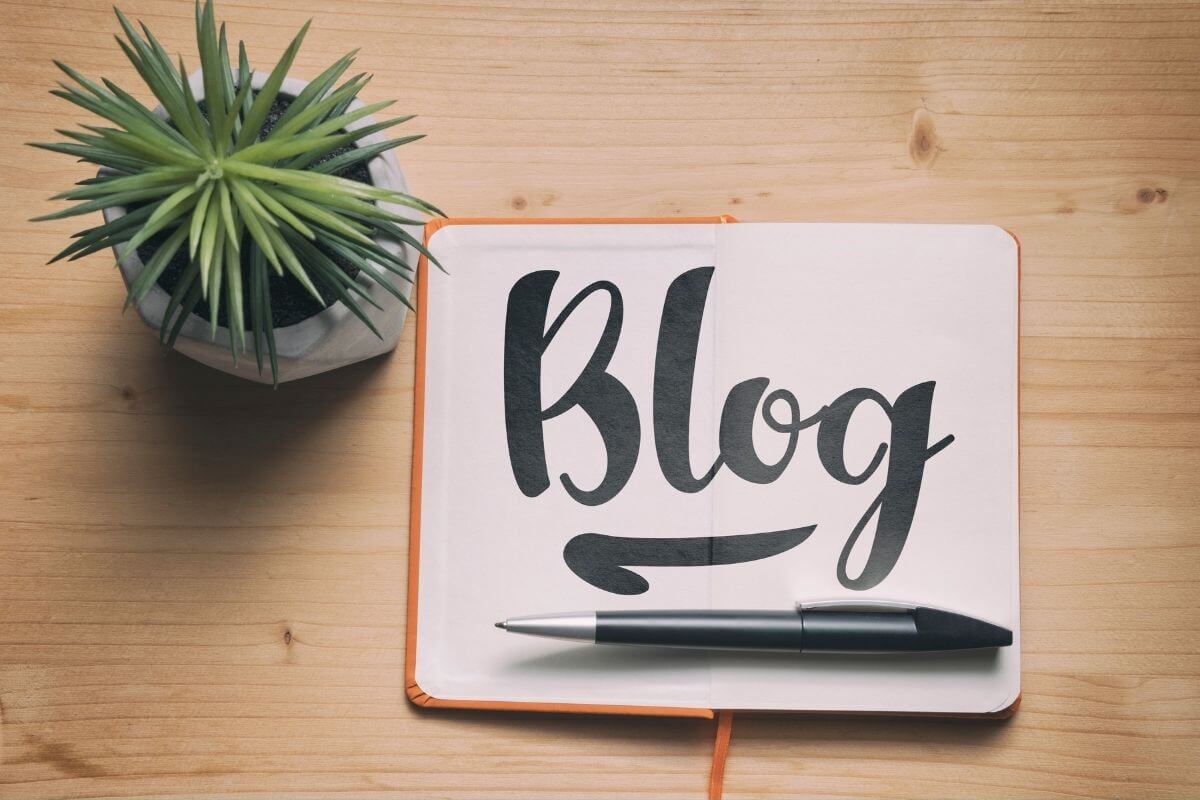 So, with most bloggers not having a technical background nor extra money for expensive courses, they need lessons that teach SEO in plain, simple English. And step-by-step instructions.
Therefore, opting for an SEO course crafted by a blogger for bloggers is the best case scenario to learn SEO strategically and from a blogger's perspective.
Meet the BEST SEO course for bloggers – Not Your Average SEO Course for Bloggers by Sarah Chetrit! Click the link to register now!
Can Bloggers Get Page Views Without SEO?
Sure! There are many ways bloggers can get page views without SEO. But these strategies all require consistent effort, time, and attention.
Like, EVERYDAY.
Related Article: Blogging Groups to Join on Facebook (Especially If You Are A New Blogger)
As mentioned previously, you can get page views from Pinterest. But that requires you to create new "pins" for every new post, plus spend a lot of time interacting on Pinterest. If you enjoy creating graphics, like I do, this can be fun. But I can personally tell you that creating the graphics can take more time than writing a blog article.
Did you know graphics and photos you use in your blog need to be SEO optimized just like your written articles? They have their own URLs that impact your blog SEO! The Alt Text for your images need to support your SEO, also! This is something totally NEW I learned from Sarah's course!
Read about my use of Canva.com for all images on Sassy Sister Stuff here in this post under Bonus Information. After I create my images/graphics for each article in Canva.com, I optimize all of them for SEO before inserting them into the post. I also use Canva.com for all my social media posts. (As well as personal graphic design projects! I love it!)
You can also get page views from social media. There are Facebook groups where bloggers support bloggers by visiting each others' blogs and leaving comments. Again, very time consuming.
You can get page views from friends and family, but it's limited. Not all of your friends and family are going to find your blog interesting enough to revisit time and again.
As you can see, these methods of getting page views require continuous time, planning, and execution to reach potential readers. Whereas, SEO provides an organic method for reaching readers who are LOOKING FOR YOU!
How is the BEST SEO Course for Bloggers Taught?
Sarah's course is taught on the Teachable platform. It is a web-based platform that is easy to use and understand. She divides the course into sections with modules that provide the step-by-step instructions for learning SEO.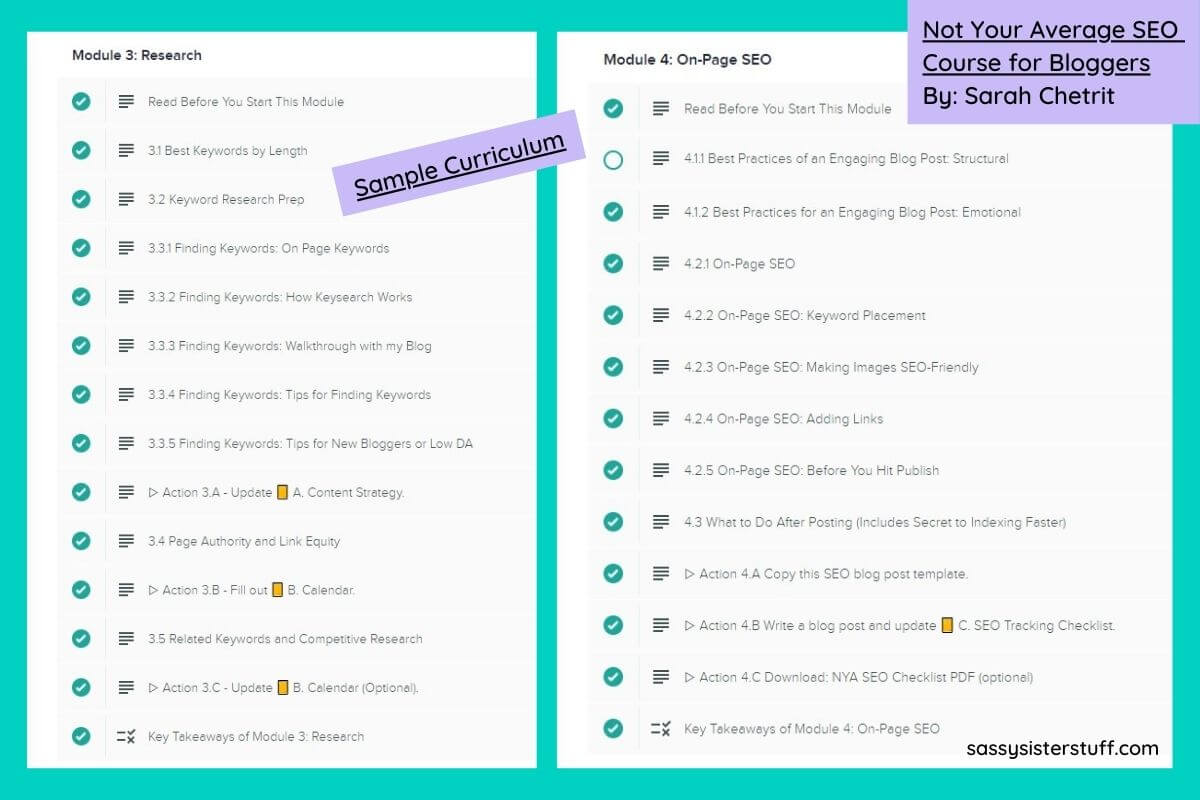 You can do the course as quickly or as slowly as you want, on your own time, but it will take time to do part of the coursework such as keyword research and setting up your organizational structure. It took me about 3-weeks to complete the course but I go back to it often.
As mentioned previously, you have lifetime access to the course so you can revisit it anytime you need to brush up on a topic. You can also stop and start anywhere in the course and the platform saves it for you.
For this course, you will need to have a subscription to a specific web-based keyword research tool called Keysearch. You do not have to continue the subscription after you finish the course, but you will need it for the lessons while you are learning to do keyword research for SEO. Sarah has a discount code for her students!
Sarah also has an exclusive Facebook group just for students in Not Your Average SEO Course for Bloggers. Participants ask questions, get answers from Sarah, and support each other, too! It's a great collaborative community!
Are you ready to sign-up? Click the image below to register!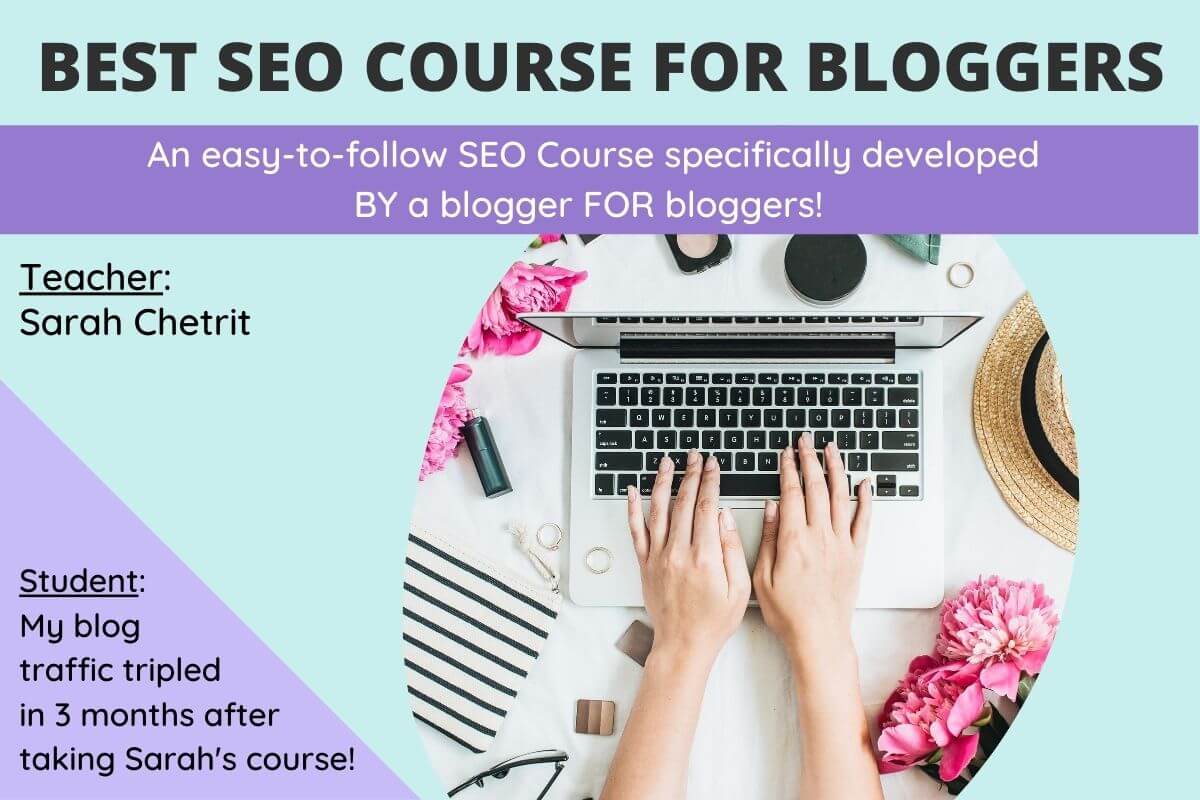 Who Should Take This SEO Course for Bloggers?
If you are looking for a high quality SEO course for bloggers, and one that doesn't cost as much as your mortgage, this course is for you!
Looking to increase your blog traffic? This course is for you, too!
Or, if you want a course with one-on-one assistance without paying the cost of personal consulting, this course is for you! You get personal assistance via the exclusive Facebook group where Sarah is always accessible!
If you are a new or experienced blogger who needs to learn more about SEO to help your blog grow organically, this course is for you!
New bloggers will find it easy to understand because of the step-by-step lessons.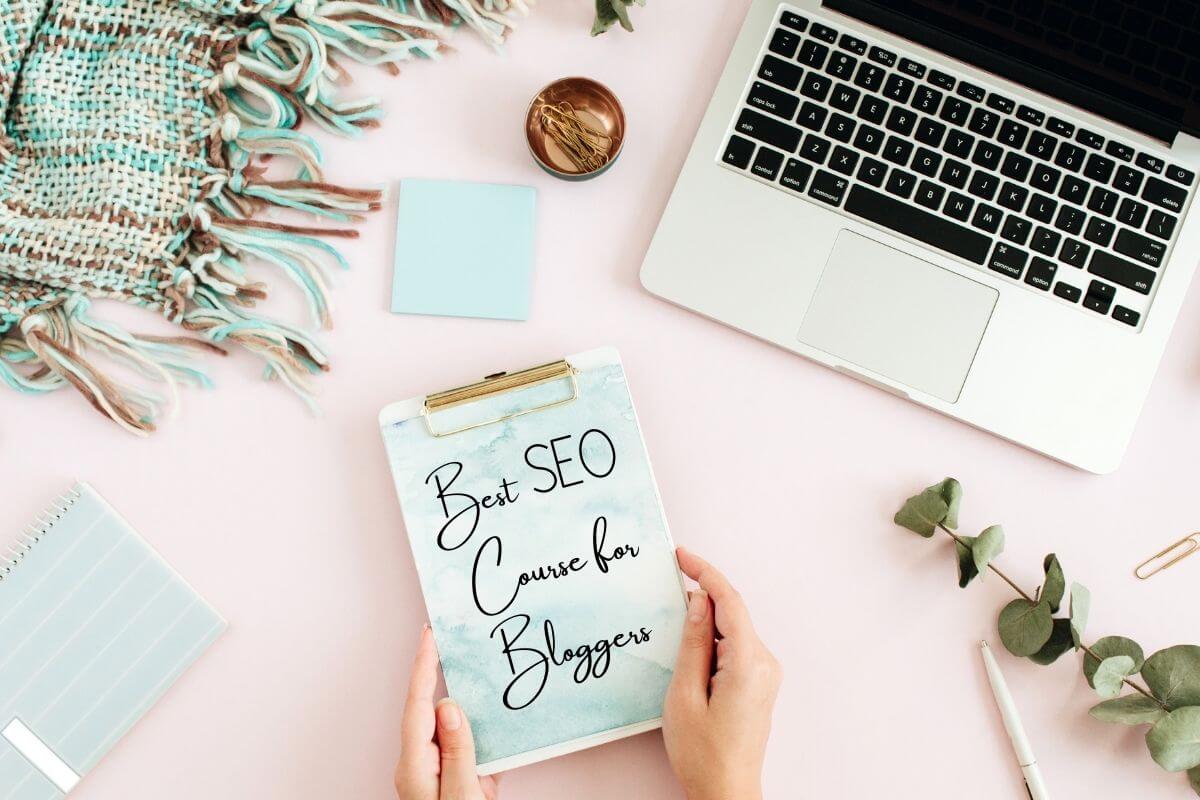 Experienced bloggers will find valuable information about how to do advanced SEO research to improve your content strategy and improve your understanding of the "why" behind SEO work.
So in other words, this blogging course provides SEO strategy for all bloggers who are looking to gain more organic traffic!
Why Choose This SEO Course for Bloggers?
Invaluable Course Components
Exclusive Facebook Group for Support
Monthly Challenge/Review Activities in the FB Group
Bonus Affiliate Marketing Module
Bonus Ad Network Module
Google Docs for Planning and Organization
Related Information: Canva.com has great Content Planner templates that complement Sarah's free templates and organizational documents.
What Makes This SEO Online Class Different from Others?
Depth of Subject
Cost Isn't Prohibitive
Updates are Provided Regularly
Free Outline for Writing a Blog Post
Blogger perspective rather than business perspective
Final Thoughts
Why should you take Sarah's course?
You should take Sarah's class because it is clear and easy to understand; she provides excellent step-by-step instructions for every aspect of SEO.
Within two months after completing this course, I had my first blog post land on the second page of a Google Search!
You can do the course on your own time and return to it forever.
Four months after completing the course, I am averaging 2100 pageviews per month from SEO.
Sarah also updates the course as changes are made in search engine optimization. She is an SEO blogger herself so she stays up-to-date with changes.
Four months after taking the course, I consistently have blog posts ranking on the first, second, and third pages of Google searches.
She provides extra "bonus" modules that others do not provide in their courses on SEO.
Not Your Average SEO Course for Bloggers is more affordable than any comparable course I've ever seen.
Sarah communicates clearly and demonstrates passion about SEO for bloggers.
Discover what this course can do for your blog growth. It is the BEST way to learn SEO! Get it here.
Love to All! ~Susan
P.S. These are a few of my blog posts that have ranked on pages 1 and 2 for Google searches since I learned SEO from Sarah's course! Check them out for examples of Search Engine Optimized articles!
Sassy Sister Quotes for Sisters and Girlfriends
Celebrating Our Pets: Unconditional Love
A Holiday Family Adventure: Jungle Bells