A Holiday Family Adventure: Jungle Bells
Are you looking for safe, fun family activities you can do this holiday season?*  You can go on a holiday family adventure to Jungle Bells: Holiday Lights at Animal Adventure Park in Harpursville, New York! 
It's a spectacular holiday event with lights, music, animals and more! (See the website link below for additional information.)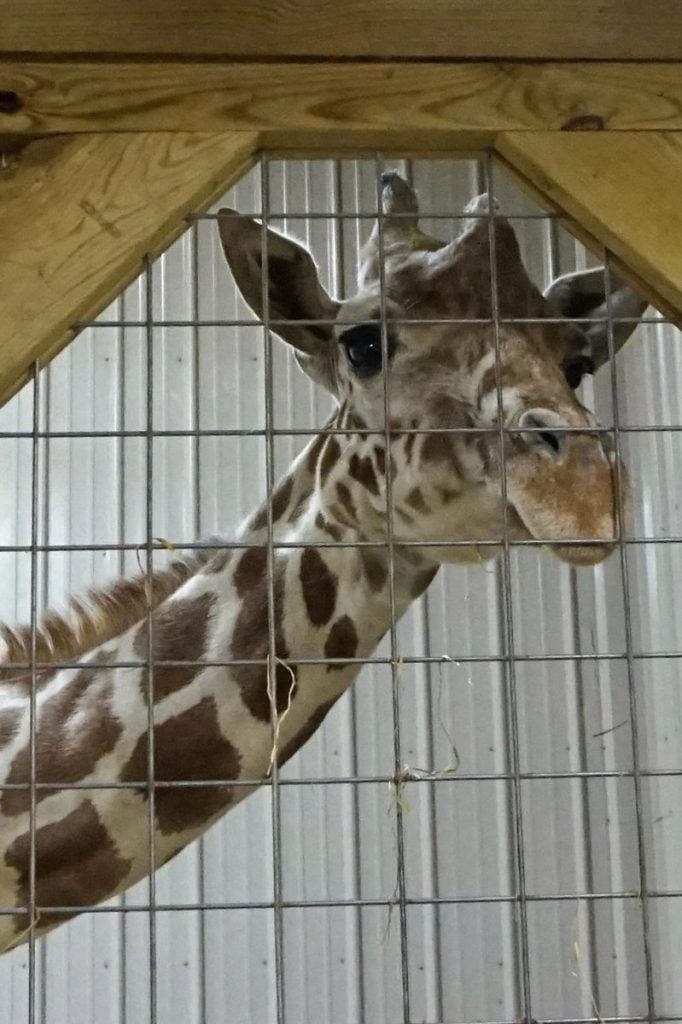 What is Animal Adventure Park?
Animal Adventure Park is the home of April the Giraffe, the endearing momma giraffe that gave birth on YouTube in front of more than a million people from all over the world in April 2017.
Currently, the world is watching and waiting for another baby giraffe to be born to another momma, Johari, at the park! Just like in the past, you will be able to watch the birth on YouTube.
The information I am sharing here is based solely on my personal experiences at Animal Adventure Park. I am not affiliated with the park in any way.
The park has a fee-based sponsorship program that offers behind-the-scenes information about their animals and their ongoing animal conservation, education, and advocacy efforts. You can learn about the sponsorship program, and so much more on their website and social media pages which are all linked at the end of this post.
You can also find their online gift shop full of beautiful, unique items on their website! Plus, you can learn more about my personal experiences at Animal Adventure Park by clicking here.
You can also read about my other favorite adventure vacations from Maine to Alaska and Virginia to Colorado in my post, Off On Our Next Adventure: Travel in America.
Let's Go On a Family Adventure to Jungle Bells!
Anytime you visit Animal Adventure Park, you will find a unique and fun experience. With over 300 animals representing over 100 species, there are always animals who are ready to greet you! But Jungle Bells: Holiday Lights is a family adventure you will never forget! With more than a half million lights on display throughout the park this year, and holiday music playing everywhere, you will be have a family adventure that delights all!
From the park's website:
"The holiday spirit is alive and shining bright at Animal Adventure! Join us for the largest lights display in the area, hosted on the grounds of Animal Adventure!"
Where is Animal Adventure Park?
Animal Adventure Park is a wildlife park in Broome County, New York just over the Pennsylvania line. You can travel easily by car and there are multiple hotels in the area for out-of-town guests. The closest hotels are in Binghamton, New York. We prefer to stay a short distance away at a beautiful, affordably-priced Hampton Inn in Vestal, New York. The hotel staff is very friendly.
What Can You See and Do?
You can visit Santa's Workshop for photos every Friday and Saturday, and the Snow Sisters every Sunday during the Jungle Bells event. You can also say GOODBYE to 2020 at the New Years Eve: Frozen In Time Ball Drop on December 31 from 11am-2pm. This event is for primarily for young children with a ball drop at 12pm.
The park boasts the best holiday lights in the area and provides everything you would need for family fun during the holidays. There are photo opportunities throughout the park, family care centers for warming up and taking care of your little ones' needs, friendly staff members who greet you with warm holiday greetings, and of course, animals of all kinds!
You can even do a drive-through holiday animal adventure on Thursdays if you prefer not to walk the grounds of the park. The owner, Jordan Patch, is very aware that some people have sensory or special needs that require accommodations to access the park. He makes adjustments to the lights to support those with special sensory needs on these special evenings.
Some Photos from our Holiday Adventure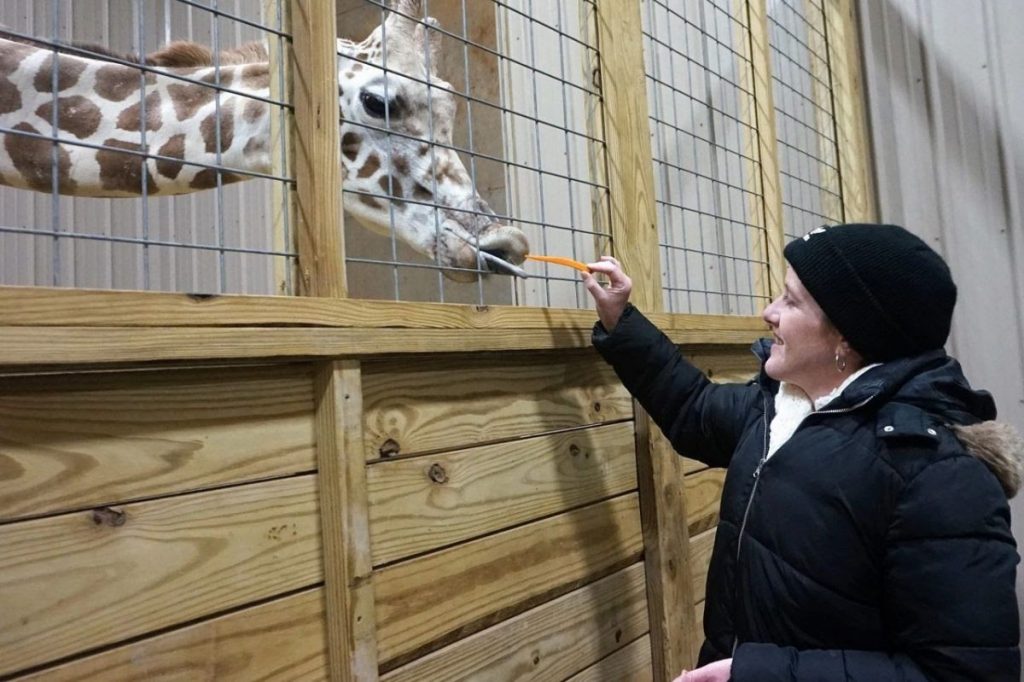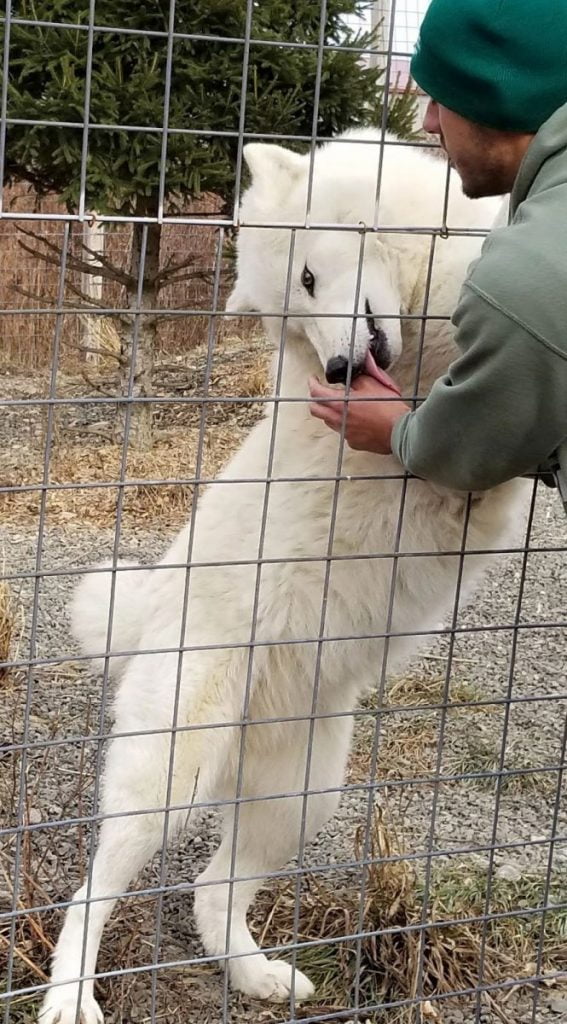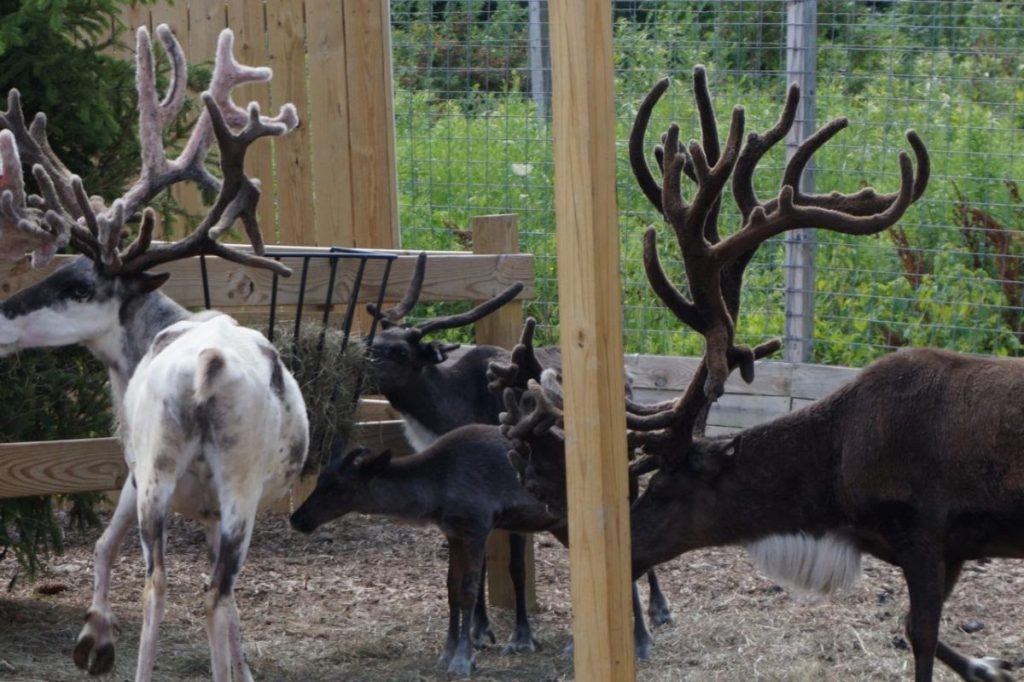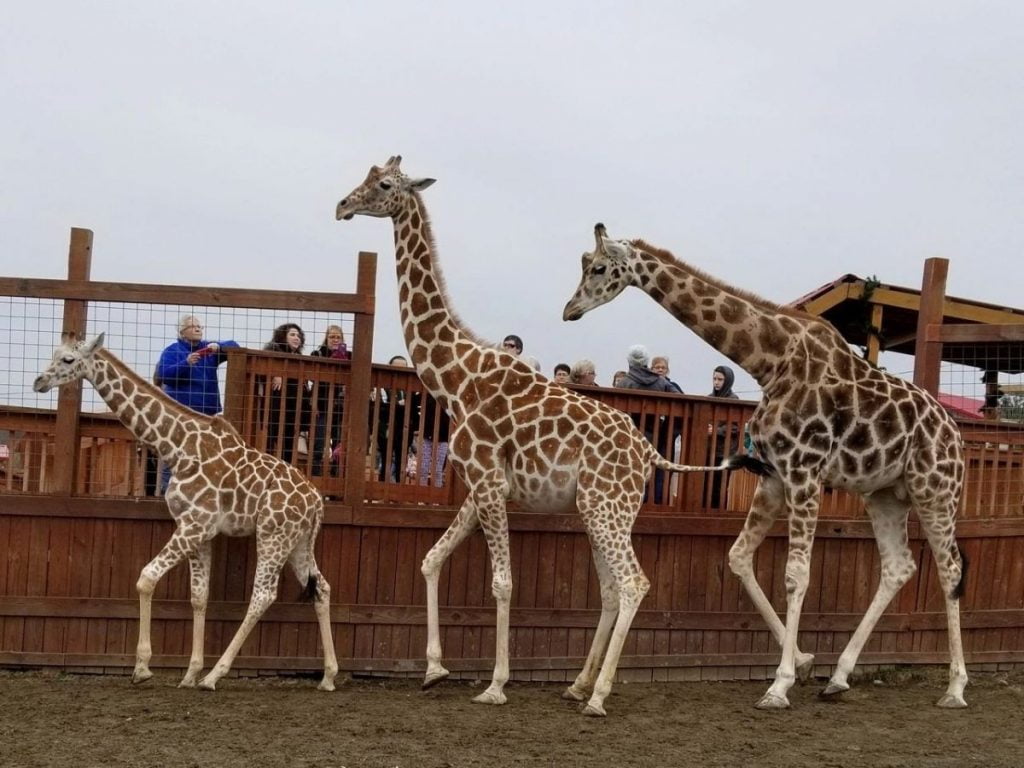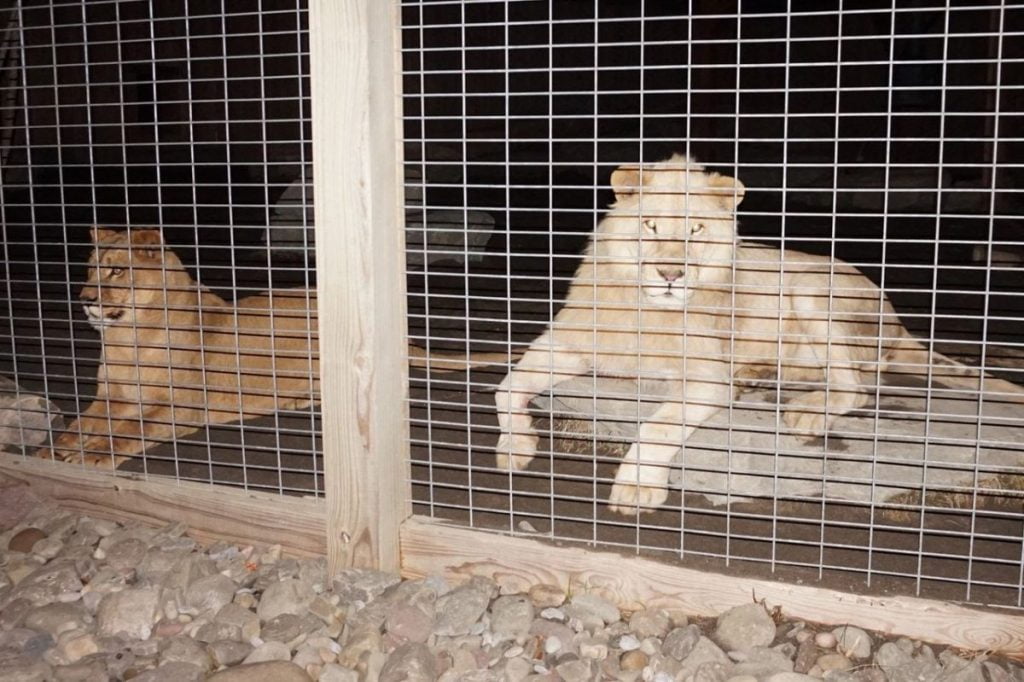 A Spectacular Holiday Event
The Jungle Bells holiday event at Animal Adventure Park includes music, lights, food, animal feeding areas, private animal encounters,** a gift shop, and so much more. As you saw above, even some of Santa's reindeer can be found visiting the park with their big furry antlers as they get ready for Christmas!
There are large light tunnels that make great backdrops for special occasions like engagements – YES, there were several engagements in the light tunnels at the park last year! How awesome is that?
Light displays are setup throughout the park! The whole Jungle Bells experience leaves guests with heartwarming, magical holiday feelings! It's an event that is sure to please every member of your family!
Some Favorite Animals
Be sure to look for some of the favorite animals that are often entertaining visitors this time of year:
Arctic Wolves – Odin and Luna
Black Bears – Harpur and Cole
Rare Timbavati White Lions – Solomon and Ntsumi
African Lion – Bisa
African Penguins – Tootsie, Toodles, Tux
Camels – Barry, Larry, Gobi, Kira (Bactrim), Lucy, Randy, Kamilla, Kandy (Dromedary)
Hyenas – Zuri and Banzai
You can also see sloths, monkeys, goats, llama, lynx, alpacas, peacocks, and many domestic animals who love the winter season! Oh, and Wanda the water buffalo is due to give birth to a baby anytime now, too!
The babies are always precious! I've seen alpacas, donkeys, monkeys, reindeer, giraffe, goats, and bison within hours or days after they were born! Priceless!
There is a petting area of the park where you can feed the animals and the park has paved walkways for safe movement.
More Favorite Photos
For holiday family fun, be sure to plan a visit to Animal Adventure Park! I have shared some of my favorite photos from past years below.***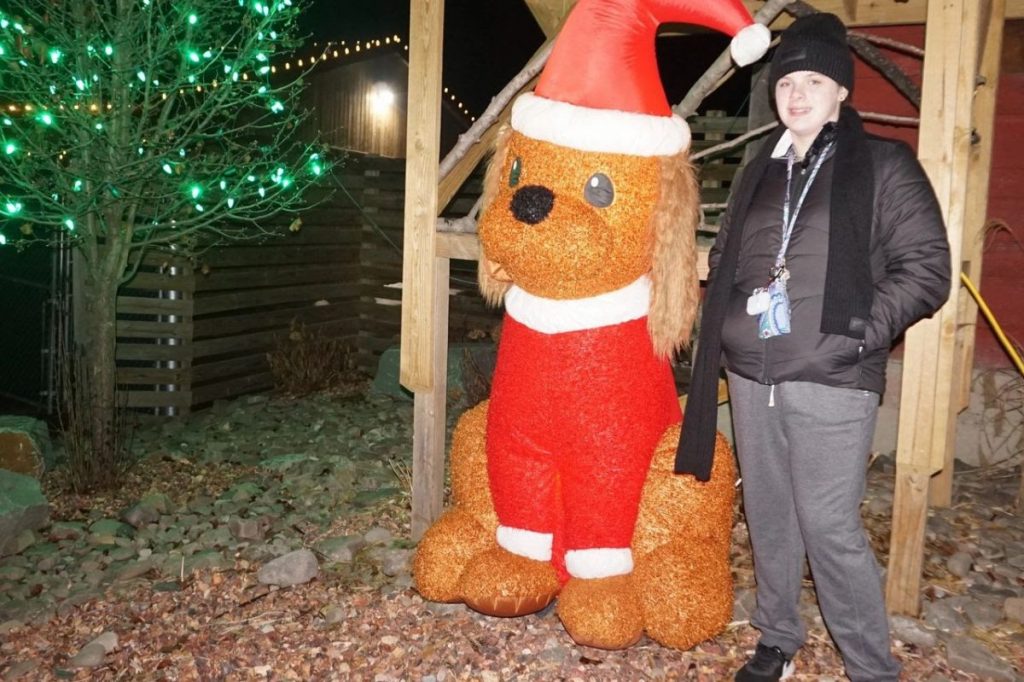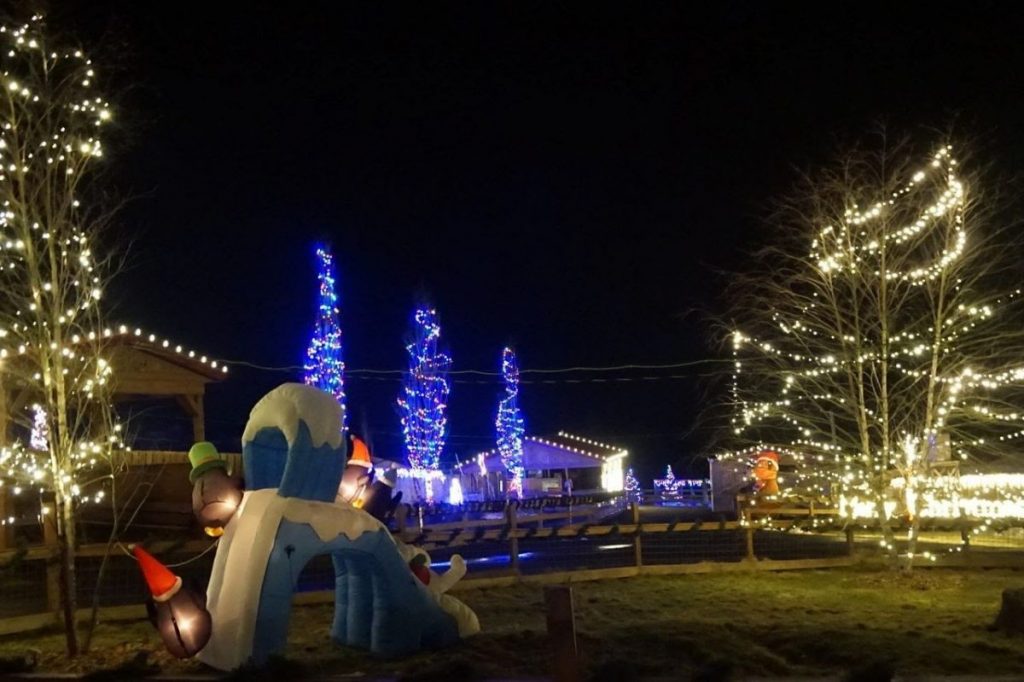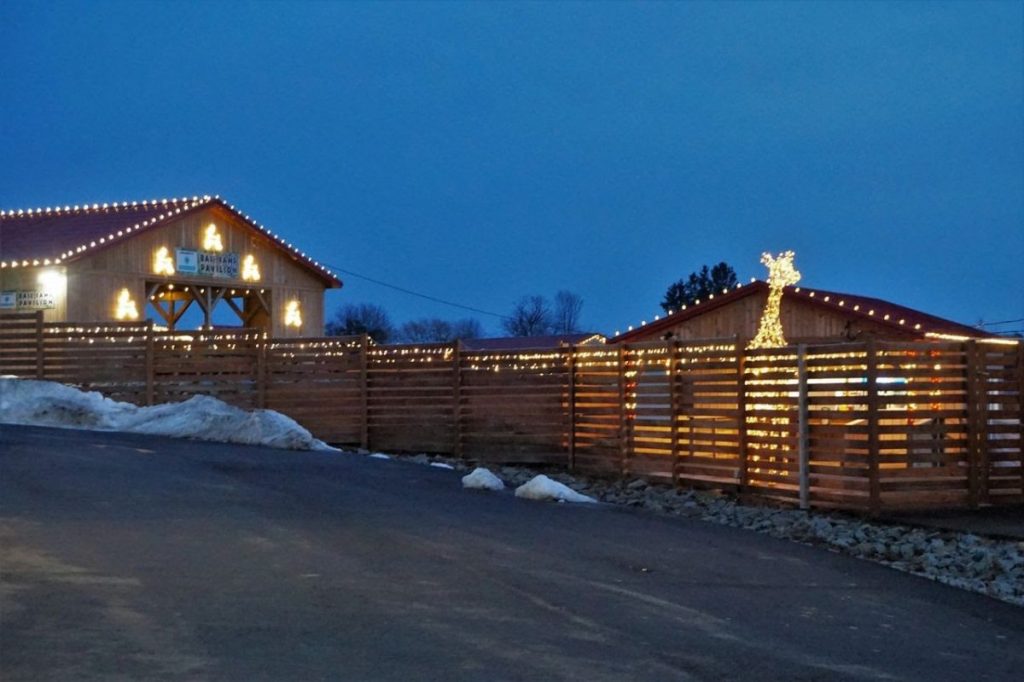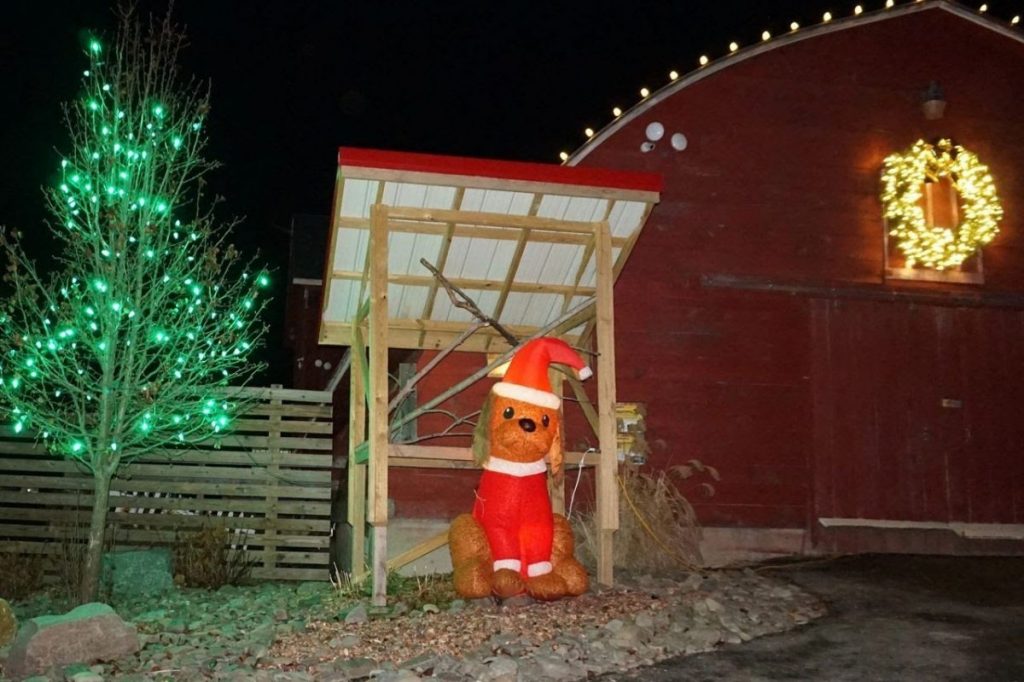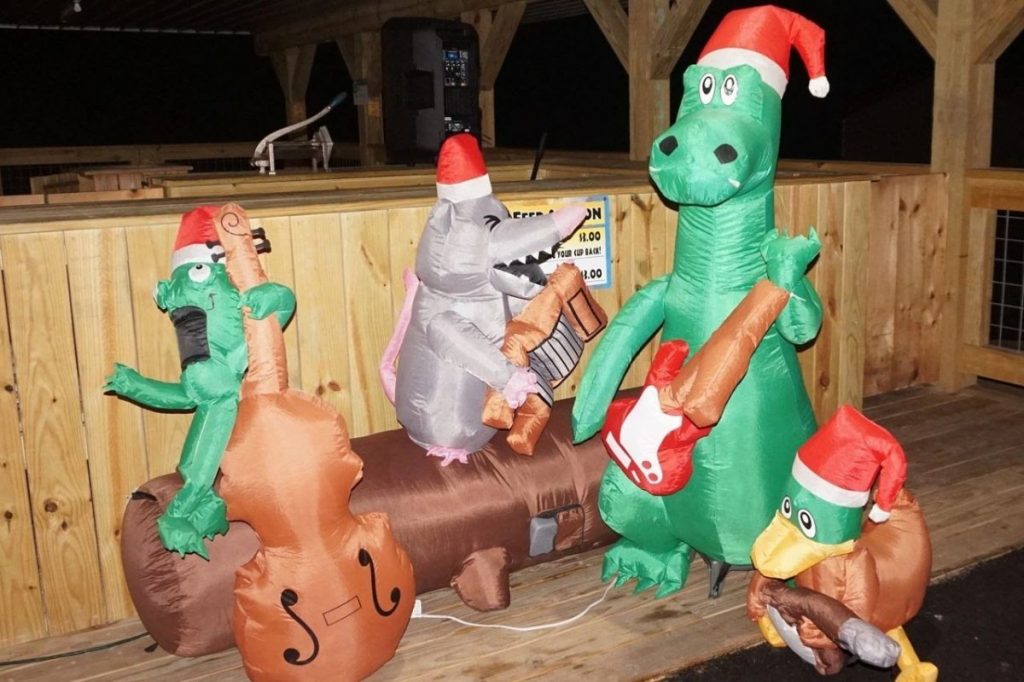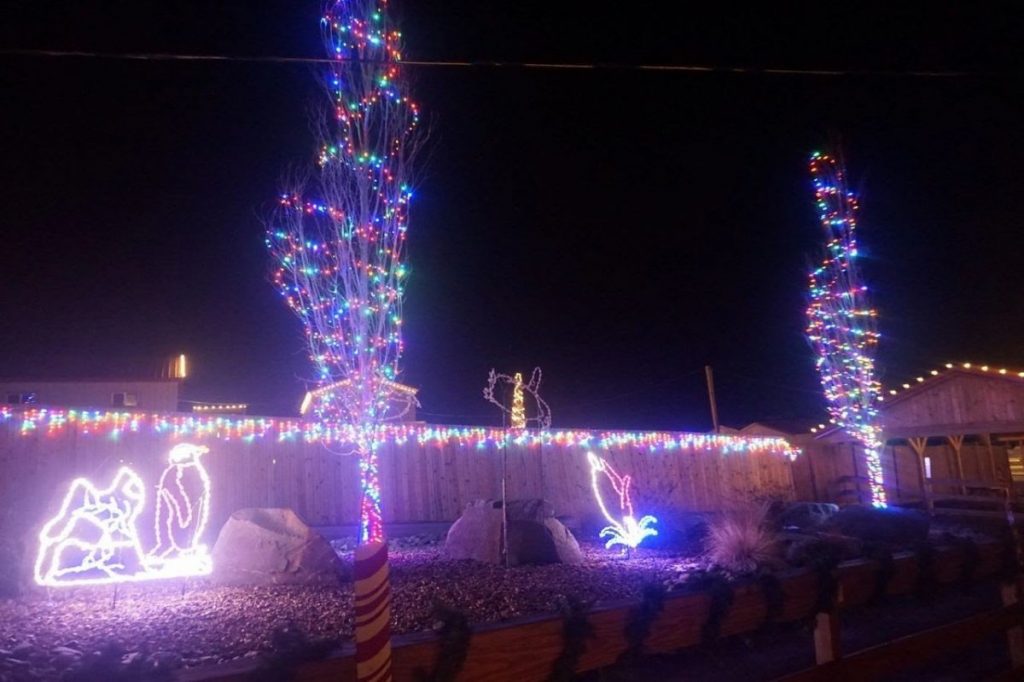 More about Animal Adventure Park
The park is proud to be part of the Species Survival Plan (SSP)! The SSP seeks to maintain healthy, diverse, and self-sustaining populations of at-risks animals. The program is overseen by the Association of Zoos and Aquariums (AZA).
The park is federally licensed by the USDA, ensuring that all animals, animal care, and facilities meet the highest standards in the United States. They are also licensed by the NYS Department of Environmental Conservation and NYS Agriculture & Markets.
Many of the animals at the park are from rescue situations and/or have been surrendered by private owners. Staff members love to share the animals' stories with guests!
My Happy Place
I have been to Animal Adventure Park many times since 2017 and I will continue to go back! In fact, I spent my 60th birthday at the park! It is truly a lovely place!
Every guest service employee and animal care staff member is friendly, able and willing to talk about the park and the animals! The owner visits with guests around the park and shares wonderful stories about each animal!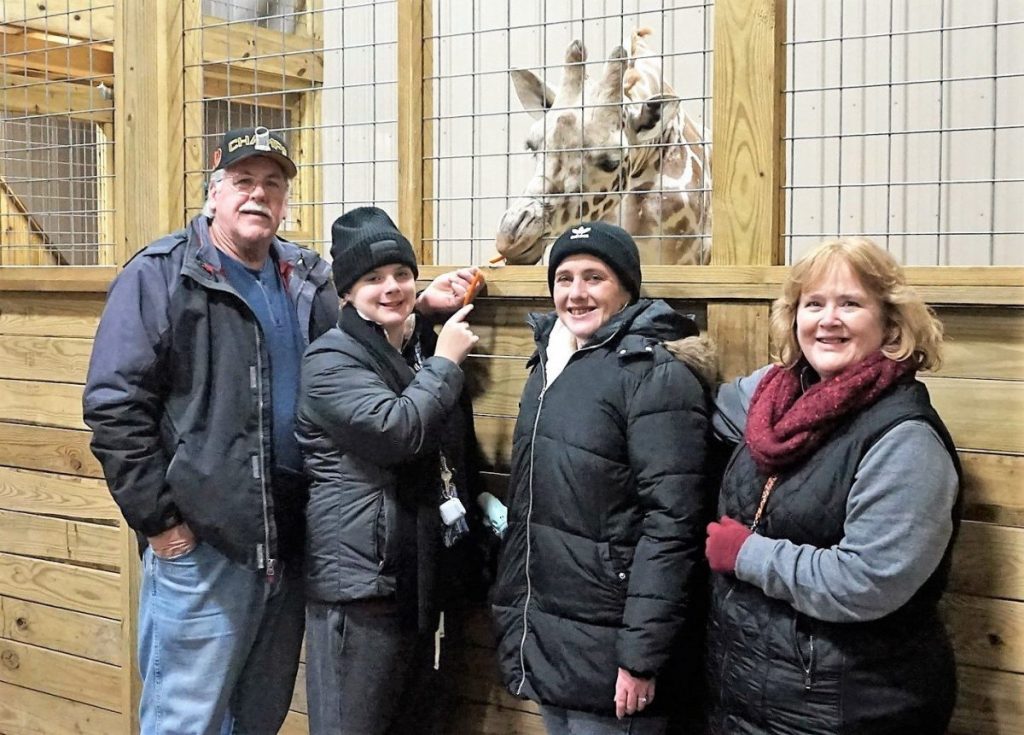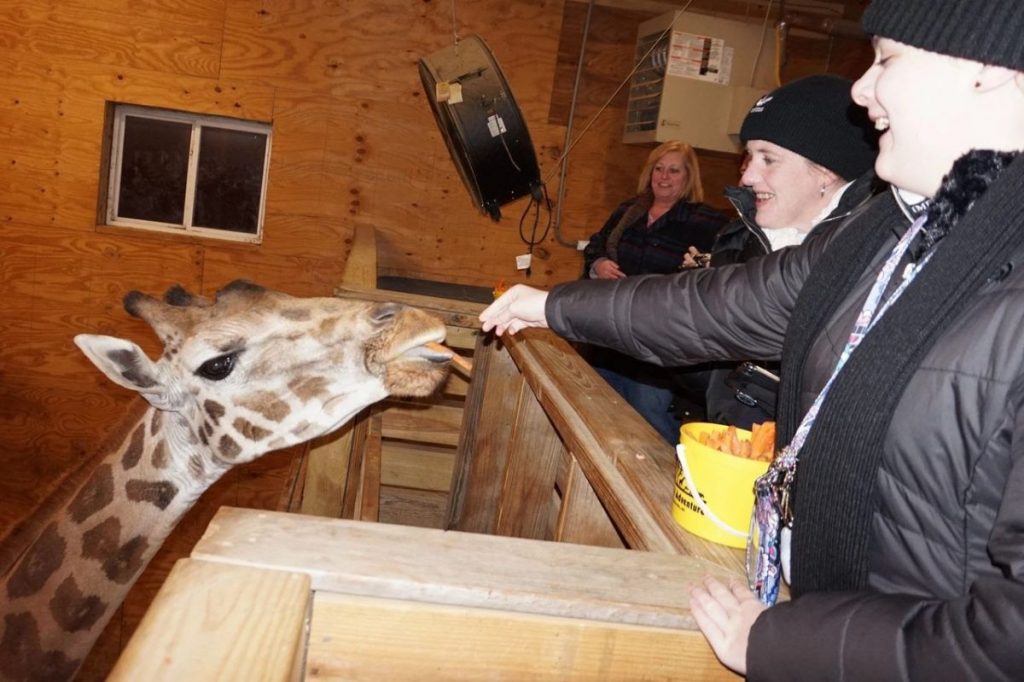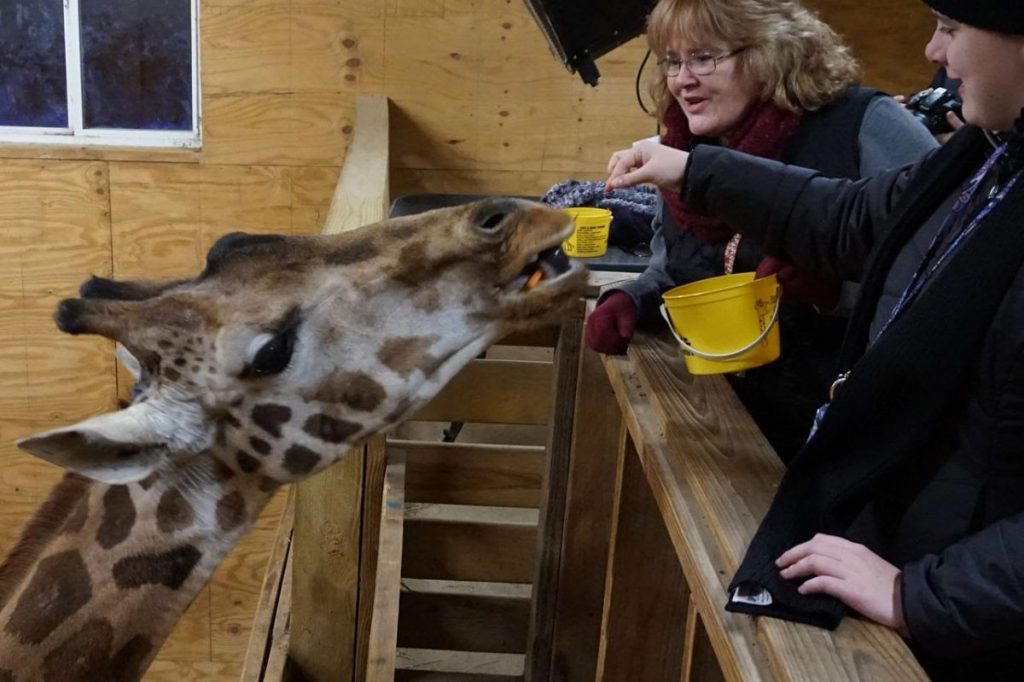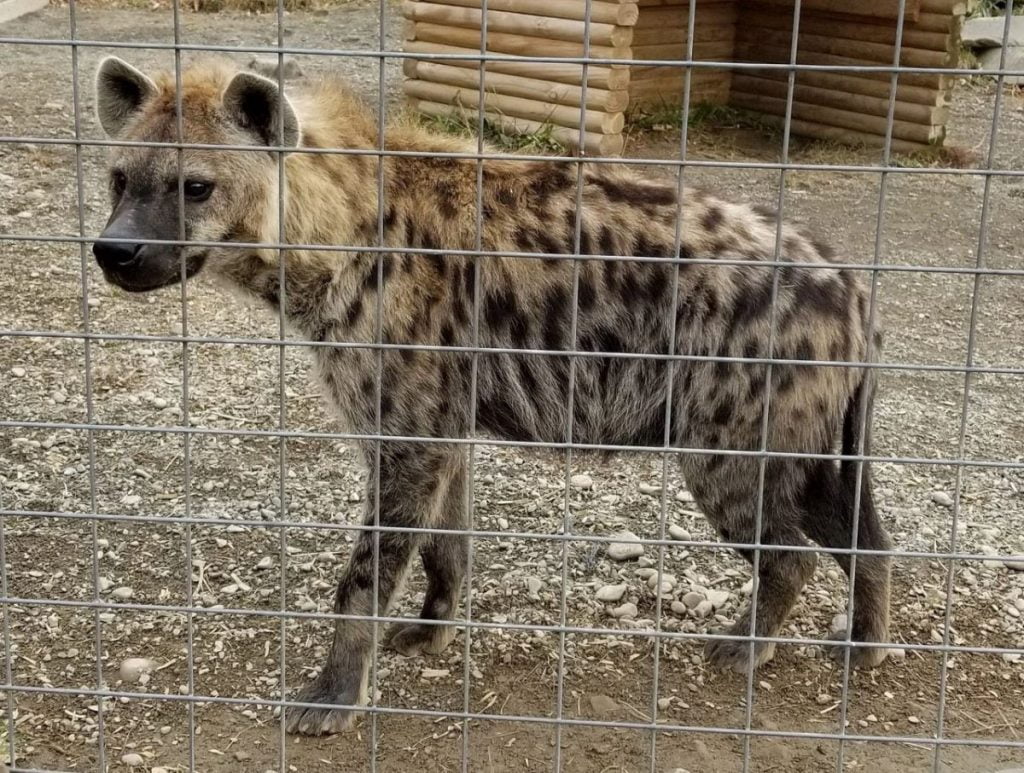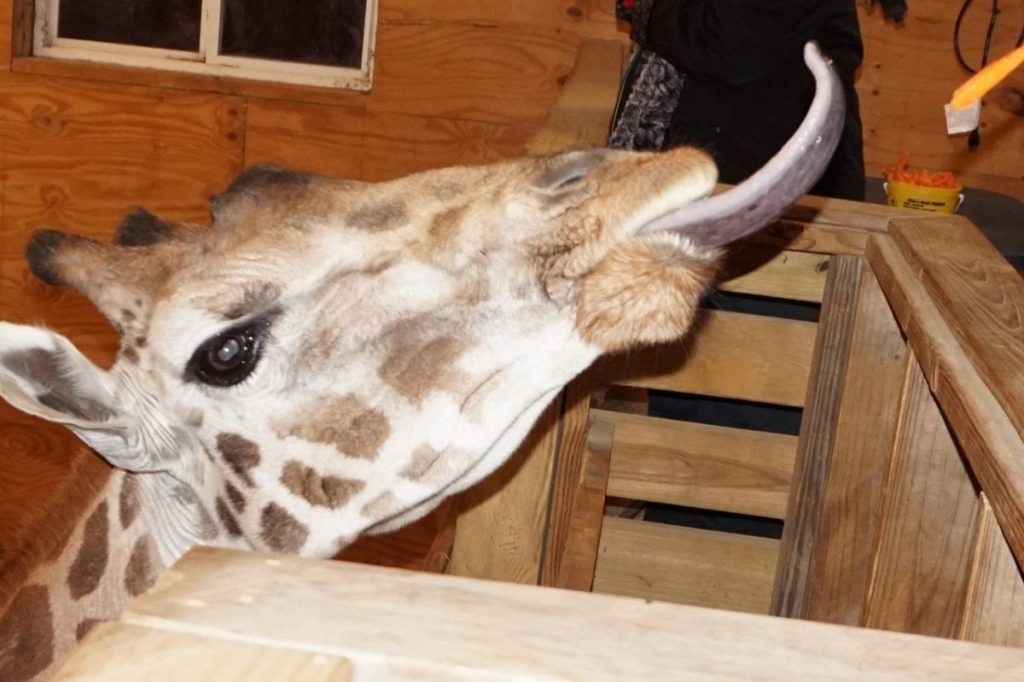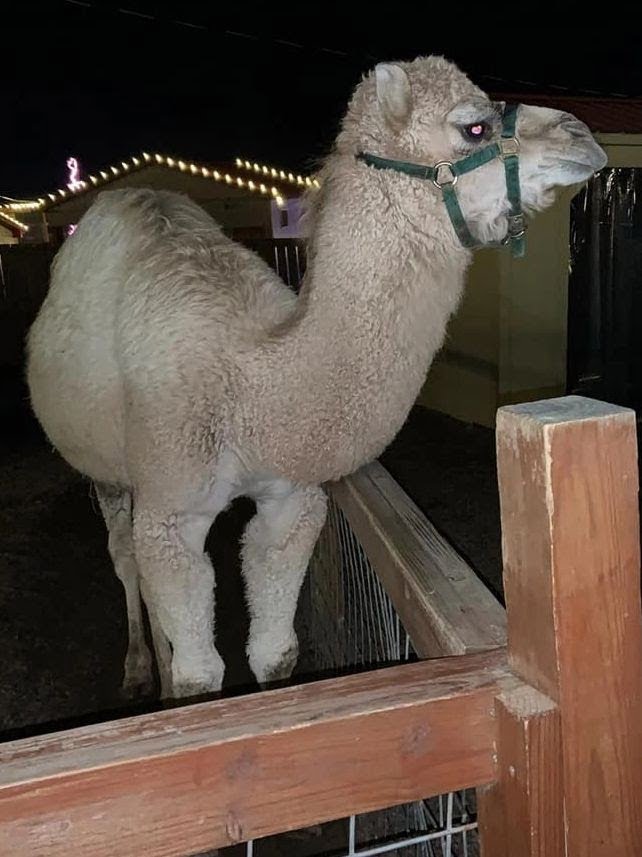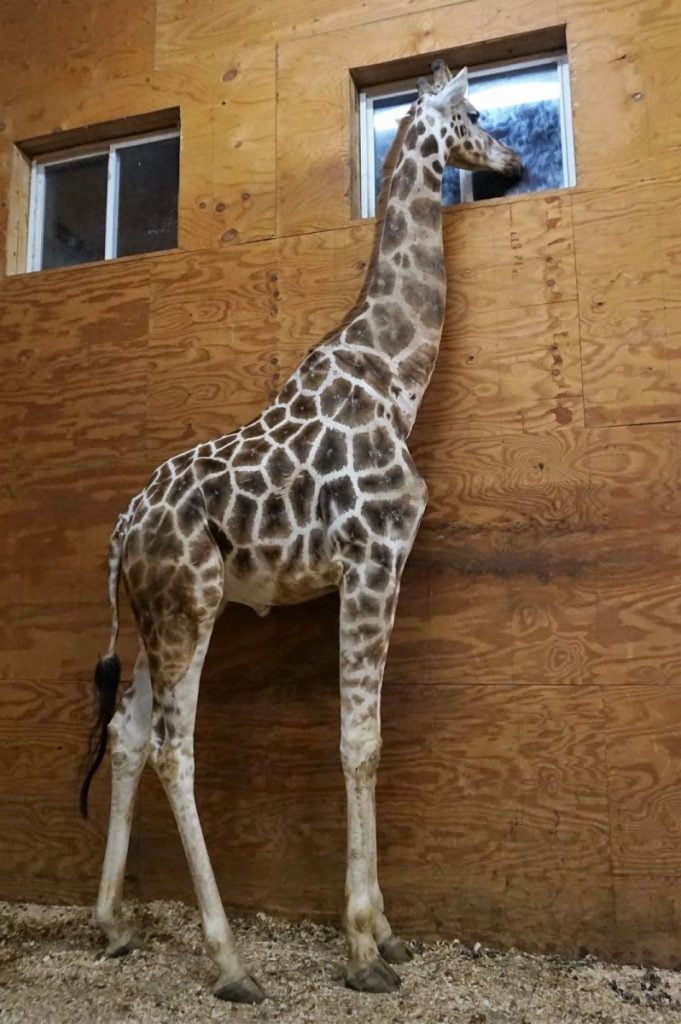 Final Thoughts
Animal Adventure Park is a six-hour drive for my family but we LOVE it!  It is a holiday family adventure that has become a tradition and we look forward to it with great anticipation and excitement!   Special holiday family adventures are part of a happy, healthy lifestyle! They contribute to your social, emotional, and spiritual health!
The holiday lights are spectacular; the animals are healthy and love their visitors; the park employees love their job. The lights and music bring the spirit of the holidays to your heart.
Be sure to take your camera because you will want to take plenty of pictures!
You can learn more about my experiences and see additional photos by clicking here to read My Favorite Animal Adventure, another blog post about the park.
I will be posting updates about Johari's pregnancy and the birth when updates are available.
You can also read about my other favorite adventure vacations here.
Love to All! ~ Susan
*Animal Adventure Park complies with all COVID-19 regulations in accordance with New York mandates and CDC recommendations. Their employees wear masks, they social distance, they have marked walking paths to provide guests with social distancing guidelines, and they thoroughly clean regularly.
**Private animal encounters must be purchased in advance from the park website.
***All photos in this post are mine. I am sharing for the purpose of enhancing my animal park experience only.
Animal Adventure Park Website: https://theanimaladventurepark.com/Page/home
April the Giraffe Website: https://www.aprilthegiraffe.com/
Facebook: https://www.facebook.com/AnimalAdventurePark