A Year of 28 Day Challenges for Personal Growth
In this article, you will learn the real value of 28 day challenges for personal growth and how they can help you develop habits that will change your life.
Nowadays, everyone seems to be working on personal growth and development in some way — at any age or stage of life. You are never too young or too old to start living your best life. There are an infinite number of ways you can improve yourself to become the person you are meant to be in this world.
Based on my real life experiences, plus extensive research and coursework over the years, I've developed a year of 28 day challenges to help you with personal growth so you can live your best life. There are 12 different areas addressed in the 12 Month Personal Growth Planner — a different area for each month.
But first, I want to share how you use 28 day challenges to develop good habits, as well as why personal growth and development is so important! Then I will provide you with information about the Sassy Sister Stuff 12-Month Personal Growth Planner!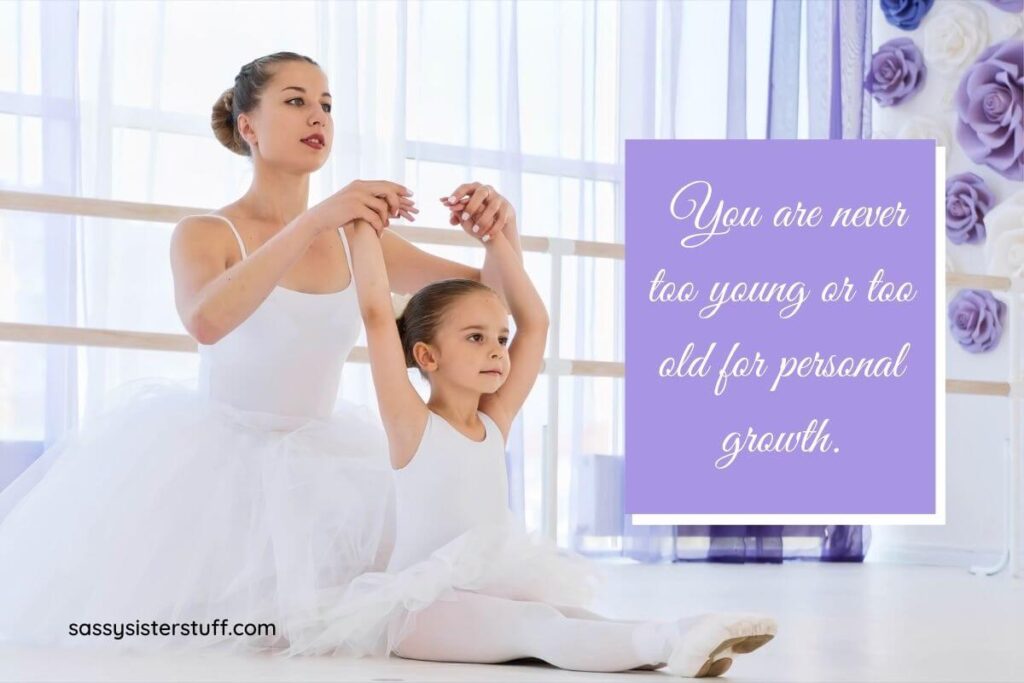 ---
What is Personal Growth and Why is it Important?
Personal growth allows you to reach your full potential, be your best self, and live your happiest, most successful life. Let's explore what defines personal growth, why it's important, and how you learn the process of personal growth.
What Defines Personal Growth?
Personal growth can be defined as self-improvement skills in the areas of knowledge, personal qualities, life goals, mindset, overall health — anything that makes you feel better about yourself in any way and makes your life better.
It can apply to your temperament, formal education, life experiences, maturity, financials, career, physicality, or anything that helps you grow to become a better person so you can live a peaceful life.
It is an ongoing process to continually improve yourself. It is sometimes also called self-improvement, self-help, or self-growth. Some people refer to it as personal development, as well. (More on this below.)
It involves taking time to reflect about your strengths and weaknesses, and identify areas that you want to improve. You might want to improve in the area of anger control, overcoming procrastination, or even self-confidence. You might want to lose weight. Whatever you do to improve your health and wellbeing is considered personal growth.
Successful, happy people are constantly seeking to improve themselves in multiple ways to live their best life. It's a process of continual learning!
---
Why is Personal Growth Important?
Each person has a different personal growth journey in life. No journey looks the same as the next. So it's important to continually redefine your personal growth — at any age or stage of life — so you can always be your best.
It's important because self-improvement helps you in all areas of life. It helps you grow in all aspects of personal growth and development — emotionally, socially, physically, mentally, and spiritually. It helps you become a healthier, more compassionate and positive person — in both your personal and professional life.
---
How Do You Learn Personal Growth?
There are many ways to experience the process of personal growth.
You can see a therapist or counselor who can help you with your growth. Or, you can work with a life coach who is specially trained to teach personal growth skills.
There are also books, articles, podcasts, courses, TED talks, challenges, mentoring, and workshops to learn about personal growth.
You can begin journaling on a regular basis as part of your personal growth, too. There are journal prompts for every aspect imaginable in which you might need help or want to grow or change — grief, anger, productivity, divorce, mindfulness, abundance — you name it, and there are journal prompts that can help.
---
Related Article: 90 Mindfulness Journal Prompts to Improve Your Life
---
You must also develop a growth mindset vs a fixed mindset if you want to be successful in your personal growth, and creative visualization can work wonders!
Plus, you can spend FOREVER on the Internet learning how to improve yourself!
As part of the growth process, you can use self-reflection prompts to identify your mistakes and negative habits, so you can correct or change them. Some strategies you may use for support are positive affirmations, developing healthy mindset habits, and practicing mindfulness meditation to help make changes. It's a journey. Changes don't happen over night.
You can also use 28 day challenges to help develop positive new habits that will help you become the person you want to be.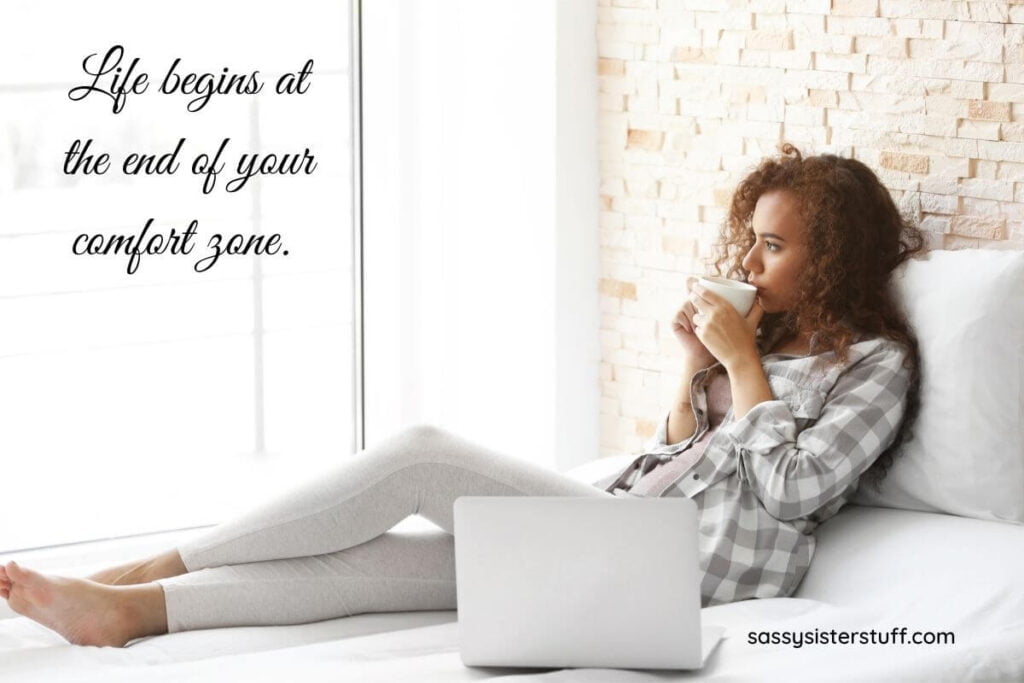 How to Develop Good Habits to be Your Best Self
Traditionally, it has been said that it takes 21 days to develop or change a habit. This theory actually goes back to a study done in 1960.
More recently however, Heathline reports, "It can take anywhere from 18 to 254 days for a person to form a new habit and an average of 66 days for a new behavior to become automatic."
Thus, the best way to develop new habits is to keep doing them until it becomes automatic in your daily life. This can vary from person-to-person based on personality, motivation, external influences, and other factors.
The first step to developing a habit is to recognize what change you want to make and why. As stated previously, this begins with self-awareness and reflection, and leads to developing a plan to make the positive changes that will lead you to a simple, fulfilled, and happy life.
One strategy for change is to replace an old habit with a new habit. Another strategy is to track your new habit in a journal or planner so you have tangible positive reinforcement for the preferred behavior.
Thus, the concept of journals or planners has become very popular, especially among those who undertake a personal growth and development plan — especially on their own or without professional help.
---
Pin to Pinterest for Later
---
28 Day Challenges
Personally, I like challenges because they bring me to a level of awareness that helps me reflect and understand where I need improvement. I also push myself more when I'm being challenged.
Some other benefits that 28 day challenges provide are:
Improved clarity and focus
A sense of calm in the chaos
Increased productivity
Opportunities for new learning
Healthier state of presence and mindfulness
Increased confidence and self-worth
A stronger sense of self-control
A better understanding of self
Improved relationships with others
28 day challenges can be designed for many areas of human development in which people may want to make positive improvements. Many people start a new challenge in January as part of their fresh start to a new year. Others are perfectly comfortable starting anytime. Challenges generally are designed to NOT take much time out of your day. This way, you won't feel like you don't have enough time in your day.
These are just some 28 Day Challenges (or 30 Day Challenges) you can easily find on the Internet:
Fitness Challenge
Mental Health Challenge
Workout Challenge
Meal Prep Challenge
Personal Development Challenge
Self-Improvement Challenge
Weight Loss Challenge
Healthy Eating Challenge
Reset Challenge (I love the idea of this one!)
Transformation Challenge
Wealth Challenge
Productivity Challenge
Confidence Challenge
Self-Care Challenge
Reading Challenge
What's the difference in 28 Day Challenges and 30 Day Challenges? I don't think it matters since new habits start to develop after 18 days of change. Plus, you can repeat challenge activities as many times as it takes for the habit to become automatic.
Additionally, I believe a 28 day challenge gives you more chance for success because you won't automatically feel defeated if something happens and you have to miss a day or two!
---
Physical Health 28 Day Challenges
If you are interested in 28 Day Challenges specifically for physical health, check out the Chloe Ting 28 Day Challenge 2022 that she recently released. It is based on the same principles as any good challenge designed to help develop new habits. She provides a low impact variation that works well for beginners. You do her 28-day workout challenge at home, and it's designed for both weight loss and full body fitness.
I like Chloe because she aims to make physical "health and fitness accessible to all by providing free workout programs and sharing free recipes with her audience."
She recently launched her wide range of fitness equipment in Walmart. As her website says, "This stylish collection was developed to ensure people have access to quality fitness equipment at a reasonable price, so that they can continue challenging themselves as they progress in their fitness journey."
Disclaimer: The content on Sassy Sister Stuff is for informational or educational purposes only, and does not substitute professional medical advice or consultations with healthcare professionals. Please see your healthcare provider before starting any new fitness program.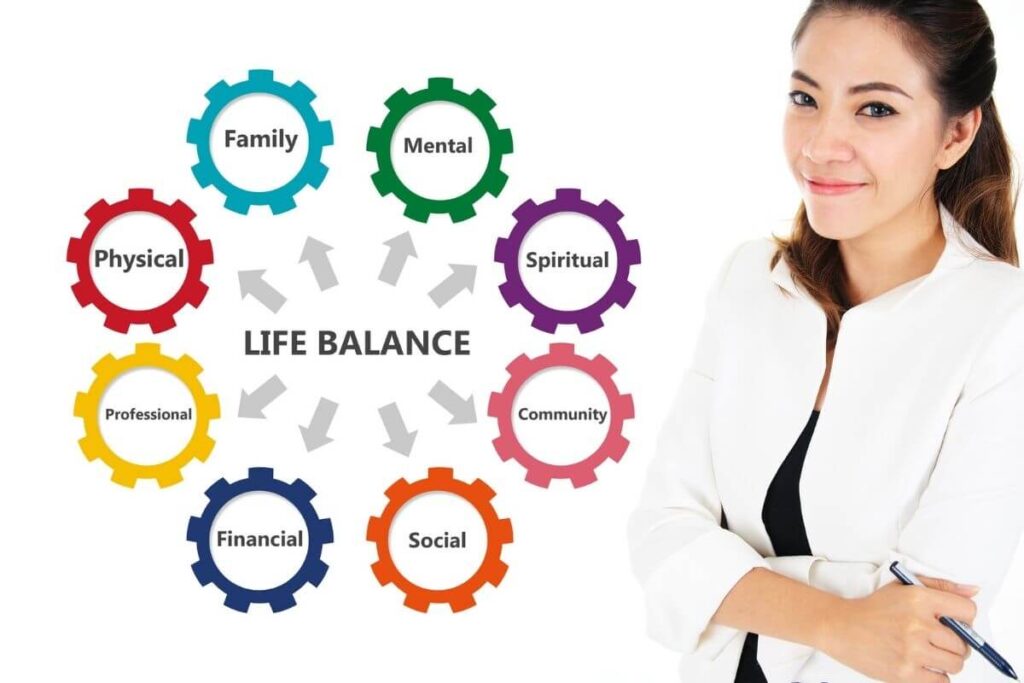 ---
Aspects of Personal Growth and Development
There are 5 areas of personal health that are generally considered aspects of personal growth: physical, emotional, social, spiritual, and intellectual/mental. You can develop new skills, interests, and/or qualities within each of these areas. You can set goals for yourself and work toward improving or changing any of these areas.
Some examples of areas in which you may want to improve within these 5 aspects of personal health are:
self-awareness
self-knowledge
self-esteem or confidence
intellect
lifestyle
procrastination
organization
interpersonal relationships
coping skills
motivation
mind clarity
self care and self love
effective communication/listening
happiness
mindset
Many times, personal growth is not isolated to just one defined aspect. It often overlaps from one area to another. For example, physical and mental health are significantly tied together – usually as one improves, the other improves. Emotional and spiritual growth are often interconnected.
Furthermore, improving a personality trait such as coping skills will also improve your level of confidence. And improving your sleep habits will also help improve your mind clarity.
It becomes easy to see why personal growth and development is essential to living your best life and meeting your greatest potential.
---
What's the Difference Between Personal Growth and Personal Development?
Generally, personal development refers to the aspects of human development mentioned above, while personal growth refers to the process of making positive changes, nurturing your personal development, and understanding and improving your skills to meet your highest potential.
But honestly, the two terms are often used interchangeably among the general population, and even professionals. As stated above, other similar terms are self-growth, personal growth, and self-improvement.
---
Personal Development Industry
In 2019, the personal development industry had a global market size of 38.28 billion dollars. Obviously, there are many people who take the aspects of personal growth and development very seriously and want to improve their lives.
Formal personal development courses and programs are available through educational institutions and mental health practices. They usually offer methods, programs, tools, techniques, and assessment systems to support positive adult development.
Alternatively, many people choose to take a less formal route for improving themselves. They will conduct research independently or with peers and resolve to make appropriate changes in areas that will improve their lives. That's how people find themselves using challenges or planners that help them track their behaviors and habits to help them make positive changes in their lives.
Personal growth and development is a transformational journey in which you take steps toward a better and brighter future! There is no real right or wrong way to do it — as long as you have goals and a Personal Development Plan (PDP) to get you where you want to be!
So it makes perfect sense to use 28 day challenges to help improve yourself and your life, right?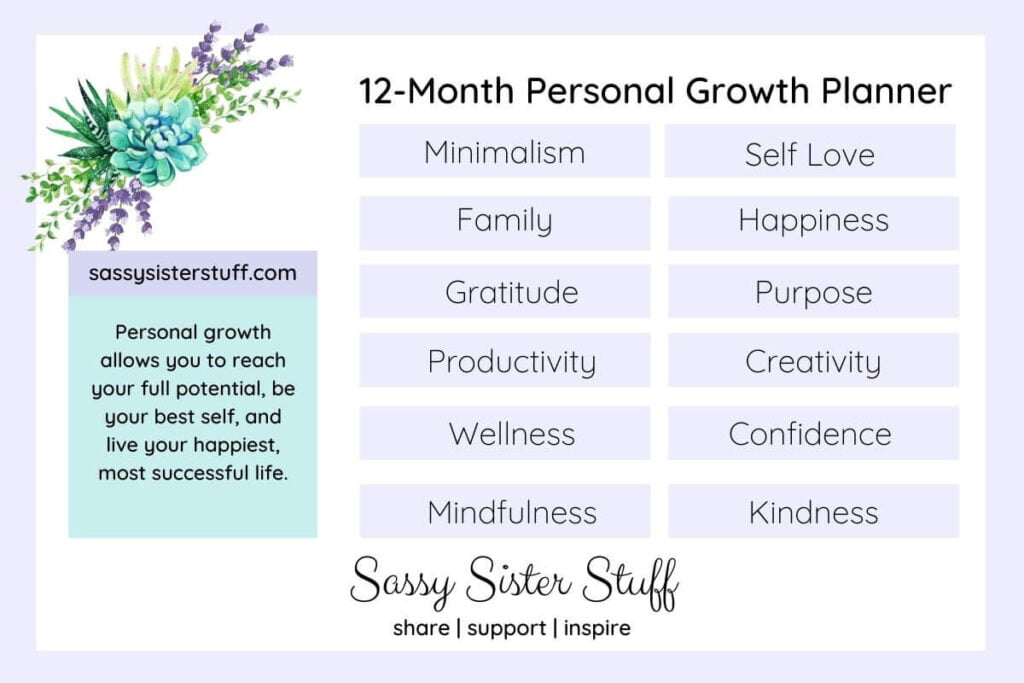 12-Month Personal Growth Planner
These are the 12 areas of self-improvement that are addressed in the Sassy Sister Stuff planner:
Minimalism
Family
Gratitude
Productivity
Wellness
Mindfulness
Self Love
Happiness
Purpose
Creativity
Confidence
Kindness
---
Examples of Habit Changing Activities in the Planner
For the past year or so, I've been researching and revisiting coursework from my past to help write articles about personal growth and wellness.
As an educator, I had to take courses and conduct research regularly to maintain my state and national certification from year-to-year.
I've come to realize the powerful similarities between what I did as an educational leader and what I do as a personal development writer. The similarities are remarkable and I'm glad I can use my coursework from over the years to continue my personal growth journey.
And to share it with others!
Therefore, I am proud to share that the activities included in the Sassy Sister Stuff 12-Month Personal Growth Planner are based on years of education as well as personal experience and research.
You won't find many activities that are duplicated in this 28 day challenge journal because I created each challenge myself with the intention of providing as many different activities as possible.
Although some activities overlap in multiple categories of personal development, I purposefully limited duplicates to ensure maximum benefit for users.
These are a few of the 336 daily activities you'll find in the 28 day challenges:
reduce processed food today
change your eating habits today
discover new workouts
develop a meal plan for the week
eat healthy all 3 meals
choose healthy snacks
go to bed 30 minutes earlier
get up 30 minutes earlier
evaluate your last 5 purchases
go out without make-up today
purge your pantry
empty your junk drawer
track your hydration
take a walk in the sunshine
enjoy a meal outside
explore a local park or seashore
redecorate your workspace
give someone flowers today
You can use the Sassy Sister Stuff 12-Month Personal Growth Planner over-and-over again each year. You can also choose which challenge you want to do each month. Some may not be applicable to you.
Some months you just check off a box for each activity that you do; other months you write 5-10 sentences in a journal using different writing prompts each day.
I created this 12-month planner/journal and challenge because I realized there are some rather costly self-care and personal development planners available from a variety of sources, but I've never seen a full year of monthly challenges combined in one handy place.
There are some 28 day challenges on Pinterest and Etsy, but no one seems to provide a wide selection of topics. Therefore, I picked the topics that seem to be the most popular and used them to develop the 12-month planner.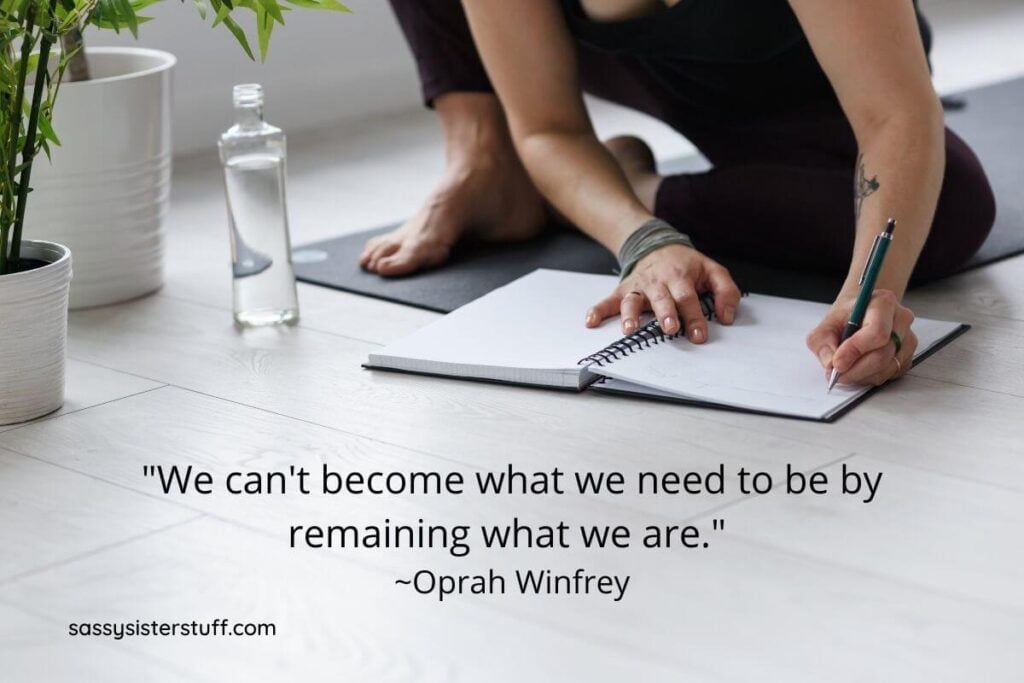 Final Thoughts: 28 Day Challenges
Personal growth is a very individualized journey. 28 day challenges are a highly effective, simple way to help you make positive changes along your journey. They help you develop healthy habits and a positive attitude toward life. Combined with other resources, 28 day challenges can be FUN — especially the activities associated with family and self love! So set your growth goals and enjoy!
I hope you've found the 28 day challenges and personal growth information in this article helpful.
My goal is always to share, support, and inspire others to feel self-love… be happy and healthy… find peace in the chaos of life… live a balanced life… and be the person they want to be.
It's a process for all of us. We don't just wake up on our twenty-first birthday and become the person we're meant to be as an adult! But the more we know about personal growth, the more we can work toward becoming that person!
I wish you nothing but the very BEST in your personal growth journey! I'd love to hear about it, too!
Love to ALL! ~Susan
A Year of 28 Day Challenges for Personal Growth: What is Your Personal Growth Strategy?