19 Calming Coloring Pages for a Beautiful Spring (Free)
Coloring is a great way to increase your happiness and calm your mind. It's equally beneficial for both adults and children, and can help you live your best life! Coloring allows you to isolate yourself while your creativity takes over and releases stress. In fact, coloring actually produces the same effect on the brain as meditation. Therefore, I invite you to print these 19 calming coloring pages and schedule some designated self-care time to express your creativity and relax your mind.
You may also want to print these calming coloring pages and keep them in your Calm Corner or Emotional Escape Space when you or a loved one needs a break.
Together, you and your loved ones can spend hours creating and recreating these calming coloring pages with different color palettes, different mediums (crayons, pencils, markers, paint, etc), and different aesthetic moods.
Here, you'll find a selection of animals, flowers, scenery, landscapes, and inspirational coloring pages that will make you think of Spring — new beginnings and whimsical beauty!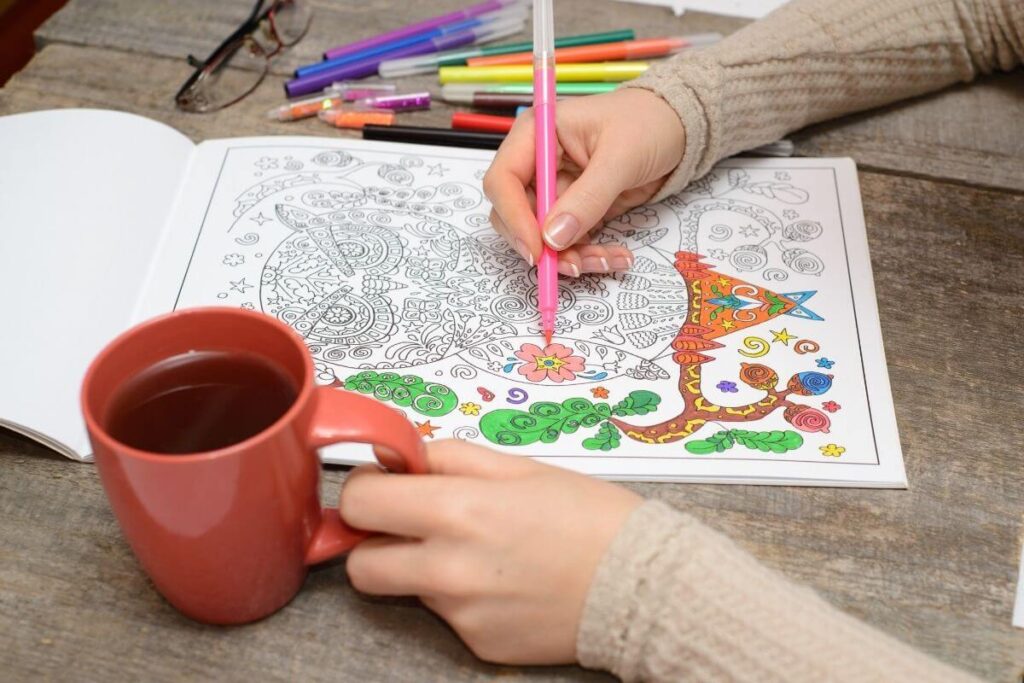 ---
Calming Coloring Pages for a Beautiful Spring
Coloring is a an excellent source of relaxation and quiet time. It helps with mood regulation, also. I suggest that you keep a variety of tools available — there are oodles of coloring tools that make coloring more fun — glitter gel pens, colored pencils and pens, thin markers, highlighters, crayons, and more.
As you color, keep track of your emotions and how your body is feeling. Are you feeling calm? Is your mind settling down? Does your mind, body, and soul feel more relaxed and less troubled?
WebMd reports that there are 7 benefits of coloring for adults:
Relaxes your brain and improves brain function
Induces meditative state
Improves motor skills
Improves sleep
Improves focus
Reduces anxiety
Relieves stress
Research suggests that coloring can even be helpful in preventing dementia in older adults, as well as helpful for adults who deal with depression. Check out the WebMD article for more details about these benefits.
---
What Is Adult Coloring?
Just in case you're wondering, adult coloring activities usually have a different purpose than children's coloring activities. Children's coloring activities are usually designed to teach color names, fine motor coordination, and other aspects of education. Adult coloring activities are usually designed for the purpose of health and wellness.
There are adult coloring pages that are designed specifically to help adults expand their concentration and focus. There are also adult coloring pages that are designed for motivational messages. And many adult coloring pages are designed purposefully to release your troubles.
Coloring is similar to journaling in the way it refocuses your mind on positive energy and releases the negative energy. There are dozens of popular topics for journal prompts that can help you change your mindset, release negative feelings, and help you grow. Just like there are dozens of themes for adult coloring pages!
Calming coloring pages for adults have many purposes. Why not give it a try? These 19 free, printable calming coloring pages are available right now for you to experience!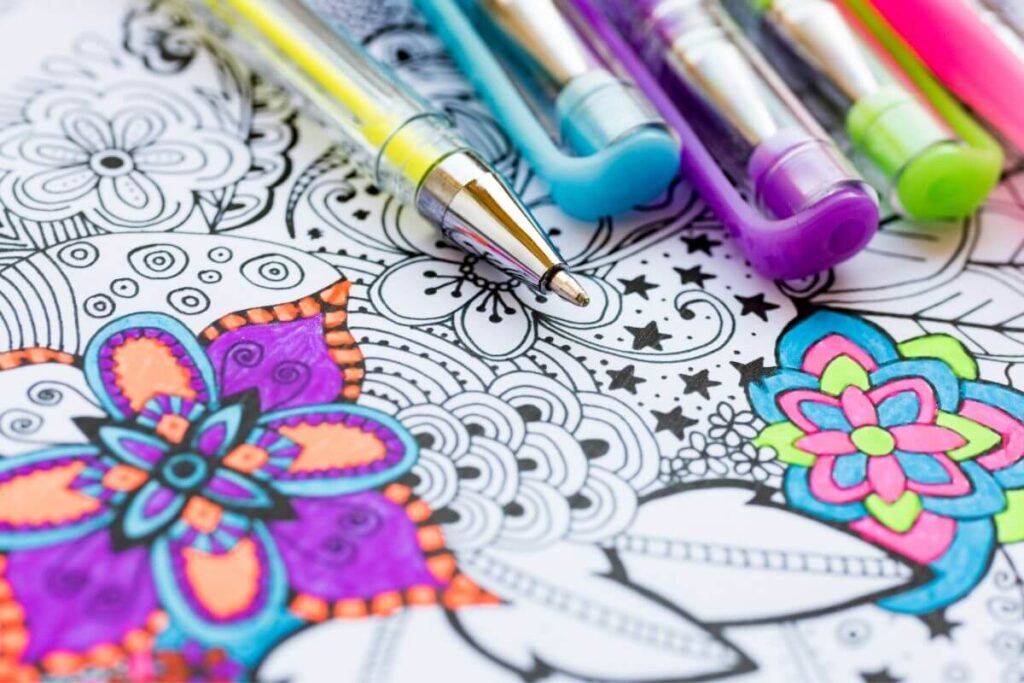 ---
Calming Coloring Pages: Animals
Keep a selection of calming coloring sheets at home in a convenient location with your coloring tools so you can sit down and color whenever you feel stressed or anxious about something. These cute drawings of animals will help you refocus your energy toward positive thoughts and feelings.
Click on each image for the full-sized, full-resolution drawing. The download should being automatically in the lower left corner of your screen. All of these calming coloring pages will fit on an 8 1/2″ x 11″ sheet of standard paper in a vertical (portrait) position. If you have any trouble, please contact me at [email protected].
I personally chose each drawing just for us from a wide variety of sources. You can print these calming coloring pages for your PERSONAL USE as many times as you like, but YOU MAY NOT SELL THESE IMAGES.
---
Pin to Pinterest for Later
---
Relaxing Coloring Pages: Flowers
Spring is a great time of year to focus on new beginnings. It is also a good time to renew your mindfulness practice with activities like coloring, deep breathing, and getting outside in nature. Use these floral printable coloring pages to inspire your mindfulness and creativity.
---
Miscellaneous Relaxation Coloring Pages
I thought these final two calming coloring pages were pretty but they didn't fit neatly into either of the other two categories, so they have their own miscellaneous category:) ENJOY!
---
Coming Soon: Positive Affirmations Coloring Pages
---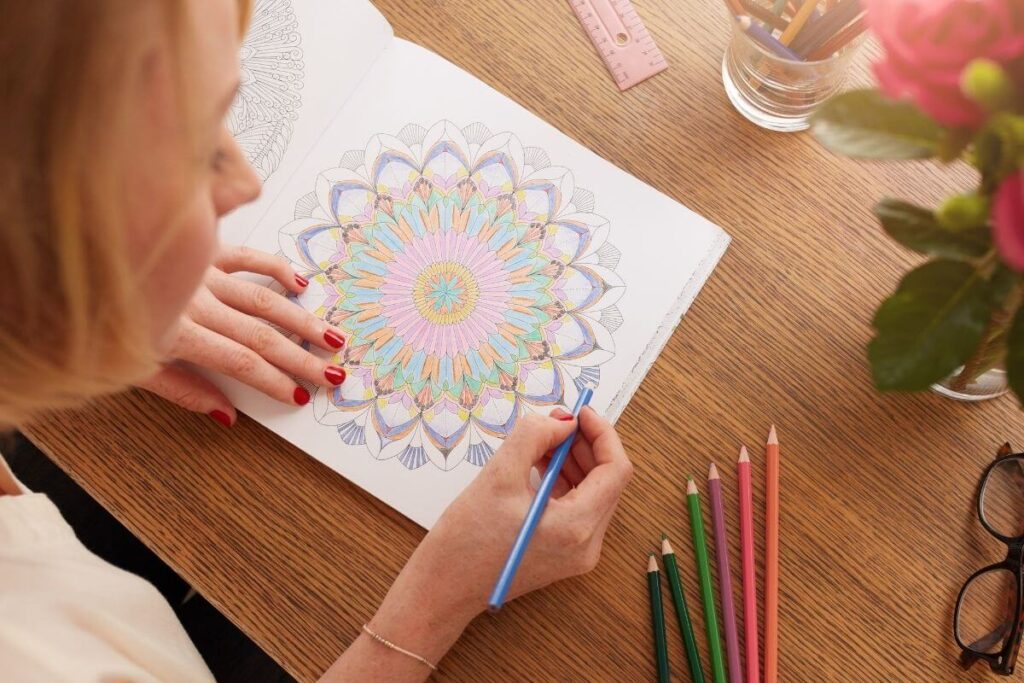 Why Are Adult Coloring Books Special?
If you find that you enjoy coloring and would like to make it a more serious and frequent hobby, I suggest you look for Adult Coloring Books that feature something that interests you. Adult coloring books are made of higher quality paper and pages can be framed or given as gifts; they often have very intricate designs and a variety of themes.
Adult coloring books and tools also make a great gift for anyone who is working to improve their mindfulness and wellness in life.
---
Related Article: 12 Benefits of Mindfulness: Mind, Body, and Soul
---
You can find adult coloring books in just about any theme you might enjoy — seasons, animals, flowers, inspirational messages, mandalas, places, landscapes, and more. They often have intricate designs that allow your imagination to run wild and free.
Some research suggests that calming mandala coloring pages are particularly beneficial for stress because the distinct intricacies require focus and concentration so they peel away at your worries. They help distract your mind from the daily pressures of life.
For those of you who want to take adult coloring to the next level, I suggest you check out ColorIt.com for every kind of tool and coloring book you can imagine. You can also read more about the research and psychology behind why and how coloring helps reduce stress and anxiety.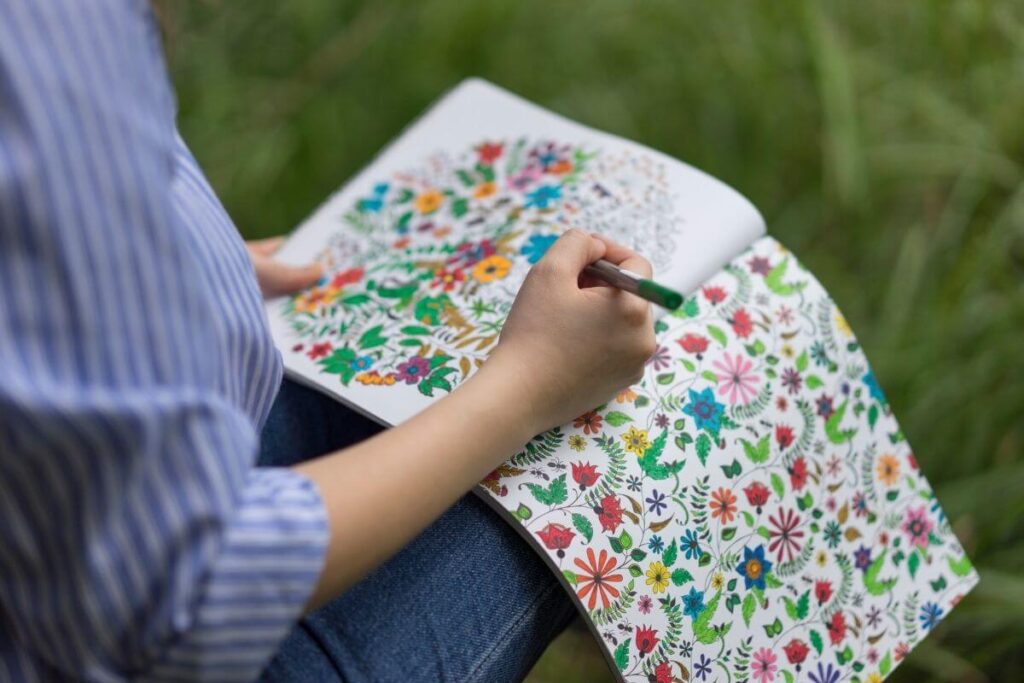 ---
Final Thoughts About Calming Coloring Pages
As you've probably realized, coloring is no longer just an activity for kids. Adult coloring has become a way to leave your troubles and negative emotions behind — a way to relax your mind.
The science behind coloring suggests it has the ability to relax the fear center of your brain — called the amygdala — because it induces the same state as meditation. Your mind becomes quiet and calm — you become mindful and present in what you are doing. Disconnect and create.
---
Related Article: 10 Simple Ways to Find Your Zen In the Chaos of Life
---
Many experts claim that adult coloring has therapeutic benefits for your mind, body, and soul — similar to Zen activities. Give it a try and let me know what you discover about yourself and how it works!
Calming coloring pages might be the best thing you've done for yourself in a very long time!
Love to ALL! ~ Susan
Which Calming Coloring Pages Are Your Favorites? Let me know in the Comments.