101 Daily Affirmations for Creativity to Spark Your Imagination
Positive affirmations for creativity can help activate your imagination and boost your creative expression while suppressing anxiety and increasing self-confidence. They help you create and maintain a positive, flexible mindset that supports a healthy lifestyle.
These 101 daily affirmations for creativity will help you recognize your inner brilliance and spark your creative energy in your personal and work life.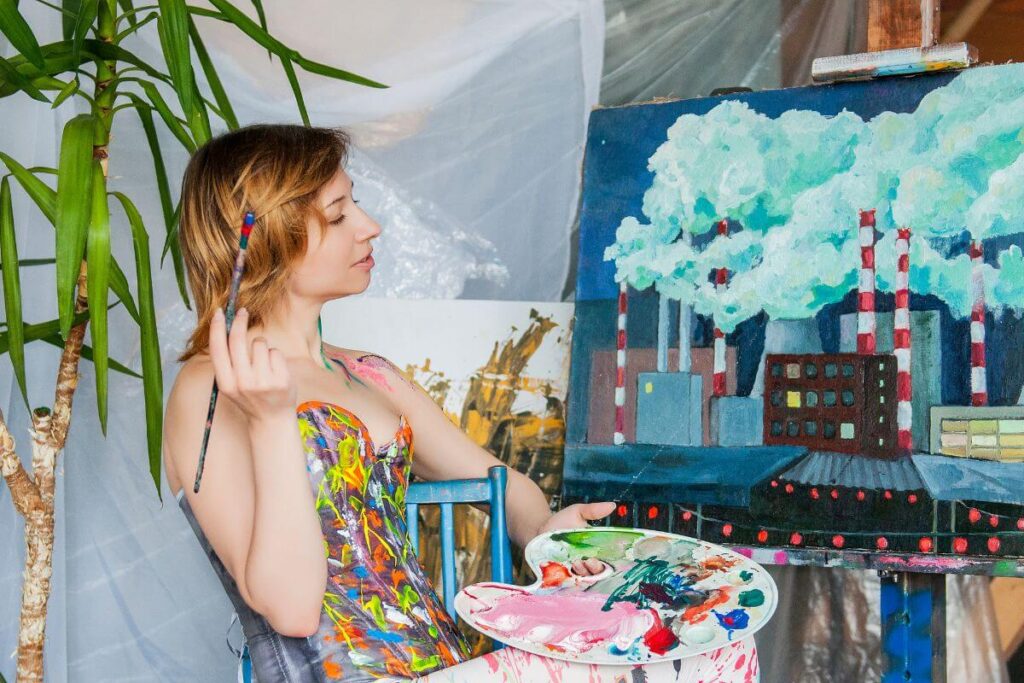 ---
Related Article: 50 Powerful Affirmations for Self Love
---
Benefits of Using Affirmations for Creativity
Affirmations are positive statements that help your subconscious mind believe what you say. Positive affirmations are a simple way to work on personal growth every single day.
The Cleveland Clinic reports that positive affirmations "can help you overcome self-doubt, self-sabotage and fear." That's pretty powerful!
Affirmations for creativity with help with your personal expression and creative output. They will help lift your mood and get you in the right zone of creative thought for high vibe projects.
Creativity affirmations can also be used to break through a creative block when you feel stuck or frustrated. They are powerful tools to get your creative mind working again!
You'll soon feel more free and open to use your creative gifts in your artistic work, as well as your thinking and creative problem solving.
These affirmations will also help you attract creative energy as you learn to believe in endless possibilities. You'll be able to visualize better and come up with new ideas more freely.
Affirmations help you develop positive thought patterns that generate positive energy so you'll be more comfortable and confident in the creative person inside you!
---
Related Article: 60 Peaceful Bedtime Affirmations for Good Sleep
---
How To Use Positive Affirmations To Increase Creativity
When using affirmations for creativity, you should take a few minutes each day to read aloud the "I" statements that tell you how imaginative and creative you are, as well as how much you value your creative state of mind.
It is important to focus on each statement as you read it and seriously reflect on the feeling and emotions of the words. Your brain will believe what you tell it!
Always be sure that your affirmations are stated in the present tense as if you have already achieved your goal. Affirmations should always use positive words and phrases.
Affirmations for creativity are meant to inspire and motivate you to be an innovative thinker. The more you say the positive affirmations, the more you will build your creative confidence.
You will become more comfortable with thinking outside the box, trusting your creative thinking skills, and valuing your unique problem solving abilities. You'll also learn to appreciate your artistic abilities and creative writing skills.
Choose the affirmations that feel "right" and "meaningful" to you — don't say an affirmation if you don't feel it's an honest statement that applies to you.
Spend some time putting together a perfect list of creativity affirmations just for you before you start using them and then read them regularly aloud to yourself.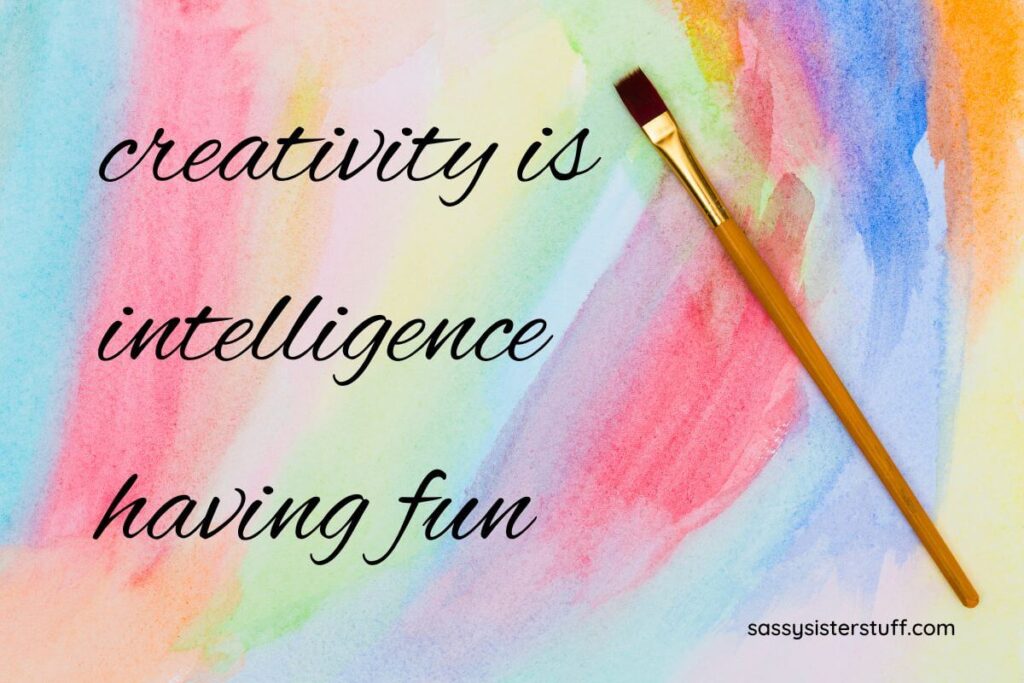 Affirmations for Boundless Creativity
I am a really creative individual with much to share.
My imagination knows no bounds.
I am a limitless creative force.
I am a creative problem solver who thinks outside the box.
All the beauty around me inspires me.
I'm in tune with my inner child, overflowing with imagination and creative ideas.
I have boundless creative energy.
My natural creativity shines every day.
I am overflowing with creative energy.
I occasionally paint outside the lines.
I have an infinite amount of inventiveness.
I have a lot of fun with the creative process.
I value my creative genius.
I am a never-ending source of inspiration.
Fresh ideas are constantly flowing through me.
When I exhibit my creativity, I feel alive and energized.
I'm readily motivated to work and live a productive, creative life.
I value my creativity and ingenuity.
Through my artistic expressions, I can inspire others.
Every day, creative energy runs through me.
The creative opportunities that surround me are limitless.
The universe provides me with an endless amount of inspiration.
I appreciate the steady stream of creativity in my life.
I can't wait to wake up every day and start creating!
I need to let go of all inhibitions to completely express my talent.
---
Creative Affirmations for Visual Artists
I find inspiration and beauty everywhere.
Creativity flows through me like a river.
I close my eyes and my imagination turns on.
I love my powerful imagination.
I am free to pursue my creative passions.
I have an abundance of creative ideas to share and create.
I always see the beauty and wonder in the world around me.
My creativity helps me connect with the world.
I let my mind wander and great ideas come to me.
Creative expression takes me to new and exciting places.
I let creativity carry me away to great places.
My life is a limitless source of creativity and passion.
I am a successful artist with a strong creative flow.
When I close my eyes, I see endless possibilities.
I am inventive, creative, and passionate.
I am blessed with artistic talents and good ideas to share with others.
I am excited to share my creative ideas with others.
I am always developing as an artist.
My art permeates my life with abundance and inspiration.
I am blessed with talent, creativity, and innovative ideas.
My art comes easy to me.
Boundless creativity blesses my life.
I am inspired to take risks with my art.
My art inspires others and makes the world a better place.
I am blessed with creative expression skills.
---
Related Article: 10 Simple Affirmations for Confidence
---
Affirmations for Creative Thinking
I attract and value brilliant ideas.
Today I am making time to create.
Divine inspiration surrounds me.
I awaken and see the world through fresh eyes.
My well of creativity runs deep.
Today and always, I am filled with infinite, creative energy.
My creative self wants to come out and play.
I'm ready to share my authentic expression.
I open myself to a life of creative thinking.
I have an endless supply of creativity.
I give myself room for expression in all that I do.
I am talented with great creativity and intelligence.
I come up with creative solutions for problems.
I am creative and have the desire to take advantage of my talents.
I increase my ingenuity in everything I do.
Creativity flows through each cell in my body.
I always develop new ways to do things.
Genius solutions come to me daily.
I see new, innovative opportunities around me.
New original ideas come to me freely and easily.
I love to express myself creatively.
I joyfully follow my creative inclinations.
Being creative makes me alive and well.
I am incredibly creative and imaginative.
I am a source of inventiveness.
---
Affirmations for Creativity to Spark Your Imagination
I am blessed with a lively imagination.
I easily come up with new ideas.
I find innovative solutions to problems.
I always have lots of unique ideas to solve problems.
I use my vibrant imagination at every opportunity.
I love the freedom that creative thinking gives me.
Innovative ideas come to me on a daily basis.
I am a creative problem solver.
find innovative solutions for all the difficulties in my life.
Genius ideas come easy to me.
I have an abundance of creative energy.
I am a visionary who values the creative process.
My imagination always gives me new inspirational ideas.
I am full of endless creative energy.
I have an adventurous, imaginative mind.
I create new masterpieces of some kind every day.
New thinking comes easy to me.
I always think of new, original ways to do things.
I express my unique creativity in everything I do.
My ideas are imaginative and useful.
I easily come up with new and fresh ideas.
I am a magnet for innovative ideas.
Being creative is one of my great pleasures in life.
Everything I create is inventive and unique.
Every day I let my imagination float to new heights.
I have an endless creative potential.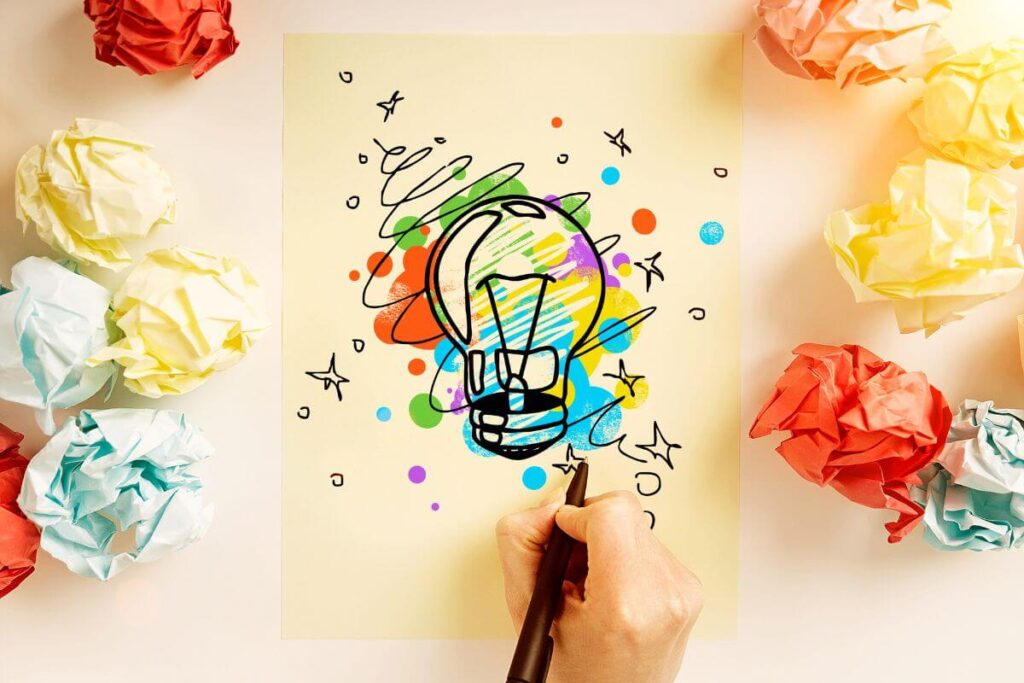 Final Thoughts On Affirmations For Creativity
Use these affirmations for creativity to become more confident in your unique creative talents and let your imagination soar! Your creative abilities will become your strongest talents! You've got it in you!
While you are working with affirmations for creativity, you may also want to check out 101 Creative Hobbies to Promote a Balanced Life. Keep your creative juices flowing in your personal and work life!
Love to ALL! ~ Susan
How Do You Use Affirmations for Creativity?
Please share your ideas in the comment section below:)