Silk and Sonder Review (An Easy Self-Care Toolkit)
This article will be an honest Silk and Sonder review based on my personal experience with the Silk and Sonder subscription-based self-care and mental health toolkit. The physical product that you receive when you join the Silk and Sonder family is a beautiful all-in-one planner and journal. However, the community that you join is equally as beautiful as the planner/journal.
Silk and Sonder is a guided self-care, female-founded and run company that helps you focus on your self-care and mental wellness. It is a toolkit that is easy and fun to use!
The components of the toolkit included:
Monthly Planner and Journal
Guided Journal Writing Activities
Mobile App and Interactive Community (Sonder Club)
Daily Rituals
Blog
The leadership team at Silk and Sonder believe self-care is the foundation for creating a fulfilling life. They create a pro-active approach to self-care to improve your emotional wellness.
Let's take a deeper dive into the components of Silk and Sonder!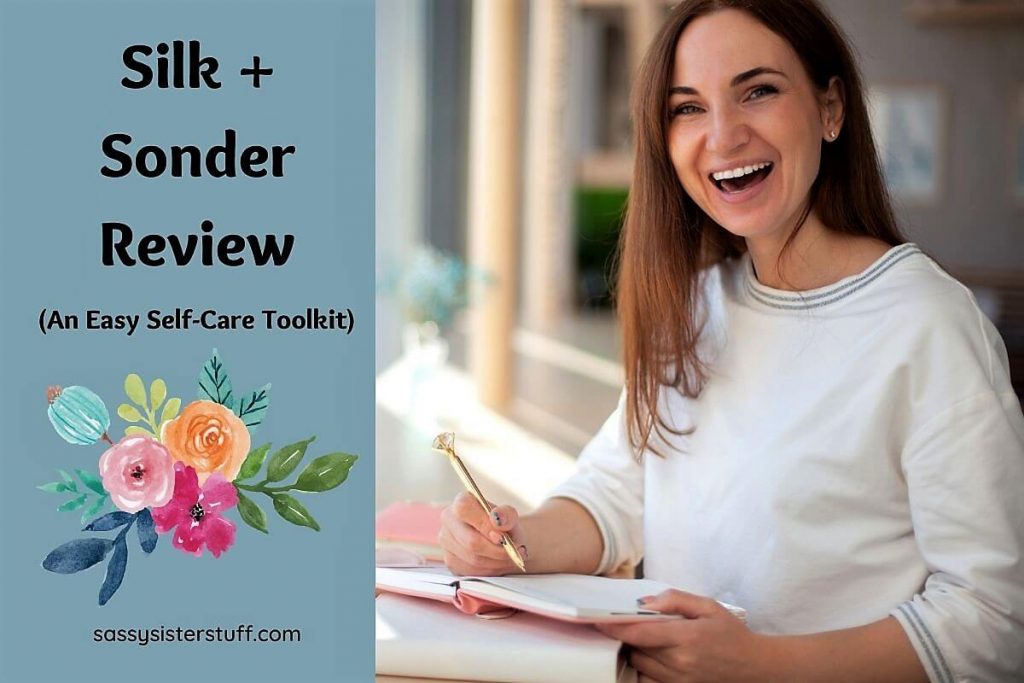 ---
Silk and Sonder Review – The Foundation
Silk and Sonder is based on positive psychology and the foundations of a bullet journal. It is a monthly planner subscription service that supports your daily self-care.
The subscription service is based on the philosophy that mindfulness should be part of your daily life. There are four components of mindfulness that promote your self-care and wellness. They are: 1) start where you are, 2) break up with perfection, 3) form rituals you love, and 4) grow your own way.
Silk and Sonder is also based on the approach that "Emotional health doesn't need to be so serious or stigmatized — it just needs to be prioritized." I have found that the guided journaling and interactive community are the components that help me prioritize my emotional health the most.
Everything Silk and Sonder does is based on four pillars of emotional wellness. Those pillars are: Compassion, Clarity, Creativity, and Connection.
---
Silk and Sonder Planner Review
Let's start with the planner and journal. For clarity, this is ONE notebook with pages for both planning and journaling. Each month a new planner arrives in your mailbox for the following month. Each Silk and Sonder journal is a beautifully-designed feminine journal filled with coordinating pages.
Inside each journal, there are Planning Pages, Guided-Journaling Pages, a Coloring Page, a Recipe Page, Reflections and Intentions, a Sleep Tracker, Notes Pages, a Mood Tracker page, a Habit Tracker page, a Monthly Expense Tracker, a Focus Word, and more.
These pictures depict some of the pages from the Silk and Sonder Planner, an August and September Planner, and some of the cards that are provided for support with the toolkit.
You'll see a One Thing box at the top of each day. This inspires me to reflect on everything I've learned recently in my Silk and Sonder experience. For your One Thing box, you can write anything you want to focus on that day. You are encouraged to reflect on your daily gratitude thoughts, daily affirmations, an inspirational quote or word, an area of focus, or even just a doodle!
If the journal feels overwhelming, you only do the parts that speak to you. You don't stress over getting each box filled in or every page completed.
At the beginning of every month, you reflect and review your progress the previous month and create new intentions for the coming month.
Plus, there is a new Focus Word each month. Some examples of monthly focus words are desire, joy, freedom, endearment, ambition, knowledge, vulnerability, and choices.
I LOVE how members of the Silk and Sonder community get creative with their journals. Members often share their pages on the Mobile App, so you can see how everyone uses their journal in their own unique way!
Related Article: Self Reflection Journal Prompts for Personal Growth
---
A Guided Self Care Journey
The Silk and Sonder monthly planner and journal subscription service, created by Meha Agrawal, is designed for you to have a brand new, fresh start every week, or month, whichever works best for you. It's a chance to start anew. I feel it is important to note that there is great flexibility with the toolkit. You can use it, or modify it, anyway that works BEST FOR YOU.
But there are several other components to the toolkit that support your journal activities. Let's look at these supports.
---
Mobile App and Interactive Community (Sonder Club)
Silk and Sonder Mobile App provides digital access to personalized experiences and accountability. These activities intentionally align with the philosophy and approach of the toolkit.
They are designed to help reduce stress, boost your mood, improve immunity, strengthen your purpose, and increase your productivity.
Silk and Sonder writes, "Our mobile app invites you to go deeper into your self-care so we can better personalize and celebrate your unique emotional health journey." It's a members-only community with daily affirmations and exercises. You can track your wellness and milestones, as well as save your private memories so you can be inspired by how far you have come.
My favorite part of the Mobile App is the Check-In On Sonder Club where you post your responses to the Question of the Day or share your thoughts about your journaling experiences. You can learn many things from others who share their thoughts about Sonder Wellness.
The Mobile App also has a Daily Affirmation, Self-Care and Wellness Bingo Games, and Journal Inspirations to help you get started or get inspired with each section of your hand-to-paper journal.
---
Daily Rituals
Daily Rituals are a 21-day series of short, guided audio practices led by founder, Meha Agrawal. These 5-10 minute daily recordings are intended to maximize your Silk and Sonder experience. They remind me of guided meditation audios. Meha has a beautiful voice.
Daily Rituals are designed to cultivate your self-care ritual one day at a time. These daily rituals are another favorite of mine! I enjoy listening to them at bedtime as I settle down for the day.
A new series beings each month.
These were some of the 21 topics in the series last month:
What's Your Intention?
Break Up with Perfection (my favorite)
Navigating Fear, Doubt, and Resistance
Setting Stretch Goals
Productivity and Rest
Living Your Values (another favorite)
The Mindset of a Ritual
Pay it Forward
Pin to Pinterest for Later
The Silk and Sonder Blog
The Silk and Sonder website includes blog articles with wellness content, tutorials, and interviews to inspire your self-care practice. It includes all of the specific topics below. The numbers in (X) are how many articles are posted as of the writing of this review.
The articles are really insightful and easy-to-read. They fully support the guided activities in the journal, the philosophy of the whole toolkit, and good self-care habits.
I find the whole toolkit is thoughtfully created and organized. The way it is presented makes it accessible to anyone. And you can use it any time it fits into your daily or weekly schedule.
Related Articles: Cultivate Happiness with a Heart of Gratitude and How to Bring More Cozy Into Your Life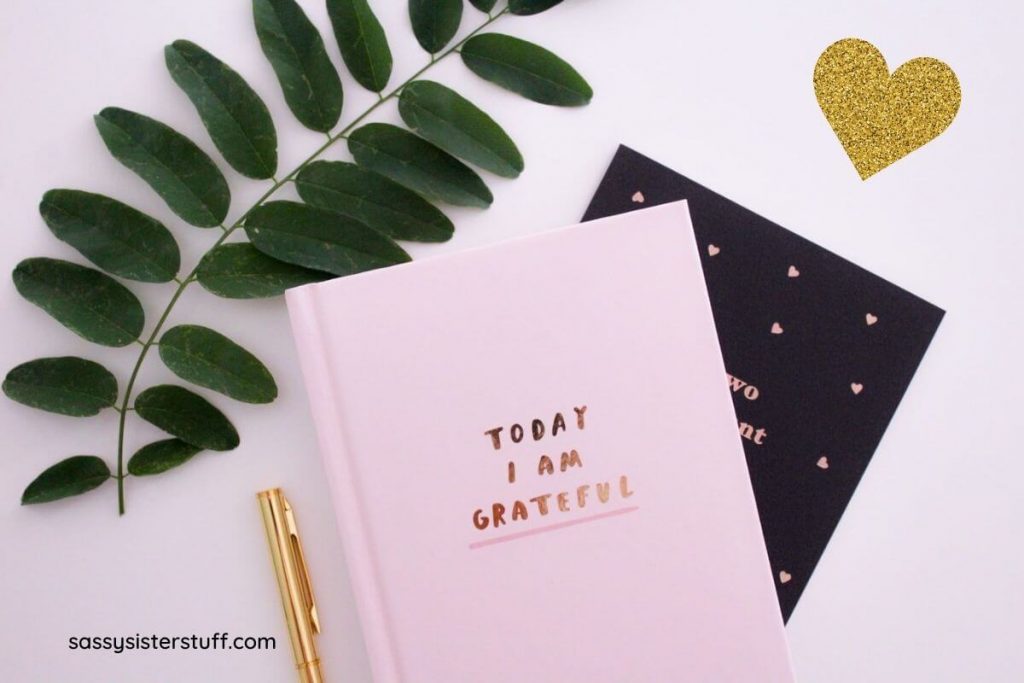 ---
What Does Sonder Mean Anyway?
I often wonder how many people, besides me, wonder what "sonder" means? Maybe it's the teacher in me, but of course I had to look it up!
As it turns out, the word sonder is not found in a traditional dictionary. It originated from a man named John Koenig, the founder of the Dictionary of Obscure Sorrows. Koenig's research into emotions led him to create a dictionary of words that describe emotions that do not have a descriptive term.
For anyone who knows and understands the concept of existentialism, the term is connected to that philosophy. Unfortunately, I haven't understood that philosophy since the first time I was introduced to it in my freshman year of college many moons ago. So I just accept the definition as printed on the back of each Silk and Sonder journal:
SONDER
"n. the realization that each random passerby is living a life as vivid and complex as your own – populated with their own ambitions, friends, routines, worries, and inherited craziness – an epic story that continues invisibly around you."
Related Articles: The Importance of Positive Social Interaction to Your Overall Health and 10 Simple Ways to Find Zen in the Chaos of Life
---
Final Thoughts: Silk and Sonder Review 2021
Since this is an honest review, I will note that there are some Silk and Sonder reviews online that reflect disappointment in the Customer Service when there is a problem with shipping and/or cancelling your subscription. I have experienced a minor customer service disappointment, as well.
I've also observed that representatives are responsive to positive reviews and comments, but generally do not respond to reviews from dissatisfied customers.
However, I have also observed that there are far more positive reviews than negative reviews. I checked this before I bought my monthly subscription.
I thought it was important to mention this since I'm being honest with my review.
---
Feelings Wheel
I also want to mention the Silk and Sonder Feelings Wheel. It's a card that comes with your first journal. The Feelings Wheel is based on an Emotions Wheel which was originally created by the late psychologist Robert Plutchik in 1980.
Since then, it has been revised by many people to reflect something similar to what Silk and Sonder currently uses. Gloria Willcox' Feelings Wheel is probably the most imitated emotions tool today.
It is a graphic image of a wheel that has close to 100 different terms that describe your emotions. It is a tool used for expanding awareness of your emotions and helping you put words to each emotions. (see below)
Did you know there are more than 34,000 different human emotions?!
Experts agree it is beneficial to identify your feelings and where a particular feeling is coming from. Then identify what just happened to cause this feeling and your subsequent reaction. It's a powerful mental health tool.
You can download an uncolored .pdf copy of Dr Gloria Willcox' Feelings Wheel and learn more about it at How To Use The Emotion Wheel To Better Understand Your Feelings. The Silk and Sonder Feelings Wheel is too small to copy and present clearly in this format, but it's very similar to the original by Dr Willcox as seen below.
(If you use the Calm App, you will likely be familiar with Dr Willcox' version of the Feelings Wheel as seen below.)
---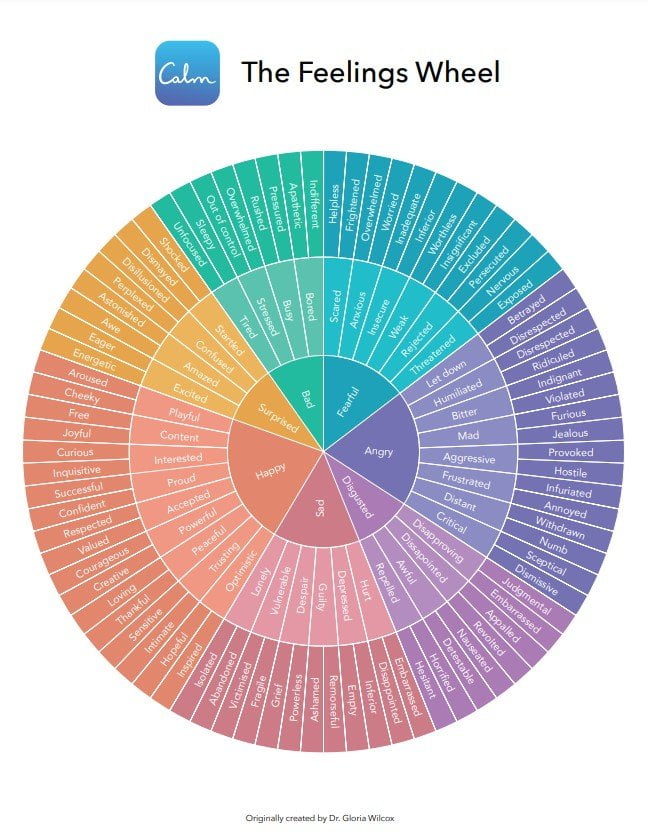 ---
Subscription Information
If you would like to subscribe to Silk and Sonder, you can use this link to reach their website. While I was NOT affiliated with this company in any way except as a customer when I wrote this article, I have recently become an affiliate because I am such a fan of the company. So please see the disclaimer below. A Silk and Sonder discount code is sometimes available directly on the website but they do not endorse outside discount codes.
As I've shared previously, I don't use all of the Silk and Sonder components and I modify some of them. But overall, I honestly believe it is well-worth the monthly or annual subscription costs. It helps me stay accountable and focused on my self-care and wellness goals.
Specifically, it is helping me stay focused on my mental health, self-care, and daily intentions right now. I have a long way to go, but it is a great start! You may want to check out the website.
---
If you are working on personal growth and development, in addition to the articles I've linked above, you may want to read these Sassy Sister Stuff posts. They contain lots of valuable information about self-improvement, self-growth, and self-care.
55 Awesome Self Growth Quotes to Inspire Your Personal Development
Best Websites for Self Improvement & Personal Growth (2021)
Why Is Personal Development Important?
Love to All! ~ Susan
Affiliate Disclaimer: Sassy Sister Stuff may occasionally share an affiliate link to products or services that we genuinely use and like. We may receive a small commission for purchases made through these links but it will have no impact on your cost.
Silk and Sonder Review: How Do You Take an Proactive Role in Your Self-Care and Emotional Wellness?