19 Awesome Adventurous Bucket List Ideas to do in America
Everyone should have an ongoing and thorough Bucket List because it enhances your life and gives you motivation to look forward into the future! But did you know it's even better to include adventurous bucket list items? Adventurous activities give you a zest for life and improve your overall wellbeing.
Just in case you need some adventurous bucket list ideas, I am going to share 19 awesome adventurous bucket list activities in the United States for your consideration! I'm not so sure I'll add ALL of these to my Bucket List, but obviously lots of people do!
For additional reading and inspiration, check out Off On Our Next Adventure: Travel in America to learn all the reasons why adventurous activities enhance your life and wellness — plus learn about many exciting places to visit in the United States!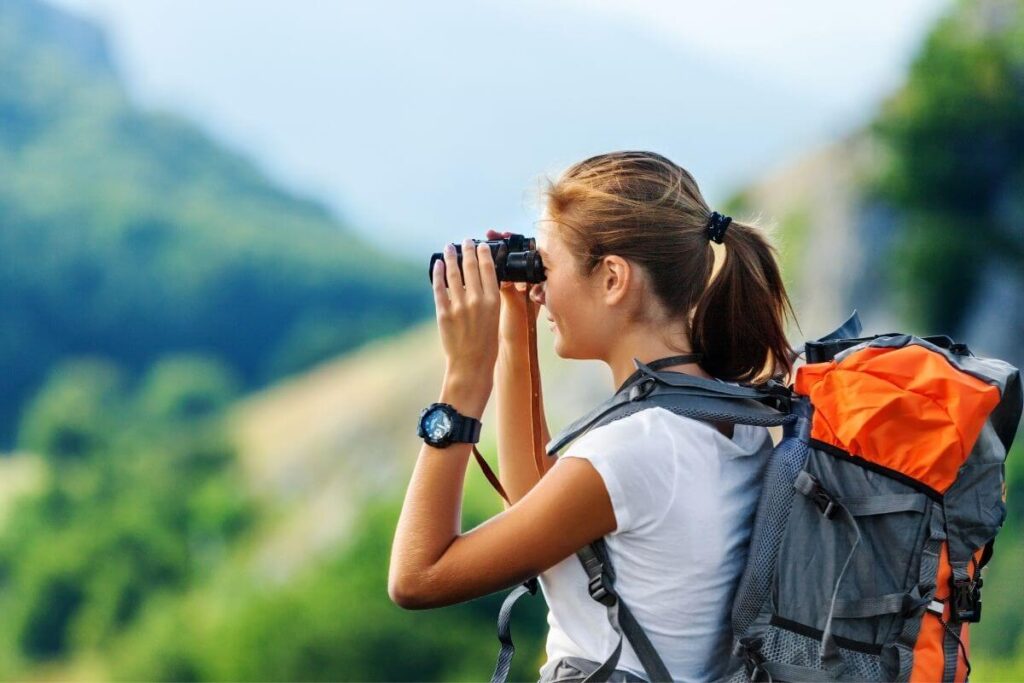 So read on! And visualize yourself doing these awesome activities! Then add them to your adventurous Bucket List (if you dare!)
---
19 Adventurous Bucket List Items in America
Adventure is defined as an unusual, exciting, or dangerous activity or experience, especially the exploration of unknown territory ts such as traveling, exploring, skydiving, mountain climbing, scuba diving, river rafting or participating in extreme sports. All of these activities fall into this category in some way.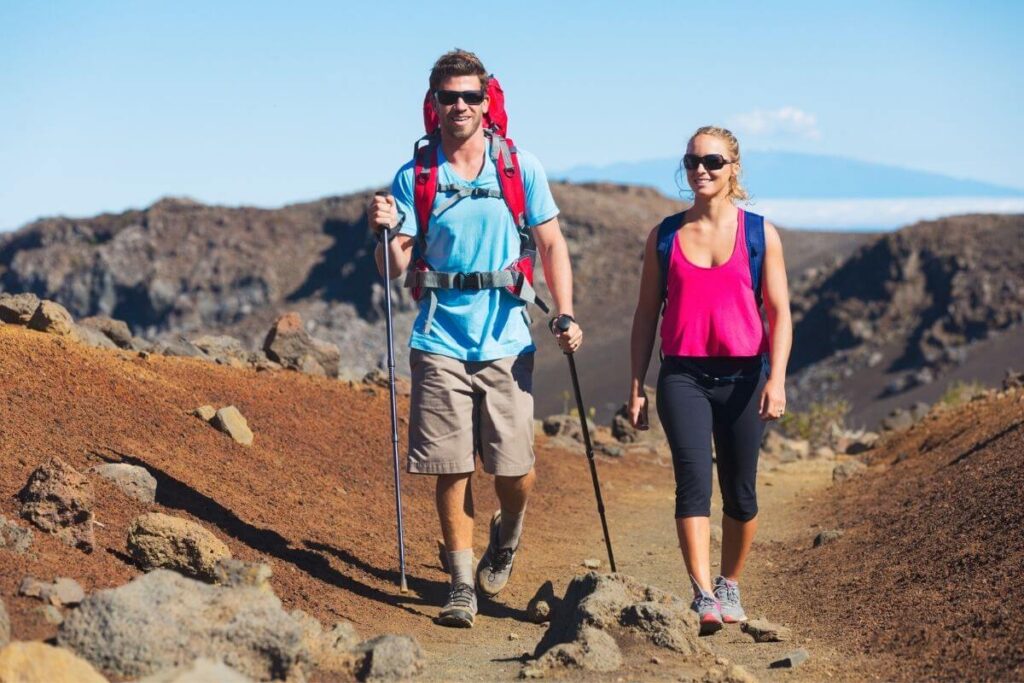 1. Hike Through the Mountains of a National Park
The United States is filled with mountainous regions where you can hike. There are many different kinds of hikes you can take through these regions.
Some people get a thrill from the most dangerous and adrenaline-pumping hikes where you climb straight up rock cliffs to reach a summit. Other people enjoy hiking along rocky, rustic paths with straight-down drop-offs. Still others prefer to drive to a summit, such as Pike's Peak in Colorado, where they drive gravel roads with scary drop-offs through the clouds to reach the summit and then hike. While others enjoy the changing colors of the Shenandoah National Park in the Virginia where they can hike miles of beautiful trails in the Fall.
All of the best hikes in America have their own unique and challenging characteristics. You can hike mountains from Maine to California, Florida to Alaska and experience something very different every time!
Whatever your preference, a good hike in the mountains of our national parks is an adventurous Bucket List activity that many families, friends, and individuals enjoy!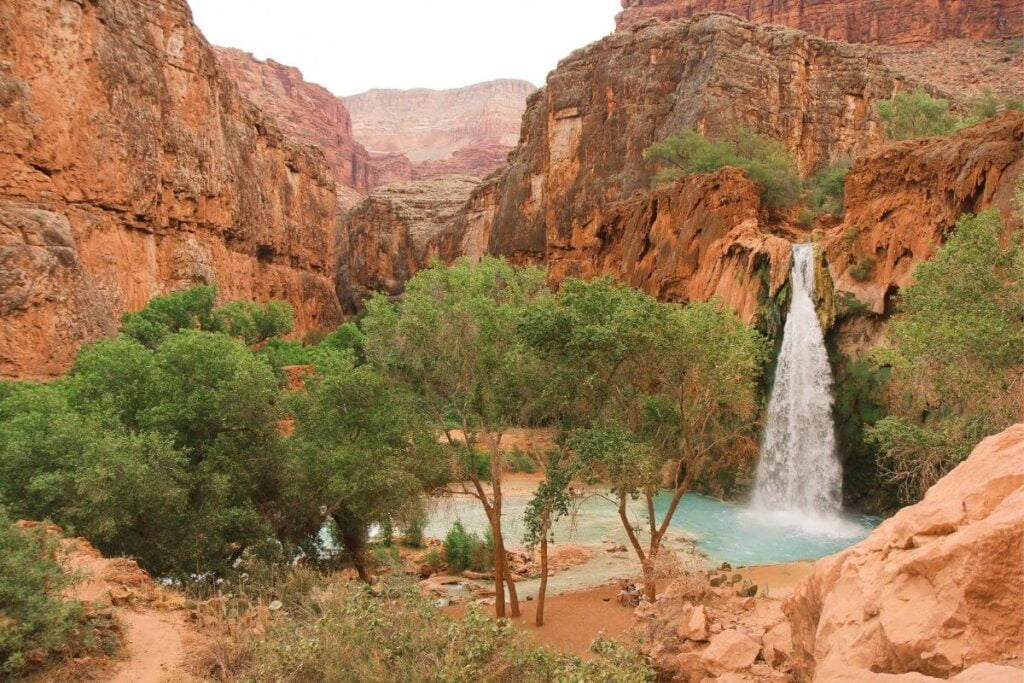 2. Swim Under Havasu Falls in Arizona
Havasu Falls is in the northern part of Arizona near the Grand Canyon. It is managed by the Havasupai Nature American Tribe.
You've most likely seen photos of Havasu Falls but don't realize it's right here in America! And you may not know many people who have visited the falls because it's not exactly easy to do!
Permits to visit the area go on sale on February 1 each year and sell out almost immediately. Many believe this area has the most spectacular waterfalls in the United States.
To get there, you will need to hike through 10 miles of dusty canyons carrying your food, gear, and supplies for a camping adventure in the wilderness. But once you're there, you'll be able to swim under the Havasu Falls, lounge in the tide pools, and hike in the many paths to other falls. It's certainly a gorgeous and adventurous Bucket List trip!
---
3. Road Trip Across America
I've done a fly/drive trip across part of America with my children and it was absolutely one of the BEST experiences of my life! This is a comparatively easy adventurous Bucket List activity that will allow you to see multiple destinations in one epic road trip!
Just imagine spending a few weeks traveling across the country creating memories at:
the Atlantic Ocean coastline and lighthouses of Maine;
the Statue of Liberty and Niagara Falls, New York;
the Badlands and Mount Rushmore, South Dakota;
Yellowstone and Grand Teton, Wyoming;
Moab and Bryce Canyon, Utah;
the Grand Canyon, Arizona;
and the Pacific Ocean coastline in California.
You have unlimited options when you plan a cross-county road trip across the United States! Is it time for you to add this adventurous Bucket List vacation to your list??
---
If you are interested in doing a shorter road trip, here are 23 scenic road trips that you can do in hours, days, or weeks. They range in length from a few minutes to a few hundred miles and there are wonderful stops along the way where you can make more memories and see the country!
---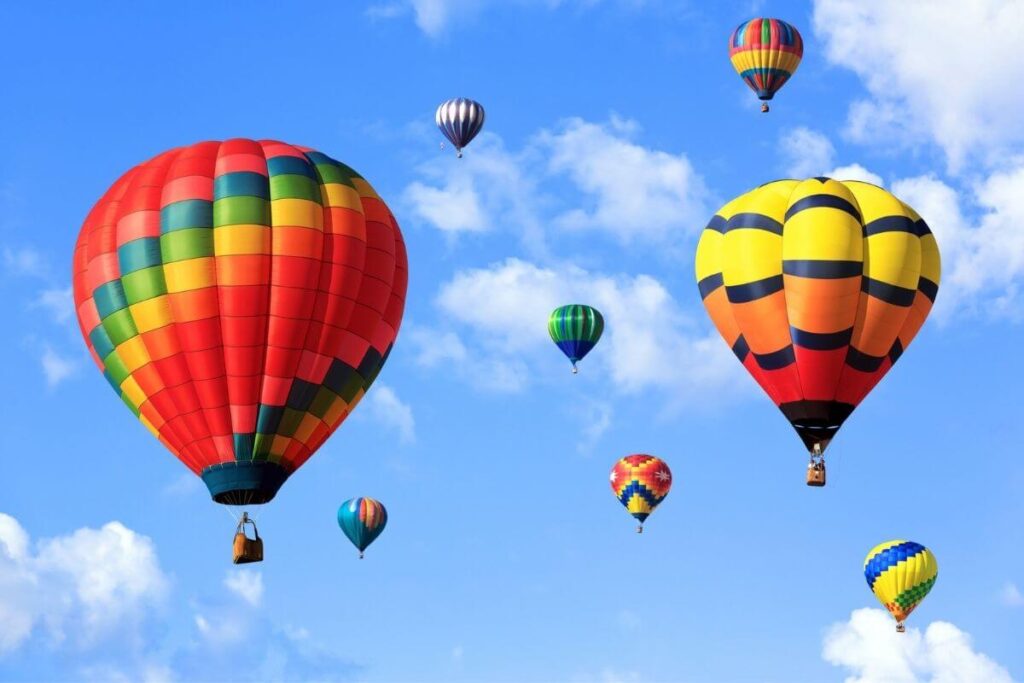 4. Take a Hot Air Balloon Ride
A few years back, we had a Hot Air Balloon Ride event near our home. It was one of the biggest events that has ever come to our little ole county in Southern Maryland. Everyone who could get tickets attended it, but even more people couldn't' get tickets! Obviously, a Hot Air Balloon Ride is a major adventurous Bucket List item!
These are considered some of the best locations in America to take a Hot Air Balloon Ride:
Napa Valley, California
Grand Canyon, Arizona
Albuquerque, New Mexico (Home of the International Balloon Festival & Ballooning Capital of the World)
Rocky Mountains, Colorado
Ashville, North Carolina
Monument Valley or Park City, Utah
Red Rocks, Sedona, Arizona
Letchworth State Park, New York
Almost every state has hot air balloon companies that will give you a tour of their state, so while you're planning your adventurous Bucket List vacations, why not consider a Hot Air Balloon ride?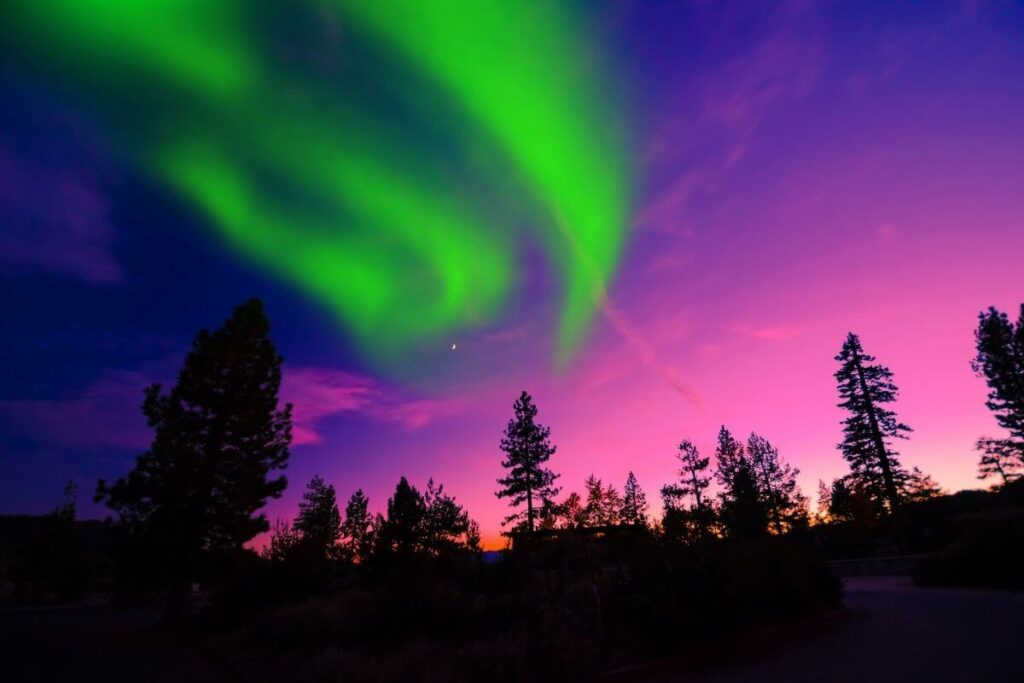 5. See the Northern Lights (Aurora Borealis)
You have the best chance of seeing the Northern Lights in Alaska, USA during the months of August through April when the night skies are the darkest. The best location is Fairbanks in northern Alaska, but you can sometimes see the lights from as far south as Talkeetna and Anchorage.
Fairbanks is home to the Geophysical Institute at the University of Alaska, Fairbanks, which issues forecasts on Aurora Borealis viewing conditions. Since August through April are the coldest months of the year, it can be brutal to wait for the lights to appear. Some people recommend waiting and watching from hot springs in Alaska!
These beautiful nights are stellar natural events that only occur during specific conditions, so who wouldn't want to see this beautiful act of nature? Hurry and start making plans for this adventurous Bucket List vacation right now!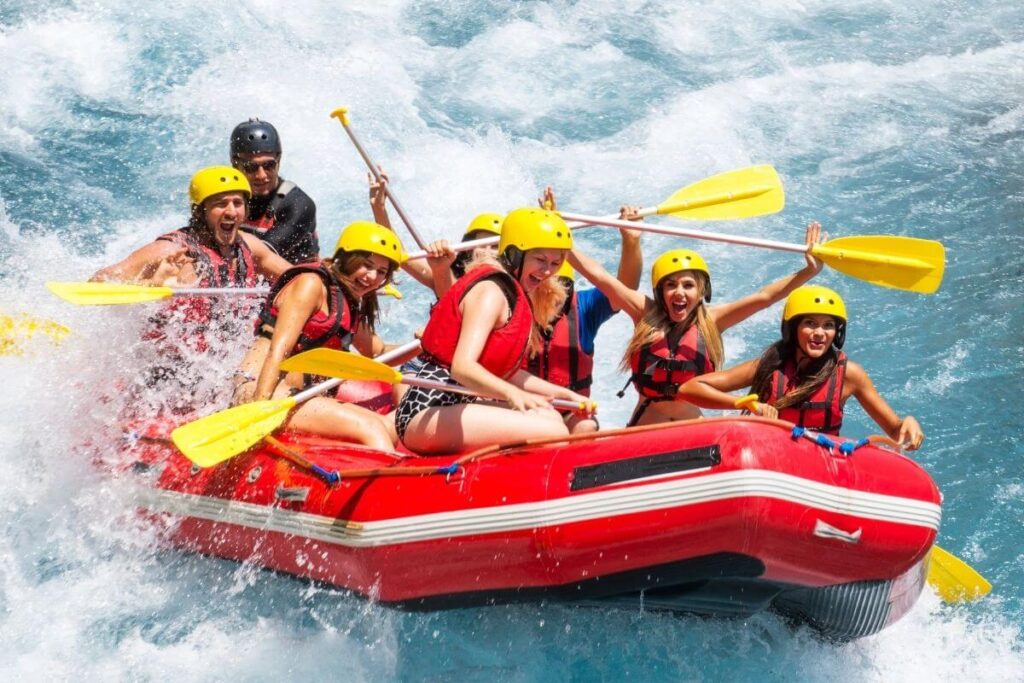 6. Go White River Rafting
Have you ever been white water rafting? It's an amazing adventure!
I've been several times, but I must say that white water rafting on the East Coast doesn't compare to the Class V Rapids in the Arkansas or Colorado River out west! Or some of the other raging rivers out west that wind through slender gorges between mountain peaks that stand thousands of feet above your head!
And I'm embarrassed to admit that I knew nothing about rapids classifications when I climbed into my first raft to spend the day on the Arkansas River! To be honest, if I had known what I was getting into, I might not have done it! Nor would I do it today — almost 30 years after my first experience!
So just in case you have a desire to add White Water River Rafting to your adventurous Bucket List plans, get to know and understand these classifications! These are borrowed directly from the Western River Expedition company in the Grand Canyon area:
Class I Rapids – Understand What Makes a Rapid
Class II Rapids – Fun and Splashy All Day Long
Class III Rapids – Maybe the Most Fun Classification?
Class IV Rapids – Thrills at the Price of Skills
Class V Rapids – No Guts No Glory, and Oh it's Glorious!
Class VI Rapids – Just Don't
There is truly nothing that compares to an authentic experience of white water rafting on a hot summer day! So go ahead and add it to your adventurous Bucket List — just know what kind of rapids you're getting into!
---
Pin to Pinterest for Later
---
7. Go to the Super Bowl
This one is a little different — not so much outside adventure, but certainly adventurous! How often do you get to navigate your way through 100,000 people (and their vehicles) to see grown men tackling and chasing each other up and down a field? Plus, you get to pay a small fortune to experience this adventure!
But more importantly, you get your adrenaline going and you have a great time with friends and/or family! You get to socialize and enjoy time away from your regular life. It's an awesome adventure for sports enthusiasts — especially if your favorite team is playing.
Is this an adventurous Bucket List item for you?
---
8. Swim with Dolphins
This is another adventurous Bucket List activity I've done several times. In fact, I believe it's something everyone should experience at least once in their lifetime! It's an unbelievable experience! These animals are strong and mighty, yet smart and tender.
There are many places in the United States where you can swim with dolphins, but Hawaii and Florida offer the most options. Some zoos and aquatic parks offer interactions with dolphins, as well.
Some places offer open-water swims and others offer swims with trained dolphins who live at the facility in a large body of water. Both experiences are phenomenal. These experiences require you to wear a life vest and be comfortable in deep water near wild animals.
Some places offer only short encounters where you get in the water with the dolphins and have your photo take together after learning about them. You usually get a kiss and the animals do some tricks for you.
Other places have trained dolphins that actually take you out into the water and swim with you. For example, two dolphins coming up under your feet and pushing you through the water with their noses, and they pull you through the water by their dorsal fins. I highly recommend this adventurous Bucket List activity!
Please Note: Always make sure you are using an ethical facility that provides appropriate treatment and care for their animals.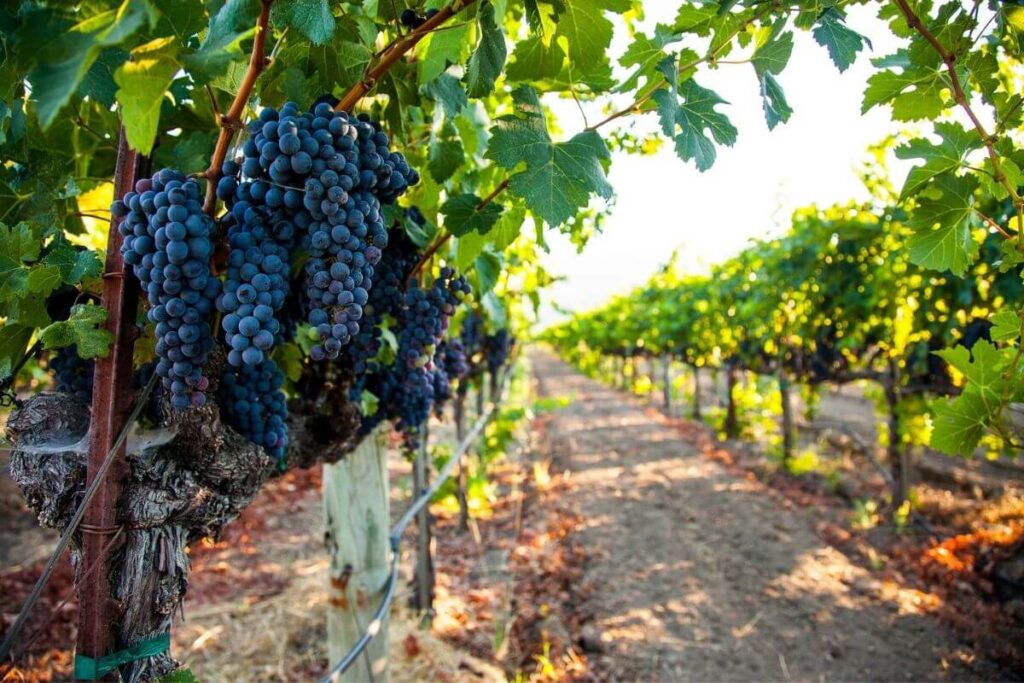 9. Tour Napa Valley
Napa Valley consists of 5 towns and 4 regions in Northern California. It is one of the world's premier wine regions with more than 400 wineries. Located approximately 50 miles from the Pacific Ocean and near San Francisco, Napa Valley is famous for its prized Cabernet Sauvignon.
Napa Valley is also known for it's own unique cultural experiences that include art experiences, food and wine experiences, lavish resorts and spas, golf, hot air ballooning, wine and brewery tours, sightseeing, shopping, and top-of-the-line everything. You can bicycle, cruise, hike, or take a limousine from place to place during your stay. It's recommended that you spend four days there while on your Napa Valley vacation.
Napa Valley has become a location for many weddings and honeymoons because of the romance and beauty of the area. Is Napa Valley on your adventurous Bucket List?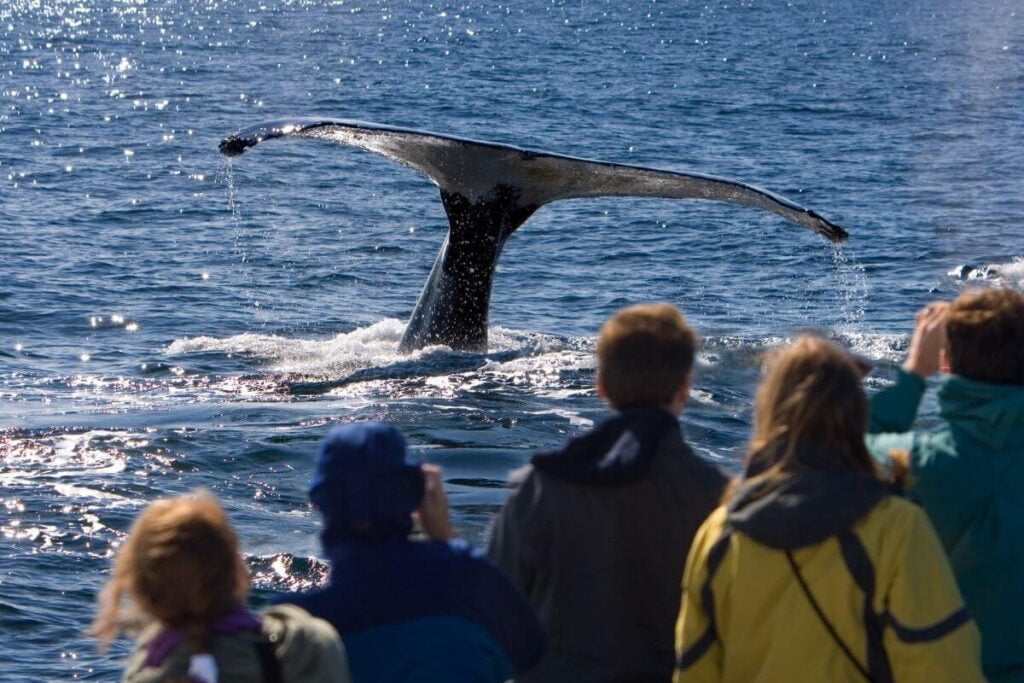 10. Go Whale Watching
Whale watching is a spectacular activity that can be full of many surprises! You never know what you are going to see out there! The anticipation is part of the thrill! And you don't realize how huge these creatures are until you encounter one, or two, or more!
It's also an educational activity that allows people to get up close and personal with these gentle giants of the sea. By going whale watching, you can learn about the behavior and ecology of whales and help to support whale conservation. Often times, you are also supporting small businesses that take great care to make sure you have a memorable experience.
I've gone whale watching a few times but my favorite experiences have been with small outfits on smaller boats and fewer people! In Alaska, there were only six of us on a small boat with the owners and we found two pods of orcas, and a gray whale and her baby. We also saw several other whales blowing air in the distance. There is a limit on how close you can get to the whales, but we got as close as you can legally get!
Whale watching tours are available in many locations in the waters around the United States. I've gone in the Northeast and Pacific Northwest. But I've known people who have gone out of southern areas of the United States, too.
I strongly suggest that you add whale watching to your adventurous Bucket list and start doing your research to do it! You won't be disappointed!
---
11. Go to Disney World Theme Parks in Orlando
There's probably not much to say about Disney World being on an adventurous Bucket list because WHO doesn't have Disney World on their Bucket list, right?
I planned a 6-day Disney adventure for my family of ten in 2016 — four generations from ages 8-80 years of age. (I love planning the adventures as much as I love doing the adventures!)
The trip was outrageously expensive but there isn't much that compares if you're looking to do Disney. There are many ways to save money if you plan ahead, stay alert to special deals, make the right choices, and read Disney blogs. We all had a wonderful time and there are many stories to tell! But I won't tell them here because you need to finish reading so you can revise and update your adventurous Bucket List!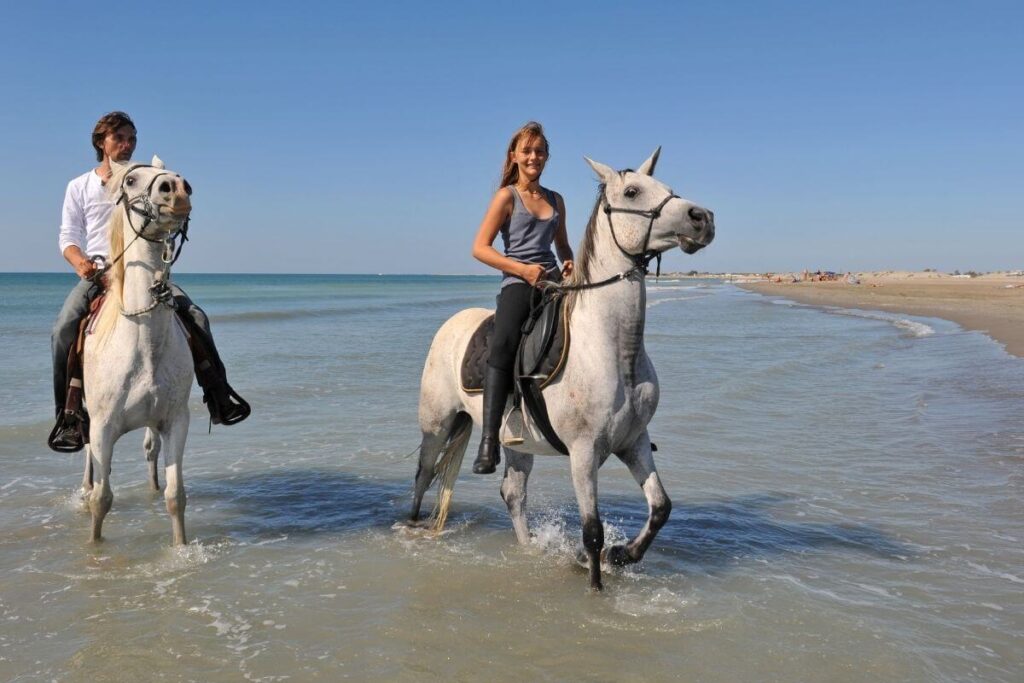 12. Ride Horses on a Beach
Riding a horse on the beach is a wonderful experience that can be enjoyed by people of all ages. It is truly magical and there are beaches all over the United States where you can ride horses.
The sand provides a soft cushion for your horse's hooves, and the waves provide a refreshing breeze. The horse's movement through the sand creates a unique and memorable experience unlike any other. You can also ride your horse into the water, which can be a lot of fun!
Is riding horses on the beach on your adventurous Bucket List?
Please Note: Remember to do your research to make sure you choose a reputable outfit that cares for their animals appropriately.
---
13. Jump Out of a Plane, You Know — Skydiving?!
Again, this one will never be on my Bucket List either! (The heights, you know:) But the same people who crave the adrenaline rush of bungee jumping will most likely have this activity on their adventurous Bucket list, also.
This activity is available at many places throughout the country, as well. But again, be sure to use a reputable business with a clear safety record. Please do your research on this one, too.
---
14. Go Bungee Jumping — Yikes!
This is another adventurous Bucket List activity that will never be on my Bucket List! (I have a serious problem with heights!) But for some daredevil folks who crave the adrenaline rush of this kind of activity, it is high on their Bucket List!
There are lots of places around the country that provide this activity. But please be sure to use a reputable facility with a clear safety record. Do your research.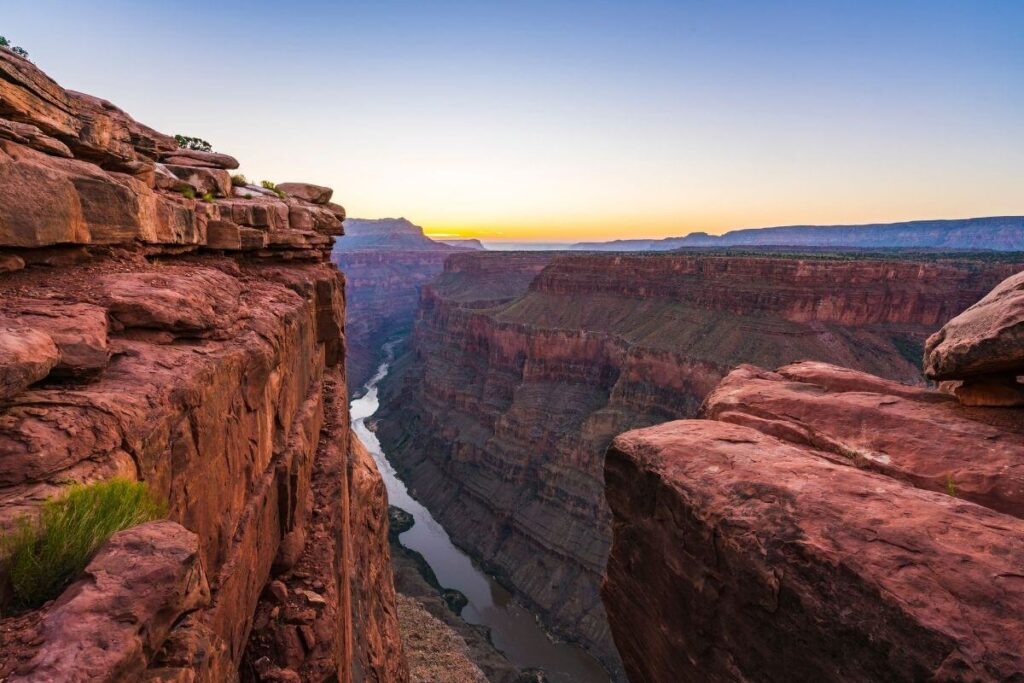 15. Visit the Grand Canyon
The Grand Canyon is one of the most popular tourist destinations in the United States. And I can personally assure you that it is as spectacular in person as it seems in photos!
If you love spending time outdoors and want to see one of the most awe-inspiring natural wonders on Earth, then a trip to the Grand Canyon is essential. You would be missing an opportunity of a lifetime to pass on this adventure.
This massive gorge, located in Arizona, is over 277 miles long, up to 18 miles wide, and over a mile deep. It was formed by the Colorado River cutting through the rock over millions of years. Visitors can explore the canyon by hiking, biking, or driving along its rim.
Visitors can also hike deep into the canyon, or take a mule ride. Some visitors plan camping trips at the bottom of the canyon and spend days exploring.
There is a massive amount of history and culture to learn about Grand Canyon. It should be on everyone's adventure Bucket List!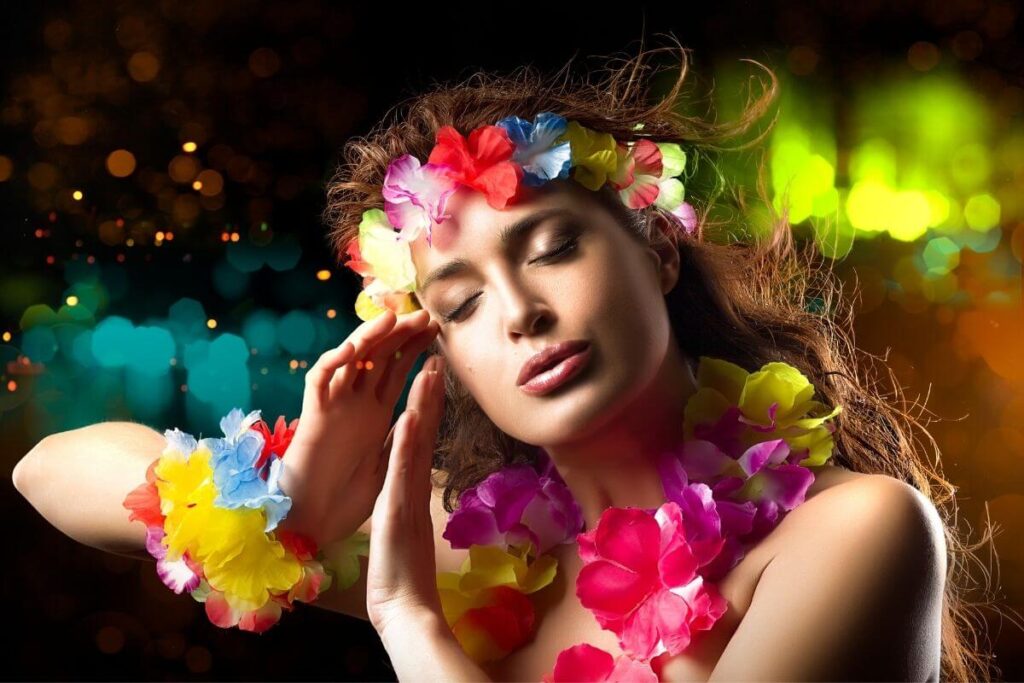 16. Visit Hawaii
Hawaii is one of the most spectacular states in America. With it's beauty and unique culture and history, most everyone wants to visit someday!
Once in Hawaii, there are unlimited things to do for fun and adventure. You can find almost any water activity you'd imagine in Hawaii — including snorkeling, scuba diving, surfing, mountain tubing, parasailing, deep sea fishing, swimming, and whale watching.
There are cultural and historical experiences on each of the 7 inhabited islands. You can attend a luau, learn to spiritual hula dance, visit Pearl Harbor, enjoy the unique cuisine of the islands, learn a friendly chant, learn about the arts and music of the islands, hike the volcanos, visit plantations, and learn about the people who originally inhabited the islands.
Hawaii is home to the world's most active volcanoes. You can take helicopter rides over the volcanoes and bike ride around the volcanoes. You will discover the glimmering ocean, emerald valleys, and golden sands of the islands. But the people of this great state are most proud of their welcoming aloha spirt and the warmth of their people. d
These are just some of the many activities you can do while visiting Hawaii. Is it any wonder so many people include a visit to this state on their adventurous Bucket List?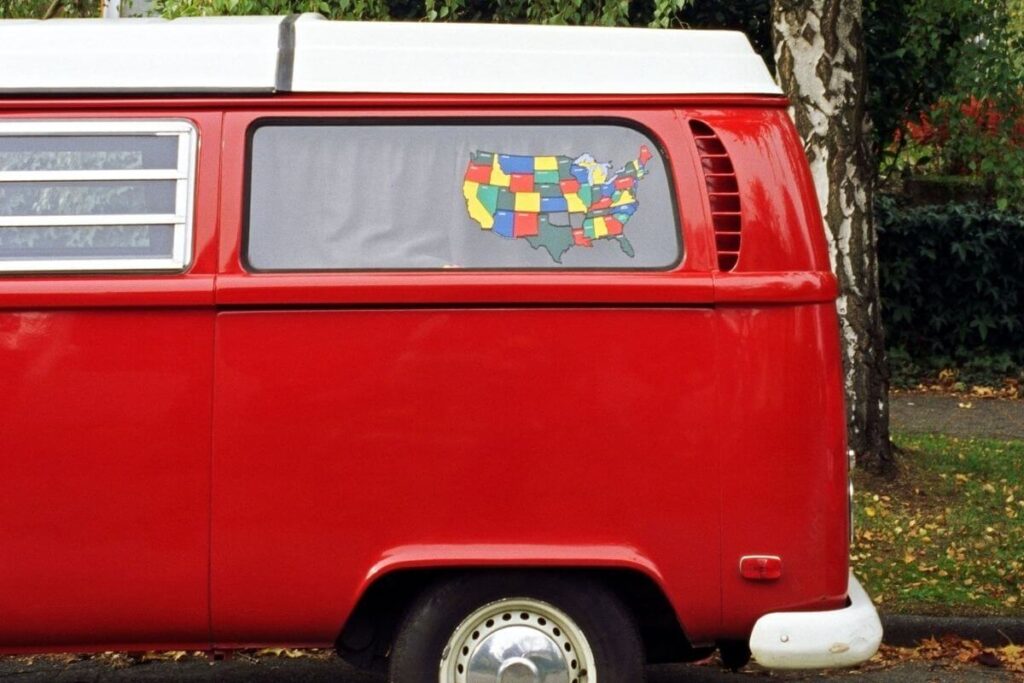 17. Visit All 50 States
This has been on my Bucket List for years! So far, I have been to 33 states and we have an adventure vacation planned for 2022 that will cover 4 more mid-west states. I am already making lists of states I still need to see so I can plan our future adventures!
Each state is unique in so many ways — culture, climate, geography, laws, infrastructure, architecture, size, diversity, population, wild animals, topography, even speed limits. As you visit each state, you come to realize how they are vastly different.
Visiting all 50 states means different things to different people. Don't be surprised to hear arguments like, "it doesn't count if you don't spend the night there" or "stopping for a layover doesn't count." Googling the topic will lead you down a rabbit hole! So decide exactly what it means to you and stick with it.
There is even an All 50 States Club that helps people figure out ways to visit each state and celebrates the accomplishment. The club even has it's own definition of what it means to visit all 50 states, "We ask that your visits entail 'touching the ground and breathing the air' of that state."
People travel for a variety of purposes and in a variety of ways on their adventures to visit all 50 states. Some are campers and others prefer 5-star hotels; some travel for pleasure and others are business travelers; some people are history buffs and others are marathon runners who want to run in each state. Some people complete all 50 states in 7 days while most people spend a lifetime traveling to each state. There are an infinite number of ways to accomplish this adventurous Bucket List goal. Good luck if you have this goal on your list!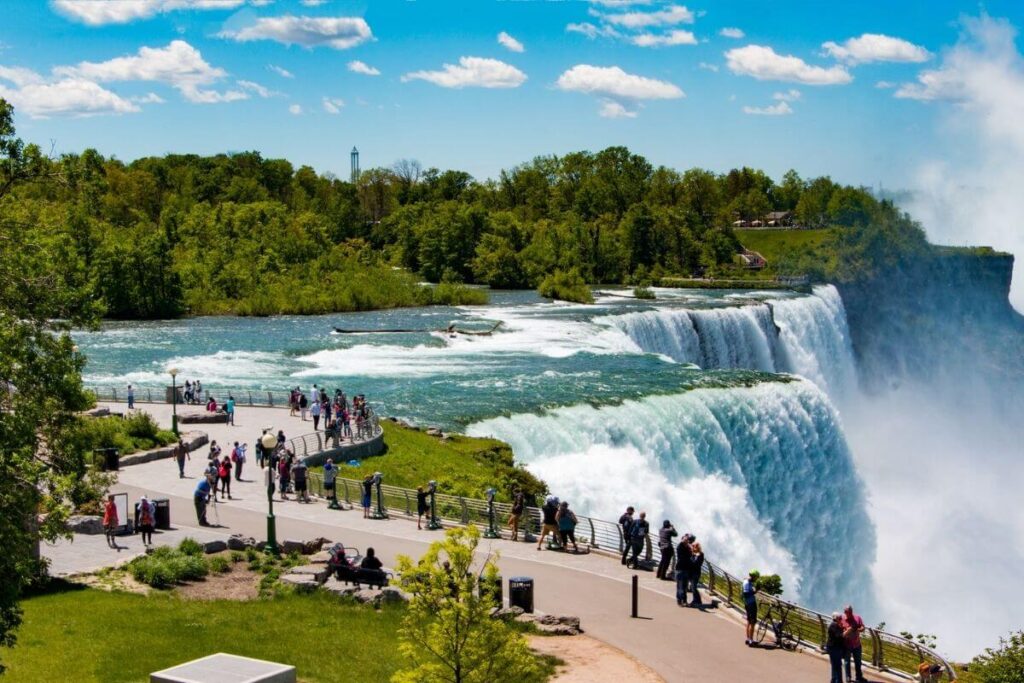 18. Walk Under Niagara Falls
Seeing Niagara Falls should be on everyone's bucket list. It's always free to walk into Niagara Falls State Park to see the Falls, and it's open 365 days a year! There are numerous activities to do in the state park, as well. You can bird watch from the Observation Tower; you can hike the many nature trails of the park; you can take a Maid of the Mist boat tour of the Falls. There is in-park dining and an aquarium, as well as the Adventure Theatre. You can even ride the Niagara Scenic Trolley and learn about the history of the park.
But one of the unique ways to see the falls is to walk under them! The Cave of the Winds Tour from the American side of the Falls, lets you walk under the falls. You'll definitely get wet despite the ponchos they provide but it's definitely worth it.
Is Niagara Falls one of your adventurous Bucket List items?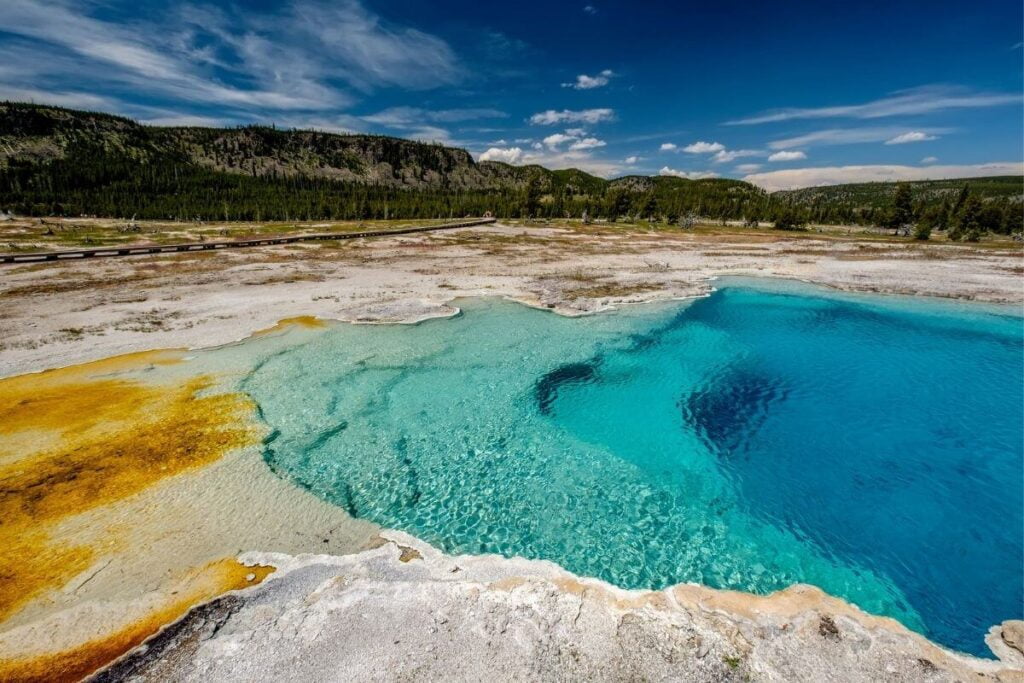 19. Go to Yellowstone National Park
This is an adventurous Bucket List item that has been on my mind since I was about 10 years old and we learned about it in fourth grade. And I'm finally going in 2022! I can hardly wait!
Yellowstone is celebrating it's 150 anniversary this year. It became the first national park for all to enjoy the unique hydrothermal and geologic features on March 1, 1872.
Yellowstone National Park is nearly a 3,500 square mile wilderness recreation area atop a volcanic hot spot. Mostly in Wyoming, the park spreads into parts of Montana and Idaho too. The park features dramatic canyons, alpine rivers, lush forests, hot springs and gushing geysers, including its most famous, Old Faithful.
Yellowstone is also home to hundreds of animal species, including grizzly bears, black bears, wolves, coyotes, badgers, red fox, bison, elk, moose, pronghorn, big horn sheep, bald eagle, cougar, pika, weasel, trumpeter swan, antelope, and many, many more. In fact, the abundant and diverse wildlife in Yellowstone are as famous as its geysers.
My husband and I will be spending 9 days in the Greater Yellowstone Ecosystem. We'll be using guided tours and self-guided tours to view animals and the many geological formations in the park. This is one of our most exciting adventurous Bucket List vacations ever!
---
8 Reasons Why Adventure is Good For You
Just in case you have any doubts about why you should add some exciting adventures to your Bucket List, these are just a few of the reasons!
Spreading time outside doing fun, adventurous activities reduces stress on the mind and body.
Adventurous activities create a sense of accomplishment and increase self-confidence.
High energy adventurous activities help improve your sleep habits.
Regular adventurous, outside activity may actually extend your life.
An adventurous and fun lifestyle reduces the risk of heart disease.
You develop new skills and knowledge by participating in adventurous activities.
Adventurous activities help increase brain power and reduce that risk of memory loss and dementia.
Adventurous activities help increase your happiness in life.
Related Article: 30 Reasons Why Traveling is Important to your Overall Wellness
Some experts even recommend that you plan a big adventurous vacation at least once in your lifetime. Alaska is an amazingly adventurous experience! Visits to national parks around the country are also great adventurous vacations!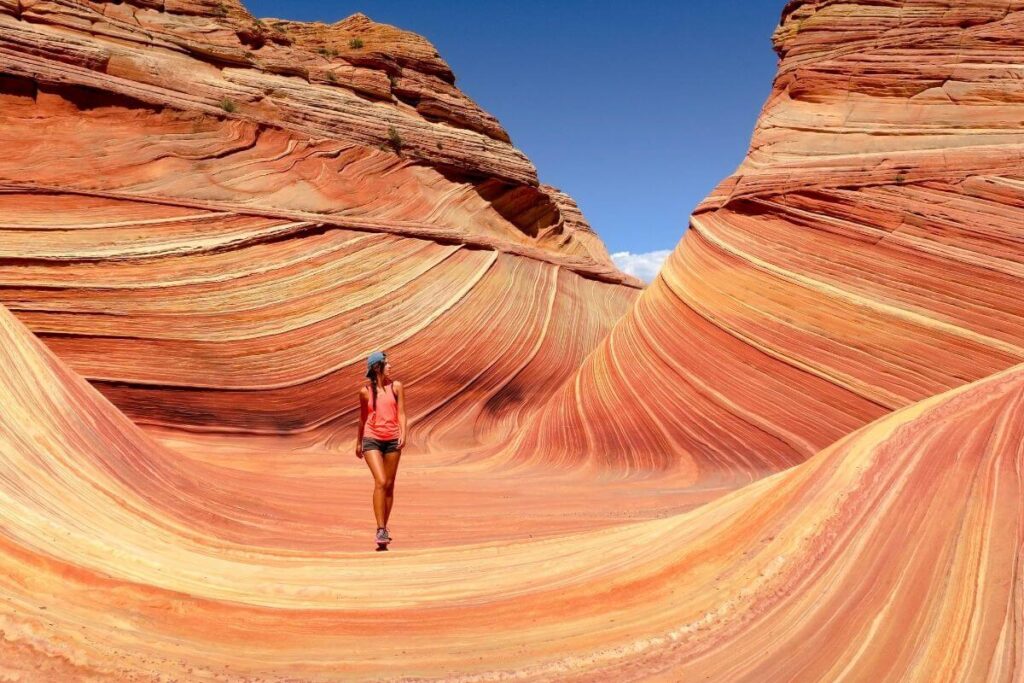 Final Thoughts about Adventurous Bucket List Items
It's really rather simple — you need to have a Bucket List and you need to include some adventurous activities, right? This list of adventurous bucket list items should help you add at least a few ideas to your list.
You can use these adventure quotes to inspire your youthful spirit if you need additional inspiration for your bucket list!
Some of your adventurous bucket list activities may be close to home, but some may require travel. Be sure to save time and money for these activities so you don't have any excuses.
These experiences will help you get in touch with your authentic self and improve your life in many ways. Experts even report that adventurous activities help improve your immune system and mindset for happiness!
And I want to share one final thought! I live with chronic pain and have had to make some adjustments in our traveling and adventurous activities. If you have a condition that requires modifications when you do these type of activities, you might want to read my 31 best tips for traveling with chronic pain. These tips also apply to many of the adventurous Bucket List activities we've addressed here!
I hope you've found value in this article. I am an enthusiastic advocate for Bucket Lists, as you might have figured out. I'd love to know about your adventurous Bucket List!
Love to All! ~ Susan
Adventurous Bucket List Ideas : What Kind of Adventures Do You Have on Your Bucket List?