WordPress Design Services to Rock Your Business
Are you looking for WordPress Design Services to rock your business? WordPress website development and management can be a nightmare for non-tech people. Believe me, I know.
I'm someone who had very little experience with website development when I decided to start a blog fifteen months ago.
I started with an all-in-one web design company because I thought it would be easier than creating a custom WordPress site. In some ways, it was easier but then the tech support and customer service support declined dramatically. So I needed to go in another direction.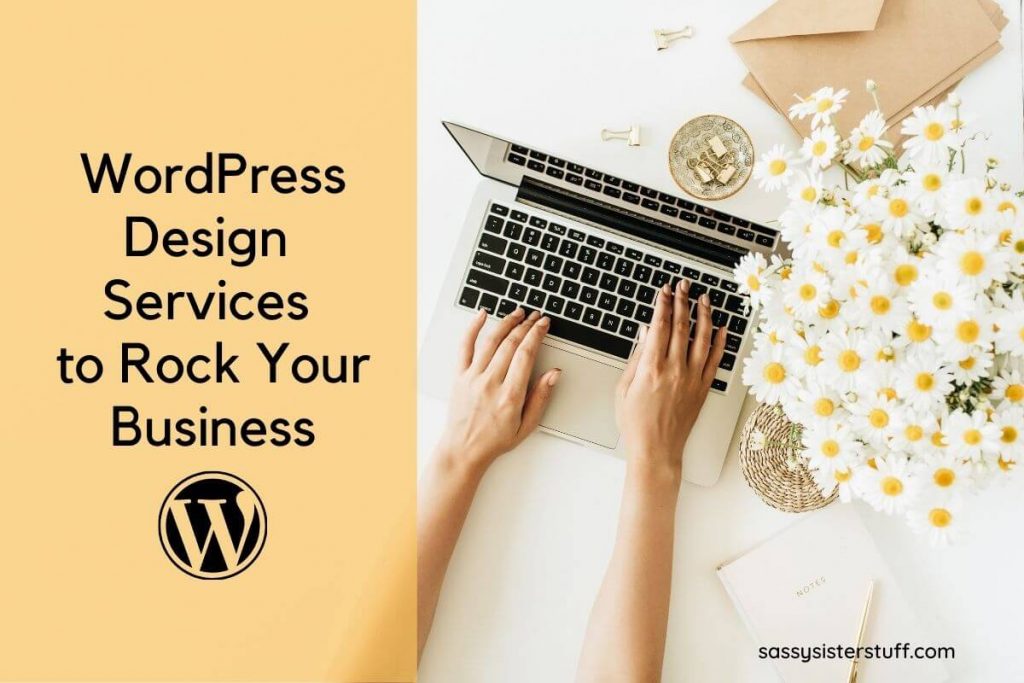 Eight months into my blogging journey, I paid someone to transfer my site to WordPress and Siteground. She also installed her favorite plugins. It took me two months to learn how to use WordPress but I learned to love it!
I almost began to feel like a real digital, techy-person!
I was getting comfortable with content creation, email marketing, social media, web development, and more.
Four months later, my page speed scores dropped from the 90's to the 40's. After a month of troubleshooting and significant backend changes to my website, I learned the problem was most likely due to a problem with my theme.
So I needed to get rid of my theme and recreate my website.
I began to do more research! It was time to make yet another change.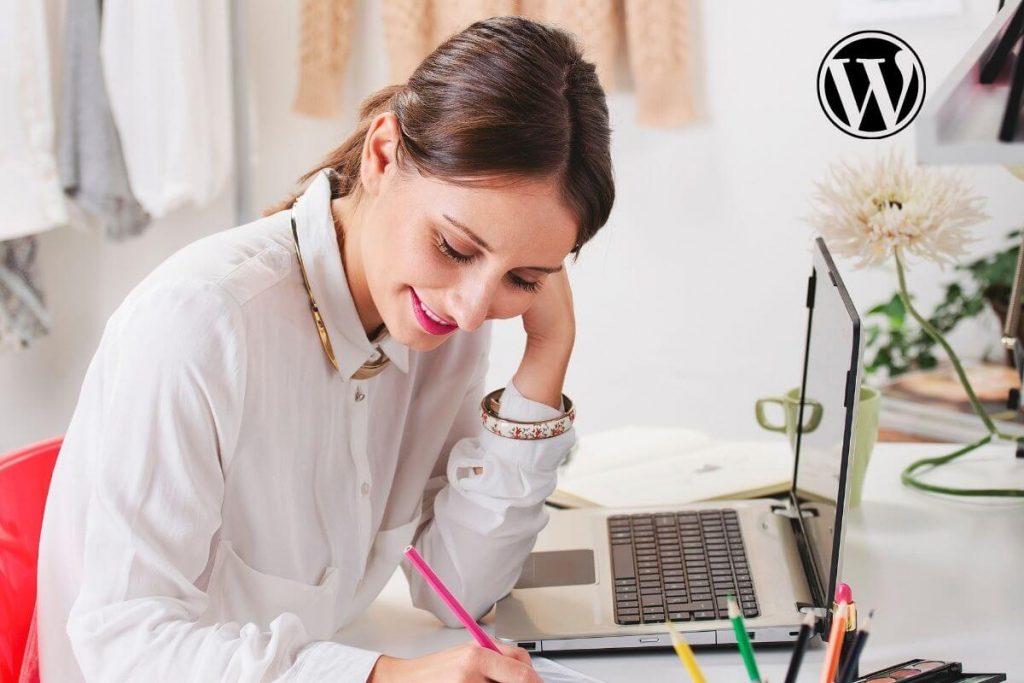 Learning More About WordPress
Important Components for Website Design and Development
My research began in oodles of Facebook groups where you can find experts as well as newbies who ask great questions.
I asked lots of questions myself.
It was important for me to understand the most critical components of WordPress website design because I wanted to get it RIGHT this time.
Related Article: Best Blogging Groups to Join On Facebook
These were some important components that needed to be addressed while re-developing my WordPress website:
responsive web design
best theme
reliable WordPress widgets
best WP plugins
WordPress optimization
creative web design
search engine optimization (SEO-friendly)
WordPress compatibility
mobile friendly
pagespeed
When I decided to get WordPress six months earlier, I knew it would be challenging because I had tried it a year or two before and gave up completely. But now I'd been working with it long enough to love it AND understand these terms. But…
I also realized I was going to need some help as I moved forward.
Related Article: BEST SEO Course for Bloggers
Pin to Pinterest for Later
Tools for Design and Development
I really like WordPress Gutenberg blocks for my posts but was not sure about a website builder yet. There were a lot of opinions on this subject in the Facebook blogging groups. There were arguments for and against all of these WordPress website builders:
Elementor Page Builder
Beaver Builder
The Divi Builder
GeneratePress
SeedProd
Furthermore, when I did research on the Internet, I found so many opinions that it was mind-blowing! Plus, there were even more website builders! I became even more overwhelmed.
Additionally, there were a lot of opinions on the best plugins for WordPress. It was all quite a learning curve.
I soon decided to take a completely different path!
Thus, I explored WordPress Design Services as an alternative to trying to make so many decisions myself and making website changes with free help. There was too much information and too many decisions to try to make this change on my own.
Related Article: Things I Wish I Knew Before Starting a Blog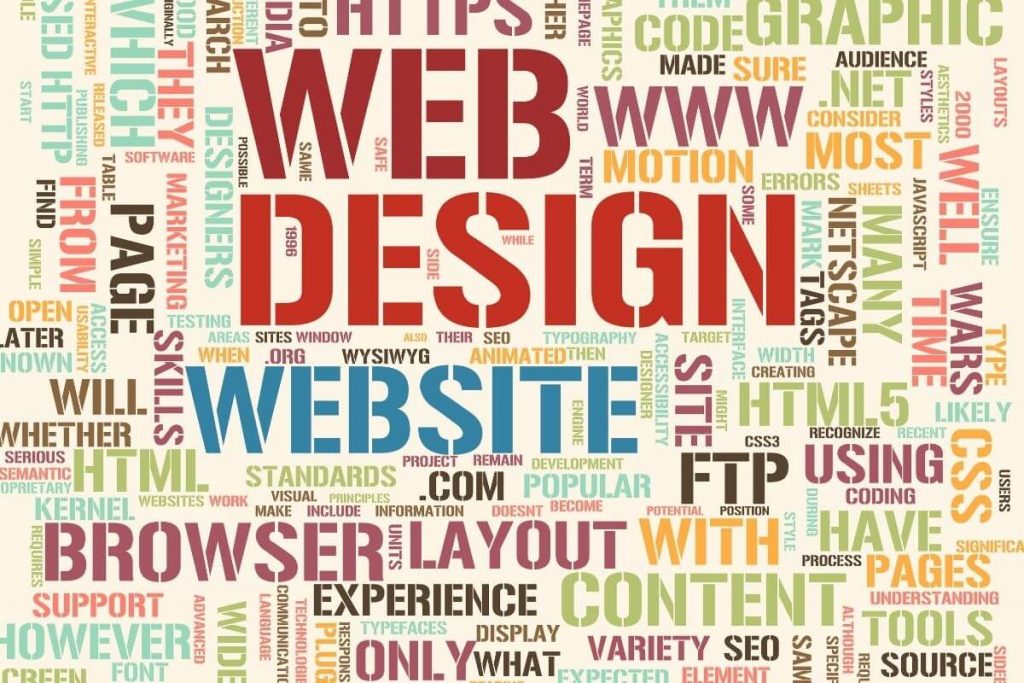 WordPress Design Services
Based on my research, and the problems I'd previously experienced, I knew there were priorities I needed to address while choosing a WordPress web design agency.
Core Web Vitals
With Google about to release their new Core Web Vitals (CWV) as criteria for sharing websites, this needed to be a priority. I needed someone who understood CWV and the importance of page speed and website functionality.
Google XML Sitemaps
XML Sitemaps, Google Analytics, and Google Search Console were components of this transfer that needed to be handled by the website design company.
I'd originally had help with these processes and was concerned that these were connected properly as soon as possible to avoid down time with my website.
Responsive Web Design
At this point, since my website was growing nicely, I wanted to make sure the theme, page builder, and plugins that were recommended by the WordPress web design service were responsive on both a desktop and mobile.
Page speed and responsiveness were priorities.
Custom WordPress Website Design
Next, if possible, I wanted my page to look similar to what it looked like now. Whatever page builder and theme was used by the web design agency, I hoped my current page could be visually recreated with the new theme and page builder.
It would need to be a custom build in order to replicate my current website.
Website Design Pricing
I am not yet making money from my website, so I needed to find someone who was affordable.
Prices on some Internet ads for web design companies were definitely out of my price range.
However, since this was the third time my website had been created/recreated in fifteen months, I wanted to make sure the web design service was experienced, easy to work with, and understood clearly what I needed.
I knew enough to know what specific areas of website development services were critical for me, and what I could handle myself. So I hoped to find a business that would work with me and collaborate to some degree, plus be affordable.
Related Article: Pros and Cons of Blogging (Let's Be Super Honest!)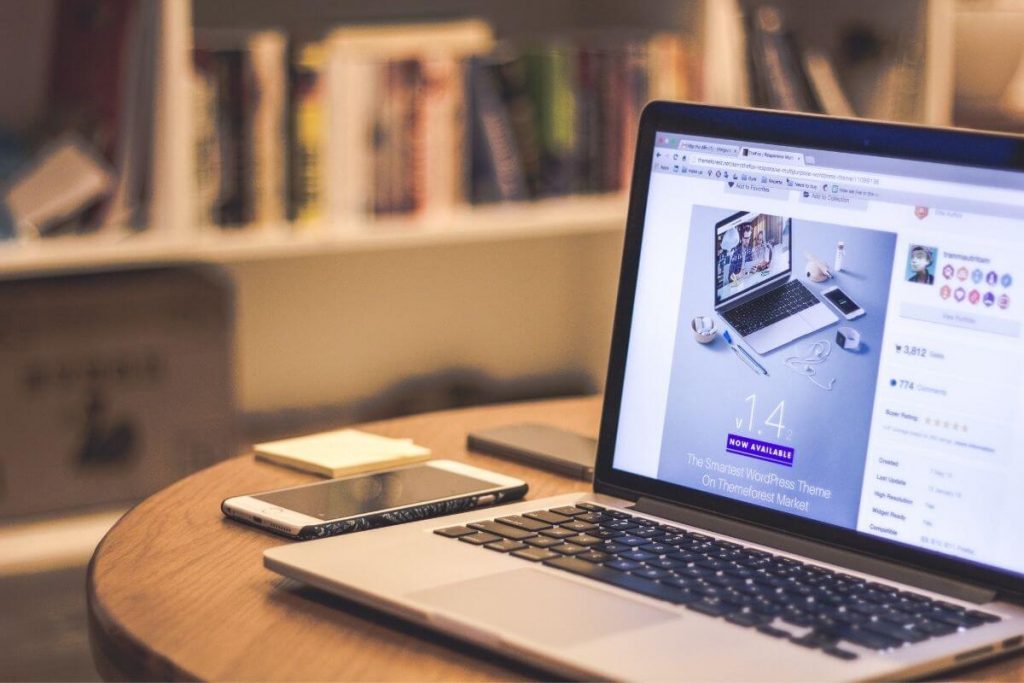 WordPress Design Services: Wandersoul Co
Before long, it became clear that one website design agency would be the best for my needs: Wandersoul Co with Christina Marie Anderson.
Christina is in a couple of blogging Facebook groups and I observed that she offers her assistance and support frequently in the groups. She is friendly and goes above-and-beyond to share her knowledge of WordPress design and development.
During the early stages of my website nearly falling apart from problems related to the theme, she even created a couple of videos to show me how to check on a few backend issues and possibly fix them.
I noticed that she offered this kind of support to all group members. It became clear that her WordPress services were reliable and accurate.
I'd taken a peek at her website and was impressed by her passion and wisdom about WordPress. I chatted with her in DMs a few times and learned that she recommends the WordPress theme Astra and the Elementor Page Builder.
Both of these resources came highly recommended in all Facebook groups.
I appreciated that Astra is also consistently among the most highly rated WordPress theme for page speed.
After reviewing several websites made with Astra, and some of Christina's work, I was excited to potentially work with her. Her WordPress design services had excellent reviews. And all Astra pages had excellent page speeds!
WordPress Website Development and Design Services
Wandersoul Co is a business that offers a variety of services. This information is on the front page of the website:
"WordPress Website Development and Design Services: Designing websites, systems and strategies for creative online service providers and fellow web designers to streamline and scale without spending another minute outside your zone of genius."
This struck a nerve with me because I have started to realize that I spend FAR TOO MUCH TIME on technical and WordPress issues than I should be spending!
I want to write and design, not spend my life working on the backend of technical issues!
Thus, I felt Christina and I would likely be coming from a similar place of experience and mindset. YAY!
Christina offers four different ways to work with her and it seemed that her WordPress Website Development and Design Services was a good place for me to begin!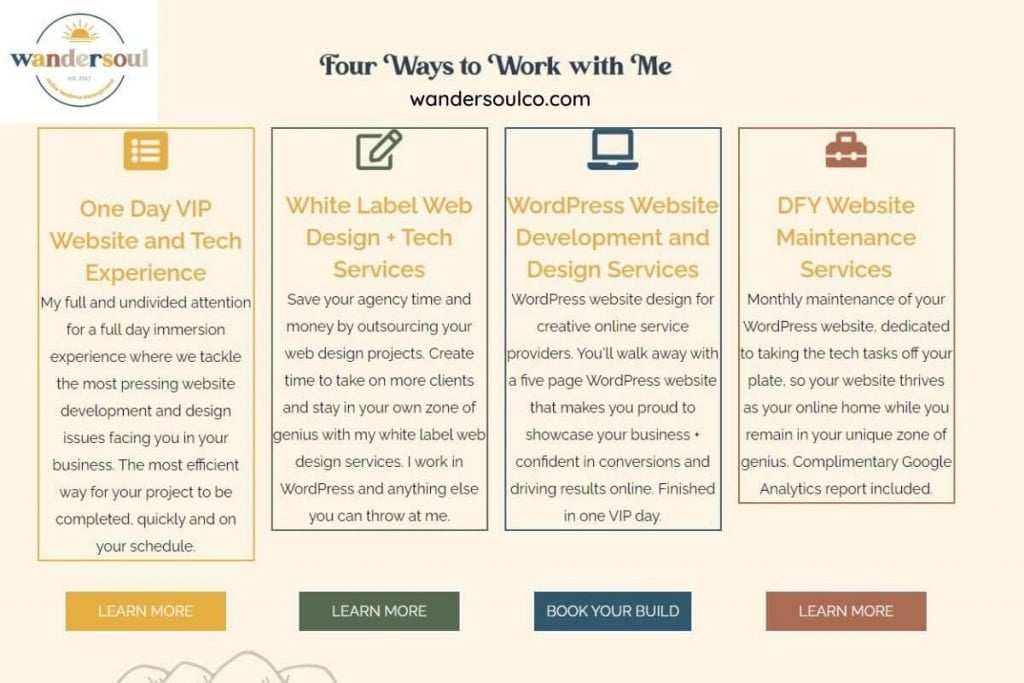 Other Places to Find Wandersoul and Christina:
Facebook – Website and Tech Support for Creative Entrepreneurs
Instagram – WandersoulWebDesign
WordPress Development Services
I contacted Christina and updated her on the issues with my website.
We discussed my priorities and she was certain she could address them: 1) Page Speed and Responsiveness; 2) Core Web Vitals; 3) Google Sitemaps, Analytics, & Search Console; and 4) a custom page that looks similar to my current page.
She provided a very thorough, professional quote for the services and I signed the contract!
I kept working on my website while she was developing a new website using her preferred tools, and two weeks after she transferred it to my domain, look at these GTMetrix Performance and Structure Scores!!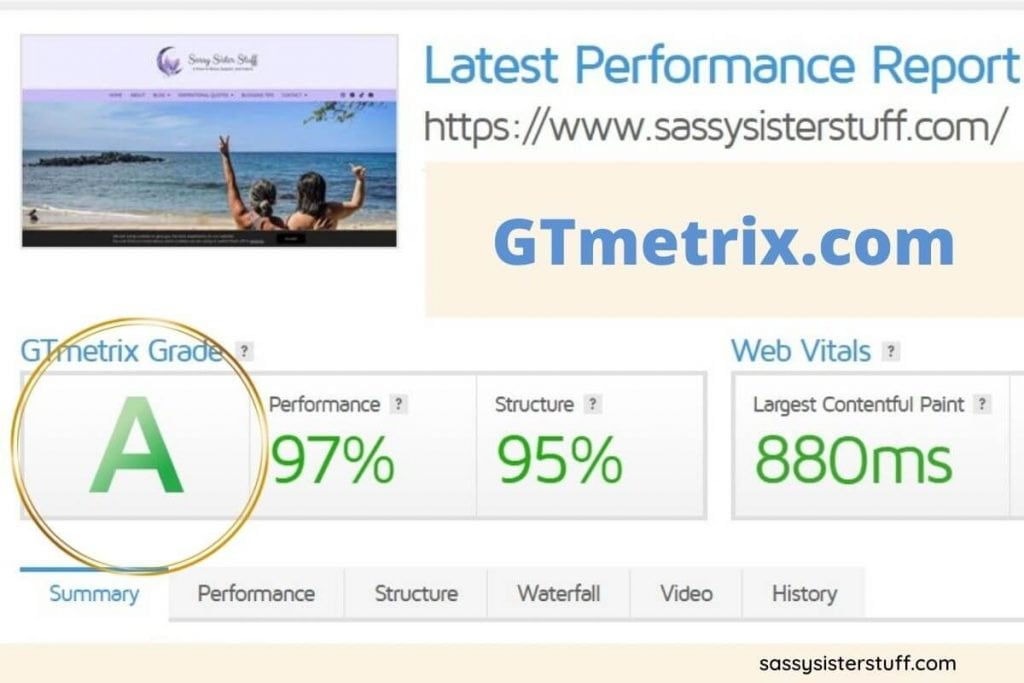 My website has not has scores like this in three months! Performance generally refers to page speed and at 97, I am very pleased.
Structure refers to how well your page is built for optimal performance. Again, I am very pleased with a 95.
These are two additional performance reports that I am very pleased with! ⬇⬇⬇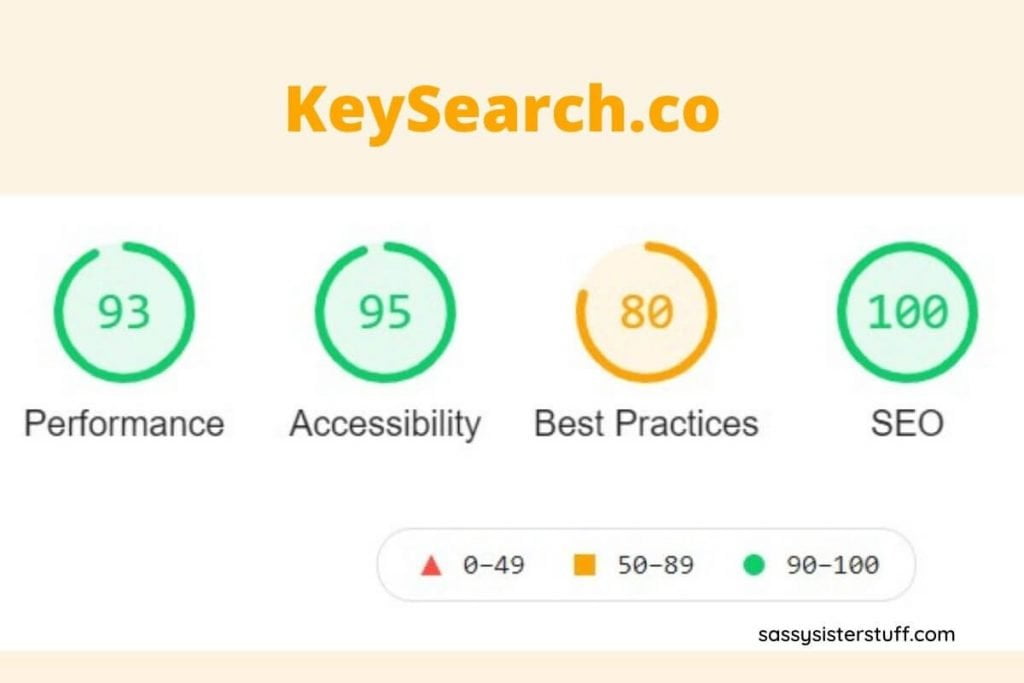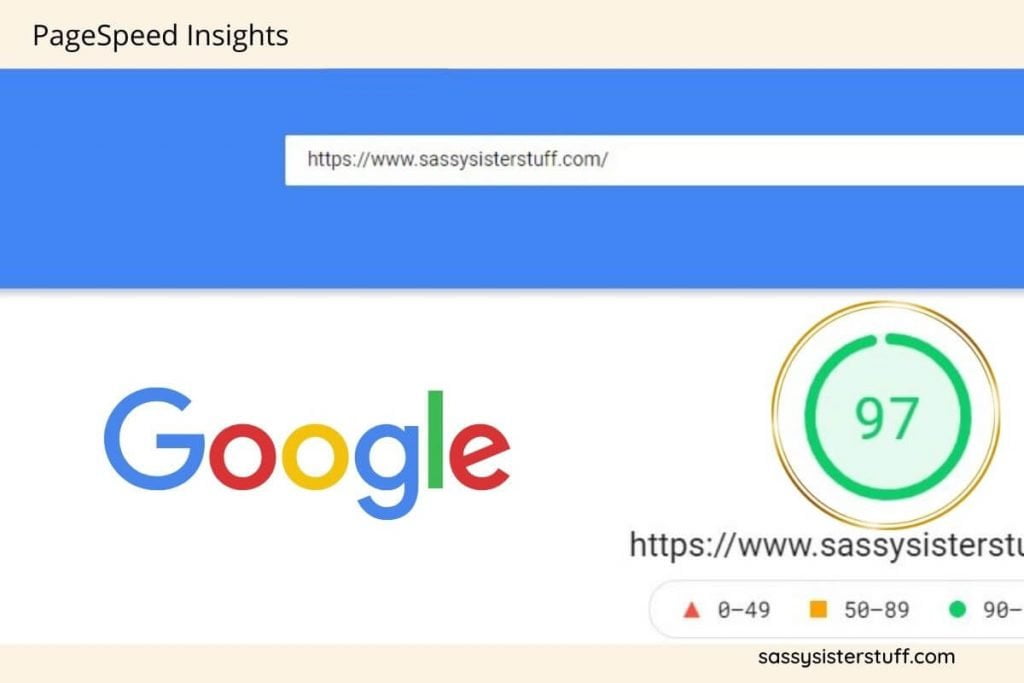 Additional Information: You should know as a website owner, that these scores can fluctuate with any of the performance tools. The performance score tends to fluctuate more than the structure score, but you will always have a general idea of how your website is operating based on these scores.
When everything seemed to fall apart, allegedly because of my theme, I was ready to give up on my website!
But Christina came through for me and now I'm back to writing and designing instead of dealing with backend problems!
WordPress Website Designers
You should be aware that not all website designers and developers have the same philosophy about their work.
I have friends who have worked with developers who finish a job and would rather not hear from you again.
Christina is different. She believes in a collaborative approach to her business where she wants to understand your needs and expectations and strives to collaborate with you each step of the way.
Or she takes everything off your hands that you don't want to do!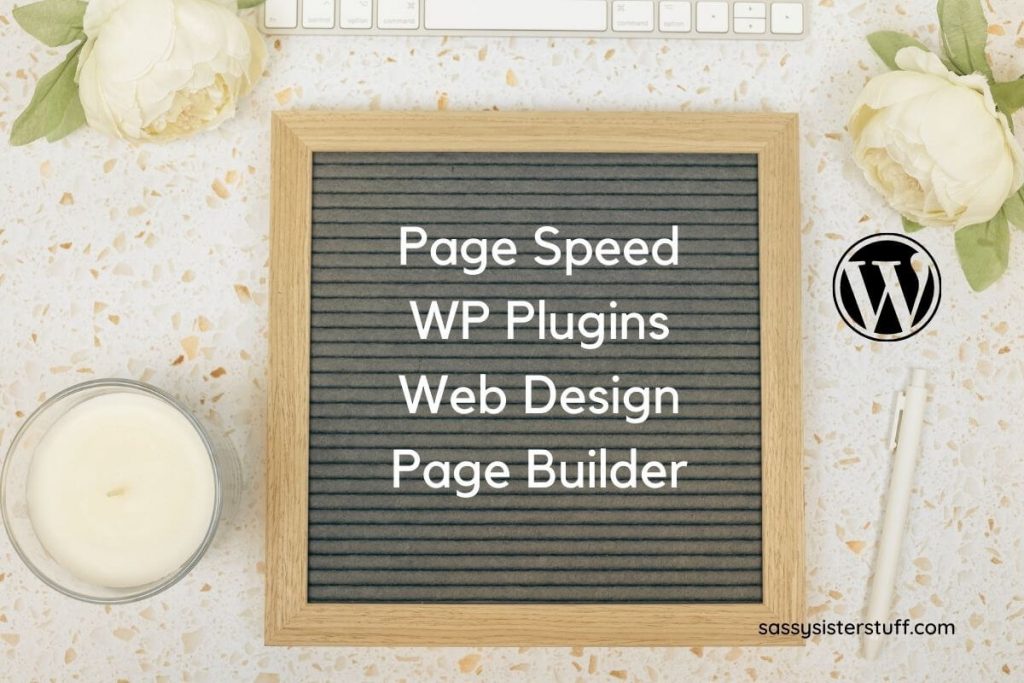 These are some customer comments from the Wandersoul Co website:
"Having someone to collaborate with really forced me to say my fears out loud…and realized what was holding me back from taking my business to the next step."
"Your services went above and beyond my biggest dreams."
"Christina provided tools and resources that could help get me to where I want to be."
"There are tons of DIY website builders out there but having someone to collaborate with gives me a fresh perspective…"
After Christina delivered my newly designed website (looking almost exactly like my old one with the theme that was flawed) just like I'd asked, she stayed in constant touch with me via emails and DMs to make sure all of my questions and concerns were addressed!
She continues to produce videos to make sure I understood how to use the Astra and Elementor tools and she continues to answer my questions.
This is why I believe not all WordPress web designers are created equal!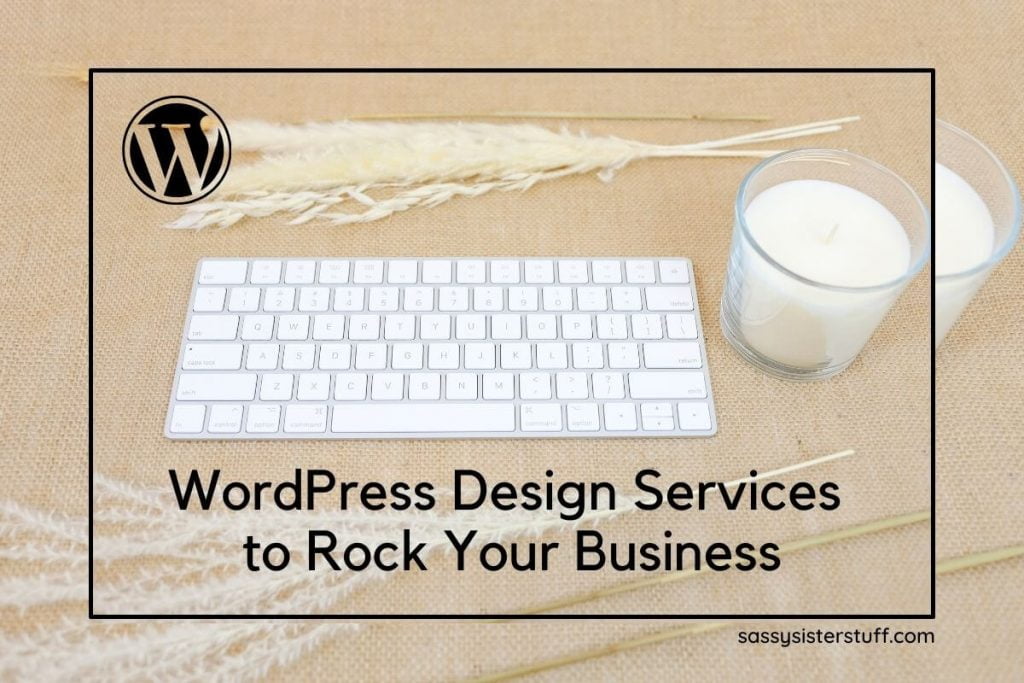 Final Thoughts
If you are seeking help with your WordPress website, look no further than Christina Marie Anderson and her business, Wandersoul Co.
You will not be disappointed by her WordPress web designer skills, or her ability to help your website outperform your competitors.
She will make your customized website: 1) more visible in search engines; 2) more mobile friendly since more than half of all traffic is from mobile devices now; and 3) faster since that's a key component in user-experience now.
She will work with you, or take your work off your plate. Whichever you prefer. And she is passionate about her work so she is going to make sure you are pleased!
When you think of WordPress Design Services to Rock Your Business, think of Christina and Wandersoul!
You are invited to join her Facebook page, Website and Tech Support for Creative Entrepreneurs, and follow her on Instagram at WandersoulWebDesign. She provides a variety of tips and strategies on a regular basis on both platforms!
Don't let your website technical issues take away from the fun you have with your website!
Love to ALL! ~Susan
P.S. This article is not an affiliate post. I try to write articles based solely on my own personal experiences with my website to help others who may have similar experiences.