Employing Adults With Differing Abilities: Reason To Bake

Businesses that focus on employing adults with differing abilities are becoming increasingly important in today's society. For the fourth business in my See the Able, Not the Label Series, I have chosen a baking company that provides employment for adults with intellectual and developmental differing abilities.
They hire and train adults to make and sell delicious baked goods for a gluten-free lifestyle.
The company, Reason to Bake, specializes in gluten-free, all natural cookies that are made from fresh ingredients and available to ship anywhere in the USA.
They are a small-batch artisanal bakery in the North Carolina Appalachian Mountains. One particular line on their website speaks volumes about the business:
"We create an environment in which life is sweet, creativity thrives, and there are no limits to what anyone can learn and accomplish."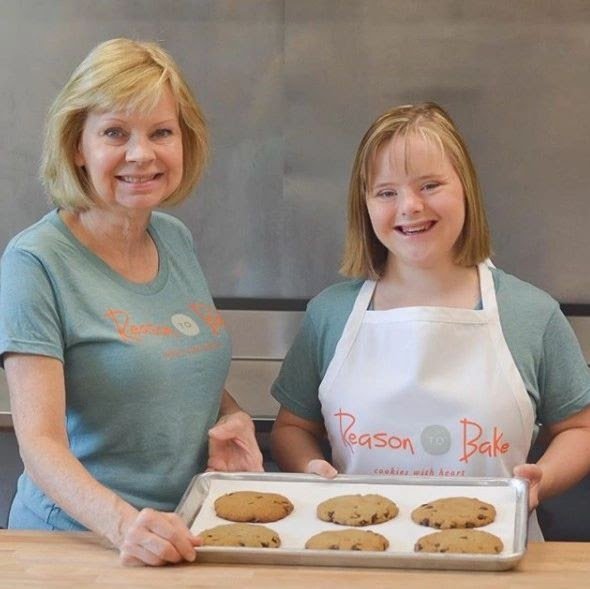 How The Business Began
Reason to Bake opened in August 2013 by mother and daughter duo, Elise and Carolyn Sampson. Carolyn is gluten-free and differently abled with Down Syndrome.
After she turned 18, Carolyn was unable to find a job. However, she really loved to bake so Elise started developing a plan to open a small business in which the duo could bake gluten-free cupcakes to sell at local bake sales and vendor shows.
Before long, a local coffee shop called and wanted them to make gluten-free desserts for their shop. They even offered Elise and Carolyn the use of their kitchen.
Soon, Elise and Carolyn expanded their business to include baked goods for the coffee shop, special-order birthday cakes, bread, and cookies.
But before long, the duo realized that the cookies were their best seller and provided the highest profit, so they reorganized the business a bit. They transitioned to specializing in only delicious gluten-free cookies of the highest quality and taste.
This was when Elise decided she wanted to operate a business that would "impact hundreds of lives" and she realized the cookies were easy to make and sell.
Thus it made sense to teach adults with differing abilities how to bake and sell them. She set a goal that Reason to Bake would employ other adults with differing abilities to help grow the business
Seven Years Later
It is Carolyn's responsibility to prepare the kitchen for cooking each day by managing the dry ingredients station. She is also the cheerful face of the business, promoting the growing movement of adults with differing abilities who become entrepreneurs with the support of others who advocate for special needs adults.
In a world where anything is possible, Reason to Bake is making a difference for differently abled people.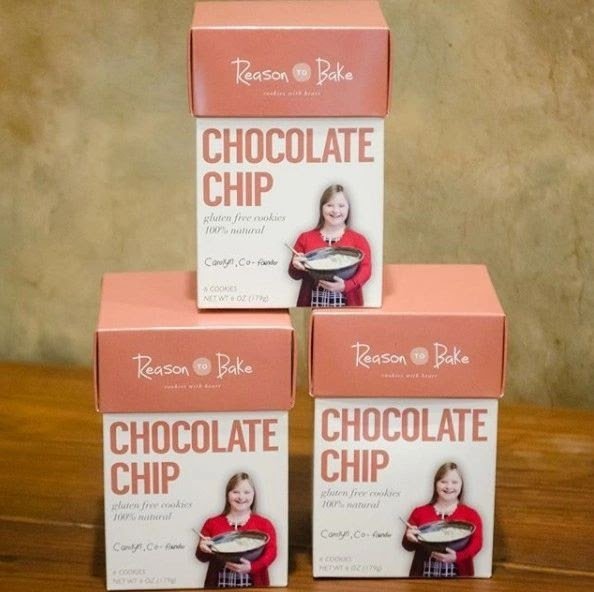 Elise shares, "Everyone deserves a place to put their creativity to work, experience a sense of accomplishment, personal growth and know that their individual contribution counts toward a meaningful goal."
Her philosophy drives the goal of expanding Reason to Bake to a national level with a widespread emphasis on employing adults with differing abilities.
Today the business offers five kinds of gluten-free cookies:
Chocolate Chip
Spicy Ginger
Cranberry Oatmeal
Lemon Blueberry Oatmeal
Peanut Butter
Plus, during the holiday season, they offer a Limited Edition Holiday Cookie.
Reason to Bake cookies sell for $8 per package of 6 cookies. They also offer multi-packs of 3 packages for $22 and two large party package options.
Each batch is made fresh every day by a team of adults with differing abilities and typical abilities. The business is committed to excellence and ensuring that your taste buds are delighted! Their cookies are made without preservatives or GMO ingredients.
On their website, they provide FIVE REASONS to try these cookies with a HEART.
As an advocate for special needs adults and children, I was particularly touched by #3:
This cookie company can change the world. Reason to Bake creates a safe, empowering business environment for adults with intellectual disabilities to pursue their dreams.
Inspirational Blog
I cannot finish this post without mentioning the amazing BLOG POSTS on the Reason to Bake website! They are some of the most inspirational posts I've ever read!
Even some of the titles give me warm fuzzies:
When You Feel Stuck, Remember This Piece of Advice
Three Pieces of Business Advice from Inspirational Entrepreneurs
The Next Movement: Special Needs Entrepreneurs Build Change-Making Businesses
You Can Empower Special Needs Adults To Live Their Dreams
I think you will find great inspiration in visiting the Reason to Bake website and perusing the blog posts as well as taking a peek at their delicious cookies!
They also share wonderful stories on their social media accounts where you can get to know all the fine people who work for this unique baking company.
Advocacy and Outreach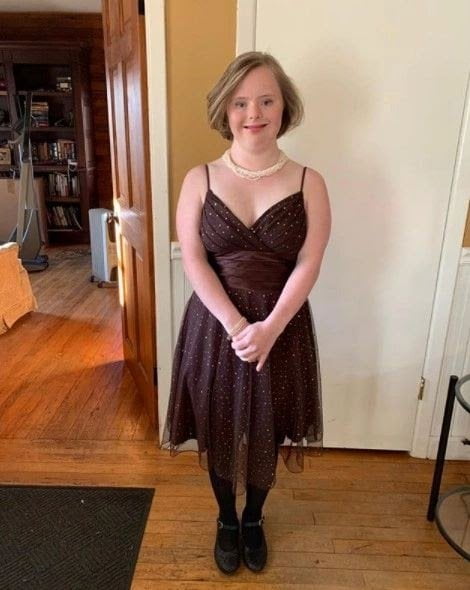 The company also partners with organizations that promote opportunities for adults with intellectual and developmental differing abilities. Here, Carolyn attends a Night to Shine event sponsored by The Tim Tebow Organization.
Elise and Carolyn are ambassadors for Camp Blue Skies, a camp for adults with developmental disabilities that also provides respite to families and caregivers.
They created the Lemon Blueberry Oatmeal Cookie to help celebrate and promote the 10th anniversary of the camp. Campers got a sneak preview of the cookies and gave it many, many thumbs up!
These kind of community collaborations help other organizations and businesses understand the importance of employing adults with differing abilities in today's society.
Other Businesses that Employ Adults with Differing Abilities
You can learn about other businesses that promote employing adults with differing abilities from previous blog posts here and here. These businesses sell popcorn and socks, respectively, so they would be great for gifts too!
How You Can Help
You can learn more about Reason to Bake at the links below. Equally important, you can SUPPORT this small business by ordering their delicious cookies from their website! (They also offer their cookies at retailers around the country now.) They are perfect for holidays, celebrations, and everyday healthy eating!
Each of us can help make a difference in the world by supporting businesses that provide employment to adults with intellectual and developmental disabilities.
Please consider the significant impact you can have on the lives of people with differing abilities. Thank you.
You can order cookies from Reason to Bake at the links below:
Instagram: Reason to Bake Cookies
Other websites mentioned in this post:
I hope you are inspired by the story of the special folks behind Reason to Bake. The more we share the stories of disability advocacy and rights, and human compassion, the better our world will be!
Please share and support the businesses that promote employment for adults with differing abilities.
Love to ALL! ~Susan