It's National Teacher Appreciation Week
It's National Teacher Appreciation Week and this year we need to show our love to teachers more than ever! Educators across the country are facing new challenges everyday. They struggle with new technologies, anxious parents, confused students, and unclear expectations during these difficult times.
It's National Teacher Appreciation Week
Let's learn why we need to appreciate and celebrate our educators, and the history of National Teacher Appreciate Week. Please help your child do something to honor their teacher(s).
Teacher Appreciation: Why?
Based on 30+ years in education, I can assure you that teachers are missing their students and putting forth their best efforts to get through this incredibly difficult time in history. Teachers are some of the most dedicated workers in our nation!
I'm sure everyone has seen the social media memes, articles, posts, and letters from parents who are developing an understanding of what TEACHING is all about. Most of them are funny, but I assure you, they are also very true!
These are some of the quotes I've heard from parents!
I am a horrible homeschool teacher.

My kids arrived to school at 8am in their pajamas.

They've been at recess since 8:30am!

It's time for lunch but I'm going to let them have PE first!

~ Susan Ballinger
Parents Become Teachers
Parents are doing a great job helping their children learn at home. We should celebrate them, too!
But I can assure you, parents are typically not equipped with the skills they need to TEACH. Any parents who have been placed into a teacher (assistant) role should to be gentle with yourself!
It's certainly not easy! Celebrate you, too! You are doing the best you can do!
Parents, you need to be sure you are taking care of yourselves during this difficult time, too! Check out these articles for some great self-love and self-care ideas:
Habits to Improve Mental Health + Sleep and Heart Health
Teacher Appreciation: Passion
In 2002, I was selected to serve as a Maryland Christa McAuliffe Fellow for the state of Maryland. I was blessed to work with teachers from all over the state and country.
Christa McAuliffe was the teacher who was chosen to go into space on the Challenger in 1986 when it blew up 73-seconds after take-off.
The Maryland State Department of Education (MSDE) developed a program to retain quality educators at a time when teachers were leaving the profession. Working on this project with highly respected educators was a wonderful personal and professional experience!
During the national conference at the end of my term, where a representative from every state gathered with Christa's mother and educational leaders from the Council of Chief State School Officers (CCSSO), the THEME was very appropriately PASSION.
Every single education at the conference agreed that our best teachers have a PASSION for working with children, promoting the success of children and colleagues, and encouraging others to be, and do, their very best.
National Teacher Appreciation Week: History
National Teacher Appreciation Week began as a single day to celebrate educators.
The origins are somewhat murky but we know the movement began with an Arkansas teacher by the name of Mattey Whyte Woodbridge back in 1944. She began corresponding with political and educational leaders about the need for a national day to honor teachers.
Mattey wrote to Eleanor Roosevelt and in 1953 about her idea; Eleanor persuaded Congress to declare the first Tuesday in March as a day to celebrate educators.
However, Teacher Appreciation Day didn't become a national day of celebration until March 7, 1980 when Congress declared it a national day to honor teachers.
In 1985, Teacher Appreciation Week became the first full week of May. The National PTA moved to establish the whole week for celebrations rather than just a single day. Thus, it's the time of year when we celebrate teachers!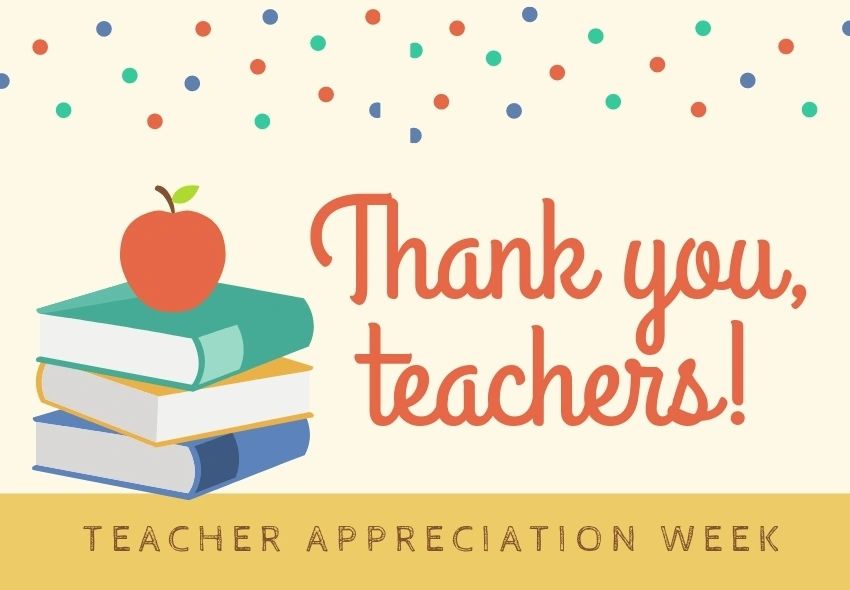 Final Thoughts: Celebrate Your Teachers
As you ponder how to honor, celebrate, and thank teachers since it's National Teacher Appreciation Week, please remember the PASSION and COMMITMENT they have for their profession.  They are experiencing difficult times now, too. But they are doing their very BEST for every single one of their students! I promise! 
Related Articles:
Life Skills Are More Important Than Academic Skills
Is Homeschool Better than Distance Learning for My Family?
Is My Child Going To Fall Behind In School?
Love to all!  ~Susan
It's National Teacher Appreciation Week | How Are You Celebrating Your Teachers?