How to Inspire Teachers to Stay in the Profession
In this article, I am going to share how to inspire teachers and let them know they are valued so they stay in the profession. Whether you are a parent, a student, an administrator, a community member, a colleague, or another stakeholder — it is critically important for teachers to know they are appreciated. Why? Because teachers are leaving the profession in masses every year.
Teacher retention has been a problem for more than 20 years and no one has found a solution to the problem. Now, universities across the nation are eliminating education classes and programs because they simply do not have enough students enrolling in their education programs. This is the first time in history we've seen this happen.
Teachers report they are leaving the profession because of work conditions — a lack of time and support, dissatisfaction with compensation and pay, challenges with classroom management, stress, and more.
Until a nationwide solution is found, we — as stakeholders in America's future — need to let our teachers know they are appreciated, supported, respected, and loved. We need to motivate and inspire teachers to remain in the classroom until educational and political leaders can figure out what needs to be done to inspire teachers to remain in the profession under incredibly difficult circumstances.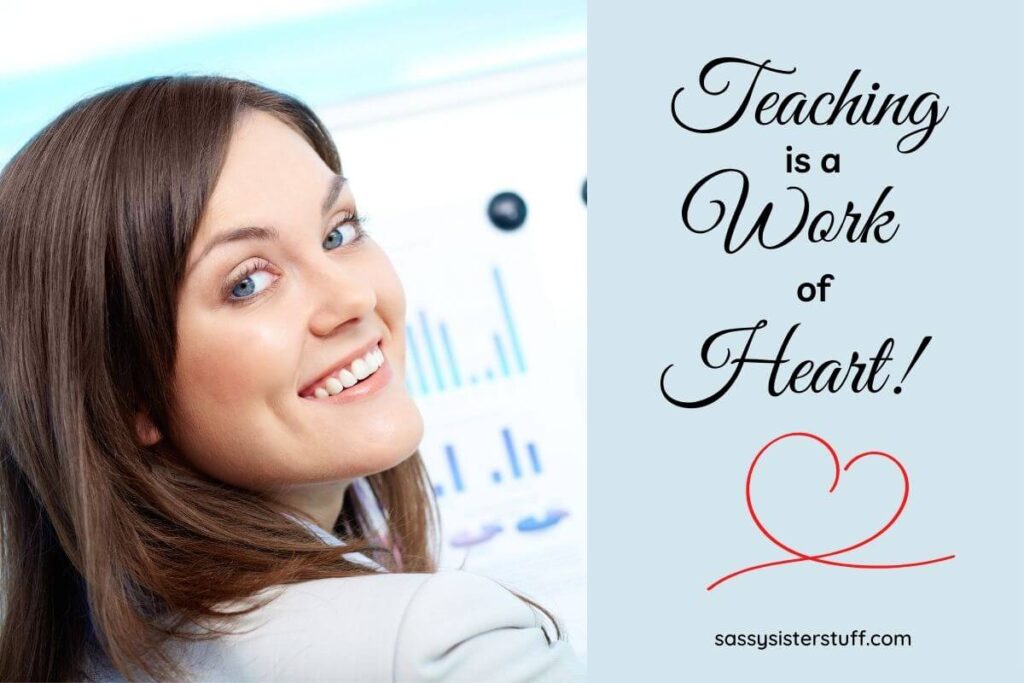 ---
10 Simple Tips to Motivate and Inspire Teachers
As an educator and educational leader, I want to emphasize the importance of authenticity with any praise and appreciation you give to teachers. Teachers are very intuitive and will know if you are not genuine with your efforts to support them. If you truly want to support and inspire teachers, look for all the great things they do!
I also ask you to please remember:
Teachers are parents, spouses, children, siblings, friends, and more — who have very real responsibilities and lives outside of school. They face personal struggles, health issues, and other challenges that might impact their performance sometimes. But they are DOING THEIR BEST!
Be compassionate and understanding. Be willing to listen and look for ALL the good things each teacher is doing — not the annoying things. Trust me — I promise you this — teachers are doing more GOOD than you could possibly ever imagine!
Now let's look at how to inspire teachers to stay in the profession and let them know we love them!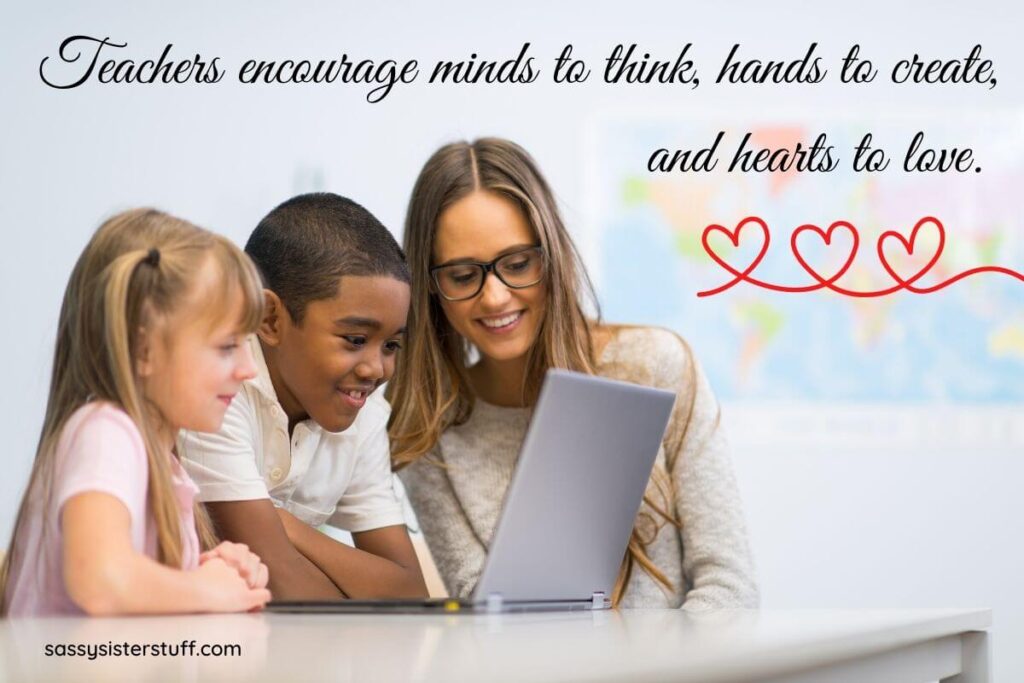 1. Little Surprise Gifts and Messages
Present teachers with small gifts or special messages just because… it doesn't have to be a special occasion or event. Surprise a teacher with a handmade card, or fresh flowers from your garden, a cup of hot chocolate, a personal note. It does not have to be anything fancy — just let them know their work is appreciated.
2. Public Praise and Recognition
Publicly praise teachers. This helps teachers feel appreciated and continue to do their very best for every student. Write a letter to the editor… post a positive social media comment about a teacher… share comments at a PTA meeting… praise teachers at an assembly… talk about a special teacher in the car rider line… write a THANK YOU in the school newsletter. You get the idea — let teachers hear and see you praising them for a job well done!
3. Help a Teacher
Offer to help a teacher. Let teachers know you understand the time and effort they dedicate to teaching. Give them some of your personal time to make their lives a little easier. Ask how you can help? What can you do to relieve some of their stress? Be available to do tasks at home, or in school, that will alleviate stress for teachers.
4. Give 'em a Break
Work with school leaders to give teachers an extra break now and then. Maybe you could organize volunteer coverage for recess duty one-day a week. Or maybe you can pull volunteers together to guest read in a classroom to give teachers a break for 30-minutes per week. You may also need to work with district staff for approval, but your school leadership should be able to advise you about requirements.
5. Recognize Busy Times of Year
Recognize that there are particularly stressful times of every school year — the week before all big holidays, the weeks of state testing, the end of each quarter, etc. Try to avoid adding additional stress to these times of the year. Avoid talking to teachers about 'concerns' or 'issues' during these times, if you can wait. Be especially pleasant, patient, and kind during these times of the year.
6. Say 'THANK YOU, I APPRECIATE YOU'
It's pretty simple, right? Write it, say it, sing it — just make sure you say it often. Teachers don't hear it enough. Anytime they go above and beyond, be sure to let teachers know you appreciate it. Anytime they do a little extra for your child, make sure your child says THANK YOU, also. And if they show up at an afterschool event, or a community event, make a point to stop and say how much you appreciate them being there.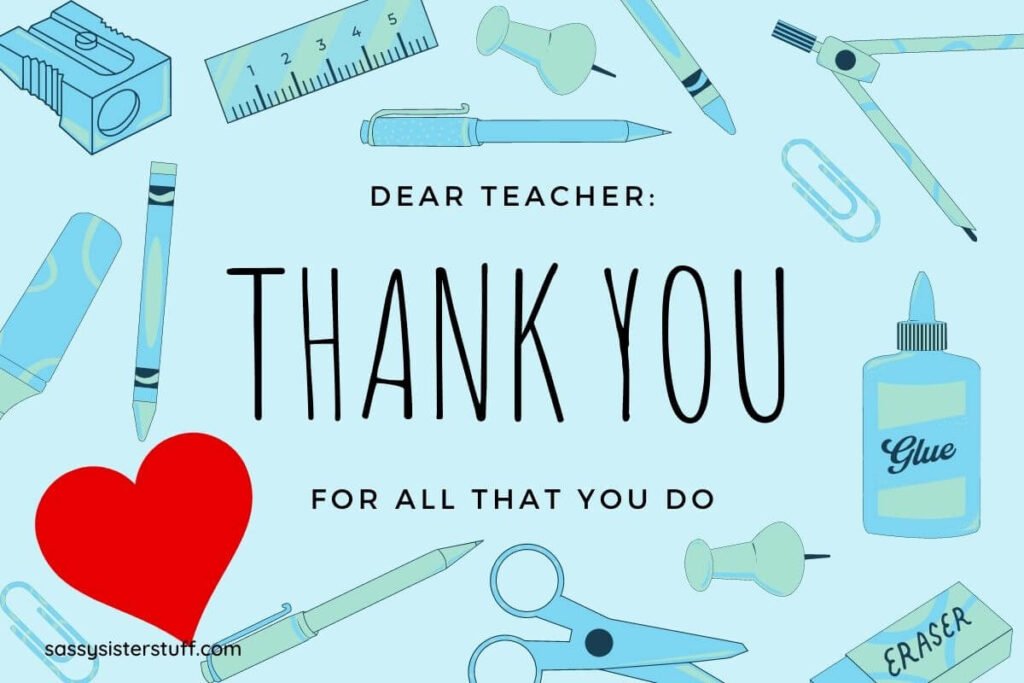 7. Donate Classroom Supplies
Teachers spend a lot of their own personal money on teaching supplies. Anytime you are able to contribute supplies, it would be most appreciated. But more importantly, be sure to say, 'I appreciate that you spend a lot of your own money on classroom supplies and I hope this helps." A gift certificate to the local teaching store, or office store would be great, too!
8. Respect Personal Time
If you are a parent, let your child's teacher know that you appreciate his/her personal time and only make arrangements for conferences during the teachers' work day. Do not expect or accept conference times outside of the work day and let the teachers know you appreciate their time.
Present teachers with an easy handmade magnet, wall hanging, or Christmas ornament of your favorite inspirational quote about teaching. Be sure to write a personal message to let him/her know why you selected this particular quote. If you're not the crafty-type, randomly send a special inspirational quote about teachers via email with a personal message.
10. Feed the Teachers
Send your teachers healthy snacks or a special homemade treat with a message that lets them know you appreciate the energy they put into teaching their students. Alternately, you could work with others in the community to organize a special breakfast or luncheon for teachers — just because.
Pin to Pinterest for Later
BONUS TIP: Celebrate Teacher Appreciation Week
Make sure you are collaboratively celebrating your teachers during National Teachers Appreciation Week! It is always the first full week of May — but some states and districts decide to change it because of scheduling and state assessments. This is demoralizing and contradictory to the idea that teachers should be respected and honored. Be sure to celebrate your teachers at the same time as the other 3.6 million teachers are being celebrated!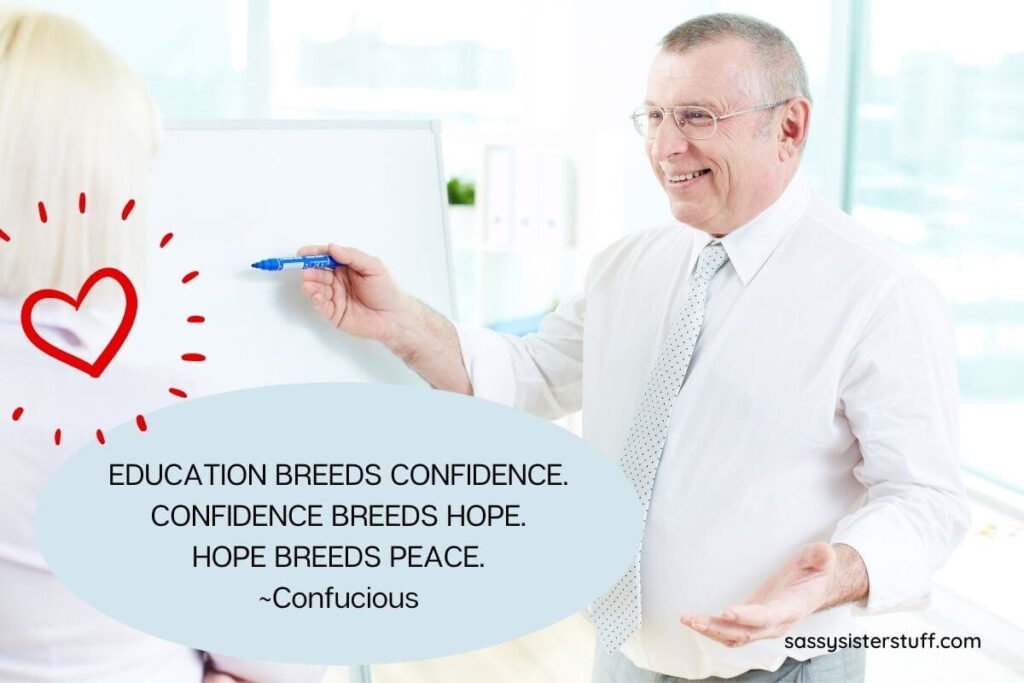 Final Thoughts about How to Inspire Teachers
Teaching is one of the most underappreciated professions in our country. There is historically very little respect for the profession.
Teachers must go through additional schooling throughout their career, while working full-time and trying to have a personal life. They work nights and weekends, while trying to get enough sleep to have the energy to deal with classrooms full of students who have unique challenges of their own.
If you stop and think about it, educators are the very humans who make the world go around! Doctors, lawyers, actors, athletes, business men and women, politicians, and more — all started out with great teachers.
In fact, behind every successful person is a great teacher, or many teachers. Am I wrong?
But we are facing the greatest teacher shortage our nation has ever experienced.
What needs to be done? Anyone who has been in the field of education for 30+ years as I have, can tell you what needs to be done — LET TEACHERS TEACH! The federal government, state governments, and local jurisdictions need to STOP creating new programs… and new assessments… and new report cards… and new staff development plans… and new evaluation plans… and new reading programs… and new math programs… and new… and new… and new… etc.
Nothing is NEW in education — we just cycle concepts and ideas through a new set of hands and call everything something new. And our teachers spend their valuable time learning something new over and over and over again rather than being afforded the opportunity and respect to do what they do best — TEACH.
Then they become frustrated and want to leave the profession.
Therefore, it is our responsibility as stakeholders in our future to motivate and inspire teachers to stay in the profession. Let them know we appreciate and support them — AND LOVE THEM!
Please join me in celebrating, supporting, respecting, and inspiring teachers to stay in their classrooms. I hope you found some information here that you can use to inspire a teacher near you.
Love to ALL! ~ Susan
How Are You Going to Inspire Teachers to Stay in the Profession?
Please share your thoughts in the comment section below:)